It's getting hot in here, so take off all your clothes, put on a bikini and jump in the pool. Even if you're not a swimmer, you can still get a full-body workout with these water exercises from Mark Hendricks, Group Fitness Manager at Greenwich Equinox in New York City. Plus, working out in the pool is so much fun, you'll forget all about the scorching temps. Just don't forget your sunblock!
So grab a noodle (floaties if necessary) and jump in! Our friends at Self.com helped us pick the most effective pool workouts to look your best in that new, stylish bikini.
Bonus: Find the most flattering swimsuit for your figure here.
Cross Country Ski
Mimic the cross country skiing action: while one leg moves to the back the other moves to the front with opposing arms (if your right leg is back, your left arm is forward), allowing your spine to rotate.
Do 16 reps touching the bottom and 16 suspended (feet not touching the pool floor) for a total of 3 sets.
Muscles used: Total body with focus on lower body and spinal rotation Best hotel pool: The Beverly Hills Hotel, LA The huge, beautifully landscaped, full-service pool is one of Beverly Hills' best. Attendants seat guests around the serene pool (no traffic noise here) and bring free water and menus for poolside dining from the Cabana Club Cafe.
Bevery Hill Hotel, LA
Jumping Jacks
With legs together arms to side, jack the legs and arms wide allowing feet to turn out, then bring back together. The advanced version is done suspended (not touching the bottom)
Do 16 reps touching bottom and 16 suspended (feet not touching the pool floor) for a total of 3 sets.
Muscles used: Total body with focus on inner and outer thighs
Best hotel pool: Encore at Wynn Las Vegas
We find the circular European Pool to be a calm oasis, a step removed from the bustle of The Strip. Adults-only can mean peace and quiet when the pool isn't too busy, and it also means that topless sunbathing is allowed. The Island Bar in the pool's center offers drinks, gambling, and prepacked sandwiches. Day beds can be rented for $150 per day.
Encore at Wynn Las Vegas
Hurdles
Keeping your feet together, leap forward while sweeping arms forward and down. The more explosive the movement the more cardiovascular it becomes.
Do 16 reps for 3 sets.
Muscles used: Total body with focus on lower body
Best hotel pool: Delano Hotel South Beach, Miami
The huge infinity pool — also known as its "water salon" — at the Delano is a South Beach attraction unto itself. Live DJs, tasty food and drink, posh cabanas, and bungalows make for a sceney but still relaxing retreat — at least during the day, before the hordes of nonguests come to party. Music plays underwater, and an ornate silver table and chairs sit right in the pool. In front of the Philippe Starck-designed pool is a beautiful orchard of crisply manicured trees. A giant chessboard and huge mirror within the orchard, like the giant chair in the lobby, helps to create a surreal, Alice in Wonderland atmosphere.
Delano Hotel Miami
More from Self.com:
Seahorse
Standing upright with noodle held in front of body, dive forward leading with the noodle until you are in flat against the water's surface (stomach down), similar to a plank position but with arms fully extended, holding onto the noodle.
Bend at the hips and knees, bringing knees in to chest. Then place feet on floor.
Do 16 reps for 3 sets.
Muscles used: Total body with focus on abs
Best hotel pool: Reunion Resort, Orlando, Florida
The Reunion's excellent collection of 11 pools includes a large, free-form pool, A rooftop pool adjacent to the Eleven restaurant, at the top of the Reunion Grande building, eight small, quiet "neighborhood pools" scattered around the property for those staying farther away from the two main pool areas, and private pools at many of the stand-alone homes.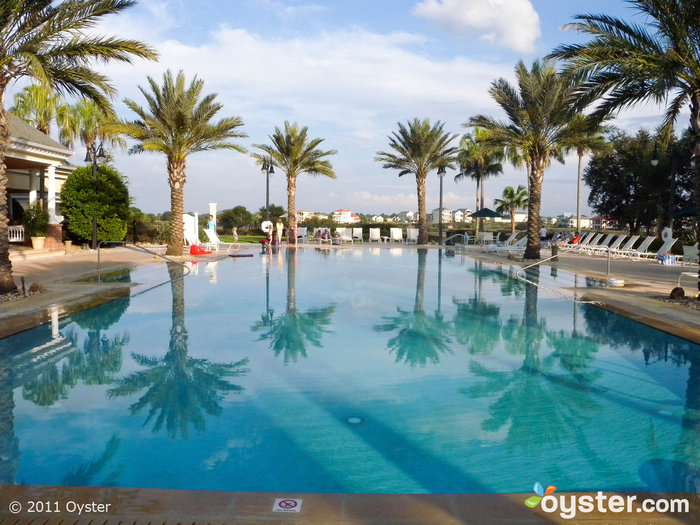 Reunion Resort, Orlando, Florida
The Dory (you know, that fish from Finding Nemo)
Place aqua noodle between legs and float in a seated position (end of noodle will be at the chest in the front and near the upper back).
Bend knees in front of you at a 90 degree angle (like sitting in a chair) with arms outstretched, pointing away from the body at water's surface.
Sweep straight arms down to the side of the hips (lowering them below water) and slightly behind midline, retracting the shoulders at end of range of motion. Legs remain at 90 degrees throughout the entire exercise.
Do 30 seconds work followed by 15 seconds rest for 3 sets.
Muscles used: Upper back and core
Best hotel pool: Four Seasons Maui, Hawaii
With three excellent oceanview pool, including an adult pool with cabanas, The Four Seasons' three pool areas are certainly luxurious and boast impressive design features while overlooking the ocean.
Four Season Maui, Hawaii
Check out more pool exercises here, or try another cool workout: Stand-Up Paddling!
All products are independently selected by our writers and editors. If you buy something through our links, Oyster may earn an affiliate commission.