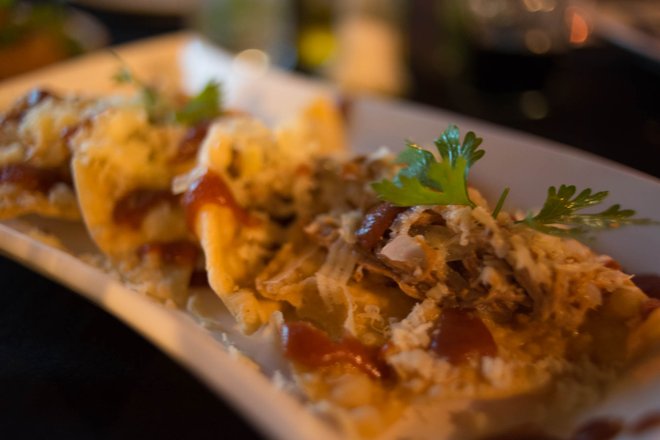 "Let them eat meat!" That seems to be the philosophy behind Cuban eats, which have the reputation of being a carnivorous free-for-all. Pork hunks, shredded beef, and fried plantains to boot -- sounds like heaven! That's why most people are surprised to hear that food in Cuba is hit-or-miss. Ed Levine, founder of Serious Eats, struggled with finding eats that were, well, seriously delicious. "The food in Havana can be, shall we say, challenging," he says. And reporter Luis Cobelo of Vice's Munchie's website ate his share of less-than-stellar food in Cuba including a "burger that [didn't] taste like meat at all."
How to avoid these pitfalls? Let us be your guide. On our trip to Cuba we ate it all: the good, the bad, the rubbery. Here's our primer on what to eat -- and what to avoid.
Must-Eat: Paladar Restaurants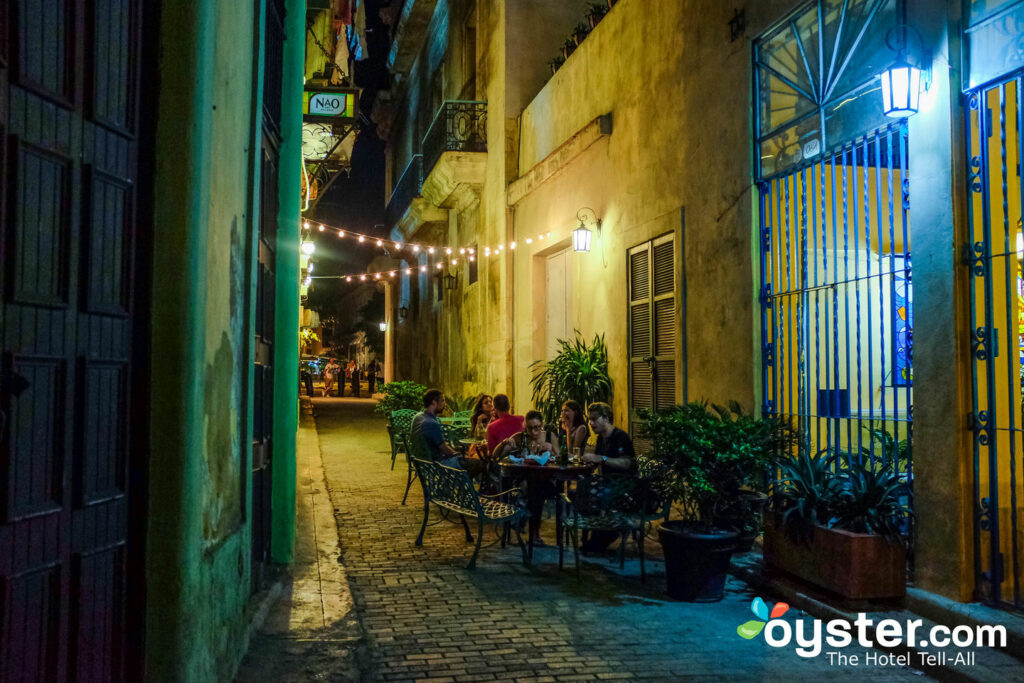 Restaurants in Cuba are split into two categories, and of the two, the paladars are what you want. According to Sonia Laguna, CEO and founder of Just 90 Miles tours to Cuba, "Paladars are privately owned restaurants, and one of the only entrepreneurial ventures that Cubans can have. " As such, "[there's a] difference in the service and the quality of the foods." Basically, this is where Cuban chef's flex their culinary muscle.
Skip: State-Run Spots
The flipside of paladars are state-run restaurants. As Ed Levine puts it, "The state-run restaurants don't exactly demand greatness from employees, both cooks and servers." In short, there's little incentive to deliver a memorable meal, especially to the non-repeat customers that are most visiting foreigners. There are a few exceptions, but in general it's best to stick with paladars for your meals.
Must-Eat: Tostones, Ropa Vieja, and Beans and Rice
Cuban food shines when it's focused on the simple, homey flavors that locals have eaten for generations, like tostones, ropa vieja, and beans and rice. Tostones are the epitome of comfort food: doughy pockets stuffed with fish, meats, cheese, or some combination thereof. Ropa vieja, heaped up piles of shredded beef, is an institution here. And some variation of rice and beans almost always makes it to the table, whether it's white rice and black beans ("moros y cristianos") paired with plantains or yellow rice with sweet plantains and chicken ("arroz con pollo"). Unfortunately, it's possible to eat mediocre versions of all of the above, even in the epicenter of Old Havana. But several paladars are leading the charge for top-shelf traditional eats. The massively popular Dona Eutimia (Callejon del Chorro #60-C, Havana) is often sited as having the best ropa vieja. Paladar Los Mercaderes (Mercaderes No 207) serves upscale versions of the classics with the atmosphere to match. And 304 O'Reilly (O'Reilly #304, Havana) does fusion versions of these traditional dishes along with divine tacos. Reservations are often essential for these venues, but it's worth the minor hassle to know you're eating the best of the best.
Skip: Cuban Pizza
Cubans are absolutely crazy about pizza, and indeed on our visit we saw lots of love for the humble cheesy slice. Even the hotels and resorts that cater to Cuban guests would add to the pizza-mania with seaside pizzarias (as in Hotel Copacabana) or faux-Italian trattorias with pizza ovens (like the Be Live Experience Turquesa). While much of this pizza was serviceable, nothing could compare to the pizza we had Stateside or, indeed, in Italy. Unless you're looking to mix things up, you're better off with local dishes.
Must-Eat: Churros and Chips
https://www.instagram.com/p/_5PKtUNE7F
Most of Havana's street eats can be lumped into one category: fried foods. But these tasty snacks are worth the caloric hit. Churro vendors are often found around Plaza Vieja dunking long curlicues of dough into cauldrons of oil. The result is deliciously fresh churros dusted with powdered sugar. Levine agrees saying the churros are "light, crispy, and chewy, and the fact that they [are] slightly greasy somehow added to their appeal." Likewise, vendors selling fresh fried potato or plantain chips can be found around the Paseo del Prado. Served up in paper cones, these crispy, salty chips prove Kettle Chips have nothing on Cuba.
Skip: Cuban Ice Cream
The ice cream parlor Coppelia (2111 Calle L, Havana) is an iconic spot that's known to all locals, and many are willing to wait in long lines for a scoop. But on our visit, several locals admitted the ice cream was less about the scoop itself and more about capturing childhood nostalgia. For tourists lacking that association, the ice cream here is simply a disappointment. And Cobelo says that his ice cream was sprinkled "with a synthetic something called 'cookie.' The flavor is not great."
Must-Drink: Cuban Coffee
First a word of caution: Cuban coffee isn't always good. Plenty of Cubans get by on instant coffee, which is cheap and easy, though it makes Starbucks look like artisanal cold brew. But it's worth seeking out a mug of the real deal. One such spot, Café el Escorial (Mercaderes No 317, Havana), roasts their beans in the coffee shop inside a tumbling drum. The smell will haunt your java-laced dreams, and these freshly roasted and ground beans make their way into a full menu of coffee drinks from the classic café cubano to frappes, and even coffee cocktails.
Skip: Milky Coffee Drinks
As a Caribbean island with a tropical climate, Cuba doesn't have a lot of dairy cows. Fresh milk has been a closely rationed commodity, and among Cubans, it's often only dolled out to children under a certain age. For that reason, Cubans take their coffee black. Unlike locals, visiting foreigners can request and receive milk, but often what you're getting is non-dairy creamer or powdered milk. For that reason, do as the locals do — if you can stomach dark, strong coffee, order that.
Must-Drink: Local Beer
https://www.instagram.com/p/6EffYXCEyW/
Wanna start a debate among the locals? Bring up the subject of beer. Cubans are loyal to their brand of choice and will maintain its superiority above other local brands to any foreigner. Cristal and Bucanero are the most widely available, but other local options like Cacique and Mayabe can be found as well. Aside from sampling Cuban's canned beer, true brew buffs will want to hit La Factoria Plaza Vieja (Cnr San Ignacio and Muralla, Havana), which holds a microbrewery that serves three draft beers running light to dark. Servers can bring glass cylinders of beer with their own tap to your table, so customers can refill their own mugs.
Skip: Local Cola
Since Coke and Pepsi are yankee companies, their products won't be found in Cuba. Instead, you'll find the charming Tu Kola (aka "Your Cola") a red-and-blue can that's proudly bottled by the people, for the people. As legend has it, Tu Kola was made in what was, pre-revolution, a Coca-Cola plant even using the recipe they left behind. For that reason, many claim it tastes exactly the same as the U.S. stuff. Feel free to drink it with a splash of rum, but there's no reason to seek it out or bring it back as a souvenir unless you're charmed by the packaging.
Must-Drink: Rum, Daiquiris, Pina Coladas, and Mojitos
Some things about Cuban food and drink are debatable: The beer, coffee, and sweets aren't to everyone's liking. But the cocktails — centered around Cuban rum — truly leave everyone pleased as punch. Cuban rum is legendary and excellent for sipping solo. Bottles of Havana Club are sold everywhere, but locals often prefer the Santiago de Cuba brand, and it's worth comparing the two. For frozen drinks, daiquiri-lovers flock to El Floridita (Obispo No 557, Havana) a former Hemingway haunt known as its birthplace. Just be warned, this isn't the spot for a calm cocktail: It's often overstuffed with tourists elbowing each other and tipping over glasses. A more serene scene can be found at the bar of the Hotel Nacional de Cuba (Calle 21 y O, Havana). This was our favorite spot to sip another local concoction, the pina colada. The tangy taste of pineapple and creamy coconut milk are even more delicious while looking out over the waterfront here, Cuban flag flapping in the wind. Finally, no trip would be complete without a mojito, and while these were delicious everywhere, Dona Eutimia (Callejon del Chorro #60-C , Havana) had a frappe version that sent this drink into the stratosphere of deliciousness.
Skip: Gin- and Vodka-Centric Drinks
In Havana, bartenders are happy to serve you anything you desire. And they sure do know their way around the liquor cabinet, so drink menus reflect that with martinis, negronis, gimlets, and good ol' gin and tonics. But these drinks aren't prepared with the same flair, and more importantly, you're wasting an opportunity to drink one of the country's national cocktails. If you've absolutely reached your limit on wall-to-wall rum, hit 304 O'Reilly (O'Reilly #304, Havana) one of the few venues that knows how to serve up gin-based drinks with the same panache as other cocktails.
Must-Eat: Tres-Leches Cake, Flan, and Homemade Sweets
https://www.instagram.com/p/24qm6mkdlV/
Despite the fact that milk can be hard to come by, Cubans love their dairy-based desserts (using canned provisions). Tres-leches cake is a milky three-ring circus of condensed milk, heavy cream, and evaporated milk mopped up with a buttery sponge cake. Then there's flan, the wobbly, upside-down caramel custard that's eaten as an after-school sweet throughout Central and Latin America. Both of these turn up on paladar dessert menus, but an even better option is to get dessert straight from abuelita's (grandma's) kitchen. Peddlers along the Malecon or Obispo street sell homemade cakes out of Tupperware to fellow sweet-fiends. Customers tend to be locals, but respectful and appreciative visitors can also queue up for a "dulce casero" (homemade dessert).
Skip: European-Inspired Desserts
Sure, some restaurants and hotels are putting on the ritz by serving napoleons or eclairs. But Havana is a 10-hour flight from France, and without a doubt, you will taste that distance. Even five-star resorts with European staff struggle to reproduce anything remotely close to the light and flaky concoctions found in Western Europe. Leave the macarons for another trip — perhaps one to The Ritz Paris — and stick to local treats.
Now, take a tour through Cuba.
https://www.youtube.com/watch?v=QJu3bxcr3yk
Related Links:
All products are independently selected by our writers and editors. If you buy something through our links, Oyster may earn an affiliate commission.