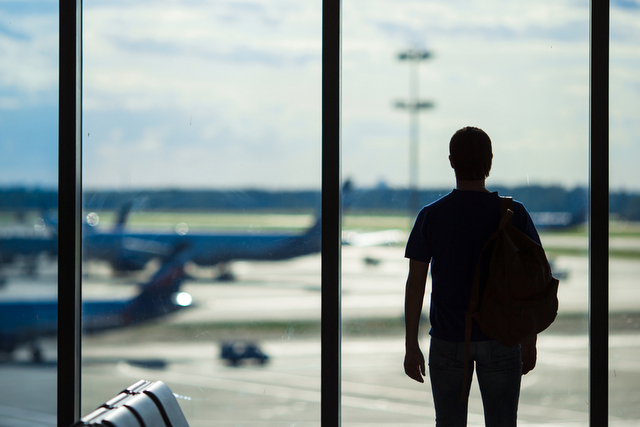 It's September, which means summer-into-fall style is upon us. The changing of the seasons calls for transitional dressing -- as does cross-climate travel, which can go down at any time of the year. A New Yorker's mid-February escape to the Bahamas, for example, and a Floridian's winter-break ski trip in the Rockies both require airplane attire that makes sense in vastly different temperatures.
Here's our guide for what to wear on long-haul flights that hop across weather zones. (And even if your flight is a short one, you're still going to want to be comfy -- and prepared for the wildly all-over-the-map micro-climate of your airplane cabin.)
Outfit #1: Cold to Hot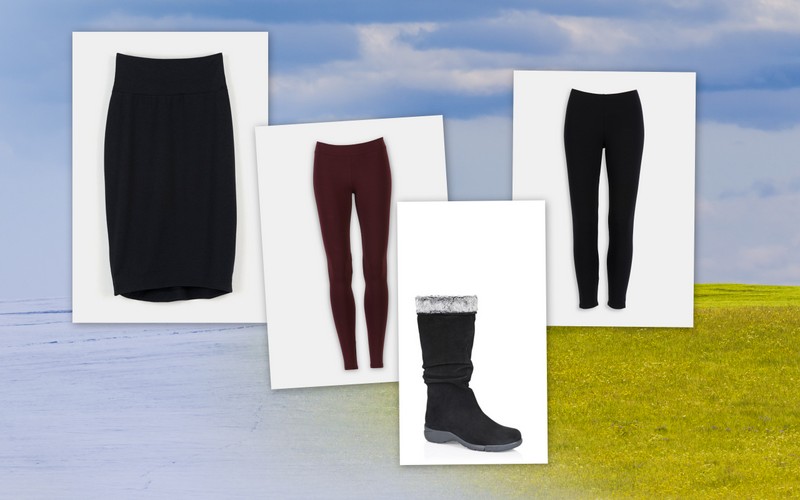 You're fleeing the cold and jetting off to a remote island near the equator (or some other hot-weather destination). How do you stay warm on your way to the airport, but not be weighed down with heavy winter garments for your entire trip? "Start with your arrival outfit and build on that," advises Leesa Evans, a celebrity stylist and costume designer. "Create a lightweight base, then add warmer pieces. You can shed layers when you arrive so that you're ready for the heat."
Try wearing warm leggings (we love the fleece-lined ones by Eileen Fisher and the organic-cotton pair by PACT) underneath a stretchy soft-knit skirt (like the Lapiz Everyday Pencil Skirt, which has a comfy fold-over waistband). Once you land, you can shimmy off the leggings from under the skirt. "I personally always travel in lightweight boots and have a pair of thin sandals in my bag so I can change en route," says Evans. For this, consider La Canadienne's Trevis cold-weather boots made from super-soft suede and lined with warm, silky shearling. They're flexible and incredibly light, so you can coil and stash them in a corner of your suitcase while switching to summery sandals. Evans likes Sam Edelman's classic Gigi thong sandals.
Outfit #2: Hot to Cold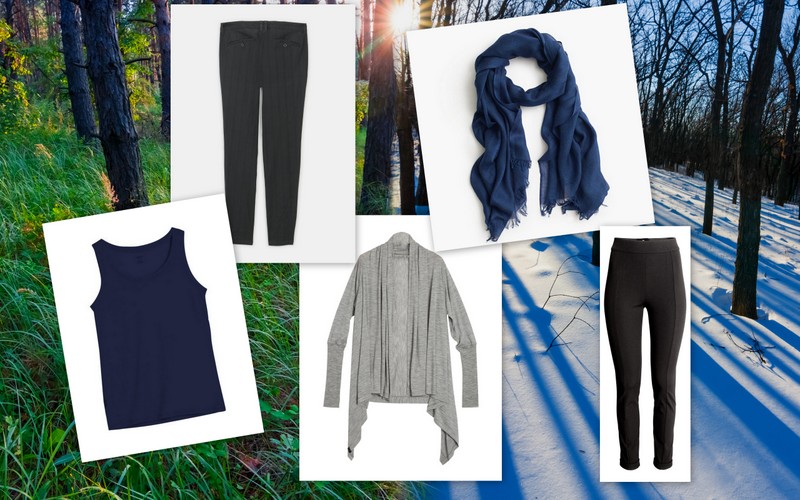 "Layerable pieces are key when traveling from a hot climate to a cold one," says Evans. "It's all about the base layer being appropriate for the hot weather, then adding thin, yet warm, pieces that form a toasty outfit for your arrival." Evans recommends starting with a lightweight shirt and sweater (check out the featherweight merino-wool options from Icebreaker; the New Zealand-based brand's Tech Lite Tank and Sydney Wrap are pictured above), "then adding a jacket and scarf. I love J.Crew's silk-cashmere wrap."
Dressing your lower half won't require as much strategic layering, but practicality and easy wearability are crucial. "The best pants for traveling are cotton trousers that have a bit of Spandex, like Vince's Cotton Twill Boyfriend trousers or H&M's suit pants," says Evans [H&M's are pictured above]. "These options are super-stretchy, comfy, and work from hot to cold and back again." Made from 99-percent organic cotton and one-percent Spandex, Toad&Co's Checkpoint Pants [pictured] also fit the bill.
Outfit #3: Cold to Cold
Here's a situation where wearing a heavy-duty, down-filled parka to the airport makes sense. But "there is so much more ease with a lightweight warm coat," says Evans. "I avoid bulky and awkward coats while traveling." She suggests Theory's wool-cashmere jacket for chilly — but not frigid — temperatures; it looks smart and chic, and its roomy shape is great for layering. "I also often travel in a poncho, which I affectionately call my travel blanket." Without question, a poncho that pulls double-duty as a cozy blanket is a perfect airplane staple. Look for an open-front style (similar to a kimono or cardigan), like this earth-toned, check-print version from Nordstrom.
Outfit #4: Hot to Hot
Going from one warm place to another is the simplest of these four scenarios, wardrobe-wise. With that said, Evans "loves white and pale neutrals in hot climates — they feel sophisticated and fresh." She "always takes an oversized thin scarf to use as a warmer layer on an overly air-conditioned plane." Lightweight scarfs, like the cashmere-and-silk one pictured above from Nordstrom, are non-negotiable travel no-brainers; not only can they act as a shawl onboard, but also as a sarong on the beach, a picnic blanket in the park, or a head wrap in the glaring sun.
Related Links:
All products are independently selected by our writers and editors. If you buy something through our links, Oyster may earn an affiliate commission.