Adventure and Ernest Hemingway go hand-in-hand. The legendary author made a name for himself writing about his exploits in war and the wilderness, using simple yet beautiful language to describe the world in which he lived. As an apparent adrenaline junkie, Hemingway often sought out new and rare experiences. So, it was only a matter of time before he would find himself in one of the most adventurous places in the world: Africa.
In the summer of 1933, he -- along with his wife Pauline and another friend from Key West -- headed to Tanzania, where they spent three months on safari. His big game hunting in the Serengeti and Lake Manyara, and time spent in the great outdoors, served as the inspiration for the novel "Green Hills of Africa," and the short stories "The Snows of Kilimanjaro" and "The Short Happy Life of Francis Macomber."
It's clear that the country captivated him, and he later wrote in "True at First Light": "I never knew of a morning in Africa when I woke up that I was not happy." After spending almost two weeks in the country, following in Hemingway's footsteps for most of it, I too felt the same.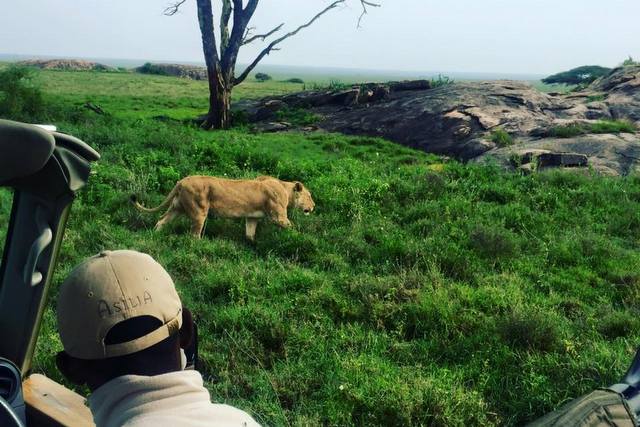 I recently
traveled to the region for my honeymoon, lured by the pictures of wild animals
and descriptions of endless landscapes. As I began planning the details of my
trip, I quickly realized I was following in the footsteps of Hemingway. Though
the rough-and-tumble nature of going on safari (and not to mention hunting) is
long gone, it's easy to see what enchanted the Nobel Prize-winning writer.
While
there are numerous tour groups and travel providers offering safari excursions,
Asilia Africa has made a point to develop properties and tailor trips that
focus on wilderness sustainability and individual traveler experience. Much
like Hemingway's tight-knit group of fellow wanderers, Asilia provides intimate
guided safaris where it's often just you and the guide.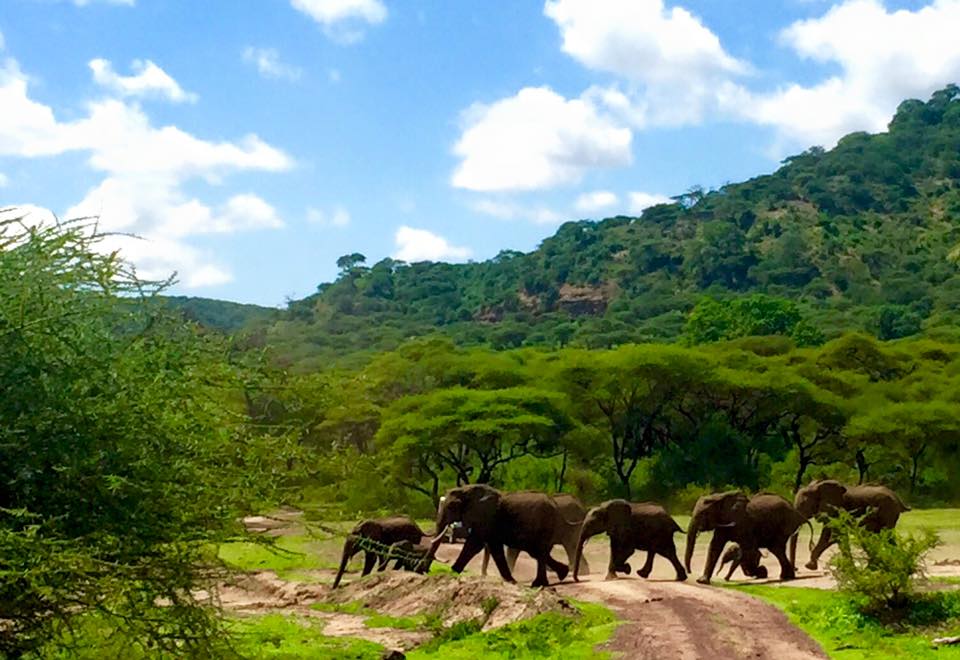 Our first
stop was Lake Manyara where Hemingway hunted along the shores dotted with the
famous pink flamingos, buffalos, hippos, zebras, elephants, giraffes, and more. To Americans, the thought of lions and zebras roaming around in anything other
than a zoo can be a totally foreign concept. So, to be able to be essentially alone
out in the open with these creatures was immediately captivating.
In true
Hemingway safari form, we had a packed lunch on the road and spent hours poking
our heads out the open roof, whipping out binoculars and "hunting"
for the big five. After nine hours in the wild, it was a blessing we didn't
have to rely on the minimum comforts of Hemingway's days and instead headed to
the nearby luxury accommodations of Gibb's Farm. There we swapped the writer's
campfire for a fireplace, and his bare-bones meals for gourmet organic dishes.
But, we still kicked up our feet and sipped on cocktails just like he did over
80 years ago.
After getting our first taste of the safari life, we headed to the Ngorongoro Crater where Hemingway followed the herds along the Great Rift Valley before making his way into the Serengeti, just like us. It was here we were able to check rhinoceroses and lions off our list of must-see animals, and watch the stragglers of the wildebeest migration roam around.
It wasn't
until we made our way to the Serengeti did I really start to understand what
Hemingway was writing about. Like the great author, we arrived via prop plane on
to a strip of land that looks only slightly different than the rest of the
protected land. Unlike Hemingway, who crash-landed near Uganda's Murchison
Falls on his second trip to the continent in 1954, we safely arrived on the
"runway" where animals sometimes wandered. In fact, the entrance to
the airport is only discernible thanks to a slightly more carved out dirt road and
small waiting area.
Though it was a 45-minute flight into the brush, we still had another
two-hour drive ahead of us. True to Asilia's values, the company recently
opened the Namiri Plains tented camp in an area of the Serengeti that had been
closed for 20 years to allow the cheetah population to replenish. This
exclusive access meant there were no other camps within an hour's drive,
something that truly evoked a Hemingway-like experience.
With only
eight sleeping tents, a common tent, and a dining tent, it was easy to imagine
what life on the plains would have been like in the '30s. Sure, we had handcrafted
furnishings, electricity, hot solar-powered showers, five-course meals, and a
security escort, but no amount of luxury could impede on that basic thrill of a
buffalo brushing up against your tent as roaring lions stalked it, or an
elephant trumpeting to wake you up in the middle of the night. It was a chorus
of sounds I'll never forget.
Our days
in the Serengeti began much like Hemingway's: early. We'd awake before dawn and
be on the "road" by sunrise. What followed was hours of what can only
be described as prose-provoking adventure. Shortly into our drive, we stumbled upon a
group of six male lions just a few feet from camp; later, we watched the circle
of life take place as a gazelle, killed earlier by a cheetah, were shared
amongst the hyenas, jackals, and vultures. We quickly began racking up facts
about animals, courtesy of our knowledgeable guide, and started to learn how to
distinguish between their silhouettes from a distance.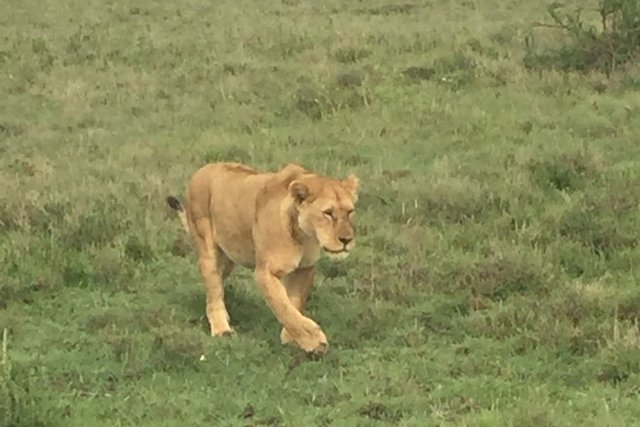 One encounter in particular reminded me of the excitement Hemingway must
have felt all those years ago. We spotted a pride of lions on top of a rock
that included several grown females and a handful of youngsters. Of course, we edged as close as possible. A lone zebra soon came up behind us, something that we noticed — and certainly didn't go unnoticed by the lions, either. One lioness slowly made her way down the rock and inched
closer to our totally open vehicle. "She is going to use our car as
cover," the guide calmly said. "Don't move and don't say anything.
You're going to be fine."
As frightened
as I was that the lion would decide I was lunch instead of the zebra, it was
still exhilarating to watch her hunt her prey. Lucky for me, the lioness went
after the zebra and lucky for the zebra, she didn't succeed. My heart was
racing just as it did reading one of Hemingway's accounts of similar
expeditions.
It was just one of many unpredictable bush encounters that could easily make his stories come to life. And over the next couple of days we racked up sightings of giraffes, leopards, warthogs, bat-eared foxes, elephants, and more — all of which I could have written a short story or two about. But, unlike the explorers of Hemingway's days, the only trophies we needed to take home were photos to mount on our walls.
Like all
great adventures, this one had to come to an end. Hemingway was jolted back
into reality when he had to be airlifted to Nairobi after contracting dysentery
in January 1934. Luckily, our time in the wild ended with a quick trip to the
beach in Zanzibar and a few days in Amsterdam before ultimately heading back to
reality with only the memories of our escapades.
Related Stories:
All products are independently selected by our writers and editors. If you buy something through our links, Oyster may earn an affiliate commission.