Here at Oyster, we love a good book anytime of year -- but there's something about the fall that encourages us to curl up with a new read. Maybe it's the shorter days and roaring fireplaces... And since travel and reading often go hand-in-hand (how many times have you gotten through an insanely long layover with a good book?!), we put together a list of worthy titles for your next trip -- and paired them with a perfectly suited hotel, of course. Let us know which books you're loving this fall in the comments section below. Happy reading!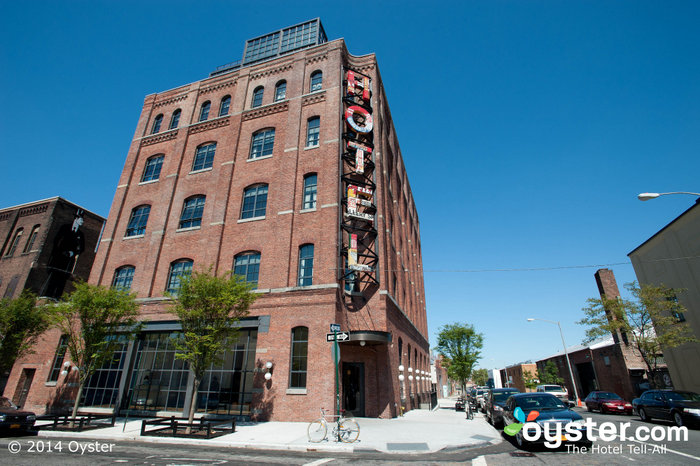 Ms. Dunham's hotly anticipated collection of personal essays has been tauted by some of the best in the business, including David Sedaris and Judy Blume. Fans of HBO's Girls are sure to love, and laugh at, Lena's written take on everything from traveling in Israel to her childhood therapy sessions to dating at a liberal arts college in Ohio. The book is aimed to give Millennials life advice, but readers of all ages will recognize parts of themselves in this occasionally cringeworthy tell-all. The book hits stores on September 30th.
Read it here: Wythe Hotel, New York City
We suggest reading Not That Kind of Girl at the Wythe Hotel in cool-kid mecca Williamsburg for a taste of Girls favorite borough.
This novel was published in 2010 but it's back on our radar with its release as a major motion picture, starring Jason Bateman and Tina Fey, over the weekend. The sharply written novel follows a dysfunctional, modern-day family as they're forced to spend seven days and nights together while they sit shiva for the family patriarch. Will the four adult siblings work out their childhood angst or destroy each other in the process? The writing is laugh-out-loud funny — without sidestepping the raw dynamics surrounding marriage, divorce, and family values.
Read it here: Hollywood Roosevelt Hotel, Los Angeles
The Hollywood Roosevelt Hotel's pool is a hotspot for celebrity sightings. Finish the book poolside, then head to the nearby ArcLight Hollywood and see the movie version at one of the best theaters in the country.
Whether you've got kids, want kids, or can't imagine ever having kids you're sure to be inspired (and entertained) by Ms. Newman's juicy memoir that details her decade of travels to far-flung destinations around the world "while you were breeding." Along the way she meets a colorful cast of (mostly sexy male) characters and ultimately figures out what she's running from. Readers live vicariously through her as she jets in and out of Buenos Aires, Tel Aviv, and New Zealand. Her experience as a successful sitcom writer, (How I Met Your Mother, That 70s Show) is evident in her clever and on-point writing.
Read it here: Pueblo Bonito Pacifica Resort & Spa, Cabo San Lucas
Kristin's book would be an excellent companion at the all-inclusive, adults-only Pueblo Bonito Pacifica Resort & Spa in Cabo San Lucas. Cozy up on one of the resort's day beds on the private beach for your own version of travel without the little ones.
Calling all foodies! Books that Cook is a hybrid cookbook and collection of American literature about food. The author has woven together essays, poems, and techniques from some of the cooking world's heaviest hitters: Alice Waters, James Beard, and M.F.K. Fischer are all featured, along with lighthearted excerpts from Nora Ephron and Maya Angelou. The tried-and-true recipes make this a book you'll pick up again and again — on the couch and in the kitchen.
Read it here: The White Barn Inn & Spa, Maine
The White Barn in Kennebunk is known for its two-hour private cooking classes with super chef, Jonathon Cartwright. Learn to slice and dice in elegant country surroundings.
When Brian meets Rachel, he convinces her to take the plunge on her lifelong dream to bike across the United States. Going Somewhere is the memoir of their adventure on the roads. Fans of Cheryl Strayed's Wild will surely find themselves rooting for Brian as he embarks on an occasionally perilous (and heartbreakingly scenic) adventure with his new love.
Read it here: H2 Hotel, Sonoma
For bikers, it doesn't get much better than H2 Hotel in Sonoma. The four-pearl property provides guests with vintage-looking Public Bikes, built in San Francisco, and mapped routes through wine country — complete with vineyard stops.
RELATED LINKS:
All products are independently selected by our writers and editors. If you buy something through our links, Oyster may earn an affiliate commission.