What started as Austin's South by Southwest Music Conference and Festival in 1987 (which 700 people attended) has grown to become one of the largest festivals and conferences in the music, film, and technology industries. This year will bring nearly 80,000 participants, including film industry leaders, popular music acts, and start-up companies looking to build brand awareness. Last year saw the Austin premiere of Oscar nominee Boyhood, a keynote presentation and performance from Lady Gaga, and a live stream conversation with NSA leaker Edward Snowden. After spotting come celebs, draining your cell battery from checking Twitter for pop-up shows, and scoring more free stuff than you can carry, you'll likely be ready for some R&R. Based on which SXSW events you're most excited for, we've selected a hotel that will be perfect to call home base while in Austin. If they're already completely booked, you can at least grab a drink at the hotel bar. Plus, you may spot Kanye West, or your favorite 80s chick Molly Ringwald, when heading to the elevator.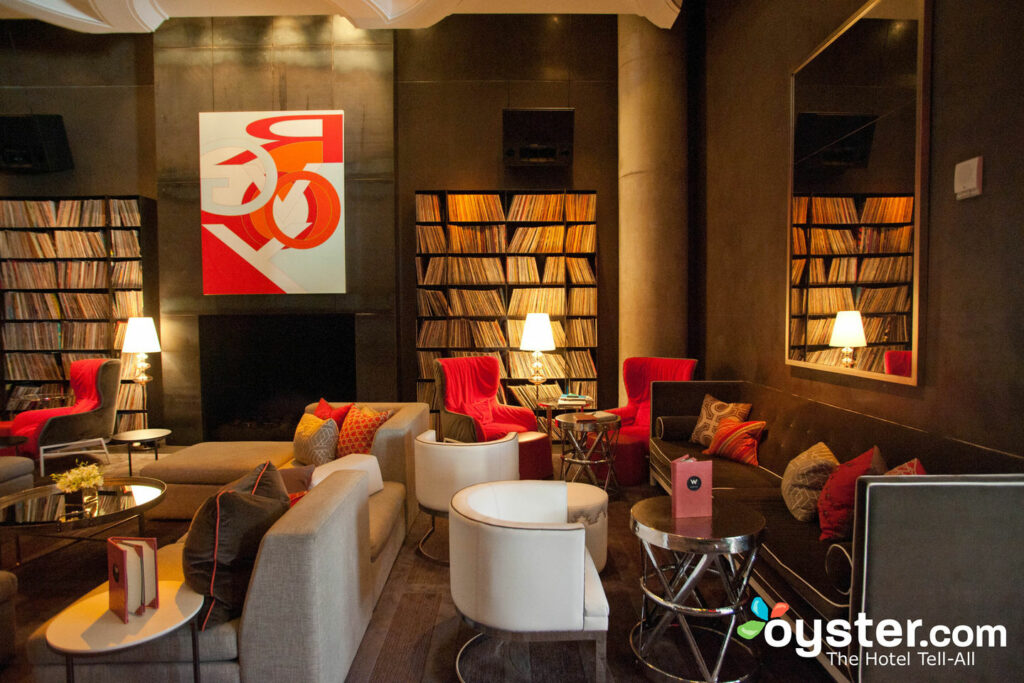 While the film program at SXSW includes documentaries and Texas High School Shorts, it also has a lineup of mainstream comedies. The world premiere of Get Hard, starring Will Ferrell and Kevin Hart, is one that's likely to draw a large crowd. Trainwreck, a film directed by Judd Apatow and starring comedians Amy Schumer and Bill Hader, will show the "work in progress" version to badge and wristband holders.
Since Amy Schumer has poked fun at W Hotels, it's only fitting to stay at the hip brand's downtown Austin outpost. The Living Room bar is a popular gathering spot for Austinites and SXSW-goers, and the young and hip congregate at the W's WET Pool on weekends. Trace, its signature restaurant, is also one of the city's culinary hot spots.
Dubbed the "Live Music Capital of the World," Austin is guaranteed to have amazing shows from big name artists to up-and-comers at any time of the year, but particularly during SXSW. Whether you're lucky enough to score an invite to The Fader Fort, have a badge or wristband that can get you into the Pandora Discovery Den, or are planning to flock to the free Spoon performance at Auditorium Shores, there will be ample concerts to fit your musical taste.
Hotel San Jose has a stylish, minimalist design and sits at the center of Austin's SoCo neighborhood, a trendy area known for great music. The hotel reflects its hipster surroundings by offering lots of cool stuff on loan: an excellent music library (both CDs and pre-filled iPods), a video collection, Polaroid cameras, bicycles, and even a Remington typewriter. There's a small swimming pool, an outdoor lounge serving drinks and snacks, and the locally famous Jo's Coffee next door.
Austin's burgeoning food scene has gotten a lot of press in recent years. Leading that movement is Paul Qui, Top Chef winner and chef/owner at Qui restaurant and East Side King. Ahmir Thompson, better known as The Roots drummer Questlove, will be having a candid talk with Qui regarding "how to create an entrepreneurial trajectory in the culinary industry while remaining authentic and having a blast." Sounds fun to us!
Since the above talk, in addition to several other SouthBites events, will be held at the historic Driskill Hotel in downtown Austin, it only makes sense to head there. The highly acclaimed Driskill Grill has fine dining, while the Driskill Bar features a sophisticated saloon-like atmosphere. It has a prime location on Sixth Street, so you'll be in the heart of the action.
The Interactive sessions have earned a reputation over the years for bringing the latest in emerging technology and the digital landscape. This year, festival-goers can check out a talk with the CEO of Lyft, hear Charles Barkley talk about digital media and sports, and learn how Jessica Alba helped build a brand for The Honest Company, to name a few.
A large majority of the tech talks, start-up company spotlights, and interactive panels will be held at the Austin Convention Center. Avoid the hassle (and expense) of hailing a cab (or pedicab) from your hotel and stay at the Four Seasons Hotel Austin, just a four-minute walk from the center. In addition to a gorgeous location along the lake, the hotel has comfortable rooms, and the service and amenities are top-notch, as you'd expect. A number of movie stars, athletes, and the key business players are scheduled to sleep here after their SXSW engagements.
Developers, manufacturers, and die-hard gamers will convene at the Gaming Expo, which "combines well-loved elements of geek culture with the cross-console video game world." The Geek Stage has events open to the public, and includes programs like a cosplay competition, comic book panel, and a live video game experience.
The Kimber Modern is a stylish boutique with only five guest rooms, catering to guests looking for a truly private and relaxing hideaway (where you can play your game in peace). An outdoor courtyard is shaded by tall trees and features a sleek water feature and hammocks. In the hotel's common area, guests will find cool mid-century mod seating, a Apple iMac computer and printer, and a full kitchen. The bright and airy rooms all have platform beds with comfy bedding, as well as iPod docks, LCD TVs, and white decor.
All products are independently selected by our writers and editors. If you buy something through our links, Oyster may earn an affiliate commission.