Travel is often an expensive endeavor, especially when you're part of a large group and your days are packed with fun (but pricey) adventures. After all, no one wants to be the Negative Nancy who suggests ordering in for a night or two. But fortunately, traveling in a group can have its money-saving perks. While many a hotel keeps groups of more than four adults from sharing a room or suite, there are others that encourage it. And often, fancy-sounding categories such as the "Two-Bedroom Park View Room" or the "Kennedy Suite" can actually wind up being less expensive than booking several rooms in more basic categories. So whether you're traveling with the fam or planning a group getaway, here are five U.S. hotels that will let you pack in a whole gang of guests.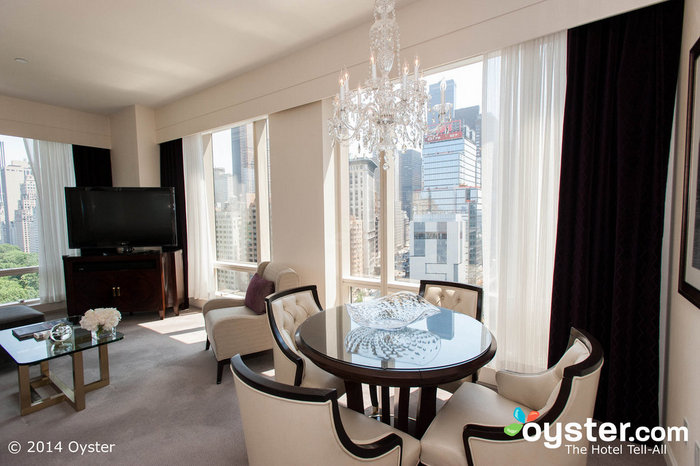 The Room: Two Bedroom Park View
An ostentatiously luxurious hotel with a supremely well-trained staff, and huge, elegant rooms, this Trump boasts a fabulous location at Columbus Circle. The luxe Two-Bedroom Park View Suite, not surprisingly, overlooks Central Park and has two spacious bedrooms, one with a king bed and the other with a queen. The suite fits up to six adults and feature gorgeous decor, including crystal chandeliers, and a small — yet fully equipped — kitchen.
The Room: Two-Bedroom Suite
Though the Mayflower has hosted inaugural events and scandalous affairs since 1925 (the most recent — known one, at least — being Eliot Spitzer's prostitution scandal), most days it's just a 650-room business-focused Marriott. But groups will appreciate its convenient downtown location and its Two-Bedroom Suite, which includes one king bed, one queen bed, and two bathrooms. It fits up to five adults.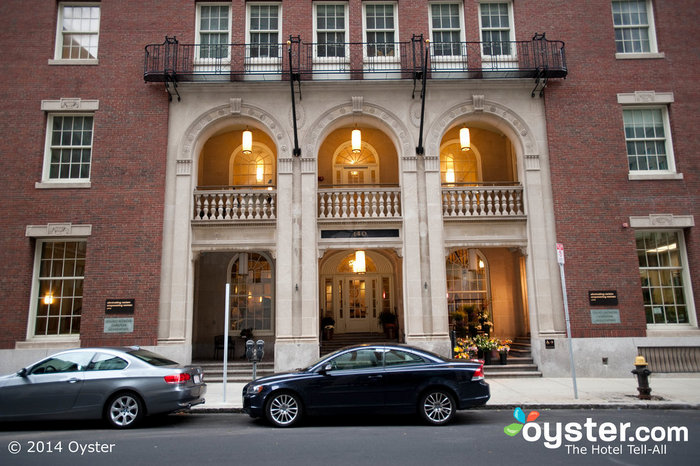 The Room: Kennedy Suite
Located in a landmark building that's home to the nation's oldest YWCA, Hotel 140 offers a budget-friendly alternative to the chains and luxury properties in posh Back Bay. All rooms come with Wi-Fi, coffeemakers, mini-fridges, and access to a nearby gym; the Kennedy Suite, with one king bed and three full beds, fits up to eight adults.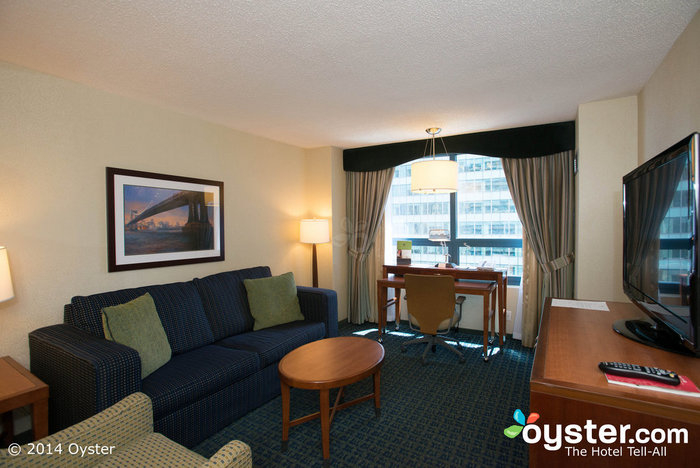 The Room: Two Double Beds Premium Suite
The DoubleTree Suites may be one of the best hotel options for families and groups in New York City. The big two-room suites all come with pull-out couches and either one king or two double beds; the latter can fit up to six people, a rarity in the area. Plus, the bathroom and the vanity area in this premium suite are separate, which allows for an easier time getting ready. Some rooms have excellent views of Times Square, others face the New York City skyline (with peeks of Central Park in the distance).
The Room: One-Bedroom Suite
This 13-story hotel with 233 large, suite-style rooms opened in 2005 and remains popular with businesspeople and lobbyists during the week (it's encircled by federal buildings) and families on weekends (free breakfast and an indoor pool are highlights). Families will also appreciate the large suites; the one-bedroom suite can fit up to six adults as it comes equipped with two queen beds and a sofa bed. The Smithsonian Institution and museums on the National Mall are an easy, 10-minute walk.
Check out Oyster's page on Google+
To learn more about Jane Reynolds, visit her on Google+
RELATED LINKS:
All products are independently selected by our writers and editors. If you buy something through our links, Oyster may earn an affiliate commission.