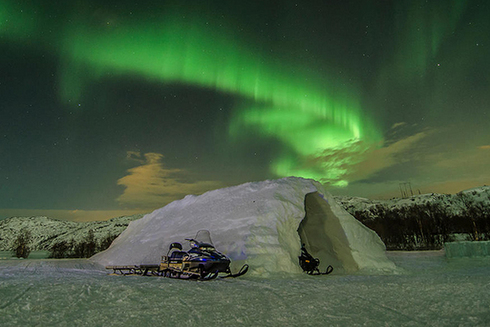 No one goes to a snow hotel for eight hours of sleep. For some, the draw is simply the novelty. For others, it's a badge of honor to make it through the night. (Usually a couple of people end up bailing, but there's always a warm place provided to retreat to). For almost everyone, once is more than enough for a lifetime.
I've spent the night in three different snow hotels, two in Canada and one in Norway. After the first time I did it in Quebec City, I had the attitude of, "Okay, checked that off the travel bucket list," but when a new one popped in Montreal a few years later, just six hours by car from my home in Boston, I thought, "Well, why not see what that one's like." Then, when a stay at the Kirkenes SnowHotel in Norway was an optional excursion after a Hurtigruten Northern Lights cruise this winter, I just couldn't resist.
My friends think this is a pretty weird activity for me. I mostly don't like winter, and sometimes I don't leave the house for days on end when the temperature dips below 20. But, for me, staying at a snow hotel is an idealized version of winter: Everything is pristine and beautiful.
Related Link: World's Best Ice Hotels and Igloo Villages
There are things common to all snow hotels. Ice sculptures decorate the hallways and bedrooms boast walls of snow graced with carvings that only last for a few months at best. There's the requisite ice bar where drinks are served in ice cups. Furs cover chairs made of snow. And almost always, there's the profound silence late at night when everyone is snug in their sleeping bags.
And here's the thing no one expects: Once you're tucked into your bag rated for arctic expeditions, you're warm as toast. The problem comes when you have to get out of your bag to visit the bathroom, which I invariably becomes a necessity. That's how I know about the silence at night, by the way. But that's just a minor annoyance.
Essentials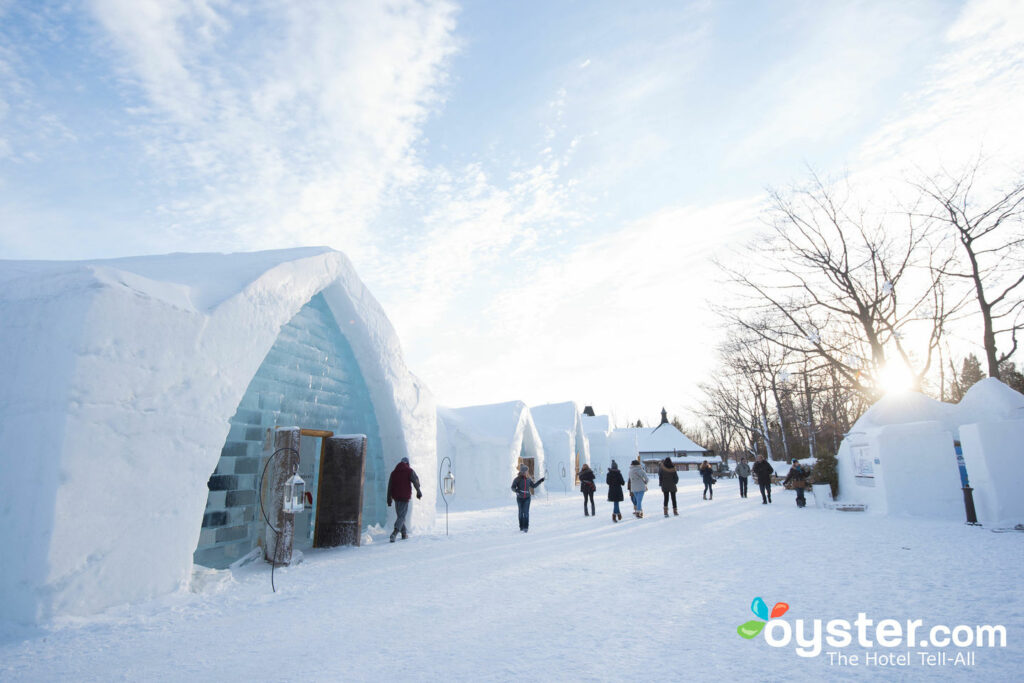 Everyone wonders about what's needed to stay at a snow hotel and the answer may surprise you. Not much. The hotels give you everything you need for a comfortable night's sleep. At Kirkenes, that included clean wool socks, a head sock, a sheet sack, and of course a sleeping bag rated for minus-30 degrees Celsius.
The beds at Kirkenes have normal mattresses with an extra thermal insulation layer. Ice blocks placed around the beds make it look like you're sleeping on ice, but you're not. The illusion only needs to go so far. The temperature inside the snow hotel is a constant minus-4 degrees Celsius, so you do need your usual winter gear for roaming around.
Bathrooms, showers, a sauna, restaurant and lounge are in a heated lodge, open all night and easily accessed from the snow hotel. Word to the wise, if you think you will have to visit the facilities in the night, try to book a room as close as possible.
Related Link: Zaniest Winter Festivals in the World
You usually get a tutorial on how to get in and out of your bag and what to wear. The key? Less is more. If you wear too many layers, you get too hot. When you get too hot, you sweat, and then you unzip the bag, which causes you to get chilled and then it's very hard to get warm again.
In Quebec, the tour guide suggested sleeping nude and keeping your clothes tucked into your bag so they would stay warm. In Norway, they suggested wearing just undergarments and socks. Regardless of what you wear, there will be a moment when you're wriggling into your clothes and trying to stay in your bag, when if anyone was watching they would think you might be having some sort of a seizure—but the upside is you won't be cold that long.
You Might Also Like: 5 Life-Changing Travel Essentials
Extras and Excursions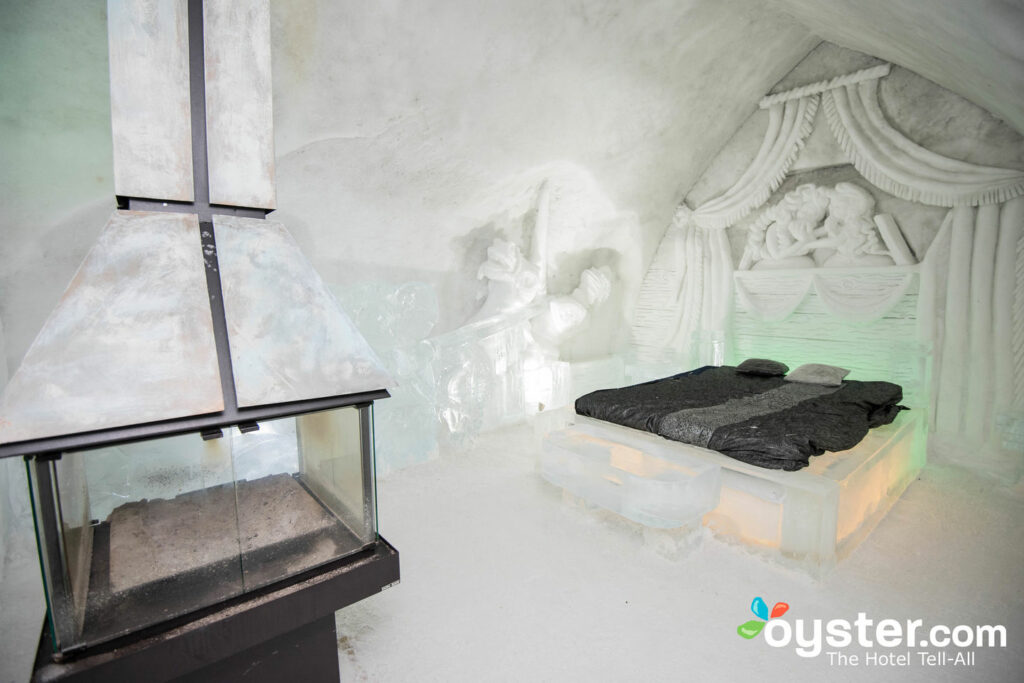 Since sleeping, in the end, is a relatively short part of the experience of staying at a snow hotel, most offer a slew of fun winter activities, from snowmobiling to dogsledding, and anything else you can think of relating to winter.
I visited Norway in March, when the Northern Lights are supposed to be spectacular, but I hadn't really seen them on the cruise; Kirkenes gave me one more chance to catch the elusive lights. Late at night, stalling my bedtime, I was finally rewarded with a sighting. It felt almost poetic.
Related Link: 8 Places to See the Northern Lights
But hands down, my one of my favorite activities at any snow hotel I've been to was the option to go arctic king crab fishing on the frozen fjord of Kirkenes. Those who signed up were outfitted with full snowsuits, bundled onto sledges pulled by snowmobiles, and taken over the fjord to saw a hole in the ice and pull up the giant creatures. After we got what seemed like an enormous catch, we were taken to a farmhouse where the guide prepared the crabs over an outdoor fire and then served them up inside. I'm pretty sure I've never had a more delicious meal, and it made a lot of lobsters I've had pale in comparison.
The hotel had a few resident reindeer which were fun to visit, as well as kick sledges free to use, which a friend and I enjoyed while racing each other. Which brings me to another highlight of sleeping in a snow hotel. There's a camaraderie you build with all the other overnight guests.
Come morning, over coffee and breakfast in the warm dining room, you exchange stories with your fellow overnighters, collect your standard certificate declaring you made it through the night, and wonder if you'd ever do it again.
In my case, I know the answer is yes.
More from Oyster.com:
More from SmarterTravel:
Read
the original story: What It's Really Like to Sleep in a Snow Hotel by Kim
Foley MacKinnon, who is a contributor to SmarterTravel
All products are independently selected by our writers and editors. If you buy something through our links, Oyster may earn an affiliate commission.