The post originally appeared on Yahoo! Travel.
Ever been to a hotel that has full-time residents? No, we're not talking about celebrities or Eloise, but rather residents of the furry or feathered variety that act as mascots at various properties. These domesticated residents often greet guests upon arrival, and can be seen wandering around the lobby or grounds. Whether it be two friendly St. Bernards or a white Birman cat, these animals are more like hotel staff than pets, but they prefer petting to tipping. So if you have to leave your pooch or kitten at home while traveling, you can still get your pet time in at these eight hotels.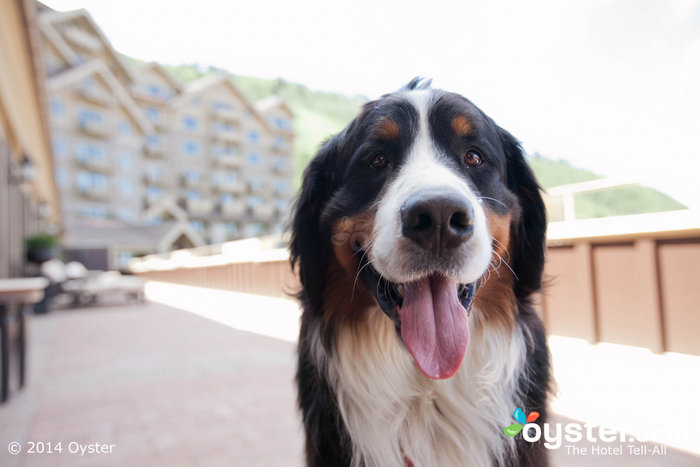 The Montage in Deer Valley is a large, luxurious resort with a ski-in/ski-out location. The rooms feel like upscale apartments, with warm wood accents, chandeliers, high-end artwork, fireplaces, and marble bathrooms complete with heated floors, soaking tubs, and separate showers. The pricey hotel has a massive spa (guests get free access to its pool, steam rooms, and saunas) and several restaurants, one with fine dining and another with a bowling alley. In addition to being a pet-friendly hotel, there are two canine ambassadors — Monty and Jonas — both Bernese Mountain Dogs that greet guests in the lobby.
The 88-room Hotel Le Bristol opened its doors during the Roaring Twenties, and today is still one of Paris' best-known luxury hotels. It's located on one of the most high-end shopping streets in Paris and is steps to the Hermes flagship store, as well as Avenue Montaigne and Champs Elysees. It offers impressive amenities for its small size, including a sunlit indoor pool (a rare find in Paris); a three-Michelin-star restaurant, Epicure; and a lovely spa with three floors featuring a Turkish bath and playroom for kids. Families are welcome in this posh environment (there's a dedicated Children's Programme), and little ones will love spotting the two resident cats roaming the hotel. In 2010, the hotel adopted Fa-raon, the white Birman cat shown above. The gorgeous cat recently got a feline girlfriend in Kléopatre, another Birman who was added to the hotel's permanent guest list in July.
A sexy 198-room property that doubles as a hip art gallery, the Hotel Palomar has spacious, comfortable rooms, a free wine tasting every evening, an upscale restaurant on the 5th floor, and an open-arms policy toward pets. Other downtown boutiques may cost less, but the Palomar is a cut above for a romantic getaway. Guests can bring their four-legged friends (no size or weight restrictions) and are welcomed by Maverick, a chocolate lab who acts as Director of Pet Relations. The cuddly dog was rescued from a shelter and is the oldest director of Kimpton hotels. The hotel also has loaner goldfish that can be sent to guest rooms for a little companionship.
Since the publishing of this story, Charlie Chaplin has sadly passed away. His memory lives on at the hotel.
This urban, 23-room bed-and-breakfast has an understated entrance located at the crossroads of three distinct and cool NYC neighborhoods — Chelsea, the Meatpacking District, and the West Village. It opened in the mid 80s and it has become well-known for its genuine hospitality, thanks to owner Jay and his hand-picked staff. A film theme pervades and guests will find original movie posters, as well as classic movie-star-themed rooms. The entertainment theme continues with Charlie Chaplin, the aptly named resident cat and hotel mascot. The 15-year-old cat was abandoned in the hotel's garden right after his birth and has remained a resident of the small hotel ever since.
Hotel del Oso is a five-pearl property with surprisingly affordable rates and a welcoming staff, located a short drive from the Picos de Europa Mountains. The surrounding natural beauty and excellent on-site restaurant are the main draws here — the restaurant is known to fill up with locals who gather for the traditional Cantabrian cuisine. Nicely manicured grounds include an unheated swimming pool, gardens, and recreational facilities like a playground and tennis court. In addition to the human greeters, there are two very friendly St. Bernards who spend most of their time sleeping on the stone front steps.
The 120-room L'Auberge Del Mar is one of the top hotels on the Southern California coastline. It's located in beautiful Del Mar Village, right next to the beach, and its farm-to-table restaurant is exceptional. Rooms are homey and have high-tech amenities, and there's a small pool and luxury spa on-site. Well-behaved pets under 15 pounds are allowed at the hotel for a fee and are greeted by the hotel's own pooch, Sofie. While renovating the hotel, staffers found a little pup named Buttercup and took her in until her rightful owner was found. Once Buttercup had babies, the hotel got to keep one — and that's how Sofie came to be a lucky resident of this luxe resort. Now she's a permanent hotel fixture and even has her own Facebook page where she regularly posts selfies.
A tranquil 450-room island resort off the Miami mainland on Key Biscayne, the Ritz provides some of the traditional "Ritzy" benchmarks — impeccably kept grounds, huge pools, a brilliant spa, a world-class tennis center, and elegant (if generic) interiors. The family-friendly spot has a Ritz Kids program that includes activities involving little guests getting to pet the hotel's mascot, Gonzo. The friendly blue and gold macaw is often looking over the tennis courts and kids can feed or get pictures with him.
This boutique hotel is steps from the center of bustling Times Square but feels like a calm oasis. With stylish rooms and suites, a hip new wine bar, and a restaurant with a locally acclaimed chef — plus a free wine hour each night — The Muse is a great alternative to the mid-priced mega hotels that pervade the neighborhood. The Muse is an impressively pet-friendly hotel, like many Kimpton properties, having hosted everything from snakes (!) to penguins (!) to a pig (!), many of which were in town to appear on television shows that tape nearby. Ginger, a teacup Pomeranian, serves as the Director of Pet Relations. On most days, Ginger can be found hanging out on her leopard-print bed near the concierge.
MORE FROM YAHOO! TRAVEL:
RELATED LINKS:
All products are independently selected by our writers and editors. If you buy something through our links, Oyster may earn an affiliate commission.