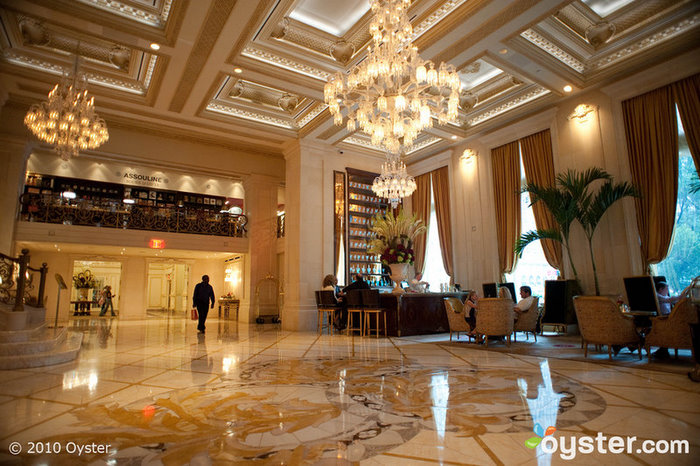 [js_single_hotel_rates_cta hotel="8036" /]
When it comes to luxury hotels, they sure don't make them like they used to. We're not saying we don't love some of today's modern luxury properties (we do), but for truly grand luxury, you have to look to the past, when gold leaf, an excess of marble, and crystal chandeliers were de rigeur. If you're looking for the sort of ornate, old-world luxury that inspires hushed reverie, look no further: Below, we've listed Oyster's grandest gilded icons.
The century-old, 282-room Plaza is a New York landmark. A $400 million overhaul in 2008 gave the huge rooms gold-plated bathroom fixtures, but it also converted most rooms overlooking Central Park into privately owned residences. Still, the beautifully restored Oak Room, exceptional spa, and 24-hour butler service make it worth the splurge.
Dating back to 1912, this iconic 383-room Fairmont hotel in tony Back Bay has the most opulent lobby in the city, a classic oak-paneled bar and restaurant, and top-tier service. But most of its guest rooms are much smaller than standard rooms at most other luxury hotels in Boston (almost half the size).
A grande dame hotel that's hosted presidents and diplomats since 1901, the 332-room Willard is a D.C. icon dripping with history just two blocks from the White House. The exceptional staff and opulent lobby compensate for rooms that lack the flash of those at the newly renovated W Washington D.C. next door.
The extraordinary service at the grand, century-old 229-room St. Regis is rivaled only by the Plaza. It lacks the pool, amazing spa, and Central Park views of the Mandarin Oriental, but a famed Bloody Mary at the King Cole Bar and a dinner at Alain Ducasse's Adour more than compensates.
The Fairmont combines the history, cachet, and decor of a turn-of-the-20th-century grand old dame with the amenities, technology, and corporate-dominated clientele of a large chain property. What separates it from its luxury competitors are its beautiful, well-appointed rooms, many with stunning views, and its location atop Nob Hill.
One of New York's most visually stunning hotels, the New York Palace has a gilded, grandiose style that is a little gaudy but still fabulous enough to blow away the boutiques. With 899 rooms, this is an excellent, modern (and less uptight) alternative to its Midtown East neighbor, the famed Waldorf-Astoria. Huge rooms (renovated in 2008), a luxe spa, and a fantastic gym make the Palace a great value among luxury hotels.
Boasting ample turn-of-the-20th-century elegance and 550 rooms on only eight floors (dig these corridors), the Palace is aptly named — it is indeed palatial. But other than a nice indoor pool and an elaborate Sunday brunch, few features distinguish this business-oriented Starwood from its competitors. If you can find a better deal at the Fairmont, you may be better off.
All products are independently selected by our writers and editors. If you buy something through our links, Oyster may earn an affiliate commission.