During our travels this summer, we've visited some amazing urban destinations, where our days have been filled with the cacophony of cars, and live music pouring from local bars and clubs after dark. And while these urban adventures are almost always exciting, they've taught us better than anything else that sometimes you've just gotta get outta the concrete jungle and into the wild! Luckily, you don't have to disappear into the African bush (unless you want to!) to interact with nature, or mingle with some of the spiny, furry or feathery locals. These six hotels can get you up-close and personal to some serious wildlife -- without sacrificing your creature (we love a pun) comforts. So pack your camera and binoculars; it's time to make your escape!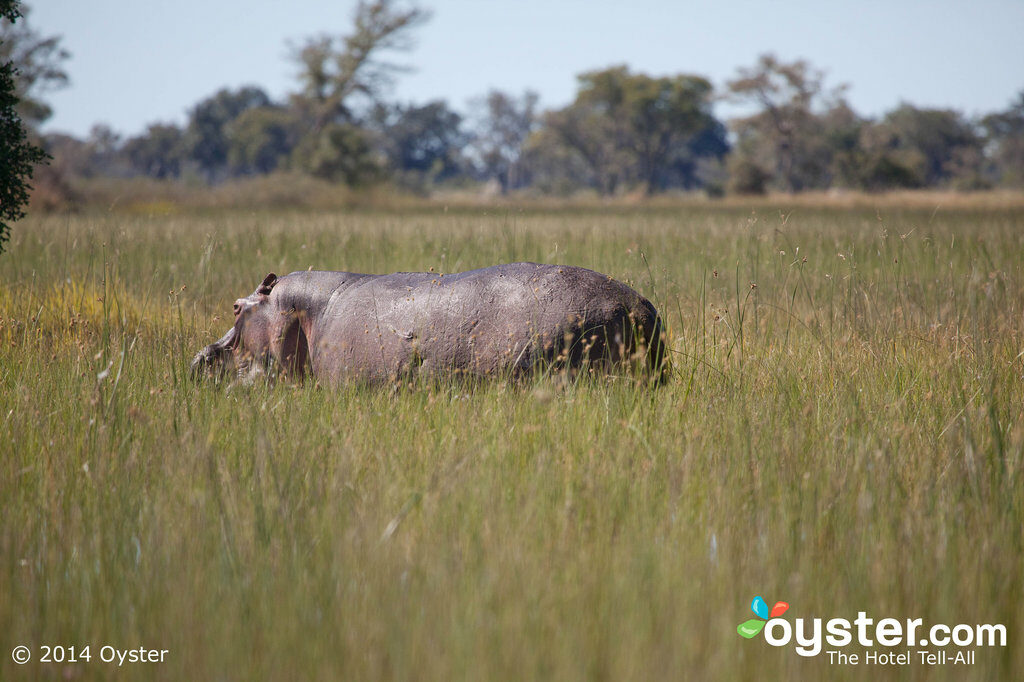 This ultra-remote, luxurious safari lodge on an island in Botswana's Okavango Delta isn't a hotel, it's an experience, where everything — including the excellent food and the guided excursions (game drives, bush walks, river cruises) — is included in the price of the stay. andBeyond Xaranna guests can get up close to exotic wildlife on both land and water (think: lions and hippos), and even arriving to the property is an adventure, requiring transport by small plane, safari vehicle, and a boat. The nine safari "tents" are fully screened in and thoroughly high-end, with huge soaking tubs, four-poster beds, lots of wood, and private pools. The decor blends rustic charm with bright, contemporary style — not an obvious combination, but it mostly works. And don't be surprised if you spot an unannounced guest hanging around the dining areas!
Grand Caribe Belize is one of the larger properties on Belize's idyllic Ambergris Caye. With 72 one- to five-bedroom condos that appeal to families and groups, the hotel features high-end decor that includes Brazilian tile floors, mahogany wood, and granite countertops; all units have private terraces with pool or ocean views. While the resort's action may be centered around its three swimming pools, the real action lies a short boat ride away through Amergris Caye's shallow, cobalt blue waters. The combination of clearer northern Belize waters and proximity to shore make this area one of the most popular and perfect places to slap on a mask and snorkel. Experience world-class underwater views teeming with colorful Caribbean biodiversity. Snorkelers and divers often spot tropical fish, octopus, lobster, sea turtles and stingrays.
Guests come to Costa Rica's upscale Lapa Rios to enjoy the spectacular surroundings, learn about sustainable tourism, and re-connect with nature. The 16-bungalow lodge sits amid 1,000 acres of rainforest filled with wildlife (nearly 2.5% of the world's biodiversity can be found here), but — with a ocean view pool, an excellent restaurant, and luxe rooms — it's far from a no-frills jungle camp. This is a place to get in touch with nature without roughing it. Try not to brag too much when you tell your friends you replaced your alarm clock with the morning cries of a howler monkey; or that a "typical" stay here features sightings of several types of monkeys, a sloth or two, bats, Jesus Christ lizards, a hefty selection of the over 300 species of birds, colorful starfish, hopping frogs and, of course, endless insects (it is the rainforest after all) — and much, much more.
If beaches and birding are your thing, you'll likely love a stay at the Dominican Republic's Natura Park Beach Resort. This all-inclusive "eco-friendly-but-we-have-lots-of-air-conditioning-units" resort is nestled within tropical gardens filled with native bird life. Winding paths provide great self-guided tours through the leaves, trees, and lagoons, while just a short way up the road you can explore all the wildlife chirping, swinging, and croaking inside the Blau Natura Park. While this resort has a whopping 510 rooms, its lush gardens and rampant wildlife make it one of the D.R.'s most exotic-feeling retreats. This hotel is arguably home to the most wildlife in the D.R., so don't forget to pack your binoculars!
Leave it to Disney to prove that you don't have to leave the country to soak in some African vibes — or its exotic wildlife. Modeled after an East African safari lodge, with wildlife that freely roam the grounds, the 762-room Animal Kingdom Lodge is one of Disney's — and Orlando's — most unique resorts. Its massive pool, free children's activities, knowledgeable staff, and excellent gym make it one of the top options in Disney World. Information stations, complete with magnified viewfinders, teach giraffe and gazelle gazers about the different wildlife roaming the grounds. Grab the Wildlife Field Guide in your room and see how many of the different animals you can identify, or join a safari to get a better vantage point for viewing the 30 different species that can be found.
The Selinda Explorers Camp is a wildlife adventure that takes place along the Selinda Spillway, offered from May to October.Camp is set up with tents in secluded spots along the water — far from modern conveniences such as electricity and flushing toilets, but as luxe as camping can get, with great meals and an attentive staff that does all of the setting up and packing up for you. The trip's highlight comes during the day, when wildlife such as elephants, hippos, and giraffes can be spotted. But winding down under the stars, cocktail in hand, with the sound of Africa all around you, is pretty hard to beat as well.
Check out Oyster's Google+ page
To learn more about Katherine Alex Beaven, vist her on Google+
RELATED LINKS:
All products are independently selected by our writers and editors. If you buy something through our links, Oyster may earn an affiliate commission.