Pinterest and Martha Stewart may have stellar design and decor tips, but we love drawing inspiration from the thousands of gorgeous hotels we've visited. From expertly mixing luxe patterns, hanging basket chairs, or even going full-on fairy tale, hotels can provide ideas for any type of style. Plus, instead of forking over $500/night for a posh stay, you can transform your bedroom into its own oasis (although that can cost a pretty penny, too). Take a look at some of the most stylish and fun decor trends we've seen and let us know which are your favorites!
Gallery Walls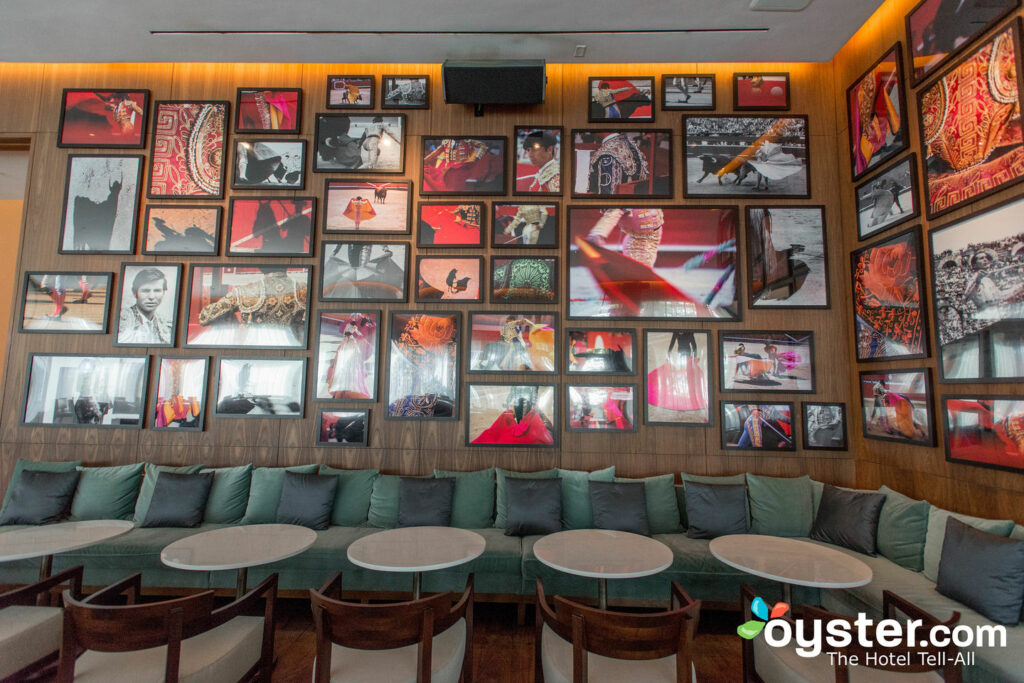 One of the more widespread design trends over the last year has been the gallery wall. From HGTV to Lauren Conrad, bloggers, brands, and home experts have been declaring their love for the makeover idea. While there are no hard and fast rules for a gallery wall, essentially it's using several framed photographs or prints and laying them out along a wall. Whether you choose a theme or color scheme, or stick with a random assortment, the end result is stunning. We love the matador photographs at the Miami Beach EDITION, the cluster of colorful prints at the Hotel Indigo in London, and the old family photographs at Kaskades Suites at Gale South Beach.
Black-and-White Theme
If you love applying a black-and-white filter to your Instagram posts, perhaps you'll like a B&W-themed room. Black-and-white furnishings and textiles creates a sleek, chic, and sexy space. Be Manos in Brussels has every room decorated with black carpets, black bed frames, and white linens, creating a dramatic yet minimalist effect. The Night Hotel New York has a black-and-white motif throughout the property, as does the stunning Foto Hotel in Thailand. If those looks are little too jarring, stick to mostly white rooms with perhaps a touch of color, like those at the Melrose Mansion in New Orleans or the Hotel Villa Carlotta in Taormina.
But these hotel rooms make take the idea of a theme a bit too far >>
Canopy Beds
Canopy beds first came into existence when medieval nobles used them for both warmth and privacy from their attendants. Over time, they developed into more ornate designs and became a staple in many luxury hotels. Of course, some are still used for more utilitarian needs, like acting as barriers to mosquitos and other insects in open-air guest rooms. There are a variety of stunning styles, but some of are favorites include those at Nayara Springs in Costa Rica, The Naka Island in Phuket, and Koh Tao Bamboo Huts.
Animal Print
Animal print is one of the trickier decor elements; it can either be stylish or tacky. One way to avoid cheapening the look is to stick to one or two accent pieces in your favorite animal print — zebra, leopard, or cheetah. Whether it's in the bedroom, living room, or kitchen, pick an animal-print piece of furniture, throw pillows, or rug to add some pizazz to your space. For inspiration, check out the lobby at Hotel Keppler, guest rooms at B&B Villa Sogno Charme e Relax Selinunte, or The Conservatory at The Milestone Hotel in London.
Freestanding Bathtubs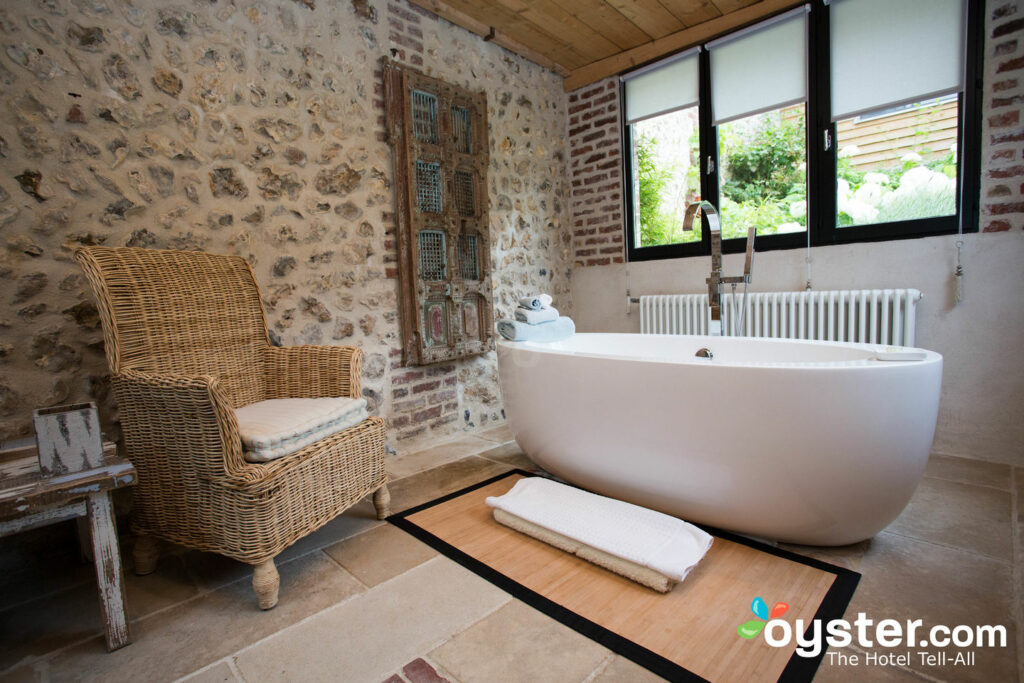 Want to feel like you've escaped to the spa without leaving your bedroom? Add a freestanding bathtub to your home and you'll immediately feel like you've entered a space for relaxation. There are a variety of freestanding bathtub designs, but all create a striking, luxe element to a bathroom or bedroom. Just add water — and bath salts and candles! Some of our favorite freestanding tubs are those at La Maison du Parc, the Horned Dorset Primavera, La Tranquila, and the Wheatsheaf Inn.
Or if you have outdoor space, try a sexy open-air shower >>
Eco-Conscious Furnishings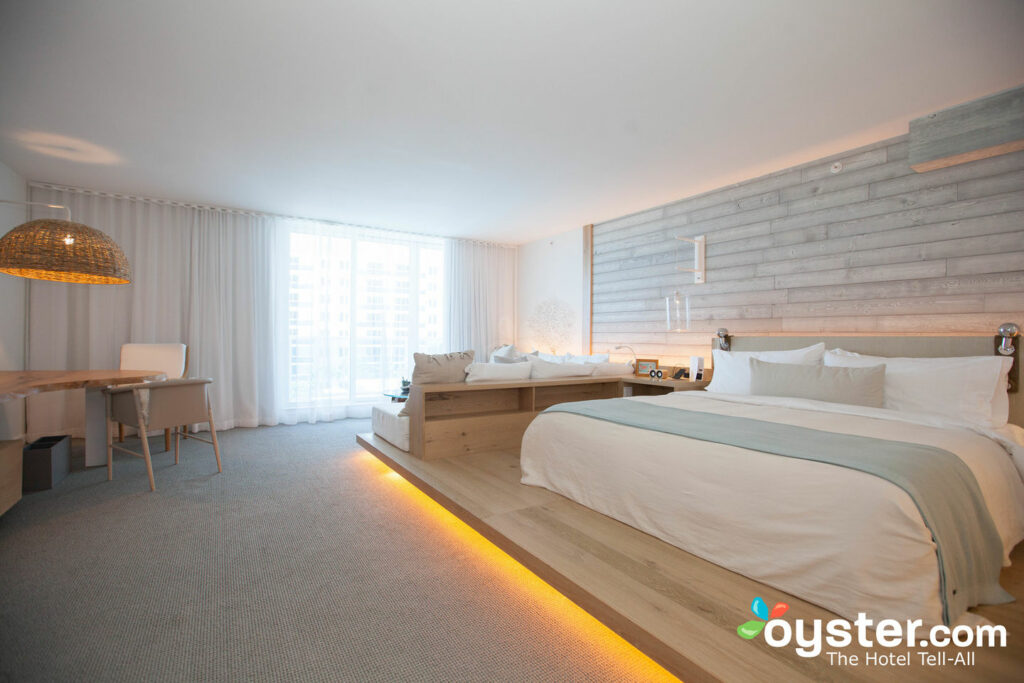 As the world becomes more environmentally conscious, the hotel industry is adapting to many travelers' desire to stay at more eco-friendly properties. If you're looking to eco-fy your home, there are actually several hotel looks to draw influence from. Reclaimed-wood desks, nightstand chalkboards instead of paper pads, and metal recycling bins for magazines are simple additions that help bring nature inside. For hotels that have gone above and beyond in their eco-conscious design, check out 1 Hotel South Beach, CasaCalma Wellness, and Hotel La Residenza Milan.
Backyard Garden
Home decor inspiration doesn't have to be limited to inside and we love hotels that put thought into creating gorgeous outdoor spaces as well. For bed and breakfasts or inns that have cozy backyards, adding a few unique touches gives them an alluring charm. Whether you have room for a full table, a gazebo, or just some funky yard decorations, there are plenty of ways to spice up the backyard. Check out the stunning backyard spaces at Il Giardino Incantato Bed and Breakfast, B&B Villa Sogno Charme e Relax Selinunte, The Cadet, Sonya's Garden B&B, and The Gallery Inn.
Get inspired by our Pinterest board of secret gardens >>
All products are independently selected by our writers and editors. If you buy something through our links, Oyster may earn an affiliate commission.