Whether it's a sweet sixteen, wedding, or 50th anniversary, events held in a ballroom evoke luxury. Gorgeous crystal chandeliers, high ceilings, and ornate gold drapes are just a few things that come to mind when picturing a ballroom; it's clear why these stunning spaces are popular choices when hosting a soiree. From grand rooms that fit hundreds of people, to smaller spaces designed for more intimate -- yet equally impressive -- gatherings, the following 12 hotels are amazing choices -- as long as you're willing to pay up, of course.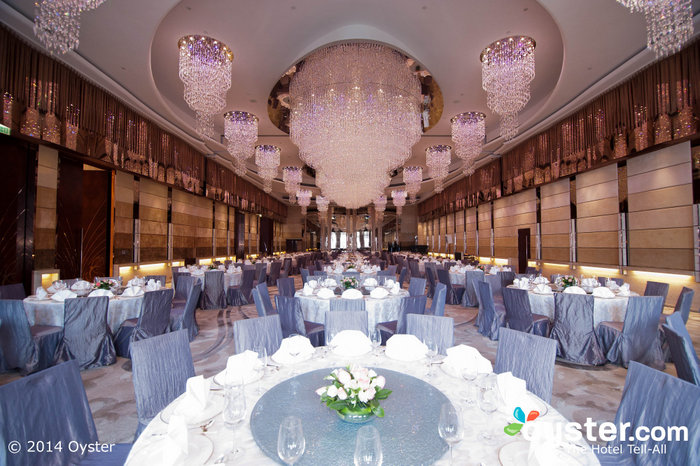 The Harbour Grand impresses guests upon entry. The massive marble lobby with huge chandeliers is imposing, and the stately, yet modern, look continues throughout the hotel. Rooms here are sexy and up-to-date, with none of the stuffy grandeur of some other luxury hotels in Hong Kong. Simple, sexy decor with peek-a-boo bathrooms, large sepia-toned wall photos behind the headboards, and views of the harbor give the rooms a sophisticated vibe. Overall this 828-room mega-hotel is a gorgeous option, complete with with four full restaurants, a fitness center, and a spa. The Grand Ballroom shown above is often used for weddings and can fit 500 people banquet-style. The high ceilings, stunning chandeliers, and high-tech features — like audio/video projectors and special light effects — make it a truly gorgeous event space.
The quirky, 328-room Blackstone, across from Grant Park in South Loop, mixes contemporary style with the building's restored historic grandeur. Some of the bright, modern rooms have great views of Lake Michigan and the on-site tapas restaurant draws locals as well as guests. Built in 1909, the hotel has been named a historic landmark, drawing the likes of politicians and celebrities for several decades. The 3,000-square-foot Crystal Ballroom has an ornate balustrade, original sconces, and a stunning, bright chrysanthemum rug — all of which have made it a popular spot for weddings and campaign celebrations.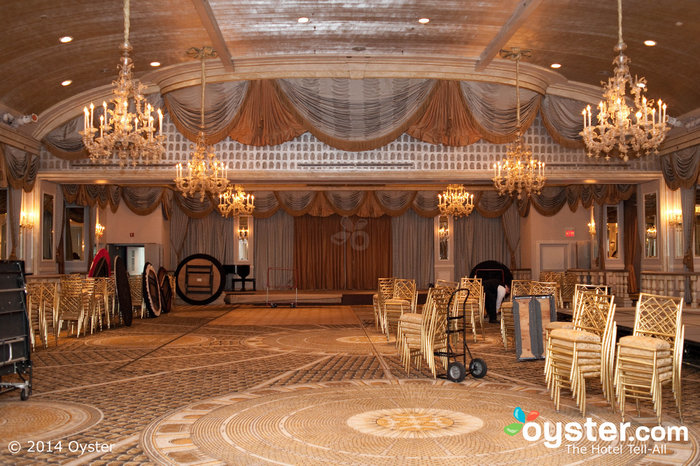 An elegant, historic hotel across the street from Central Park, The Pierre offers a taste of grand old New York to those staying in any of its 189 small, but freshly renovated, guest rooms. With its elaborate ballrooms and rotunda, the Pierre has long been a popular place for high-end parties and weddings. Hotel management says they have a wedding nearly every Saturday and some Sundays, and it famously hosted the vow renewal of Ramona Singer, star of Real Housewives of New York City, and her husband, Mario.
This elegant, 98-room luxury property right on Rittenhouse Square Park has the largest rooms in the city — they start at 450 square feet — and draws both well-heeled families and business travelers. The first-class service, impressive original artwork (including drawings by Mary Cassatt, whose father's house once stood on the site), and kid-friendly amenities are all pluses, but the room decor — though stately — is a little dated. The hotel is a well-oiled machine for weddings; it can host the rehearsal dinner, ceremony, and day-after brunch in the massive ballroom, which can accommodate 275 guests with dining tables and a dance floor.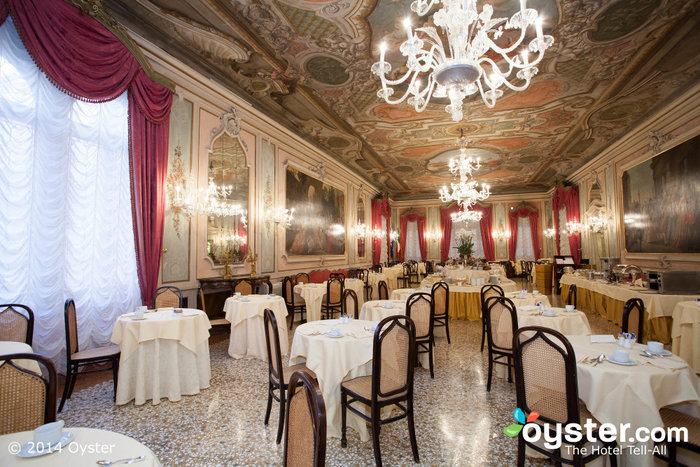 The Luna Hotel Baglioni is a luxury chain hotel with 104 rooms located less than a two-minute walk from the shops, restaurants, and architecture of Saint Mark's Square. The classic hotel delivers a high level of service in a beautiful setting. Canova, an award-winning restaurant serving Italian and international cuisine, is on-site along with a café and full bar. The stunning Salone Marco Polo has the only original Tiepolo frescoes in Venice, as well as beautiful Murano glass chandeliers, making it a popular choice for intimate receptions. But even if you can't afford to host a party in the lounge, guests get served a free hot and cold breakfast buffet in the ornate room.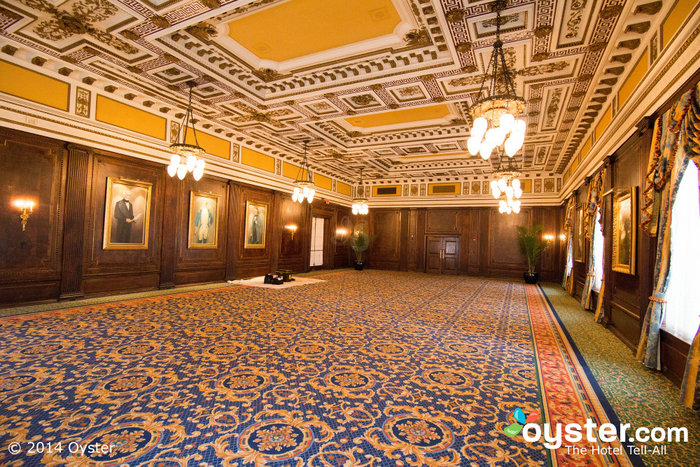 This beautiful luxury hotel harkens back to early 1900s (when the property was built), with its ornate lobby and preserved Art Deco men's room. The rooms are not inexpensive, but they're spacious and comfortable with up-to-date amenities like flat-screen TVs and free Wi-Fi; some find the classic decor a bit stuffy, however. In the heart of downtown Nashville, the Hermitage is central to a number of city attractions, and it's the oldest hotel in the city. The 2,500-square-foot Grand Ballroom hosts many weddings and events, evoking a luxurious southern charm with its ornate ceilings, wood paneling, and patterned carpet.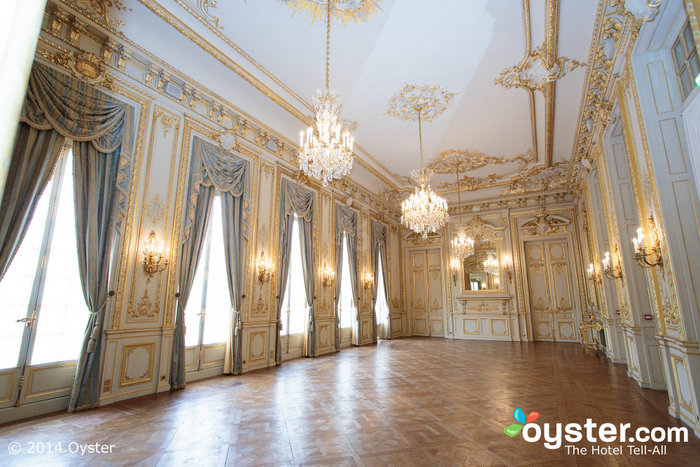 Guests at the 101-room Shangri-La Hotel Paris receive the five-star treatment in this former palace, built by Napoleon for his grandnephew. Because of its meticulous restoration and attention to detail, Shangri-La feels like a boutique hotel — or really, a museum in which you can spend the night (so Night at the Museum fans will love it). Two Michelin-star restaurants and unparalleled views of the Eiffel Tower — and even from some guest room bathtubs — mean the Shangri-La truly lives up to its reputation as a top luxury stay. The beautiful, gold-detailed Le Grand Salon can fit 180 people for a reception and boasts an intricate marble fireplace and Louis XIV decor that is très chic.
The grand historic common spaces, competitive rates, and Midtown location are the main draws at this classic landmark property. The Roosevelt Hotel (named after Teddy) opened in 1924 and has been featured in blockbuster movies, including the original Wall Street and Men in Black 3. This entire-block property, rising 19 floors, contains a whopping 1,015 rooms, and the location is close to Grand Central Station and many tourist sights. The Grand Ballroom can fit up to 1,000 guests for a reception (we're impressed if you have that many friends!) and is widely picked for lavish weddings and events, due in large part to the Tiffany chandeliers, 27-foot-tall ceilings, and iron-laced balconies that create this remarkable setting.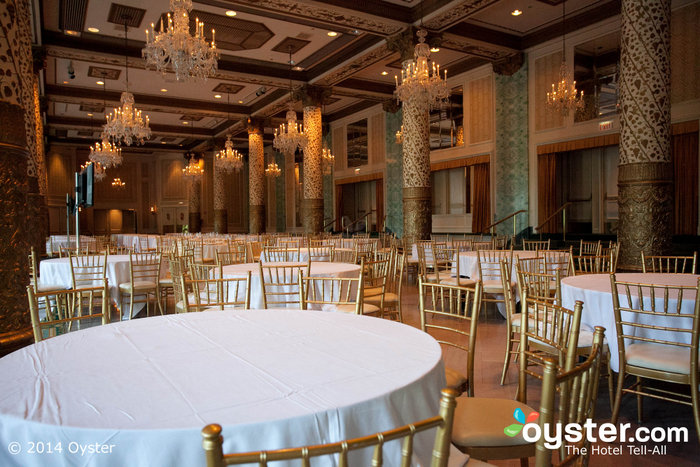 The 535-room Drake Hotel is a historic property on upscale Magnificent Mile. It's one of Chicago's grande dames, with an impressive lobby full of chandeliers and beautiful classic decor. Despite its historic status, modern amenities abound: There is a large, modern fitness center; wonderful dining options on-site — including the Palm Court, where a harpist entertains guests during afternoon tea, and even a shopping arcade with designer names like Chanel. The hotel has a few event spaces, but the Gold Coast Ballroom is the largest, able to accommodate up to 900 guests. Its crystal chandeliers, intricate Corinthian columns, and heavy drapes mirror the classic, luxurious atmosphere felt throughout the hotel.
The Raffles in Singapore is a sight many visit even if they are not staying at the hotel; the colonial-style building opened in 1887, and after extensive renovations, reopened in 1991. It has hosted everyone from Glenn Close to the Queen of England, and it has a hall of fame to prove it. The hotel also features fifteen restaurants and bars, an outdoor pool, a fitness center, and a luxurious spa. Additionally, there are several event spaces, including The Ballroom, which can house up to 350 guests. Landscape murals and rich carpeting can be complemented with a variety of setups.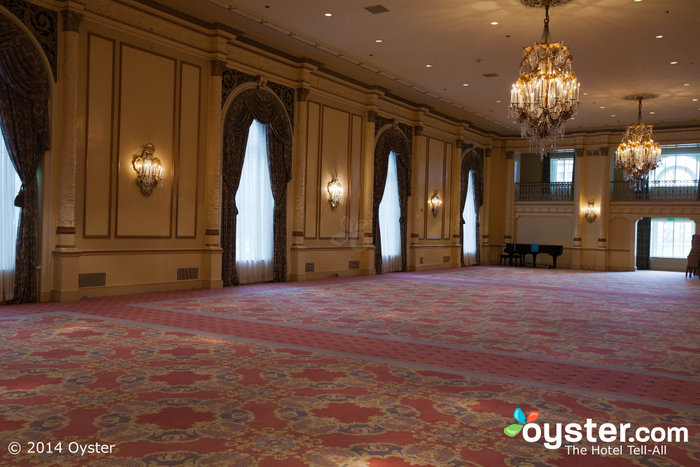 The historic Olympic Hotel, part of the luxury Fairmont chain since 2003, is a Seattle institution. It has a grand lobby with architecture that evokes the 1920s (the hotel opened in 1924), an impressive clientele list that includes JFK, and one of the oldest oyster bars in the city. Numerous property features include a spa, an indoor pool, a well-equipped fitness center, and an elegant, upscale restaurant. A top Seattle wedding and celebration pick, the hotel offers four event rooms. The Spanish Ballroom is a superb setting with its original oak walls, lovely chandeliers, and massive space boasting the ability to hold up to 400 guests for dining.
This upscale, mid-sized hotel in the Central Business District (CBD) drips with opulence, from the chandeliers, to the marble floors in the entranceway, to the large oil paintings. There's a lovely rooftop pool with views of the city and free nightly peanut butter-and-jelly sandwiches in the lobby. The hotel has several event spaces, from the French-inspired Versailles room with pillars, large paintings, and a fireplace, to the Denechaud Ballroom with green carpeting, gold drapes, and a dance floor.
RELATED LINKS:
All products are independently selected by our writers and editors. If you buy something through our links, Oyster may earn an affiliate commission.