Staying fit on the road is never easy, particularly when it comes to eating well. Many of us let our diets go out the window when we travel, partly because there simply aren't any healthy options to be had. After all, if the only edible-looking option on the room service menu is the burger, what is one to do?! Luckily, hotels are starting to recognize the demand for more healthful food options, and a handful of chains are taking action. Hyatt, Fairmont, and Westin are among the brands paving the way, working with health experts and organizations to come up with some tasty, guilt-free menu options. Here's hoping other hotel chains get on board with this trend!
Hyatt
Hyatt, which has 492 hotels worldwide, is one of the largest chains to introduce healthy food options at its properties. The "Food. Thoughtfully Sourced. Carefully Served." initiative launched in 2012 has brought cage-free eggs, hormone-free beef, and sustainable seafood options to all of its hotels, among other health-conscious food options. Hyatt also teamed up with Partnership for a Healthier America (Michelle Obama is a Chair!) to make its kids' menus healthier in support of the effort to combat childhood obesity. In addition, all Hyatt hotels have on-site fitness centers, so no excuse not to hit the gym either!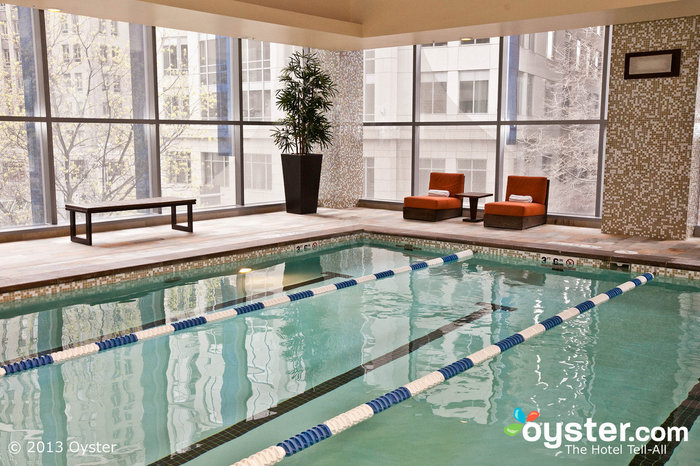 Oyster.com's Pick for a Standout Hyatt Hotel: Hyatt at Olive 8, Seattle
You almost can't go wrong with the Hyatt at Olive 8, which is known for its exceptionally high customer ratings, environmentally conscious design, and easy, walk-to-everything location. If you're looking for a romantic lobby in which to have cocktails, you might want to head across the street to the dark and elegant Grand Hyatt; otherwise, be prepared to stay happily put.
Fairmont Hotels & Resorts
This luxury hotel chain with over 65 properties has an incredibly robust health and wellness program developed with Katya Baxter Nutrition. The chain's Lifestyle Cuisine menus use locally sourced and organic ingredients whenever possible, and guests with specific dietary needs will be accommodated through the Lifestyle Cuisine Plus program; dishes for those with diabetes or high cholesterol as well as dishes to suit vegan, raw, macrobiotic and gluten-free diets can all be prepared.
Oyster.com's Pick for a Standout Fairmont Hotel: Fairmont Mayakoba, Riviera Maya
Few properties in Riviera Maya offer the level of privacy that the Fairmont Mayakoba does. The 401 contemporary rooms are set amid tropical forests and lagoons, and feature modern amenities, upscale bathrooms with glass-enclosed showers and separate jetted tubs, and nice views, either of the lagoons, the forests, or the ocean. Granted, sprawling grounds mean guests will need a golf cart or one of the BMW bikes the hotels provides to move around — but you'll be moving around in style, and it's a nice way to get some exercise! Property highlights include a high-end spa, a number of dining options, five attractive pools — including a 10,000 square-foot main pool, a kiddy pool, and an adults-only pool — and a great location on a white-sand beach just a few minutes north of Playa del Carmen.
Westin Hotels
Westin, which has over 200 hotels, introduced a nutritional program inspired by the popular books published by Superfood Partners LLC. Its hotels have menus designed with doctors and nutritionists that incorporate natural "superfoods" and pair ingredients in ways that increase their nutritional value. In addition, Westin hotels lend workout gear and provide running maps to guests as part of a fitness initiative with New Balance.
Oyster.com's Pick for a Standout Westin Hotel: Moana Surfrider, a Westin Resort & Spa
As Waikiki's first hotel, the 1901 plantation-style oceanfront Moana Surfrider offers a dose of historic charm on one of the nicest — albeit most congested — stretches of Waikiki Beach. Small rooms are offset by impressive public spaces, including an outdoor courtyard with nightly live music beneath a sweeping banyan tree, and an enormous spa and fitness center.
JW Marriott Hotels & Resorts
JW Marriott focuses on bringing local food experiences — and local ingredients — to all of its 60 properties. It has also worked with nutritionist Keri Glassman to create healthy kids' menus that will appear at its properties this spring.
Oyster.com's Pick for a Standout JW Marriott Hotel: JW Marriott Guanacaste Resort & Spa
The JW Marriott is one of the top luxury properties in Guanacaste, with beautiful, hacienda-style architecture (think: lots of wood and stone, romantic white hammocks, wrought iron light fixtures and indigenous art). The stunning free-form pool is the largest in Central America, and the tranquil spa is world-class. The only signifcant downside here is the extremely rough, hour-long drive from Liberia Airport.
Kimpton Hotels
It's no surprise that this boutique hotel chain, which is known for its pet-friendliness, kid-friendliness, and quirky decor, should also have a focus on health and wellness. The hotel chain partnered with nutrition expert Joy Bauer to create seven healthy dishes for its in-room dining menus, all of which are under 500 calories. There are also four free on-demand videos, featuring Joy, with a focus on healthy travel. In 2012, Kimpton introduced healthy menus for group meetings as well.
Oyster.com's Pick for a Standout Kimpton Hotel: Hotel Palomar Philadelphia
The 230-room Palomar near Rittenhouse Square Park is one of the city's chicest boutiques, with bold, sleek style, excellent service, and contemporary rooms with plush, comfortable beds. The Palomar delivers the Kimpton chain's typical thoughtful extras — an open-arms pet policy, a hopping nightly wine hour, free morning coffee and tea — and the location on South 17th street is near some of the city's best restaurants, bars, and shopping.
RELATED LINKS:
All products are independently selected by our writers and editors. If you buy something through our links, Oyster may earn an affiliate commission.