A sunburn and a matching crimson aloha shirt are dead giveaways that you're an out-of-towner in Hawaii. But even if you look like one, you don't have to eat like a tourist while vacationing in the 50th state. If you ask us, part of the fun of traveling is experiencing the culture (and eating) the way locals do.
The saying (and hashtag) "Lucky We Live Hawaii" was inspired by Hawaii's beautiful scenery, culture, and multi-ethnic cuisine -- a reflection of its diverse population. After all, according to the 2014 census, 23 percent of people in the state identify as two or more races. Hawaii's unique fusion of Polynesian and Asian cuisine is a result of immigrants from China, Japan, Portugal, Korea, and the Philippines who worked side-by-side on sugar cane and pineapple plantations.
With so many exotic (and sometimes weird) foods to choose from, it can be hard for tourists to resist seemingly safer and familiar chain eateries. But as the saying goes: When in Hawaii, do as the locals do. (Or something like that.) So, should you find yourself up for the challenge, here are seven Hawaii grinds (that's local speak for "tasty food") worth sampling.
Shave Ice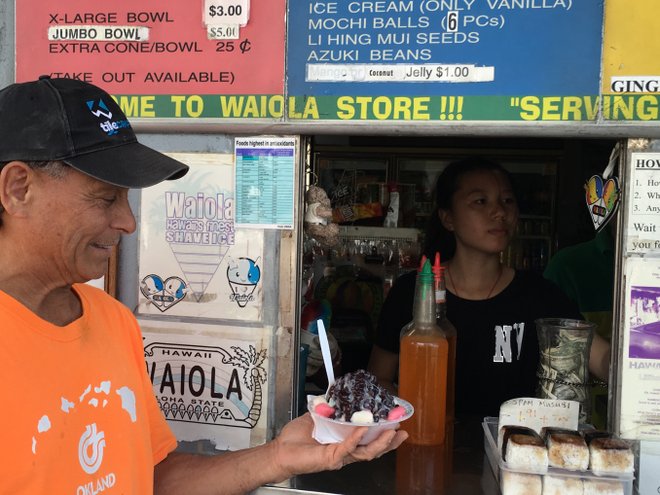 Snow cones. Shave ice. Call it what you will. The real challenge is deciding how to top off that shave ice treat. Navigating menus at Matsumoto Shave Ice on Oahu or at Uncle's Shave Ice on Kauai doesn't have to be anxiety-inducing affair. Here are some tips, if you're new to Hawaii shave ice. Want a dash of sweetness? Go for that lychee or lilikoi (lee-lee-co e) syrup. Want extra sweetness? Top it off with condensed milk. Fancy a sweet-and-sour taste? Then order li hing (salty plum) powder. Locals also commonly order shave ice bowls with the works: azuki (ah-zoo-key) beans, which have a sweet, pasty taste, and mochi balls (aka Japanese rice cake).
Crack Seed Snacks
Glass jars brimming with preserved and dehydrated fruits line the shelves in crack seed shops, Hawaii's version of a candy store. Instead of traditional treats found in a candy shop (although Hawaii has those, too), crack seed stores sell dehydrated plums, dried cuttlefish, pickled apricots, li hing mui, and more. The term "crack seed" means what it sounds like. Cracking seeds in dried fruit is done to bring out more flavor. Snacks are also often covered in li hing, a powder made of plum, sugar, salt, and licorice. If you're overwhelmed by the choices at a crack seed store, just ask for a sample.
Spam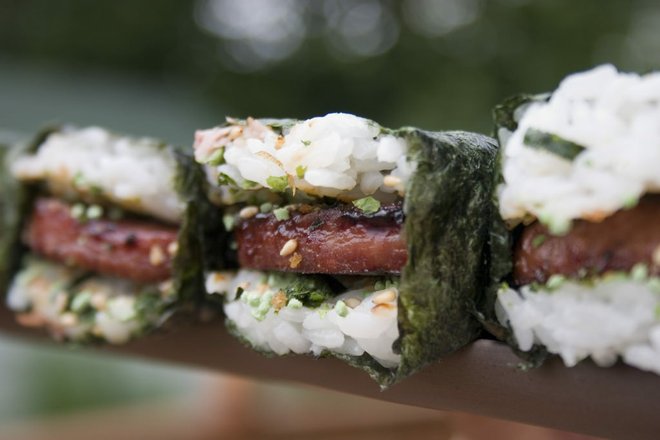 Yes, that hunk of pink, canned meat is a treasured dish in Hawaii. There's even the Waikiki Spam Jam festival. You'll find sliced, fried spam in bentos and somen salads in Hawaii. It's also fried up as a meaty side for breakfast. The most popular way Hawaii locals consume spam is in a musubi. Spam is sandwiched, or placed on top, of rice and wrapped with nori, or seaweed. Not sold on spam musubi? Before you judge it, taste it. The secret's in the sauce — a concoction of soy sauce (or shoyu as locals say), sugar, and rice wine.
Manapua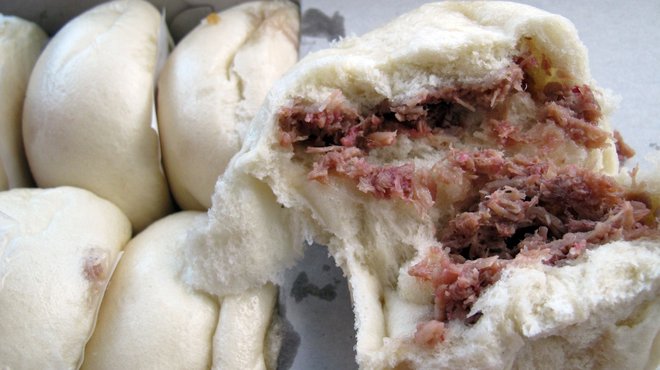 The mainland has the ice cream truck. Hawaii has the manapua man (or woman). The manapua truck is a no-frills restaurant on wheels with fried noodles in plastic bags, dim sum, rice cake, and (of course) manapuas. Similar to the Chinese bao, manapuas are baked or steamed buns stuffed with meat. Hawaiian kids grow up hearing stories from their grandparents about the good old days when the manapua man hauled hot dim sum on foot. These days travelers can grab specialty manapuas stuffed with coconut or sweet potato at the Royal Kitchen on Oahu and Maui's Manapua Bakery. But if you happen to hear ice cream truck music, wave the manapua man down for a unique Hawaii dining experience.
Poke
Poke (pronounced poh-keh) is becoming increasingly popular on the mainland with eateries from Onomea in Brooklyn, New York to Mainland Poke Shop in Los Angeles serving up the Hawaiian raw fish dish. In Hawaii you don't have to go to a trendy restaurant to eat poke. In fact, most locals buy their poke the inexpensive way: at the grocery store. There you can find trays of tuna (or ahi) mixed with limu (seaweed), soy sauce, kimchi, and wasabi avocado. Poke also comes with octopus (tako), salmon, mussel, and imitation crab. It's cut into chunks, which is fitting since poke translates to "cut crosswise into pieces."
Plate Lunch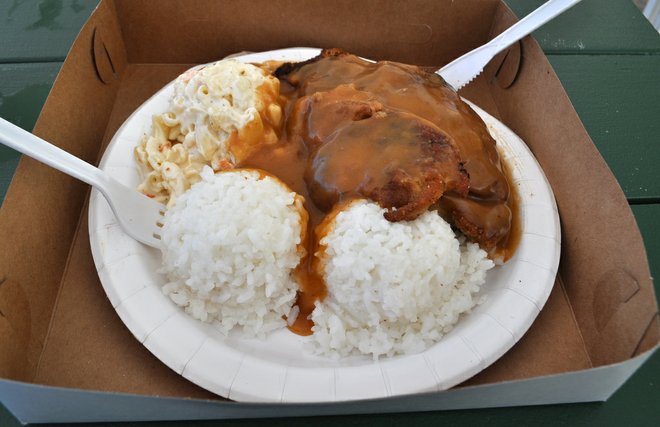 Surfers, construction workers, and even Hawaii-born President Barack Obama load up on carbs the proper local way: with a plate lunch. The high calorie meal is comprised of scoops of macaroni salad (mac salad), rice, and a main meat entree — all served in a disposable container. Meat choices include barbecue chicken, mahi mahi, kalbi, chicken katsu, kalua pork, lau lau, and more. The ultimate plate lunch is the loco moco with hamburger patties topped with eggs and gravy. The trick is to douse the rice and mac salad in gravy.
Malasada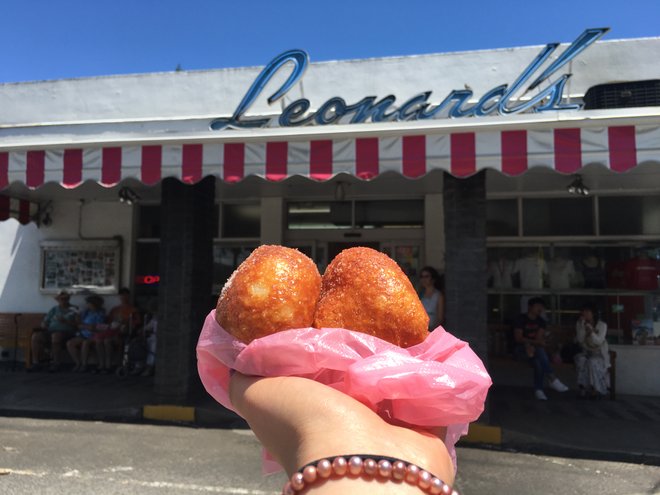 What's known as Pancake Day in other parts of the world is Malasada Day in Hawaii. On Fat Tuesdays, before the beginning of Lent, Hawaii residents often grab boxes of malasadas to share with their co-workers or family. These hole-less creations — basically yeast-leavened, eggy donuts — arrived in Hawaii thanks to Portuguese immigrants. Popular spots like Leonard's Bakery in Honolulu sell malasadas powdered with li hing or filled with haupia (coconut pudding) and dobash. Poi malasadas that have purple centers are sold at Kamehameha Bakery. There's nothing wrong with the plain sugar-coated malasada, but it's worth tasting the different flavors.
Related Links:
All products are independently selected by our writers and editors. If you buy something through our links, Oyster may earn an affiliate commission.