The upscale Two Bunch Palms Resort and Spa in Palm Springs is renowned for its gorgeous 77 acres, replete with various wellness-centric amenities; there are pools, a meditation lake, a yoga dome, and tai chi classes, to name a few. Though it's a beloved historic property (Al Capone apparently used to hide out here), the current owners completed a multimillion dollar renovation in 2014 that refreshed the grotto and pool, brought in a farm-to-table restaurant, and gutted the Solstice rooms to give them a decidedly modern aesthetic. The Grotto rooms, which are located much closer to the grotto and spa areas, on the other hand, were largely left untouched to maintain their vintage appeal that some repeat guests have come to love. Take a look at the extent of the changes and let us know what you think!
Before: Solstice King Room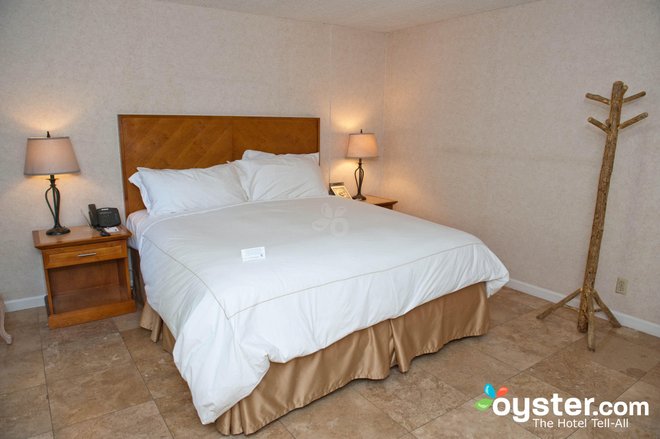 The Solstice guest rooms were bare and boring before. Though spacious with comfortable beds, they had dated furniture and very little decor — meaning very little personality, too.
After: Solstice King Room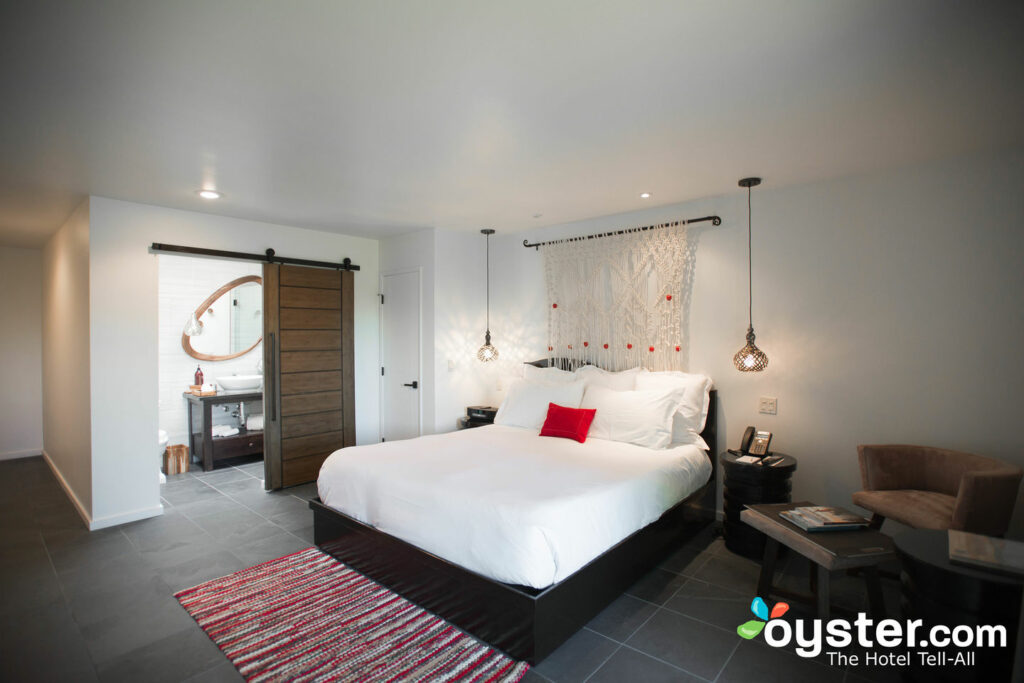 The newly renovated Solstice rooms are modern and sophisticated with sleek furniture, gray tiling, and chic hanging lights. They've kept the bohemian feel of the property, however, with woven rugs and asymmetrical wood-framed mirrors.
Before: Solstice Bathrooms
Bathrooms had unattractive pink countertops, beige tiling, and bathtubs with old fixtures.
After: Solstice Bathrooms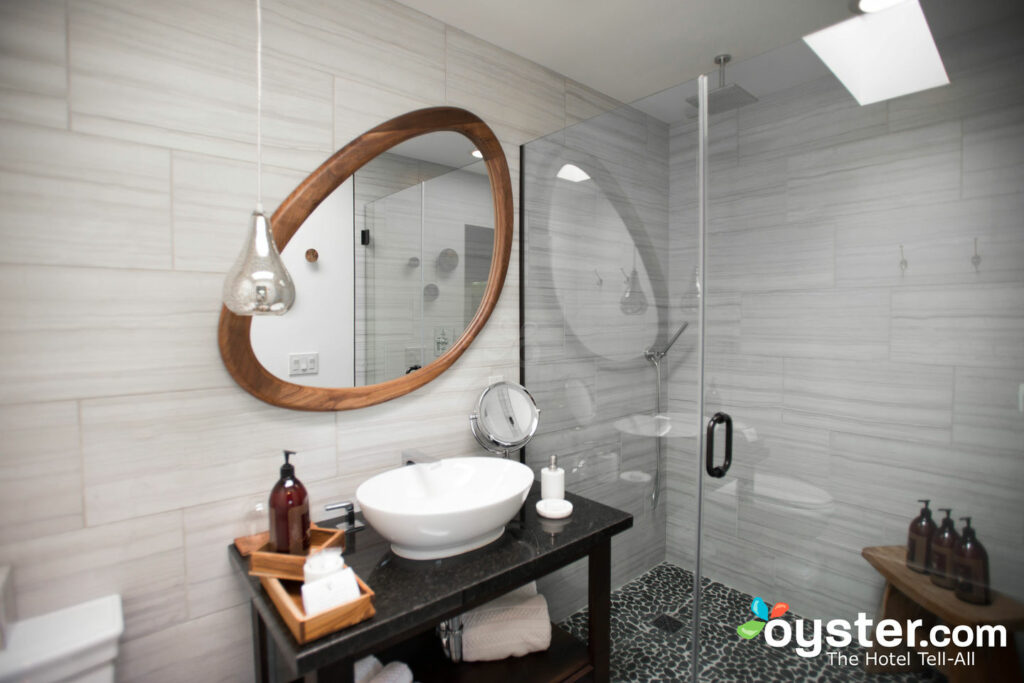 Now the bathrooms are stylish and modern; they have large walk-in glass showers with rain showerheads, bowl sinks, and luxurious toiletries.
Before: Mineral Springs Grotto
Before, the grotto was a blue lagoon-like spot with lush vegetation and noodles for floating — and that's about it.
After: Mineral Springs Grotto
A refresh of the grotto area removed the rock design on the ledges, and added several planters, as well as new lounge chairs — although the overall look and vibe hasn't changed much, so it's still peaceful and laid-back. There are two grottos; one is kept at 104 degrees and the larger at 99. Cell phones are prohibited and guests are asked to keep voices to a whisper.
Before: Casino Restaurant
The Casino Restaurant had an old-time feel with patterned red carpet, carved wooden furniture, and green fringe lampshades. We bet Al Capone liked it, but it's not quite our style.
After: Essense Restaurant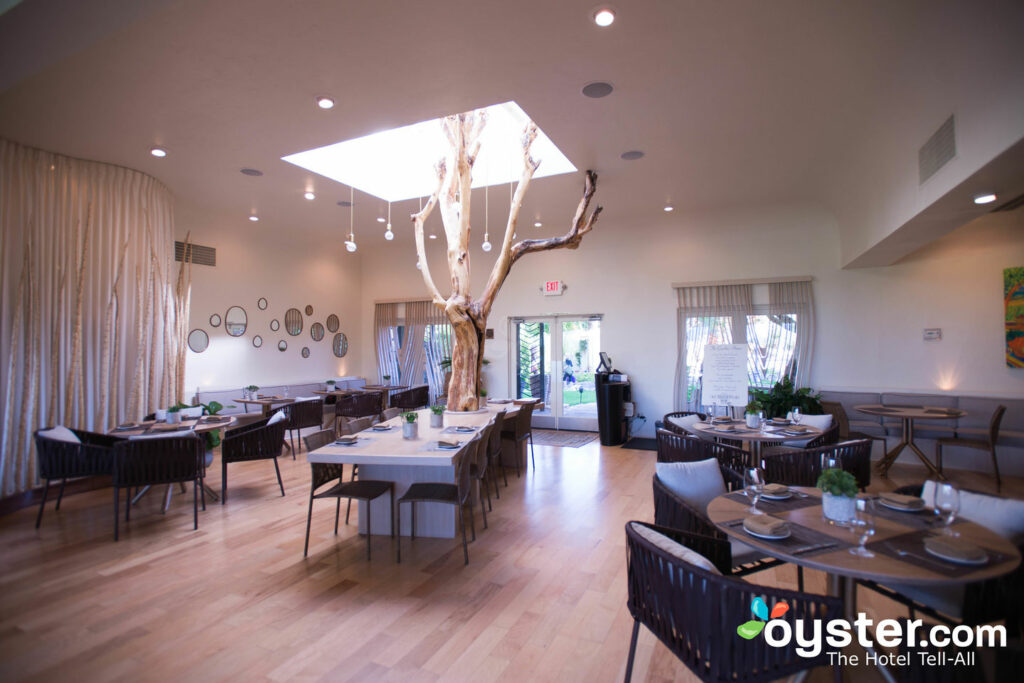 The newly renovated restaurant, Essense, is bright and airy to reflect its natural surroundings. Wooden floors, a tree in the middle going up into the square skylight, and a gorgeously remodeled fireplace make it a relaxed yet chic space.
Before: Grotto King Room
The Grotto rooms are more conveniently located near the grottos and spa areas, but they're less modern. Beds have iron frames and unattractive brown bedskirts.
After: Grotto King Room
Grotto rooms were intentionally left untouched, aside from a few soft renovations. Though they definitely have a more vintage vibe, they do appeal to some guests who like the charm of antique furnishings. Bathrooms still have colored tiling and old fixtures, but the toiletries are luxe.
See More Photos of the Renovated Two Bunch Palms Resort and Spa >>
All products are independently selected by our writers and editors. If you buy something through our links, Oyster may earn an affiliate commission.