The entire area that makes up Cinque Terre (and its stunning Ligurian Sea coastline) is a protected national park and a UNESCO World Heritage site. The five villages are home to thousands of stone steps, and are more vertical than horizontal, so traveling in and between the candy-colored villages is both entirely picturesque and slightly challenging, especially when you take into consideration that almost all vehicle traffic is restricted. But don't worry, our guide will help you get around Cinque Terre like a pro.
By Car
Just to be clear: Don't bring a car to Cinque Terre. Yes, it can be done — in fact, we did it on a hotel review trip in 2018 — but it's expensive and burdensome and definitely not conducive to long stays in the region. If you're traveling around Italy by private car and spending a day or two in Cinque Terre, that's fine. Everyone else should forget it. Car traffic is widely restricted in all five villages. You may see the occasional car on the outskirts (nowhere near the coast) but it's likely driven by a resident with a permit. For those with cars, Riomaggiore has a paid parking garage (expensive hourly parking, and it's limited) in front of the village's main entrance. Manarola has a small paid parking lot near the entrance, but it's about a five-minute walk to the beginning of the village and a good 15 minutes to the sea. Pro tip: If there's a spot on the road in front of the parking lot, you can park there as long as you want (including overnight) for free.
By Train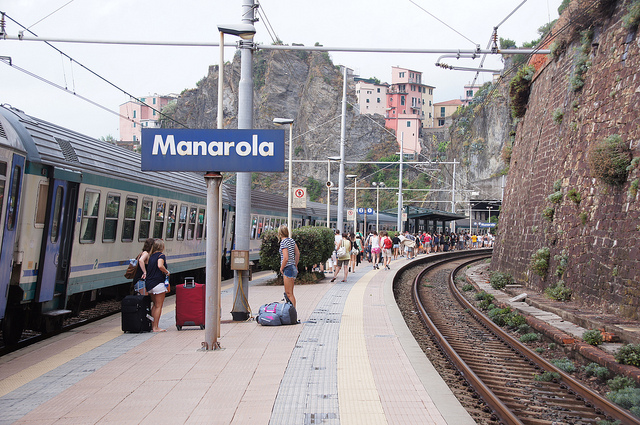 The train was a life-changing addition to the villagers of Cinque Terre when Riomaggiore got its first train in 1874. Before the tracks were built, villagers were required to walk (some of their ancient paths are still used for hiking today) or take a boat to visit neighbors and sell goods. Today, the train is still the fastest and most efficient way to get between the five villages of Riomaggiore, Manarola, Corniglia, Vernazza, and Monterosso al Mare — but it mainly transports tourists. The track hugs the coast and goes through several mountain tunnels. The journey from Riomaggiore to Monterosso al Mare takes about 10 minutes total, stopping for a minute at each village in between. While most train stations are in the heart of the villages, you'll need to walk up hundreds of steps or take a shuttle to Corniglia from its low-lying train stop. (Corniglia is the highest village.)
If you're planning on using the trains frequently in one day, buy an unlimited Cinque Terre Card (16 Euros at the time of publishing). It's an incredible deal, since it also pays for bathroom use at each station, Wi-Fi, and trail access — each of which incurs a separate cost if you don't have the Cinque Terre Card.
By Foot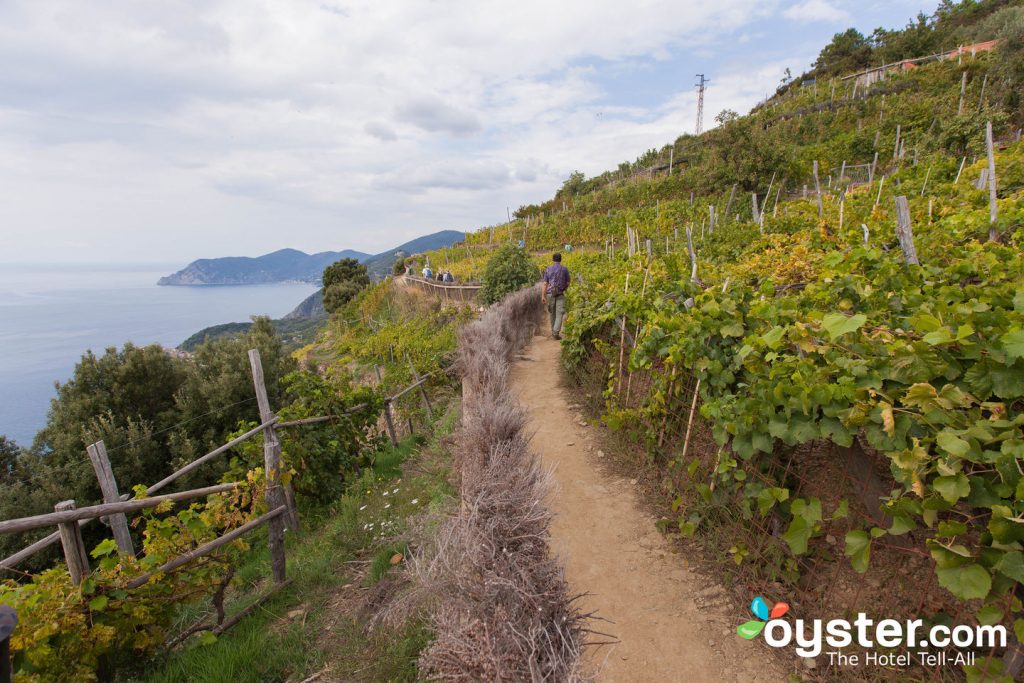 Many visitors come to Cinque Terre just to hike. The absolute best way to experience Cinque Terre is on foot. Day trippers can spend hours simply wandering through — and up — the ancient villages. Those with more time (at least a full morning) can access some of the 75 miles of trails that crisscross the region and also connect all five villages. Note that you won't be able to do any of the hikes with luggage. The most popular trail is the coastal path of Sentiero Azzurro, which links all five villages (sections of the trails can open and close due to maintenance and weather — watch for signs) and it offers stunning vistas of the sea, villages, and mountains. If you don't stop to eat, take hundreds of photos, or have a glass of wine (an almost impossible feat) the trail takes around six hours.
By Ferry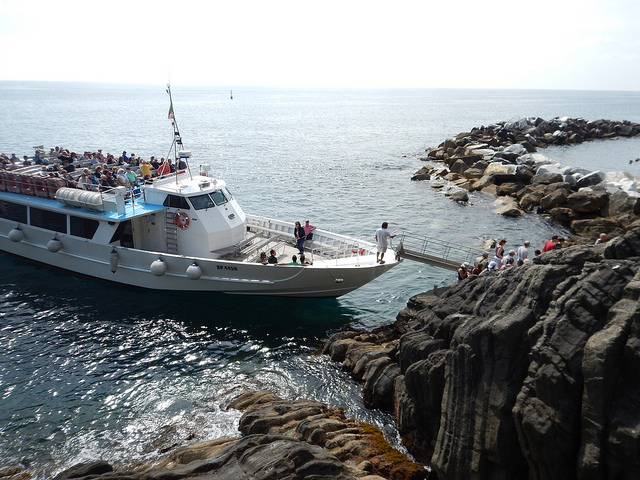 Ferry service is quite popular, especially in the high season, for tourists who want to see the villages from the water but don't want to book a boat tour. The views from the sea are breathtaking and provide a completely different angle for admiring the villages and coastline. Boats run between Portovenere (worth a visit if you want to venture outside of the five main villages) to Monterosso and stop in every village except Corniglia. Unlimited day tickets cost around 33 Euros. Service usually begins around April and runs until the end of October, but weather and sea conditions can halt or suspend service at any time.
By Bike
As mentioned, Cinque Terre consists of mostly vertical villages that are too steep for even the bravest biker. However, there are a few trails inside Cinque Terre National Park suitable for bikes. (You'll need to bring your own.) Or, the route between the nearby Lugurian towns of Levanto and Framura is popular for serious cyclists.
You'll Also Like:
All products are independently selected by our writers and editors. If you buy something through our links, Oyster may earn an affiliate commission.