New York City is big and crowded and loud and chaotic and -- we promise you -- like nowhere else on earth. But even for seasoned travelers, navigating the city can be a daunting task. There are almost too many options to choose from, and everything from ease of use to pricing varies widely. While most New Yorkers rely on public transportation -- including our notorious subway system -- to get around on a daily basis, the city has incorporated everything from bicycles to boats to help locals and tourists alike make their way around this fascinating place. Since we consider ourselves New York City experts, we've broken down the good, the bad, and the expensive when it comes to traveling like a local in NYC.
The Subway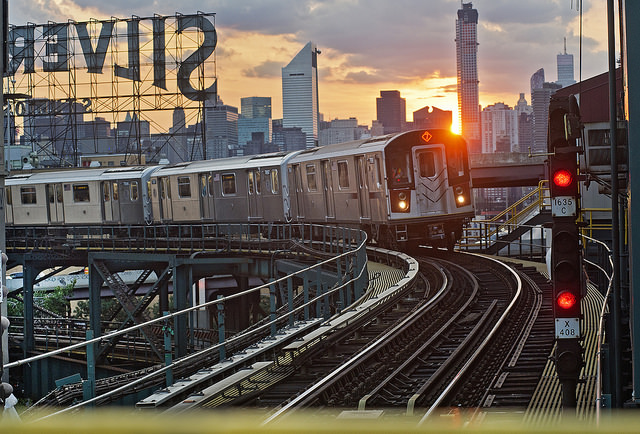 Let's get right down to business: A number of us who live in New York City have families who live elsewhere. And those families often shudder when they think of navigating the city's vast, chaotic, often-malfunctioning, 24-hour subway system. To them, it's still a crime-and-graffiti filled nightmare lifted out of the early 1980s. And that's to say nothing of trying to decipher a map of the sprawling network of trains. Forget everything you've heard, though — the subway is the city's backbone, and you should absolutely use it when you're in town.
New Yorkers use the subway more than any other mode of transportation available to them and ridership is booming. According to the Metropolitan Transit Authority (MTA), which runs the city's entire public transit system, 2016 saw almost two billion subway riders, with an average daily headcount approaching six million. While we admit that the subway hasn't been performing well lately — with delays and signal problems running rampant — it's still the most cost-efficient and reliable way to get around the city for the vast majority of us.
So what do you need to know? First off, keep in mind that individual swipes cost $2.75 if you're paying on a per-ride basis. You can load up a single Metrocard with the exact amount, if you know how many rides you'll be taking. But if you're in town for at least three days, and plan on seeing sights all over Manhattan and even parts of Brooklyn, opt for a Metrocard with unlimited rides. These come in seven- and 30-day intervals. As of writing, the seven-day card costs $32, meaning that you only have to jump on the subway 12 times to recoup the balance. Over the course of a full week, that's more than likely to happen (you'll probably take the train at least four separate times per day), and it can often be economical even if you're only here for a long weekend.
Now, the next thing you'll need to do is get your bearings. Trains are generally marked uptown or downtown, and platforms are clearly labeled with the final destinations in either direction. So if you want to get from Macy's in Herald Square to the American Museum of Natural History, you'll be traveling north, which we call "going uptown." Look for the platform that says "uptown" and head there. Just be sure to get on the correct train, as most lines have both express and local options. Additionally, service does change on nights and weekends, so always check the MTA's website or The Weekender to plan ahead.
And if you fall victim to the recent delays plaguing the system? We have cell service and free Wi-Fi in all underground stations these days — so Instagram away.
City Buses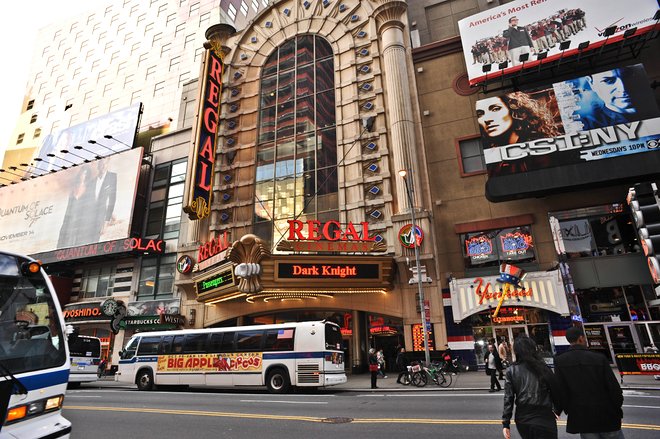 New York's city buses aren't exactly the most efficient way to get around the city, particularly in Manhattan. According to the New York Daily News, in 2011, 35-year-old Mark Malkoff famously raced a city bus while riding a tricycle down notoriously congested 42nd Street — and won. Even so, in recent years the city has tried to improve bus service and has installed bus-only lanes on many major avenues. This has led to the creation of Select Bus Service, which consists of express buses that only make stops at major intersections and destinations. The city bus, including Select Bus Service, costs the same as a subway ride, and transfers between the bus and subway system are free. Your Metrocard also works on the bus, including unlimited-ride Metrocards.
Buses can come in handy for navigating Manhattan's east side, including Alphabet City, the East Village, Midtown East, and even parts of the Upper East Side and East Harlem. These areas are notoriously underserved by the subway, and an express bus lane runs up First Avenue — past the U.N. and other landmarks. The bus is also a serviceable for reaching Laguardia Airport (in fact, aside from cars and cabs, it's still the only way to reach Laguardia), as well as New York City's beaches, the nicest of which are located well beyond the subway's reach in Queens' the Rockaways.
Yellow Cabs and Ride-Hailing Apps (Like Uber)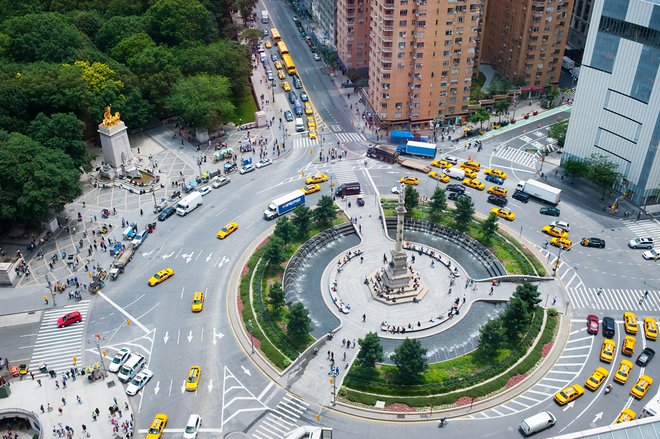 If you insist on getting around on four wheels in New York City, you'll be paying a premium. Taxis can be found in almost every major part of town — they're yellow in Manhattan and green in the other boroughs — and are government regulated when it comes to prices. There are surcharges for using a taxi during peak hours and overnight, but according to the NYC Taxi & Limousine Commission, the initial charge is $2.50, with $0.50 charged per one-fifth of a mile traveled or per minute stuck in traffic. There are also various tax surcharges, and passengers are responsible for all tolls.
Keep in mind that traffic in New York City is legendary. Midtown Manhattan, where Broadway is located, is particularly horrible, though ongoing construction at Laguardia Airport has also meant more than one traveler has had to abandon their cab (or bus) to jump the guardrails and run to the terminal, luggage in tow. [Editor's Note: I've done it.] Going up or downtown within Manhattan is generally faster than trying to get across town, particular along major streets like 42nd Street, 14th Street, and Canal Street. Keep in mind that taxis to and from JFK Airport for destinations in Manhattan have a flat fare. All other airport fares, including those from JFK to the other boroughs, are metered.
The advantage of the city-regulated taxis is that they have fixed rates every day, regardless of weather or demand. However, you have to flag them on the street, and they can be hard to snag on weekend nights in bustling parts of town like the Lower East Side and Williamsburg. They're also practically impossible to find in the rain. In that case, you're best off opting for Uber or your favorite ride-hailing app. No matter where you are in the city, you'll likely be able to have a ride at your door within a maximum of five minutes, even at peak times. However, Uber is notorious for adjusting rates at times when demand is high. On a recent trip within Brooklyn, one Oyster.com editor paid nearly $25 for a 1.8 mile Uber ride during a torrential downpour. Uber Pool cuts the expense a bit, though your travel times will likely increase and you'll be sharing the car with others — either an adventurous choice or a nightmare, depending on your disposition.
Bike Rentals and CitiBike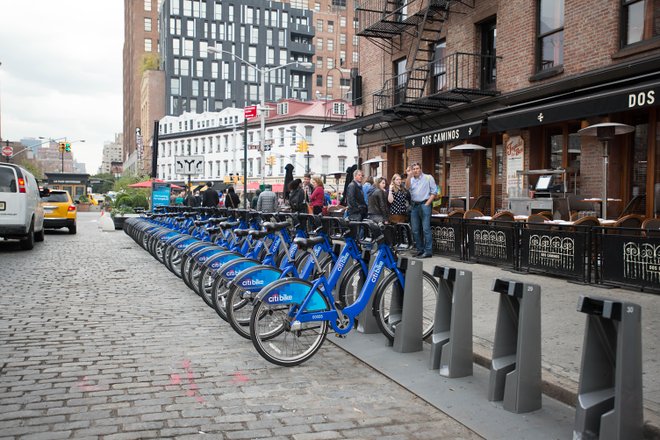 If you're used to biking in the suburbs, in parks, and along country roads, you are not prepared for biking in New York City. This is urban biking at its most extreme — and dangerous. In fiscal year 2016, 20 cyclists died, according to Gothamist. However, that doesn't mean biking is out of the question for visitors to NYC. In fact, it's a great way to see the city from vantages that you normally wouldn't find. By 2016, the city had 1,133 miles of bike paths and lanes, and it is working diligently to make sure new lanes are mostly protected, per the Department of Transportation — meaning they're separate from moving traffic by islands and parking spaces.
Many major avenues in Manhattan have protected bike lanes at this point, including portions of First Avenue, Second Avenue, Sixth Avenue, Eighth Avenue, and Ninth Avenue. However, these don't run the entire length traversed by these roads, and in congested areas of Midtown Manhattan, they can be packed with pedestrians, vendors hauling food carts, police cars, and other parked vehicles. You should always exercise caution. Without a doubt, the most pleasant places to cycle are in Central Park, along the Hudson and East Rivers, across the bridges spanning the East River, in the Rockaways, and along the waterfront between Brooklyn and Queens.
Bike shops rent bikes across the city, though rates can be steep. Budget at least $40 per 24-hour period, or anywhere from $8 to $10 per hour. Check to see if these prices include locks and helmets — these can sometimes cost extra and security deposits may be levied. However, with a rental bike, you are free to travel wherever you'd like, at your own pace. CitiBike is a bike-sharing program that can be a solid alternative, though it comes with limits. The program can be purchased for 24-hour, three-day, and year-long periods of time. A 24-hour pass costs $12, according to CitiBike, but you are only allowed to use the bike for 30 minutes before having to dock it again. The three-day pass costs $24 and is subject to the same time restrictions. Keep in mind that you'll have to use the CitiBike app to find docks that have bikes, if you're looking to pick one up, and docks that have space to park when you're finished with your ride. Keep in mind that for every 15 minutes you surpass the 30-minute time frame, you'll be charged $4 more. Additionally, the bikes do not come with helmets.
For a bit of perspective, it should take around 20 minutes to bike from Columbus Circle, at the southwest corner of Central Park, to SoHo. From the southern edge of Central Park to the Battery — where boats for the Statue of Liberty depart — takes about 35 to 40 minutes.
Ferries and Water Taxis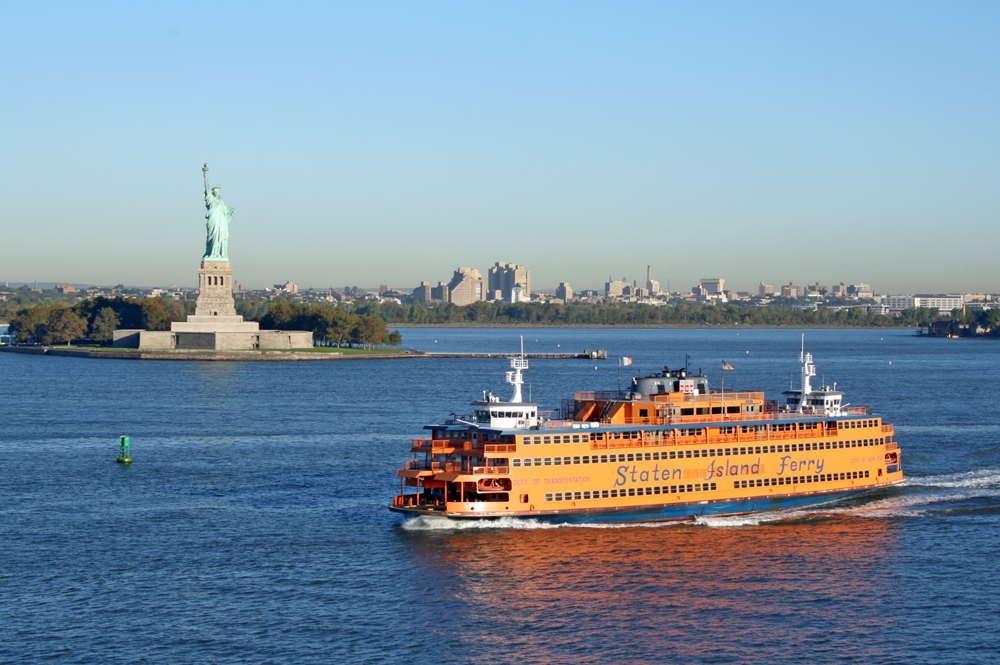 Seeing New York City from the water is something every visitor should do at least once to get a truly jaw-dropping angle on the city's magnificent heights. The city's official ferries, operated by Hornblower, cost the same as a swipe on the subway (though they aren't included with Metrocards). These criss-cross the East River between select riverside neighborhoods in Brooklyn and Queens (including Long Island City and Williamsburg) and Manhattan (where they dock at 34th Street and Wall Street). The ferries also run to the Rockaways for those looking to access the beach. Some routes are only seasonal, so check ahead. You'll find automated ticket kiosks near the docks, and can purchase single rides or packs. Rides on these ferries can also be ordered by using the company's app and paying ahead of time.
There are a few free ferries, including one of the most legendary boat rides in the city — the Staten Island Ferry. This is a great way to glimpse the skyline, New York Harbor, and the Statue of Liberty without paying a dime. Boats depart from just east of the Battery, and dock in St. George, Staten Island, which is experiencing something of an urban renaissance (with a clutch of new cafes, bars, and restaurants opening in recent years). The ride back to Manhattan is free as well. Other seasonal ferries run to Governor's Island, with its stunning new parklands, and are free at select times.
A number of other companies run tourist-oriented charters and water taxis, though you'll likely pay far steeper prices for these. However, the only way to directly reach destinations like the Statue of Liberty will be by using one of these services. Tickets can be booked in tourist hubs throughout Manhattan, though it's easiest to find tickets for this particular route by heading to the Battery and booking tickets there.
Hop-On-Hop-Off Buses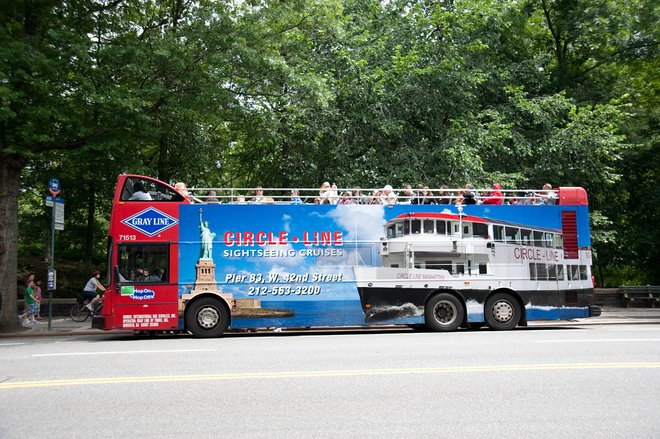 New Yorkers never, ever, ever take hop-on-hop-off buses. It's simply not in our DNA. But, we understand the appeal of them for some tourists (though we strongly advocate for taking alternative modes of transportation if you're looking to really experience the city). There are a number of outfitters that run these double-decker vehicles, and you can find tickets for them on almost any street corner in Midtown Manhattan around Times Square. Big Bus and Gray Line are the most commonly spotted throughout the city, and both run routes that cover most of Manhattan and even parts of Brooklyn (though the latter is generally a separate ticket). Fares aren't cheap — hovering around $60 or so per person — though both companies run guided tours that pass literally every big-ticket sight in the city. Packages are generally sold in multi-day bundles, with unlimited hopping on and off over two- or three-day periods. Certain packages also include entry to major sights and museums.
Your Own Two Feet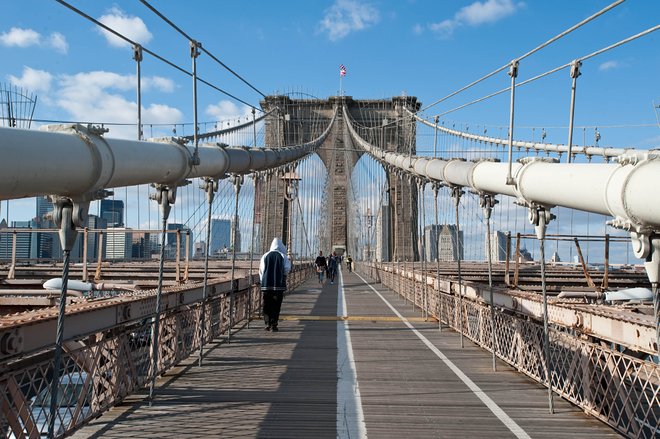 Here's the deal: New Yorkers walk — a lot. In fact, every New Yorker with family members or friends visiting from anywhere else in the U.S. has inevitably heard the complaint, "You want me to walk how far?" We think in terms of blocks here, and anything within 15 streets or four avenues is fair game. To put this in other terms, that's anywhere from a three-quarters of a mile to a full mile. And we do this in the rain, the sun, the snow — in any kind of weather, really. So you really can't beat taking a walk through the city — just remember that we walk fast, with purpose, and generally don't do it three and four abreast the sidewalk.
Hotel Picks in New York City
Of course, New York City is a big place and picking the right hotel can be a daunting task. It all boils down to what kind of city adventure you're seeking. For many travelers that means being right near Broadway, amid the blazing lights of Times Square. While you'll be battling the masses day and night up here, it can make a convenient home base for those on short stays and seeking the most tourist-friendly haunts. If you have the cash, the W New York Times Square is a bright and buzzy option, though for something somewhat more affordable — but incredibly stylish — opt for The Time. If you're craving a boutique hotel and don't mind exploring other neighborhoods, there are almost limitless options, from the Ace Hotel NY — in the newly happening Flatiron District — or the James New York in SoHo (which has a rooftop pool and stunning city views). Fancy trying a micro-hotel? The Arlo SoHo is a great, chic bet with cozy rooms and a happening bar and dining scene.
You'll Also Like:
All products are independently selected by our writers and editors. If you buy something through our links, Oyster may earn an affiliate commission.