There are some places in the world that simply aren't meant for the average traveler, as they're located quite a ways from more mainstream tourist spots. But that hasn't stopped intrepid adventurers from seeking out these far-flung sights. Here, find out how to get to some of the more popular remote destinations around the world.
1. Easter Island, Chile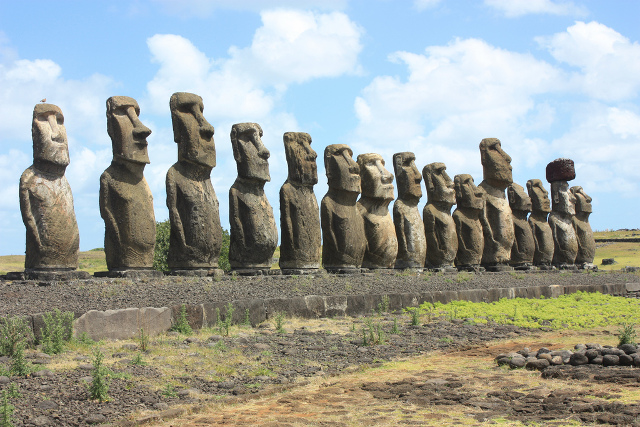 Dreaming of seeing the Moai statues for yourself? First, you'll have to fly into Santiago, Chile, or Papeete, French Polynesia—neither of which are particularly close to the majority of travelers in the world. LATAM offers (pretty pricey) flights to Easter Island out of both airports, with both flights lasting about five hours and 30 minutes. There are flights daily from Santiago, but only one per week from Papeete.
2. Antarctica
https://www.instagram.com/p/BRV6YdhDiJU/
For starters, one does not simply fly into Antarctica unless you are a scientist or employee at one of the research bases (or a runner of the ). Most tourists have to get there the old fashioned way—on a ship. You'll have to work with tour operators in order to get to the southernmost continent, many of which offer one- to two-week cruises from Ushuaia, Argentina; Port of Bluff, New Zealand (and occasionally Christchurch); or Hobart, Australia; all of which can take nearly two days to reach by plane from the United States. Cruisers should be aware that the Antarctic seas can be extremely rough, and ships are not always the most luxurious.
3. Uluru (Ayers Rock), Australia
https://www.instagram.com/p/BJICahgAmr3/
To visit this iconic monolith in the Outback nearly smack dab in the middle of Australia, you have several options. You can drive (~30 hours from Sydney, ~38 hours from Perth, ~25 hours from Melbourne—you get the point); you can fly into Alice Springs (about three hours from the major coastal cities), then drive 4.5 hours; or you can fly directly to Ayers Rock Airport via Sydney in about three hours.
4. Gates of the Arctic National Park and Preserve, Alaska
https://www.instagram.com/p/6s5HEkC-5Z/
Though it's one of the least visited national parks in the U.S., it still is a bucket list for travelers who seek to visit all 417 official units of the National Parks System (this includes the 59 national parks, 87 national monuments, 78 national historic sites, and many, many more). There are no roads or trails into the park, so guests either need to hike or fly in. Start your journey in Fairbanks and take a flight to one of three small villages—Bettles, Anaktuvuk Pass, and Coldfoot—before beginning a trek on foot. The latter is the only of the trio to be accessible by a road, so you're welcome to drive up the mostly unpaved Dalton Highway and hike from there. Alternatively, you can charter your own flight that will bring you right into the park.
5. Svalbard, Norway
https://www.instagram.com/p/BRIhyC_j6N0/
Despite being north of the Arctic Circle, this remote archipelago halfway between the European continent and the North Pole is surprisingly easy to reach, compared to the other destinations on our list. You simply have to hop on a flight to Longyearbyen that connects somewhere in mainland Norway, likely Oslo or Tromsø. Daily flights bring visitors and locals up to the land where polar bears outnumber human residents. Many travelers make the trek to see the Northern Lights during the polar night (when it is dark 24 hour per day), but kayaking, dogsledding, and whale watching are popular activities during the rest of the year.
View our Honest Reviews and Photos of Hotels in Norway
You'll Also Like:
All products are independently selected by our writers and editors. If you buy something through our links, Oyster may earn an affiliate commission.