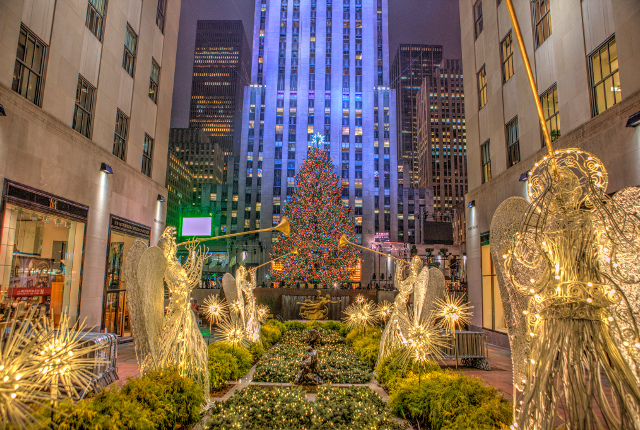 On any given day, New York City stands its ground as one of the top tourist destinations in the world, with nearly 13 million overnight visitors in the last year alone. But Christmas in New York is an attraction all of its own. The city lights up with festivities ranging from visual to interactive, transforming the city streets into a winter wonderland with endless entertainment -- perfect for a weekend trip. Though it's hard to take in all the city has to offer in one weekend, with a tightly packed itinerary, you can have one heck of a whirlwind Christmas experience in New York City. From shopping the holiday markets, to ice skating at Rockefeller Center, to catching a famed performance of the Nutcracker, New York is one of the most iconic, cinematic places to spend the holiday, no matter what your budget is. Here's how to soak up all the Christmas you can, in one very New York weekend.
Friday Afternoon: Arrival
There are so many ways to get to NYC — be it plane, train, or automobile. If you're going to fly, you'll land at to JFK, LaGuardia, or Newark, and from there, it's probably easiest — though most expensive — to take a cab to your hotel. If you choose to take the train, you'll arrive at Grand Central Station or Penn Station, both of which are centrally located in Manhattan. And if you're going to drive, be prepared for expensive parking lots and heaps of holiday traffic.
Friday Afternoon: Check-in
While all five boroughs are all worth seeing, you're only in town for the weekend, so staying in central Manhattan is going to make things easier for you. Midtown East just so happens to be the hub of holiday activity, so you'll want to pick a hotel that's in that area to get the most out of your weekend. We recommend the Lotte New York Palace or the Bryant Park Hotel.
Friday Night: Dinner and a Show
Put on your warmest coat, a cozy scarf, and a pair of iPhone-friendly gloves (you'll likely need your maps for navigation), and head out for a chilly but electric night on the town. You're probably going to be hungry from traveling, so grab an early bite near Lincoln Center at The Smith, and then catch a performance of the Nutcracker by the New York City Ballet. Friday night performances begin at 8 p.m., and you can order tickets here. After the show, head to Bar Boulud for a nice glass of wine and a great holiday atmosphere.
Saturday Morning: Holiday Markets
Get a strong cup of coffee, bundle up, and head out to the holiday markets. Take a leisurely walk to the Columbus Circle stalls, and eventually make your way down to the Union Square market. Browse through artisanal crafts, handmade gifts and unique tokens. Once you've worked up an appetite, head farther downtown for a New York–style feast at Sadelles. Once you're fueled up, work your way back uptown, shopping all of the Saturday morning flea markets and holiday expos have to offer. For more traditional shopping, you can head to SoHo, Fifth Avenue, or the department stores.
Saturday Afternoon: Tea Time
https://www.instagram.com/p/Bccik3gFmLV/
Wind down from shopping with some high tea at Laduree. Warm up with some delicious international teas and enjoy a pre-dinner sweet snack, too. If you get a second wind, and still have some time to kill before your dinner reservation, check out the Frick Collection nearby — it's even more gorgeous during the Christmas season.
Saturday Night: Dinner and Sightseeing
Treat yourself to a nice, festive dinner at the Royal 35 Steakhouse, which is tastefully decorated for the holidays and within easy walking distance of the Empire State Building. Once you're full, stretch your legs along the many streets with holiday window displays. Bergdorf Goodman, Saks Fifth Avenue, Barney's, and Macy's are a must. If you've still got energy, head to the top of the Empire State Building for the views of a lifetime. It's open until 2 a.m., so take your time!
Sunday Early Morning: Pamper
https://www.instagram.com/p/4jruw1CRj0/
Head downtown to the Great Jones Spa. You'll want to spend the whole day sipping tea and relaxing in the water lounge, but limit your time to just a few hours so that you don't miss any precious sightseeing. A deep tissue back massage will be perfect after all of that shopping. You'll leave feeling very Zen and ready to tackle another day in NYC.
Sunday Late Morning: Brunch
The NoMad Hotel goes all out with Christmas decorations, so head over there for a classy but spirited lunch. Or, opt for something a bit more casual and try out The Smile, The Wren, or Great Jones Cafe. After brunch, head to the TriBeCa waterfront and take in the gorgeous views and easy photo ops.
Sunday Afternoon: Ice Skating
Head to Rockefeller Center to take in the epic views of the massive Christmas tree — while ice skating, of course. Enjoy some hot cocoa, walk around collecting those last-minute Christmas gifts, and be rest assured that while you might be sore in the morning, you'll sleep well that night.
Sunday Evening: Departure
Don't worry, you'll be back. If you can handle New York City during the winter, you can handle anything. Head back in the spring for an entirely different New York experience.
You'll Also Like:
All products are independently selected by our writers and editors. If you buy something through our links, Oyster may earn an affiliate commission.