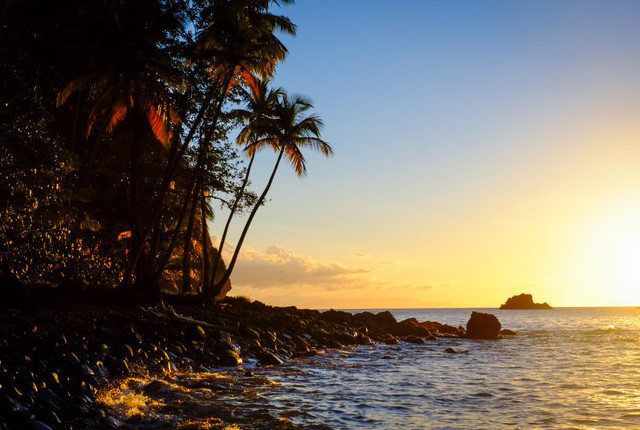 If you've always wanted to have a jet-setting holiday in the south of France, but aren't uber wealthy or a celebrity (yet), the tiny French Caribbean island of Martinique could be the perfect escape for you. Amazing fare sales have increased the island's popularity, but unlike many of its neighbors, Martinique remains relatively unspoiled, with miles of pristine white (and black!) sand beaches, lush rainforests, and rows of banana and sugarcane fields. If you're lucky enough to nab a cheap flight, here's your handbook to a perfect long weekend in Martinique.
Day 1: Beach lounging in the south.
The first thing you'll probably want to do is what you most likely came to the island for: lying on the beach. Most guides will tell you to head straight to Grande Anse des Salines, and while they're not wrong, there are a number of other beaches nearby that are just as stunning—without the crowds. Anse Dufour, facing the Caribbean Sea, has a number of beachfront restaurants to grab a quick order of "accras," the local favorite of fritters made from fish or vegetables, and planter's punch, a concoction of rhum mixed with fresh fruit juice. Just beyond the golden sands, you'll also find some of the best snorkeling on the entire island. Anse Michel, on the southeastern edge of the island is shaded with palm trees and has a small restaurant, Le Cocotier, where you can make your own Ti Punch right on the beach. This is also one of the best beaches for water sports, like kitesurfing and paddleboarding.
Grocery stores in Martinique are a lifesaver for beach days—take advantage of the local Carrefour Market and you'll be able to pack a wonderfully French lunch for every beach excursion. In true French fashion, the markets offer copious baguettes, assorted pâtés and mousses, as well as many of the great unpasteurized cheeses we can't get in America. You will find all of the rhum, Bordeaux, and Champagne that you could ever want here for astonishing prices (we're talking €10 for a bottle of Champagne), which you can enjoy right on the beach, as Martinique has no open container law.
Finish out your day of relaxation by heading to Le Cap Est, a luxury resort on the outskirts of Le François. Take in the sunset from the dock, then afterwards, head to the resort's Le Cohi Bar for a few cocktails and homemade boudin sausage.
Day 2: Distilleries and even more beaches.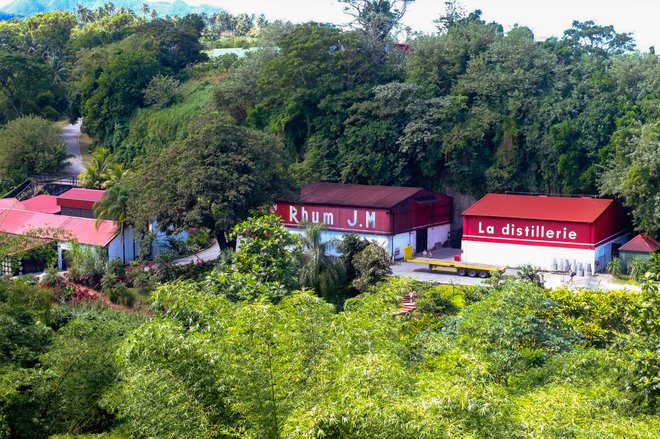 If, for some reason, you need some time away from the beach, the island is home to many great rhum distilleries with rich histories and plenty of free tastings. Yes, that's rhum with an "h." The spirit produced here is rhum agricole, which is made directly from sugarcane, rather than molasses, like most rums.
Begin your day at Habitation Clément, in Le François, and wander around the expansive sculpture garden before touring the distillery and learning how rhum was made in both the early and modern eras. The sun can be a killer as you walk up and down the grassy hills of Clement, so don't forget the sunscreen you packed for the beach. At the end of the tour, you'll be invited to sample many of Rhum Clement's offerings in their tasting room. It can be a bit hectic inside, but it's worth it to try some of the harder to find bottles. If you can't commit to a large one, they also sell smaller nip-sized bottles of a few of their rare rhums as well.
Martinique may be a small island, but its geography can make "short" drives take a lot longer. Although the trek might seem arduous, it will be worth it when you arrive at my personal favorite distillery, Rhum J.M, located at the base of an active volcano, Mount Pelée, on the northern tip of the island. In addition to the tour and breathtaking scenery, Rhum J.M also includes a beautiful visitors center with restrooms and free Wi-Fi. You'll also find the tasting room at J.M. to be a much more subdued affair than that of Clement.
After all the rhum, you might be ready to lie back down at the beach. Don't worry—you won't have to make a long drive to this one. Not far from the volcano is a stunning black sand beach, Anse Couleuvre, which requires a beautiful (and slightly treacherous) jungle hike to find. The trail is clearly marked, however, so you won't get lost. The road leading to the beach isn't for the faint of heart, as it is mostly a single lane, downhill, so you'll need to exercise a bit of caution when driving down. There are no beachfront stands here, so come prepared with your own vittles.
Day 3: Sailing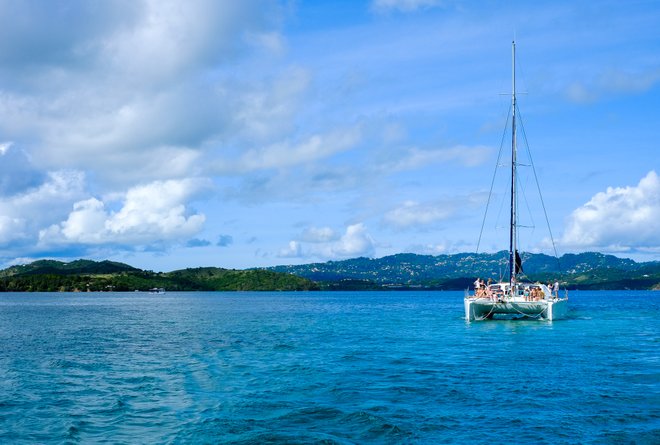 Perhaps the highlight of my time in Martinique was a day-long catamaran trip. We set sail with Les Ballades du Delphis, which disembarks from the marina in Le François. Our crew of three fearless French women spoke excellent English and shared their knowledge about the island's history.
Our exploration took us to Josephine's Bath, a sandbar in the Atlantic Ocean, and to some of the smaller islands just off the coast, including Ilet Chancel, one of the island's first settlements which is now home to an active iguana colony, and Ilet Madame, where the coral reef offered great snorkeling—gear was provided by the catamaran's crew.
After arriving back to the boat from another stop, we were surprised to find a beautiful table setting waiting, where we had a three-course lunch, including an octopus salad I wish I could eat every day. Along with all the Ti Punches you can drink, this was an amazing value for €80 per person.
You'll find many great local restaurants throughout Martinique serving both French and Creole cuisines, but a long day on a catamaran might make you hungry for a hearty local meal. Just steps from your catamaran, you'll find Kai Nono, where €18 gets you a plate with their catch of the day, vegetables, and rice. Pair it with a local beer or yet another Ti Punch.
What to Know Before You Go
A rental car will require a deposit of at least €800 (to be refunded upon return, of course), and unless you're comfortable driving a manual transmission up and down hills and around hairpin turns, you'll want to have your automatic transmission vehicle reserved well in advance. It is highly recommended that you make reservations online at the same time you book your flight, as you might find that there are no cars left to rent if you wait until you get there.
There are aren't many major hotel chains on Martinique, but there are plenty of great small hotels. Discover some here.
ATMs are plentiful, and many places accept credit cards, but be sure to have a few euros on hand at all times for buying all the Ti Punch, "accras," and pain au chocolats that your heart desires.
French is the official language in Martinique, and although many hotels and restaurants have an English speaker on their staffs, it is recommended that you have a basic understanding of the language should you want to buy from any local markets and interact with local vendors.
You'll Also Like:
All products are independently selected by our writers and editors. If you buy something through our links, Oyster may earn an affiliate commission.