With painting-packed museums, lively craft and antique markets, colonial architecture, and inventive restaurants that are sprawled over nearly 600 square miles, Mexico City is not only one of the largest, but also one of the most exciting cities in the world. Given this information, we know what you might be thinking -- there's no way a city like this can be conquered in two short days. Believe it or not, with a little careful planning and a comfy pair of shoes, travelers can marvel at masterpieces from Mexican artists, stroll through a pre-Hispanic archaeological site, shop for colorful jewelry and fabrics, and savor flavorful food -- all in a weekend. To help, we rounded up a thorough 48-hour itinerary that will leave you feeling like a chilango (or Mexico City resident) in no time.
Day One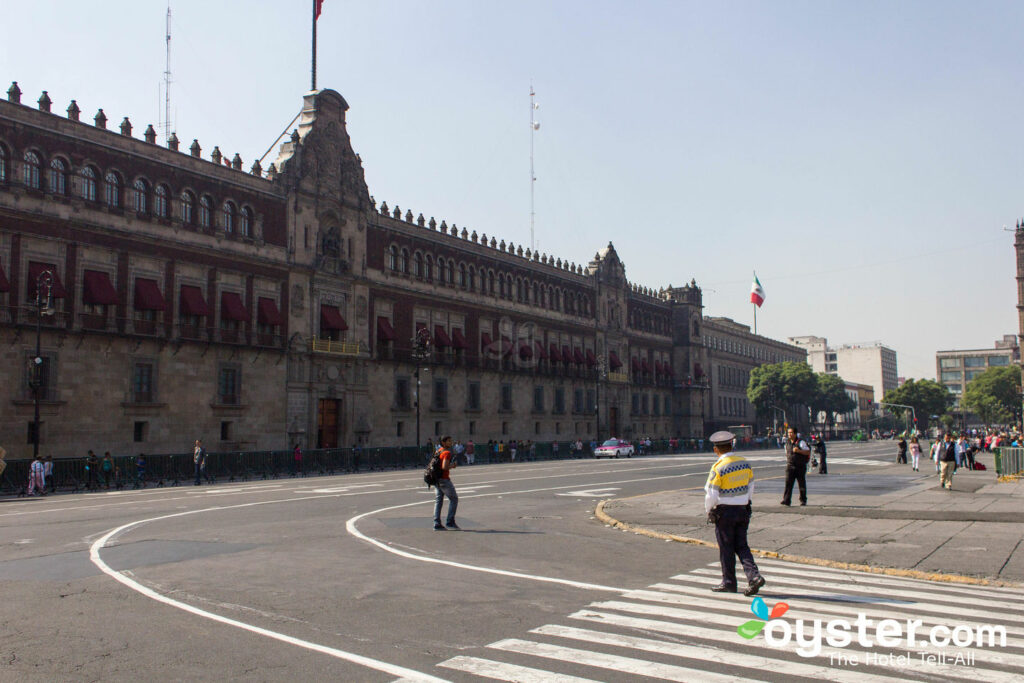 Check in at Las Alcobas
Tucked in the Polanco neighborhood, this 35-room luxury boutique hotel is a stone's throw from plenty of restaurants, bars, shops, and museums. Plus, with special amenities like bath butlers, free wake-up calls, two on-site gourmet restaurants, a stylish spa, and sophisticated rooms with high-tech touches, guests will feel pampered from check in to check out. Note: Kids under seven years old aren't allowed to stay on the property, making for an overall peaceful atmosphere.
Plaza de la Constitución
Located in the heart of Mexico City, Plaza de la Constitucion (or Zocalo, if you want to sound like a local) is one of the largest public squares in the world. Spanning an entire city block, there are architectural gems at every corner. Look east and you'll find the Palacio Nacional, which was formerly built by an Aztec emperor and currently welcomes thousands of visitors daily. Look north and you'll spot Catedral Metropolitana, the largest in cathedral in Latin America that also happens to house two of the biggest 18th-century organs in all of the Americas. While in the area, be sure to also check out Templo Mayor, one of the main temples of the Aztecs. Located northeast of Zocalo, the archaeological site will take a little under an hour to cover. Overall, this chaotic and crowded section offers the perfect first glimpse into a beautifully vibrant city.
Palacio de Bellas Artes
Walk on over to the Palacio de Bellas Artes, the colossal 19th-century fine arts palace. First, snap some pics of the magnificent Neoclassical and Art Nouveau exterior. The inside is just as beautiful — if not more so — with murals by several celebrated Mexican artists, including Diego Rivera. Snag tickets for a performance if you can — the building hosts shows from the National Symphony Orchestra as well as Amalia Hernandez's ballet show.
Break for Lunch
Refuel at Contramar, a popular lunch-only, seafood-centric restaurant in the Roma neighborhood. Here, an exposed kitchen and blue-and-white dining room make for a stylish setting for filling up on plates like the tuna tostada, which is topped with crispy onions, chipotle mayo, and avocado. You can't go wrong with the octopus, tacos, and tuna steak either. Wash it all down with a Michelada, a Mexican beverage made with beer, lime juice, spices, and peppers. Flan sweetens the deal.
Paseo de la Reforma
Grab a cab to Paseo de la Reforma, an avenue that runs diagonally across the city. Here, you'll meet the Angel of Independence, an iconic monument that was built in honor of Mexico's independence in 1910. Take it all in, then embark on a 45-minute walk (or 15-minute car ride) to the chic Polanco neighborhood. Lined with upscale shops, especially on Avenida Presidente Masaryk, feel free to window shop or splurge to your heart's content.
Museo Soumaya and Museo Jumex
If you want to learn even more about the capital of Mexico, make time to visit a museum or two. With more than 66,000 works that span 30 centuries, one could easily spend a few hours getting lost in Museo Soumaya. The steel exterior, which was designed by Mexican architect Fernando Romero, is a masterpiece on its own. Inside, browse works by Rodin, Dali, Tintoretto, and more for free. Then, walk over to Museo Jumex, a five-story museum that plays house the largest private art collection in Latin America, including works by Jeff Koons, Gabriel Orozco, Olafur Eliasson, and more.
Dinner at Quintonil
Mexican cuisine goes beyond tacos and churros. For further proof, head to Quintonil, a highly-acclaimed restaurant in the Polanco neighborhood. Here, chef Jorge Vallejo focuses on fresh and local produce to make up a unique rotating menu that has previously starred adventurous items like soup with huitlacoche (that's corn fungus) and crispy pastries with mushrooms and ant larvae.
Jules Basement
Walk through a restaurant, open the refrigerator door, go past the curtains, and head down the stairs and you'll arrive at Jules Basement, which is said to be Mexico City's first speakeasy. Tip: Make a reservation well in advance. Once you're in, order the Falda Escocesa, a concoction made with gin, Drambuie, cucumber, lime juice, and rose syrup, and take in the swanky scene.
Day Two
Chapultepec Park
Start the morning with a stroll at Chapultepec, the largest city park in the Western hemisphere. Whether you come to picnic, check out the zoo and museums, or see the Baths of Moctezuma, which is a system of canals, waterfalls, and reservoirs that were constructed by the Aztecs, you'll be sure to score a moment of peace and calm in an otherwise bustling city.
Caza Azul
Caza Azul, or more commonly known as the Frida Kahlo Museum, offers a glimpse into the Mexican artist's life. The building, which stands out for its brilliantly blue facade, opened to the public in 1958. Today, visitors can explore the home where Kahlo was born, grew up, and lived with her husband, Diego Rivera. In addition to scoping out her studio, folks will also have the chance to see art, photographs, memorabilia, colorful accessories, and other items that belonged to the famed power couple.
Anahuacalli Museum
If you aren't museum-ed out just yet, make your way to Museo Anahuacalli, which is located about three miles away from Caza Azul. Created by Diego Rivera, the building's walls hold the artist's collection of nearly 50,000 pre-Hispanic pieces. Much like Museo Soumaya, this museum's exterior, which is made with black volcanic stone, is also a work of art on its own. Get your cameras ready.
Soccer Game
For a truly thrilling experience, book tickets to a Club America soccer game at Estadio Azteca, the largest stadium in Mexico. The locals here take the sport seriously. Join the more than 100,000 fans in cheering on the home team with chants and songs while guzzling cups of beer.
Dinner at Pujol
Consistently ranked as one of the best (if not, the best) restaurant in Mexico City, Pujol in the Polanco district serves up a contemporary twist on traditional Mexican food favorites. Expect fare like chicken chicharron with escamoles, a suckling lamb taco with avocado leaf adobo and avocado puree, and rabbit with red pepian, chorizo, and carrot. Tip: it may take several weeks (or more) to snag a table here, so plan in advance. Another top option is San Angel Inn, a monastery-turned-restaurant that serves up delicious food and margaritas. Rub shoulders with celebs and local families in the picturesque space, which also features a courtyard with a fountain.
Los Insurgentes Pulqueria
Cap off night two at the multi-level Los Insurgentes Pulqueria. Order a glass of pulque, an alcoholic drink blended with fermented agave sap, and explore the grungy, yet charming space. Each floor has its own design and soundtrack, from rock n' roll to jazz, and is sure to make for a rollicking good time.
Related Stories:
All products are independently selected by our writers and editors. If you buy something through our links, Oyster may earn an affiliate commission.