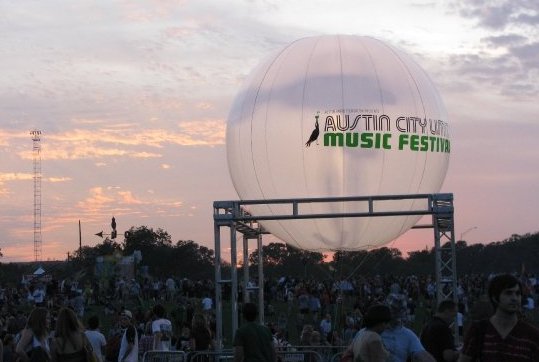 Some of my favorite memories from the years I lived in Austin come from the four Austin City Limits Musical Festivals I attended. From world-renowned bands such as Arcade Fire and the Eagles, to legendary artists such as Stevie Wonder and Kanye West, the musical talent I saw at the six-day event (which takes place over two weekends) was extraordinary. Not to mention, I was able to sample delicious food from Austin-based eateries -- and even spot some celebs in the audience -- all while rocking out with friends.
Despite the downright awesomeness of the weekend, though, attending ACL can be exhausting, the weather can there can be unpredictable (either scorchingly hot or pouring rain), and finding a place to stay can be hard on the wallet. But after going to the festival multiple times, I learned a few vital tips for surviving one of the coolest, must-attend events in Austin. Here are five steps to get you through this year's Austin City Limits, which kicks off September 30.
Step 1: Avoid the Big-Name Hotels
Since I lived in Austin when I went to ACL, I didn't have to go through the often frustrating process of finding a place to stay. During the two weekends that the festival runs, hotel prices are sky-high and often hard to secure. In order to get the best bang-for-your-buck, avoid the big-name hotels around downtown and South Congress such as the W Austin and Hotel San Jose; these often host the talent themselves, so expect rates to be double their typical price. Instead, settle for a mid-range property that's farther from the action; sure, it'll require a longer cab ride, but they're far less expensive and you won't be in the room except to sleep.
Our Hotel Pick:
Step 2: Pick Your Must-See Artists and Have a General Plan
Given that there are hundreds of bands playing at the festival each day across multiple stages, you have to pick and choose which are on your yes, no, and maybe lists. The ACL website makes it easy by letting you create a custom schedule that you can share with friends. After picking the must-see acts, decide if you want to hop around stages during the day or go to one stage and see all the bands playing there.
While generally I meandered between stages to see my favorites earlier in the day, once afternoon hit, I camped out at the stage where The Strokes and Arcade Fire would be headlining at night to secure my spot. In the end it paid off, as I was in the first few rows for both of their performances. Also, each stage has an hour performance and then an hour break, so you're able to sit down and rest before the next 60 minutes of standing, jumping, and dancing.
Step 3: Bring Provisions
If you were the first to arrive and last to leave ACL, you'd end up spending 11 hours at Zilker Park (where the festival takes place). So unless you don't mind shelling out for water (and waiting in long lines for it), it's worth bringing your own. The organizers allow each attendee to bring two sealed water bottles, as well as empty containers and CamelBaks to fill at the water station. In the often brutal Texas heat, having water on hand is critical. Technically, outside food and anything to drink other than water is not allowed, so stash food at your own risk. Ample excellent Austin eateries such as East Side King, Mighty Cone, and Torchy's Tacos will be selling food on-site, so you don't have to worry about getting lightheaded as you're watching Kendrick Lamar. (Unless you're just that big of a fan.)
Step 4: Bring Gear for Unpredictable Weather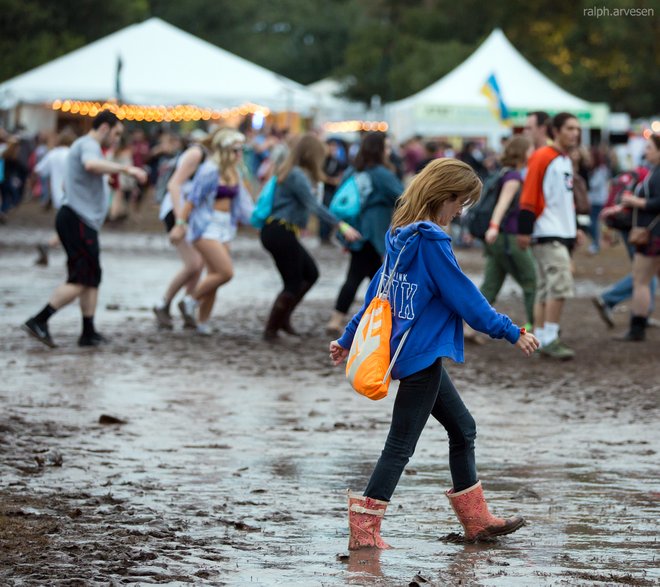 My first time at ACL I was woefully unprepared when it started pouring. I didn't have an umbrella or poncho, rain boots, or even a hat. (Many revelers at a recent Governor's Ball in New York City found themselves in a similar predicament.) Texas weather is often unpredictable, and I've experienced the spectrum at ACL, so it's best to plan for both the hottest and wettest of days. For sunny weather, pack sunscreen, a baseball cap, and sunglasses, and stick to light clothing.
In case of rain, bring a poncho, rain jacket with hood, or umbrella if you must — though you won't have many fans if you're holding an umbrella in front of people trying to watch the show. If there's a high chance of rain, definitely wear shoes you don't mind ruining; the park's field turns to a muddy, mushy mess quicker than you think. Old sneakers or rain boots are definitely your friend, as is a Ziploc bag to keep your phone and electronics dry.
Step 5: Enjoy the Music From a Reasonable Distance
Between the first and last ACL I attended, the biggest difference was that I stopped pushing my way through the crowd to get as close to the performers as possible. If one of your absolute favorite bands is performing, it's worth receiving the scoffs and bad looks to get up close and personal with the singer. But if it's a band you enjoy in a more detached way, do yourself a favor and rock out from a distance. You can still see and hear the groups, but you won't go through the tedious process of moving yourself (or god forbid, a big group of you) through the tightly packed crowd. After being stepped on and shoved several times, you'll understand why the people sitting farther back from the stage in lawn chairs look so happy.
Related Links:
All products are independently selected by our writers and editors. If you buy something through our links, Oyster may earn an affiliate commission.