Are you obsessed with tweeting, instagramming, hashtagging, and updating all of your Facebook friends on your every move? Well, beside being able to enjoy all the compliments a great selfie can garner, posting to social media can also score you some awesome bonuses when traveling, because hotels around the world are rewarding the social media savvy with perks like free night stays and free drinks -- provided you follow a few steps or win a hotel-sponsored contest. So get your apps ready and check out these four share-worthy promotions!
Kimpton Hotels: #AdoreThySelfie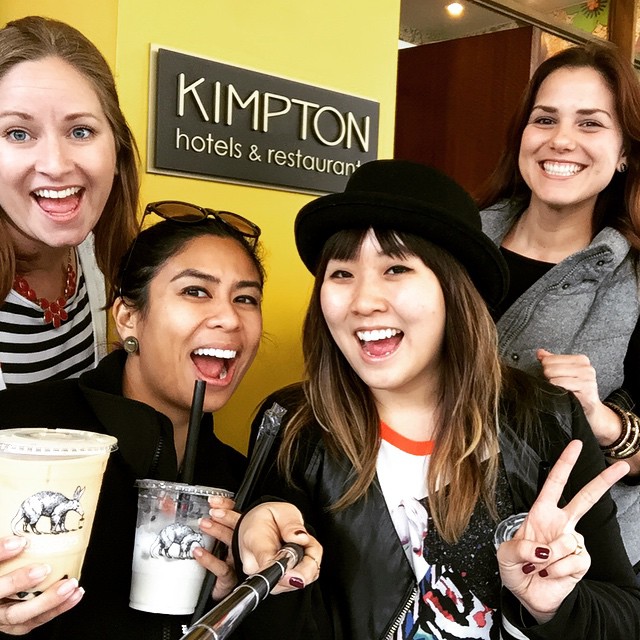 Are you on the fence about selfies and those selfie sticks that are seemingly at every tourist-heavy sight around the world? Well, the Kimpton hotel chain isn't; it's fully embracing the monopod, and recently announced that every Kimpton across the United States now has a selfie stick available for guests to use for free.
And the large chain of boutique hotels is giving guests an extra incentive to use them (aside from the perk of not having to ask a stranger to take your picture). Each month, it will pick one winner using the hashtag #AdoreThySelfie on Twitter and Instagram to receive a prize pack. The pack includes a $150 Kimpton gift card, a selfie stick, and a blown-up version of the winning selfie. Additionally, a year-end raffle will enter all 12 winners into the running for a grand prize of a two-night stay at a Kimpton of his or her choice. With over 60 hotels to choose from — including Sky Hotel in Aspen and Hotel Palomar in San Francisco — this is a promo worth tweeting about.
Luxe Hotels: #LuxeLax
The Luxe Hotels chain includes three luxury properties in Los Angeles — Luxe Rodeo Drive, Luxe Sunset Boulevard, and Luxe City Center. Both the Rodeo Drive and Sunset Boulevard location are offering guests vouchers that they can redeem for either the Luxe Guittard Chocolate Soufflé, one of the hotel's signature desserts, or a glass of Australian Harkham wine. Guests simply have to use the #LuxeLax hashtag on either Facebook, Twitter, or Instagram prior to check-in.
Marriott: "Picture This" MegaBonus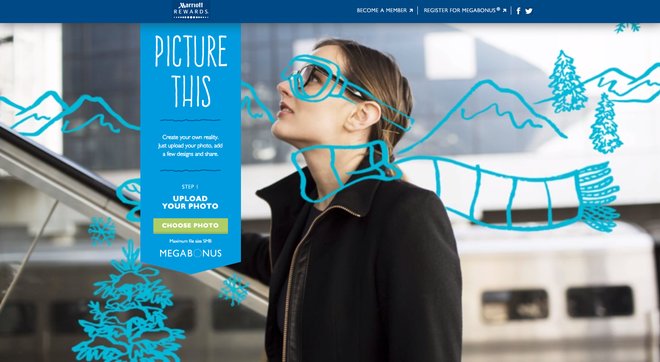 In December, Marriott's loyalty program launched the "Picture This" MegaBonus global promotion. Members of the rewards program can earn up to 25,000 bonus points that can be used on trips, merchandise, and exclusive experiences when they log into the Picture Your Rewards website, upload photos, and then use illustration tools to decorate them.
After users have personalized their photos — perhaps putting them on a beach in Mexico or skiing in Vermont — they can then share them on social media channels. Registration is required by March 31, 2015 and non-members can sign up for Marriott Rewards on the MegaBonus site for automatic enrollment in the promotion. To earn points, users will have to stay at participating properties between February 1 and April 30 this year.
Starwood: Ride with Uber
Starwood, the company behind brands like W Hotels, Westin, and St. Regis, has its own loyalty program — Starwood Preferred Guest. This month, Starwood's over 1,100 properties teamed up with the popular, though controversial, transportation app Uber. Once members link their SPG and Uber accounts and complete a stay at a Starwood hotel, they'll receive one point for every dollar spent riding in an Uber. Considering that travelers often need a hotel room and a car service, this is a match made in reward points heaven.
All products are independently selected by our writers and editors. If you buy something through our links, Oyster may earn an affiliate commission.