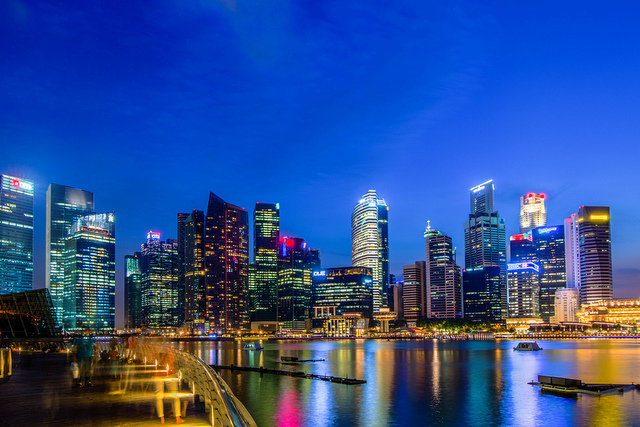 Southeast Asia is a budget traveler's dream. With cheap hotels, ludicrously inexpensive and delicious food, vibrant nightlife, and a wealth of culture, Vietnam, Indonesia, Malaysia, Cambodia, and Thailand have been on the budget-travel map for decades. Unfortunately, there's one glaring exception to the region's cheap-travel reputation: Singapore. According to The Economist's 2016 ranking of the world's most expensive cities, Singapore tops the list, ahead of budget-busting New York, London, and Hong Kong.
So should budget-conscious travelers give this vibrant little island a pass on their next journey to Southeast Asia? No way! With our guide to all things cheap and affordable in Singapore, there's no reason to leave this wildly multicultural island off any traveler's itinerary, no matter the status of your wallet.
How To: Eat Your Heart Out, Cheap
If you have any friends
who have traveled in Southeast Asia — or if there's even a hint of a foodie
in you — then it comes as no surprise that street food is where it's at, even
in a city rich with fine dining, like Singapore. But the real perk is that — while sampling the most authentic eats available — you're guaranteed to be full
for less than $5 USD.
Head to the city's storied food courts — also called "hawker centers" — to find the most diverse selection of dishes collected in one place. The most well-known include the Zion Riverside Food Centre, Maxwell Food Centre, Lau Pa Sat Festival Market, and Chomp Chomp. Each of these outposts is packed to near bursting with cheap stalls slinging all manner of local delicacies, from noodles to rotis and curries.
For an impeccably local
start to the day, start with the city's signature
breakfast: coconut custard-filled kaya toast with a side of soft-boiled eggs
and thick, sweet coffee. (Almost every hawker center sells this.) For lunch or dinner, one of the most storied street-food
outposts is Hill Street Tai Hwa Pork Noodles on Crawford Lane, a 10-minute walk
from the Lavender Street Metro station. Expect waits here, though, as lines can
take up to 90 minutes. Katong, the city's historic Peranakan district, is credited as the birthplace of nyonya cooking that blends Chinese and Malaysian flavors — check out the laksa curry soups at 328 Katong Laksa for an authentic take on this local staple.
Those looking for a proper sit-down meal have plenty of inexpensive options as well. While you won't be able to breakfast, lunch, and dinner at the city's most lauded venues — like Joel Roubichon Restaurant or Les Amis — there are plenty of low-key eateries slinging almost every international cuisine in Singapore's melting pot. There's reasonable ramen at Ramen Keisuke or inexpensive udon at Ten-Ichi Udon; proper Italian at Ah Bong's Italian; and affordable French plates at Saveur. Meals at any of these spots can be had for $10 USD or less, on average.
How To: Sleep Like Royalty, And Still Save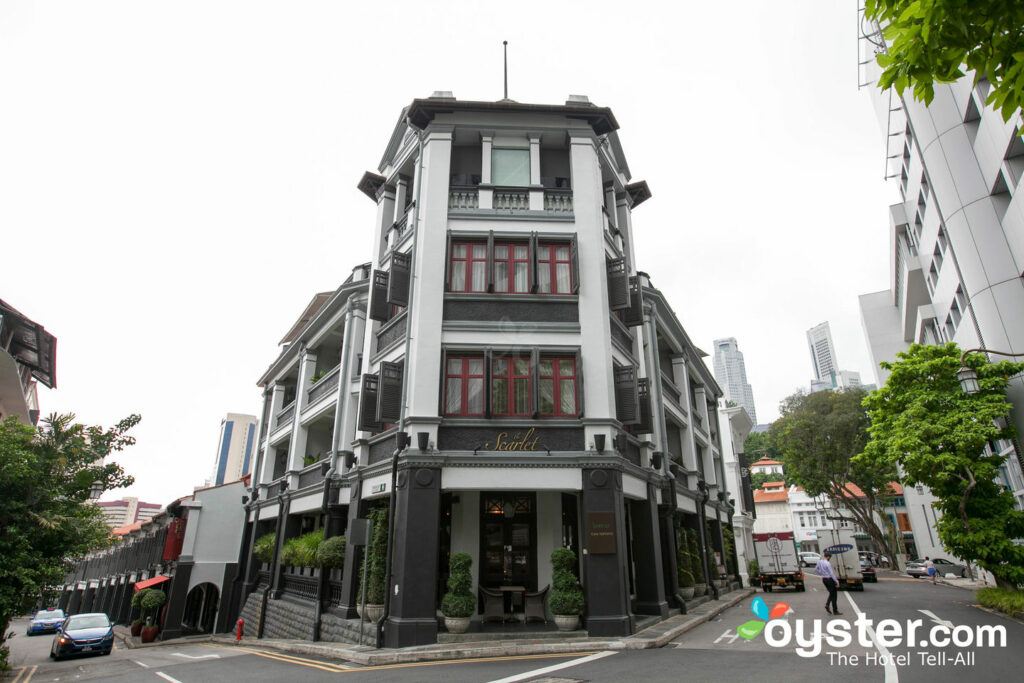 Real
talk: Hotel's aren't cheap in Singapore. Unlike its Southeast Asian neighbors, visitors here likely won't find rooms
for $15/night. According to our research, most of the city's hotels will cost
upward of $100/night. For tips on some of the best value-for-dollar hotels in
that price range, check out our list of Singapore's Five Best Value Hotels — the
relatively reasonable rates and upscale style at The Scarlet Hotel and The Sultan are still
some of our favorite finds.
For most budget travelers, though, "budget" doesn't mean $100/night on a hotel (or more) — especially for a hotel that's going to be little more than a place to sleep. Thankfully, there are some charming options in Singapore that come in well under that figure, and many more can be found with a little research.
One of the funkiest affordable hotels in the city is the Kam Leng Hotel, a historic mid-range boutique option in
Singapore's trendy Jalan Besar neighborhood, just a 10-minute walk from the
budget-friendly eateries in Little India. Interiors are bright, deliberately vintage, and eclectic,
with bespoke details like clusters of pictures on the walls in the contemporary rooms and retro furniture in the lobby.
The Moon 23 Hotel, right in Little India, offers compact
digs that include modern amenities like flat-screen TVs and iPod docks. Style
is restrained, but has a sharp and preppy aesthetic that draws on eye-catching
elements like plaid accent walls in guest rooms.
Hostels provide alternative options, and there are several in Singapore that go beyond the typical hostel offerings. Wink
Hostel has pod-style bunks and private double-pod rooms done in bold hues and featuring contemporary amenities like rainfall showers in the bathrooms. GUSTI Bed & Breakfast
Singapore offers cheerful dorm-only rooms just a two-minute walk
from the Lavender Street Metro station (and only a 15-minute walk from 328 Katong Laksa). Extras include video game systems and a communal kitchenette.
How To: Hit the Road, Cheap
Luckily, what travelers
have to shell out for a place to sleep, they can save on Singapore's
amazing cultural offerings, as everything from hikes through national parks to temple walks to museums
cost little to nothing.
The Singapore Botanic
Gardens are one of the nicest spots to spend a morning or afternoon — and the
green vistas are undeniably Instagram-ready. Established in 1859, here there are
over 200 acres to explore, which include popular themed gardens (like the
Healing Garden and the National Orchid Garden). All areas of the garden are
free, except for the National Orchid Garden — but with entry at less than $5 USD, this stunning
and serene sight is worth it. Check the Botanic Gardens' website ahead of time,
as well — the venue frequently hosts free concerts and other live events.
Those in search of something
a little more active can head to the Southern Ridges. This 10-kilometer
(six-mile) hiking trail winds through five national parks and nature reserves,
including iconic Mount Faber Park. With views of the Singapore skyline from
various vantages, the trail cuts across treetops and the forest floor, and
includes some of the city's most photographed sights, like the Henderson Waves Bridge. Start the trail at the HarbourFront Metro station or Kent Ridge Park,
and allow three to four hours to complete the one-way walk depending on your pace and number of stops along the way. Keep in mind that the trail can get quite busy on the weekends.
For a glimpse of what
life was once like in this now densely populated part of the world, hop the
10-minute ferry ride at Changi Point to the island of Palau Ubin. A round-trip
ticket is less than $5 USD and entry to the island itself is free. Palau Ubin
contains fine examples of Singapore's natural ecosystems — like the Chek Jawa
wetlands — as well as the only proper village to still exist within the country's
borders. The island is criss-crossed by bicycle paths, and exploring on rented bicycles is a popular way to spend the day here.
It's not all scenic views and bucolic landscapes, though — the Singapore National Museum and the Peranakan Museum both only
cost around $5 USD to enter and are packed with exhibits on the city's history and culture. Alternatively, Baba House is one of the best examples of Peranakan
architecture. Once a wealthy family's home, the building is over 100 years old and offers free, guided tours of the
stunning interiors (appointments are necessary). The city's temples and mosques
also provide intriguing means of exploring this city's long and diverse history.
Some of the most popular include the Mariamman Temple, Thian Hok Keng, the Sultan
Mosque, the massive Kong Meng San Phor Kark See Monastery, and the Buddha Tooth
Relic Temple and Museum (which is home to — you guessed it — one of the
Buddha's teeth). The latter two temples offer free vegetarian lunches to
visitors in their communal halls, though donations are also accepted.
How To: Shop Till You Drop, And Still Save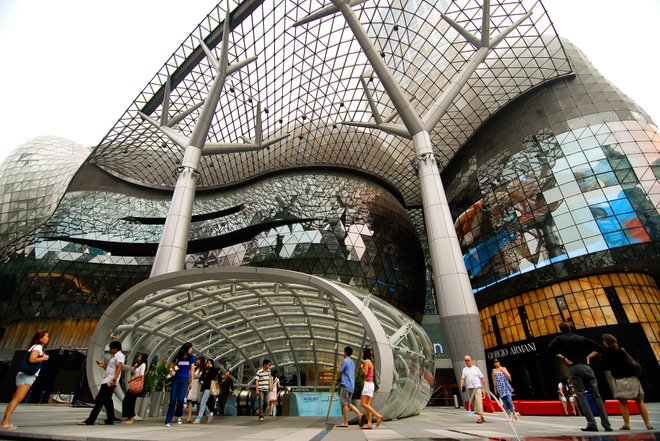 We know what you're
thinking: How can shopping be included in a budget-friendly trip to this
already expensive city? While you certainly won't be walking away with bags upon
bags from the Orchard Road shops or the many mega-malls that pepper Singapore,
there are a plenty of places where you can drop a few dollars and walk away
with an excellent souvenir.
Singapore isn't known for
its Bangkok-style night markets — and there's nothing here on the scale of that
city's mind-boggling Chatuchak Market — but market culture is alive and well in
Singapore. The Flea Party at Lucky Plaza is a popular stop for gently used
designer-brand clothes. For something a bit more vintage and bespoke, Thieve's
Market on Sungei Road has all manner of tchotchkes and antiques.
While Orchard Road is
mostly geared toward those with dollars to spare, Far East Mall is packed with a
dizzying array of shops selling bargain goods. It's also home to reasonably priced
massages, beauty salons, and cheap street-food style eats as well. While the luxury stores at ION Orchard may be out of
reach, the shopping center is home to a free contemporary art gallery and a
free observation deck on the 56th floor with amazing views of the city below.
As with food, you'll save
money by heading to the city's ethnic enclaves to shop. The famous Chinatown Street Market is a riot of sights, sounds, and stalls along Pagoda Street and the
surrounding roads. Alternatively, Ann Siang Road is home to trendier boutiques for those who haven't spent too much on food and lodging. For a taste of South Asia by way of the Strait of Singapore, Little India is
filled with shops and boutiques as well. Try the Little India Arcade for everything
from jewelry to spices, or head to the colorful shops along Serangoon Road to
find traditional tailors and saris.
Related Links:
All products are independently selected by our writers and editors. If you buy something through our links, Oyster may earn an affiliate commission.