February was an eventful month for travel, to say the least. The world was introduced to Trump's travel ban, which was later rejected. Many Americans canceled their trips to Mexico out of fear, while other travelers shared insight about visiting Iran, one of the countries impacted by the ban. Valentine's Day came and went—and we shared the creme de la creme of couples-only all-inclusives in Mexico and the Caribbean, two destinations our readers seem to love. New York's beloved Waldorf Astoria announced it would shut its doors in March for an undetermined amount of time, and Yosemite's firefall phenomenon returned flooded our social media feeds. So whether you missed it the first time around or want to give your favorite pieces another read, here are our most popular stories this month.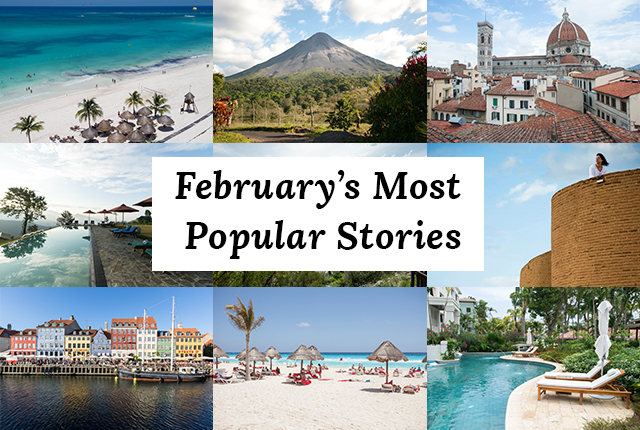 1. : Know before you go—even the most luxurious all-inclusive resorts can come with hidden charges and road blocks to relaxation.
2. : No kids (or families, friends, business travelers, or single folks allowed).
3. : You might expect a vacation to Europe to be expensive—and it could be—but there are plenty of ways to visit the continent on a budget.
4. : You'll return home unscathed and armed with great memories that will last a lifetime.
5. : A cheat sheet to the top destinations.
6. : Falcons and Christmas trees? Sure, why not?
7. : Just remember you heard it here first.
8. : Care for a dip? Check out these oases, from hippie havens in the woods to family-friendly lodges with pools large enough for swimming laps.
9. : Travelers who recently visited the destination give us an insider look at the politically and culturally complex country.
11. : What to do, what to see, where to stay in a week, 10 days, and two weeks.
All products are independently selected by our writers and editors. If you buy something through our links, Oyster may earn an affiliate commission.