If you travel more than a few times per year, you're likely wasting a lot of your precious time in security lines. With TSA wait times on the rise, and no easy solution in sight, TSA PreCheck—the paid program that gives passengers a fast track through security—looks like an increasingly wise investment.
But don't get your wallet out just yet. Is throwing money at the problem institution really the answer?
PreCheck vs. Global Entry
Enrolling in TSA PreCheck might be wise if you're not much of an international traveler, but for anyone leaving the country more than once a year, Customs and Border Protection's Global Entry program is likely a better investment. For just $15 more (and a brief interview at the enrollment center TSA PreCheck already requires a visit to), Global Entry grants you all the privileges of TSA PreCheck (expedited screening, no lines or removing your shoes) plus expedited screening at Customs and Border Protection checkpoints when entering the U.S.
The Department of State describes the comparison between the two services through the below chart, detailing that both are five-year memberships that require ID verification and finger printing for approval. Global Entry is slightly pricier, but some U.S. airports don't have TSA PreCheck lanes, which means you can't use it everywhere. You'll always have a need for Global Entry when you reenter the U.S.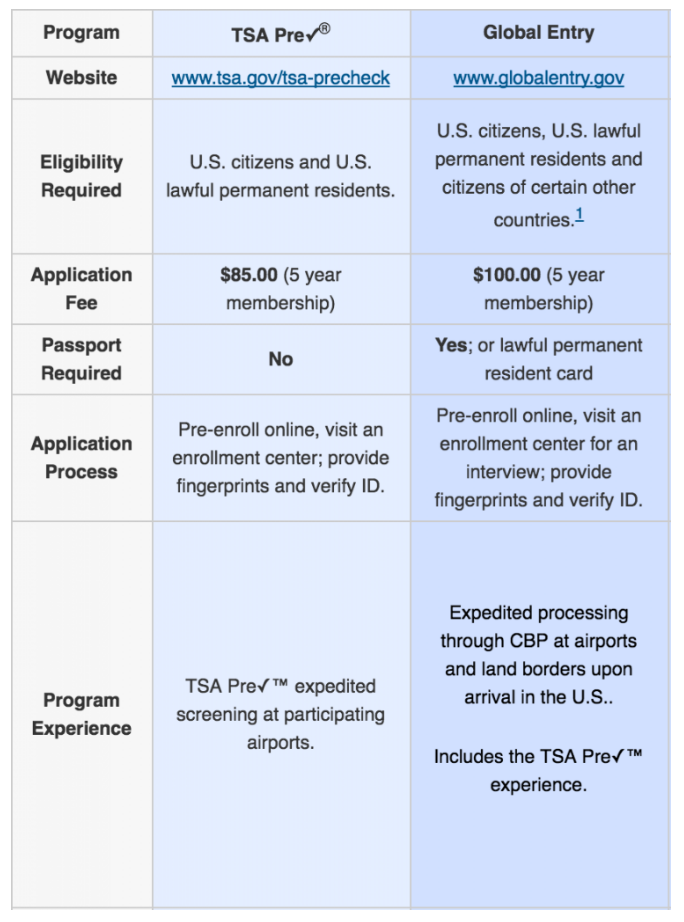 PreCheck Privileges for Free?
I've never applied for or enrolled in an expedited security program, but on a recent airport security check at Boston Logan Airport I looked down at my digital boarding pass and noticed a TSA PreCheck badge near the top of my phone. The agent ushered me to a PreCheck line where I wasn't required to remove my shoes or jacket, and skipped the body scanners I've come to expect at every journey through this airport.
"Is this right?" I kept thinking. "Do they think I'm enrolled?"
As it turns out, the TSA has been known to randomly select PreCheck passengers for expedited screening as a way to increase the program's visibility and attract new customers. United, the airline I was flying with, explains on its website that the airline itself does not select the passengers, but using a frequent flyer number that allows access to your extended personal information can increase the chances of this happening. I was indeed enrolled in a frequent flyer program at the time I was selected.
The problem I have with random PreCheck selection by the TSA is not only that it could be a security issue, but also that people have spent good money and time enrolling in a privilege that the TSA is apparently giving away. Why spend $85 and the time getting verified on a service that is at times completely free to certain passengers?
The Verdict: Global Entry FTW
The $15 and broadened privileges of Global Entry is certainly the smarter investment for a five-year screening plan that will save you hours of security wait time. Plus, who wants to take off their shoes in the dirty airport?
If you don't have a passport, however, Global Entry may not be for you. You'll need one to apply, and if you don't already have one then you're probably not planning on leaving the country any time soon—that's the only time you'd use Global Entry.
If you are interested in TSA PreCheck enrollment, consider how often you travel and which airports you use—some airports, like Boston Logan, haven't had problems with long lines, and PreCheck is more of a novelty service than a time saver at those airports. I'd recommend holding off until you have a need for Global Entry.
Access to both services is the only time-saving option worth spending upwards of $85 on.
More from Oyster.com:
More from SmarterTravel:
Read the original story: Global Entry or TSA PreCheck: Which Is a Better Investment? by Shannon McMahon, who is a regular contributor to SmarterTravel.
All products are independently selected by our writers and editors. If you buy something through our links, Oyster may earn an affiliate commission.