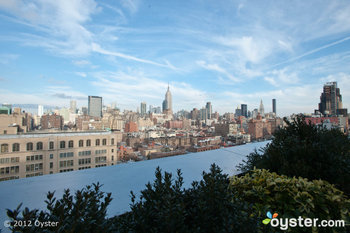 The Food Network's annual New York City Wine & Food Festival kicks off tomorrow, bringing in scores of foodies from the world over. And perhaps you're one of those planning to take a bite out of the Big Apple this weekend. You know the food will be fantastic, but if you don't have plans for your digs yet, we've found just the spot for you with foodie-friendly hotels that not only serve up the good stuff on a regular basis, but are also playing host to some of Wine & Food's scrumptious gastronomic gatherings. Check out Oyster's favorite places to both eat and sleep throughout the festival after the jump.
Hovering above the High Line on concrete pillars, The Standard New York is a one-of-a-kind Meatpacking District hotel offering 338 light-flooded, ultra-mod rooms with panoramic views of the city. It might just be the hippest hotel in New York City — and it's the host of nine Wine & Food events this weekend. And with the celebrated Standard Grill on-site, home of the extraordinary penny-tiled floor (literally, 460,000 coins went into it), it's no wonder why. Highly regarded chef Dan Silverman, formerly of Lever House, has filled his dinner menu with steakhouse standards and seasonally focused dishes: classic dry-aged rib eyes meet greenmarket sugar snap peas and some indulgent-sounding duck-fat mashed potatoes. Gorge here before attending the various wine seminars and beer tastings that will be taking place at The Standard, in addition to many trade panels for those individuals in the know. Our favorite events are: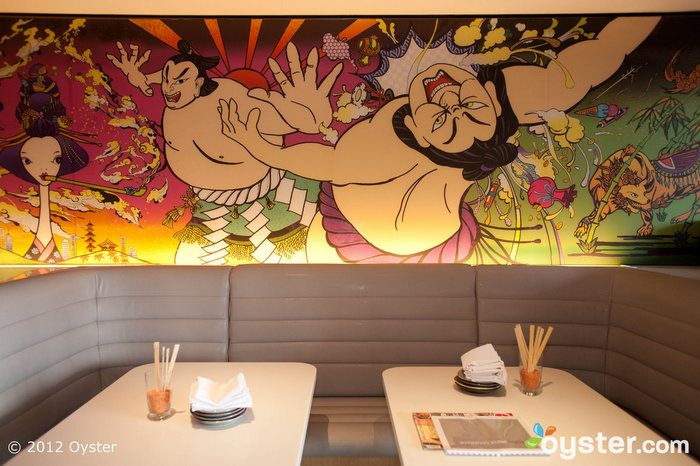 The European chain Yotel is known for its affordable rates and hip atmosphere, featuring three bars (including two on an enormous rooftop terrace) and the playful (and delicious) restaurant Dohyo from Chef Richard Sandoval. Serving Latin-Asian cuisine such as Wagyu brisket with sweet achiote truffle sauce, Sandoval's menu is unique and captivating, much like the hotel. Rooms are tiny, but technology is solid — the hotel even has its own robot, the Yobot, to take care of your luggage. How the foodies will react to him when they arrive for this special event is yet to be determined: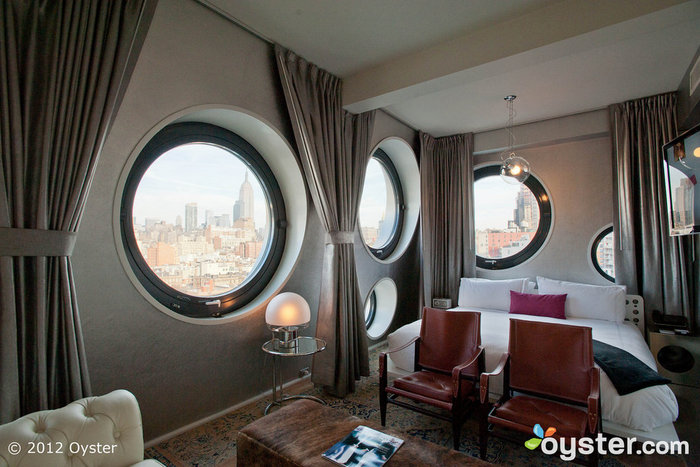 The Dream Downtown is an aggressively modern hotel in Chelsea. The hotel blends public spaces together in a unique way: The fitness center has portholes overlooking the pool, and the pool itself has a glass bottom that looks down into the lobby. The hotel's scene is decidedly hip, especially at PH-D lounge (a popular celeb haunt) which features sweeping views of Manhattan. One of the trendiest spots in Manhattan, it is also hosting this decidedly fame-focused event:
The 83-room luxe Chatwal is housed in a landmark building near Times Square, evoking the glamorous 1920s from the moment you walk through the door. Rooms combine high quality linens and beds, along with playful 1920s touches such as backgammon sets, custom playing cards, and desks that look like steamer trunks. A small, lovely spa and a restaurant by Iron Chef Geoffrey Zakarian are the hotel's stand-out features. The Lamb Club, Zakarian's restaurant, serves modern American cuisine in a clubby, old boys' club atmosphere, complete with red leather chairs and banquettes, Art Deco decor that matches the lobby (read: lamps shaped like tall martini classes), and an 18th-century French fireplace.
This was just a sampling of the deliciousness that will be this year's Wine & Food Festival. For a full list of events, click here.
RELATED LINKS:
All products are independently selected by our writers and editors. If you buy something through our links, Oyster may earn an affiliate commission.