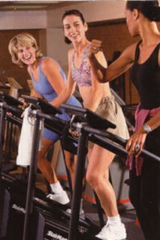 Listen, hotel marketers: nobody smiles at the gym. The gym is a No-Fun Zone. People don't go to the hotel fitness center to chitty-chat like that; they go to the hotel bar. You're practically begging us to expose a Photo Fakeout with this kind of thing.
That said, allow us to do some exposing: the image to the left, featured on Jamaica's Runaway Bay Heart Hotel website, appears to be a photo of three women who are quite delighted that they happened upon a gym at the hotel with three (!) elliptical machines in a row. We'd be quite delighted, too – if only such a gym existed there. Instead, the cold, sad reality of the gym equipment situation at RBH is shown at right.
Do we spy a stock photo? Maybe not. Based on their attire, one might argue that perhaps this was, in fact, a real photo of the property's gym in 1991 – just a hot snapshot of these three chickies admiring their pal's biceps while workin' up a sweat to the sweet sounds of their favorite upbeat Wilson-Phillips jam.
All products are independently selected by our writers and editors. If you buy something through our links, Oyster may earn an affiliate commission.