What's the secret to a great family vacation? Finding a location that allows everyone to explore and have fun -- at their own pace. A spot where the kids (most likely bursting with energy) can have a blast while you enjoy a relaxing massage and a margarita...or several margaritas. (Go ahead -- it's vacation.) And generally a beach destination can deliver on all these fronts. So we've rounded up the best kid-friendly, tropical vacation spots that feature safe and fun places to play, kid-friendly restaurants, and all sorts of activities, even if the sun goes into hiding for a day or two. And Mom and Dad will be just as happy at these spots as well.
With ten pools, a sprawling (45,000-square-foot) water park, a shopping center, a spa complex, and more restaurants than you can shake a breadstick at, the family-friendly Beaches is one of the most features-heavy resorts in Turks and Caicos. With a pirate-themed Sesame Street Treasure Caravan; 12 miles of white sand beach; pools staffed by lifeguards; Pirate's Island Waterpark featuring two waterslides; AND Crayola Art Camps (whew!), your little ones can be entertained while you head for a rum punch. For the tweens and teens, there's a Martha Stewart Crafts Studio, a (teen-appropriate) nightclub and lounge, an Xbox games garage, and even a DJ academy.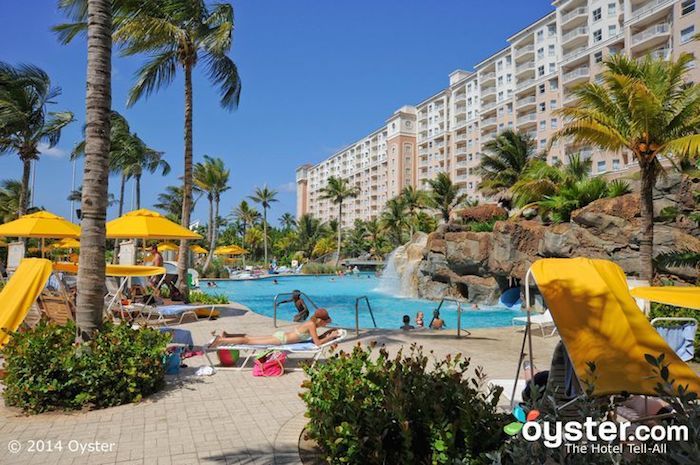 One of three beachside Marriott resorts sitting in a row on the sand, the family-oriented Surf Club has clean, comfortable rooms, an excellent gym, a huge waterslide, a teen lounge with Nintendo Wii video games, and the winding "Lazy River" pool (possibly the best pool in Aruba). Beside the Lazy River pool, the hotel has a huge waterslide. In addition, the hotel has a teen lounge off the lobby for 12- to-17-year-olds. On-site dining is limited, but excellent restaurants are just a short walk away.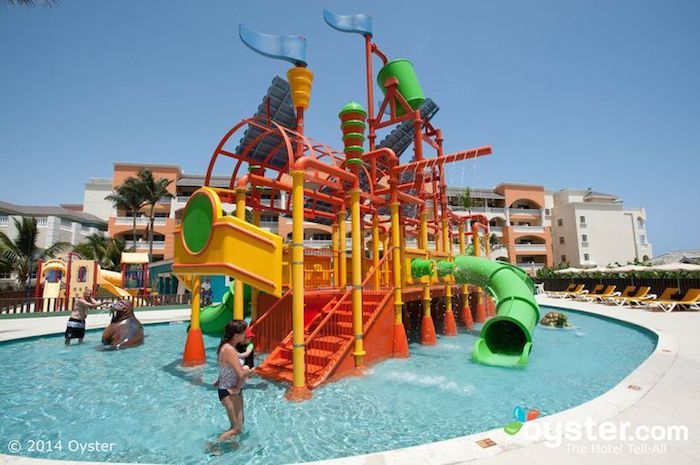 This is the family-friendliest pick of the of the three Iberostar resorts on Montego Bay, with a kids' club, water park, kids' menus, and pull-out sofas in every room. The rooms are large enough to share with the kids, and the resort offers an awesome kids' club with a water park, as well as a lazy river, an activities pool, and best of all, a rockin' kids' club with a water park, video game center, playground, pool, and arts and crafts. All-inclusive rates cover meals and drinks at the property's six restaurants and six bars. Lucy's Kids Club is free for kids ages four to 12, and has a (literally) cool water park, with a playground pool showered by fountains and a giant bucket that sprinkles water over the children as they play on slides and bridges. Babysitting is available for a fee.
Much like the other sprawling resorts that line the beach in the swanky Marina Vallarta golf community, the CasaMagna Marriott features top-notch restaurants, pools, and meeting rooms, as well as lovely guest rooms and suites that feature modern amenities and contemporary furnishings. Housed in two towers, this upscale hotel is memorable primarily for its sumptuous Ohtli Spa and adjacent fitness center with indoor lap pool. Somewhat removed from Puerto Vallarta's nightlife scene, it is a great spot for travelers who want to unwind away from the hustle and bustle of downtown. Kids will enjoy the seasonal turtle release programs, as well as the sleek kids' club.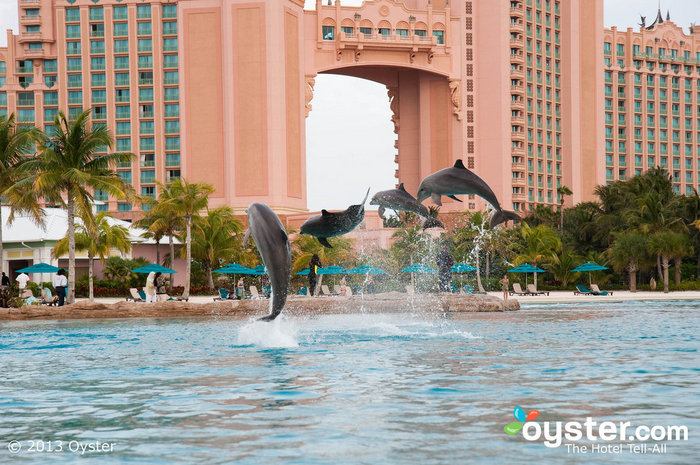 A kid-friendly wonderland brimming with activities for kids and teens, the The Royal at Atlantis features a dolphin habit; kid-friendly restaurants; Atlantis Kids' Club with activities like arts and crafts, water sports, karaoke, and video games; movie theaters; game rooms and in-room babysitting. Stunning architecture, an exceptional water park, a famous casino, three beaches, 12 otherworldly pools, and 21 superb restaurants make the 3,400-room Atlantis, Paradise Island a study in conspicuous consumption. No other resort, anywhere in the Caribbean, can compete with the vastness of its dining and attractions.
Easily among the most luxurious resorts in Central America, The Four Seasons is as close to tropical perfection as it gets. With two beautiful beaches, ocean views from each one of the sumptuous rooms — decorated in materials including wood, bamboo, and stone — and an 18-hole golf course, the resort makes it possible for guests to spend their whole vacation on-site. The Kids For all Seasons kids' club, for children ages four to 12, is equipped with numerous toys, games, and puzzles, a TV and video game controllers, computers, and — in an outdoor area — ping pong, foosball, air hockey, and a kiddie pool. Hotel staffers supervise the play area and excursions, which include sand castle building and soccer. The Tuanis Teen Center is equipped with a long row of computers and video game consoles, a large flat-screen TV with DVDs, foosball, a pool table, and an outdoor court where basketball or volleyball can be played.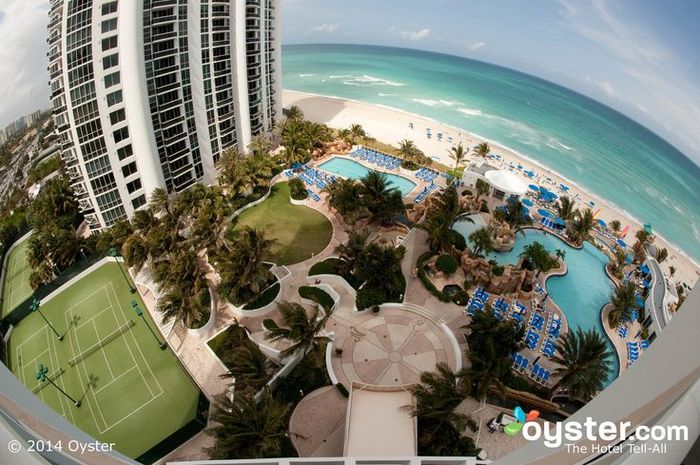 With a free kids' club, a beach-entry pool, and warm, unpretentious vibe, the Trump is an ideal place for families with children. While the fancier Acqualina next door charges $55 per day for its kids' programming, the kids' club at the Trump is free. The hotel's rooms, with kitchenettes in every one, and washer-dryers in many suites, are also family-friendly. The large grotto-style pool has a beach-entrance shallow area that's great for little ones in water wings. The main restaurant, Neomi's, is fancy but also family-friendly. During dinner, waiters bring amuse-bouches to adults and sippy cups to kids with equal panache. The room-service menu also features options for kids like French toast sticks, chocolate milk, and grilled cheese. The hotel also has a mascot named Globie, after the globe sculpture that decorates the hotel's entrance.
An excellent spa and gym, beautiful double-decker pool, pristine beachfront, and numerous entertainment options make The Westin Dawn Beach Resort & Spa an excellent choice for adults and kids alike. An extensive list of activities include direct access to Dawn Beach (with guest-only lounge chairs and towel service), a beachfront water-sports pavilion with snorkeling gear, pool floats, kayaks, and other non-motorized sport rentals, and a Westin Kids' Club with arts and crafts and day trips.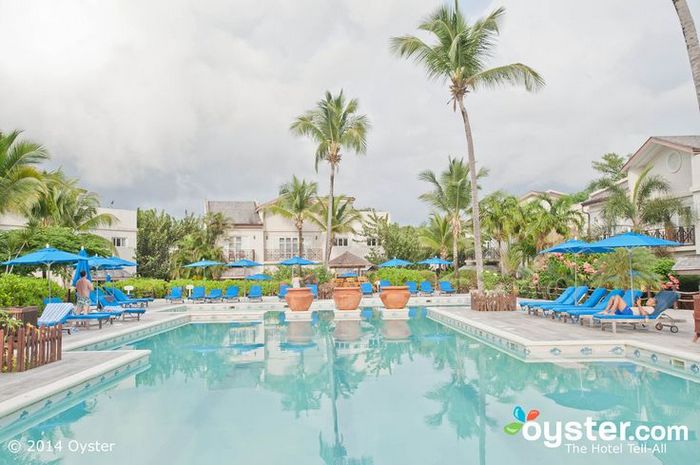 Quiet, sophisticated, and stylish, this luxury resort doesn't skimp on amenities — Cotton Bay Village features a beautiful Olympic-size pool, an exceptional spa and fitness center, an extensive kids' club, and a secluded beachfront with an open-air restaurant and lounge. The resort's 49 stately residences range from sizable one-bedroom apartments to four-bedroom villas of impressive proportions — each with a private balcony or terrace and a full kitchen. This is a great choice for families given the spacious accommodations and many children's perks, but couples will feel relaxed here too, as it is not overrun with families but instead caters to all types of travelers.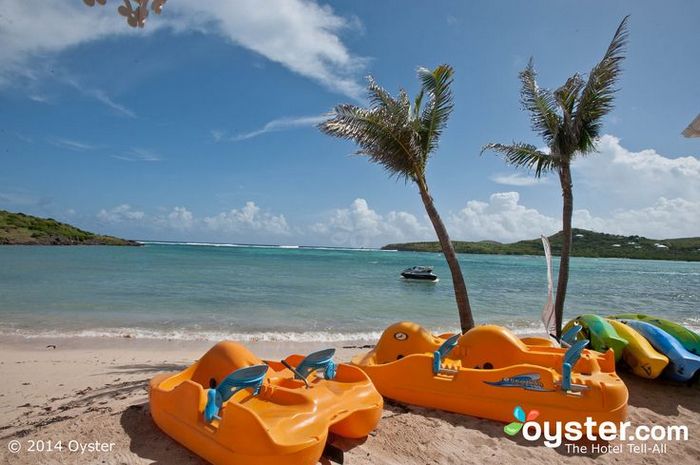 Hotel Guanahani is a beautiful resort on the northeast side of St. Barts that attracts well-heeled guests and celebrities (Bethenny Frankel came here for her honeymoon when her tot was just a bun in the oven). The hotel offers 75 rooms and separate cottages, all of which feature terraces, colorful, beachy decor, and modern amenities such as large flat-screen TVs, iPod docks, and free Wi-Fi. The extensive amenities include a pool, two kids' clubs, tennis courts, several delicious dining options, and a top-notch spa, ensuring that there's plenty to keep both couples and families happy. The beach has numerous activities, but is relatively small, so many guests take day trips to the nearby beaches (for which the island is famous).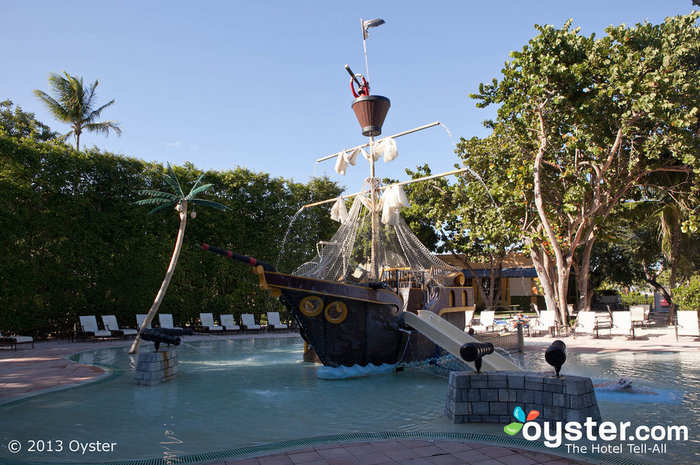 The massive Hawks Cay Resort is packed with tasteful rooms and family-friendly amenities. Many guests arrive by boat, as the resort is located on Duck Key, a secluded spot far from Key West's main airport. The resort is a good pick for families, as it offers amenities for youth of all ages — from a kids' club to a teen lounge. Other family-friendly features include a basketball court, playground, and a pool with a pirate ship that has its own water slide. The beach is also tranquil, with calm waters.
This Four Seasons sits on a large, attractive beach on the small island of Nevis. The gorgeous rooms here may be the highlight; the updated decor has a Ralph Lauren-like look, with a blue-and-yellow scheme accented by pops of color and dark wood furniture; the massive bathrooms feature separate showers and tubs. Plus, almost all rooms have beautiful views, of either mountains or the ocean. The hotel's remote location makes this a popular pick for couples on a romantic getaway. But with its long list of on-site amenities, this resort is well-suited for families as well. There are three pools, multiple tennis courts, a golf course, and a kids' club. Other family features include child-size bathrobes, milk and cookies upon arrival (as well as a plush turtle toy and a turtle treat made by the resort's pastry chef), a free-form infinity pool for families, baby-proofing kits upon request, 17 family suites, and DVD player in all rooms.
Save your kiddos from irritated eyes by bringing along a pair of goggles on your tropical vacation.
RELATED LINKS:
All products are independently selected by our writers and editors. If you buy something through our links, Oyster may earn an affiliate commission.