With its gorgeous beaches, educational cultural attractions, and laid-back, friendly locals, Hawaii is one of the best family destinations anywhere. And these nine hotels can take your family vacation to a whole other level. Massive pool complexes, man-made snorkeling reefs, water slides, animal attractions, kids clubs, luaus -- you can probably find whatever you and your kids can dream up.
The Grand Wailea Resort may be the most kid-friendly resort on Maui; its biggest selling point has to be the one-of-a-kind pool system with some pretty awesome features. Its biggest selling point has to be the one-of-a-kind pool system with a lazy-river pool, four waterslides, a rope swing, and a water elevator at the center of a faux volcano. The resort also has one of the best kids programs we've seen; the 20,000-square-foot facility has a video arcade, pingpong and foosball tables, a PlayStation room, a mini movie theater, and an activity room for kids 5-12 (seasonal activities available for teens). As if that's not enough to keep your kid busy, the beach has great waves for body-surfing and stiller areas for snorkeling. Even the rooms are geared towards families: standard rooms are huge and connecting rooms are available. There are also great kid options on restaurant menus.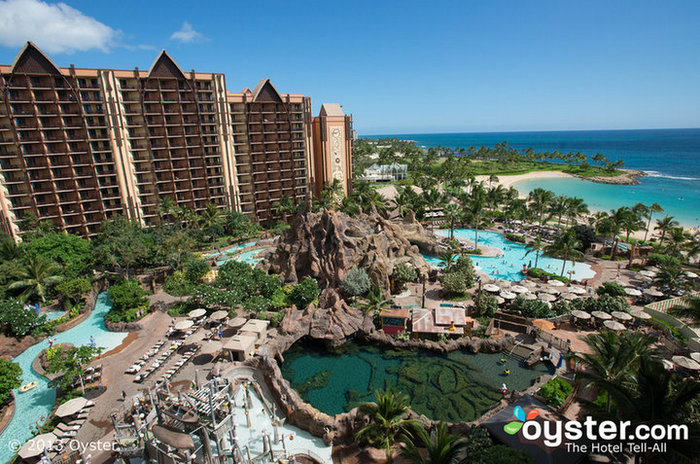 At this gorgeous property in the Ko Olina resort complex, service is excellent, the food is delicious, and the kids always come first. The pool area is gorgeous, boasting a lazy river, two waterslides, and a manmade reef, and the coved-in lagoon offers calm waters. It should come as no surprise that Disney delivers when it comes to family fun. Classic movie characters wander the grounds, posing for photos with kids of all ages, decked out in aloha shirts for that extra island flair. Dance parties at the pool happen daily. Keiki (kids) menus are available at every restaurant, be it sit-down or quick-serve. The spa offers treatments for everyone in the family (even toddlers!), or the whole family can enjoy a treatment together in the 'Ohana suite. Rooms are also incredibly family-friendly, with spacious layouts and mini-fridges in every room.
The largest resort in Hawaii, the amenities-packed Hilton Hawaiian Village has more to offer families than any other property on Oahu — or Maui or Kauai for that matter. The crowds are big. But if you can make a pre-breakfast detour to stake out chairs by one of the four impressive pools — one is Waikiki's largest– your kids will be thoroughly entertained. Among the top-shelf attractions are the dozens of species of animals on the grounds, including parrots and penguins, and the calm, coral-reef-protected waters at the beach. What'll you love? A chance for kid-free relaxation, thanks to Camp Penguin, which plans field trips to the aquarium or zoo and activities like sandcastle building, for kids ages five to 12. (The per day cost is half of the price of Sheraton Waikiki's kids club.)
The Grand Hyatt Resort seems to have been built with its younger guests in mind. Kids who attend Camp Hyatt will not be entertained by typical video games, board games, or computers, but with a program designed to teach kids about Hawaiian culture. There are also kids menus available at many restaurants (even a room service kids menu). The hotel also offers free rollaway beds and babysitters, with enough notice. If that's not enough to keep the kiddies busy, take them to one of the four pools, open 24 hours. They can kayak (yes, kayak) in the saltwater lagoon, hang out in the lazy river, play volleyball or basketball in the freshwater pool, or take a ride on the waterslide.
The Hyatt Regency can feel like a zoo, waterpark, mall and food court all wrapped into one (crowds included), which means your kids won't lack for things to do on vacation. With flamingos, cranes, parrots, and penguins on-site, great beach activities such as kayaking, snorkeling, and windsurfing lessons, and various Hawaiian-themed kids activities, children will likely never be bored. And, like many other resorts on our list, the pool complex is impressive, to say the least. There is a children's area, rope bridge, and 150-foot waterslide. Most of the hotel's restaurants provide kid-friendly options and rollaway beds can be provided in the large standard rooms.
If you want a family vacation without feeling like you're at a megaresort, be sure to check out the Ko Olina Beach Club. It still offers plenty of fun kids activities, minus huge lines and screaming kids. Snorkel boats and sunset cruises, great for the young and young-at-heart alike, regularly take off from the resort's marina. The four man-made lagoons make snorkeling and swimming safe for young kids. If a pool is more their speed, check out the two most kid-friendly pools of the four on-site: The Lagoon Pool with a volleyball net and basketball hoop and the Nai'i Pool with a waterslide and waterfall. Having a poolside emergency? The resort offers poolside MAZE huts ("Marriott Activity Zone Experience") that provide everything from towels (free) to shave ice or swim diapers (both at a cost). Kid-friendly menus and plenty of kids activities (and childcare options) will give you the quiet time you need. Most of the rooms are apartment-style with full kitchens, and cribs are free, making bringing the kiddos along even easier.
The Hilton Waikoloa Village is the largest and most family-friendly resort in the Kailua-Kona area, and is often referred to as the "Disneyland" of the Big Island. With 1,200 rooms, three large pool areas, extensive outdoor grounds and a variety of on-site dining options, the Hilton Waikoloa is indeed a small village in and of itself, and a tram and canal boats help guests travel across the sprawling property. Family-oriented amenities include free meals for kids four and under, discounted rates for the Seaside Putting Course, the only interactive dolphin program on the island, a spa program just for kids, and a comprehensive club for children 5 to 12.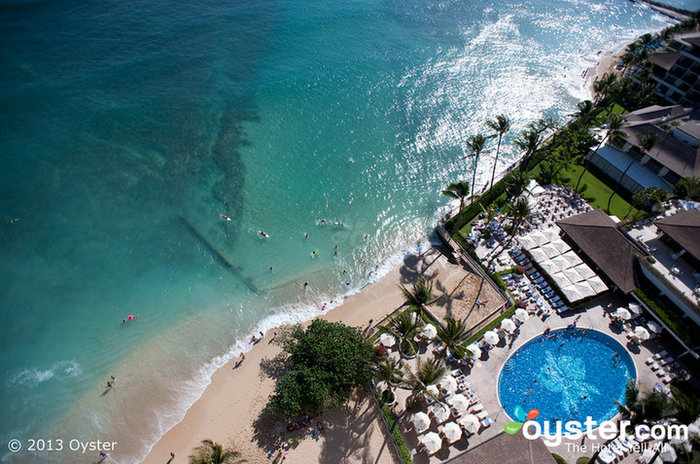 The Sheraton Waikiki is the place to be if you're an avid people watcher. The second largest hotel (with an astonishing 1,636 rooms!) in Hawaii means huge crowds, but amenities a-plenty. Even better, children under 17 stay for free; however, rollaway beds are pricey. If you can get over the incredibly packed pool (get there before 7 a.m. for a spot) the pool complex is impressive, with two connected pools, fountains, a hot tub and a waterslide. Children can also enroll in the kids camp where they make leis and go to an aquarium, among other activities. Have a picky eater? Don't worry, because the Sheraton has some of the best kid-friendly options of any Hawaii hotel.
The Marriott Kauai is a beach bum's paradise. With the best beach on Kauai, kids will never be bored body surfing, snorkeling, taking surf lessons, or just playing in the waves. And that's not the only reason this is a great hotel for families: It also has the biggest single-level pool (26,000 square feet!) in Hawaii, with five hot tubs and waterfalls. The Marriott also makes it easy to stay with your kids; the standard room can sleep up to four people, rollaways, cribs, and high chairs are free, and Marriott's Activity Zone Experience offers age-appropriate kids activities.
To learn more about Kelsey Blodget, visit her on Google+
All products are independently selected by our writers and editors. If you buy something through our links, Oyster may earn an affiliate commission.