The Golden Age of Hollywood has come and gone. While Los Angeles once had a firm grip on all film-related business -- movie and television alike -- the industry has expanded well beyond the Hollywood Hills. In the last forty years especially, we've seen emerging markets in Louisiana, Toronto, and Atlanta increasingly cut into La-La Land's share of the filming world. Where Hollywood once hosted a commanding 64 percent of the live-action films being made in the early 2000s, today that figure has dropped to around eight percent, according to a study by FilmLA. It's a big departure from the norm -- and it is only good news for people looking to get their fifteen minutes in front of the camera. We've rounded up the top six destinations outside of Los Angeles for aspiring actors to book their first gig, or adoring fans to potentially score some time as an extra. And we've included some movie star-worthy accommodations in each spot as well.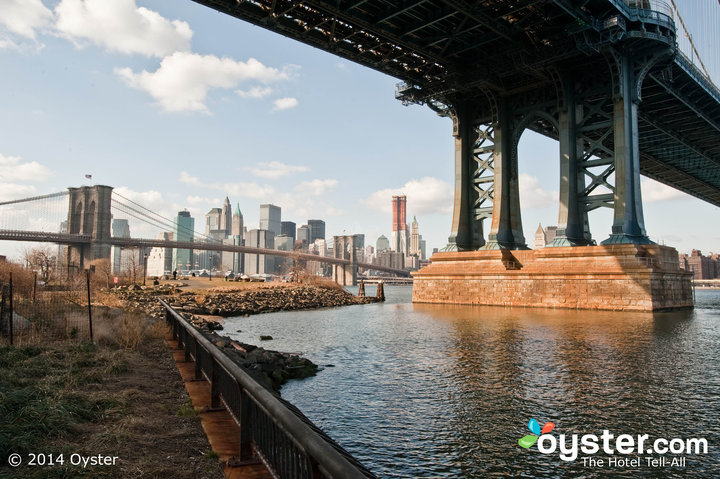 This may seem like a no-brainer, but in reality NYC only became a film industry hot spot in the 1970s when prolific directors Martin Scorcese and Woody Allen shifted their films' focus to the Big Apple. Since then, NYC has become the clear challenger to Los Angeles' filming supremacy. Just this year, NYC officially surpassed Hollywood for the number of TV pilots filmed in town, with Vancouver, Toronto, and Atlanta slowly creeping up behind the two industry giants. This week alone HBO's Martin Scorcese-directed drama The Long Play begins filming its pilot in the city, as do over sixty other returning network programs. USA's White Collar, CBS's Person of Interest, Netflix's Orange is the New Black, and HBO's Girls are just some of the projects currently in play across the five boroughs. Plus, NYC has one thing Los Angeles doesn't when it comes to acting: the Great White Way. For actors looking to pursue a career on stage, there is nowhere else to be but Broadway. Daniel Radcliffe and Neil Patrick Harris are both currently headlining shows, and Breaking Bad's Brian Cranston just wrapped All the Way, for which he won the Tony Award for Best Performance by a Lead Actor in a Play.
Stay: Mercer Hotel
The Mercer's 75 loft-style guest rooms, beautiful staff, personalized service and swanky SoHo location make it a go-to choice for celebrities and other fashionable members of the entertainment industry — from Leonardo DiCaprio, to fashion designer Calvin Klein, to oddball rock star Marilyn Manson, to Russell Crowe (who made headlines in 2005 for allegedly throwing a telephone at a Mercer check-in clerk). If you want to stay in a movie star-approved hotel, you can't do much better.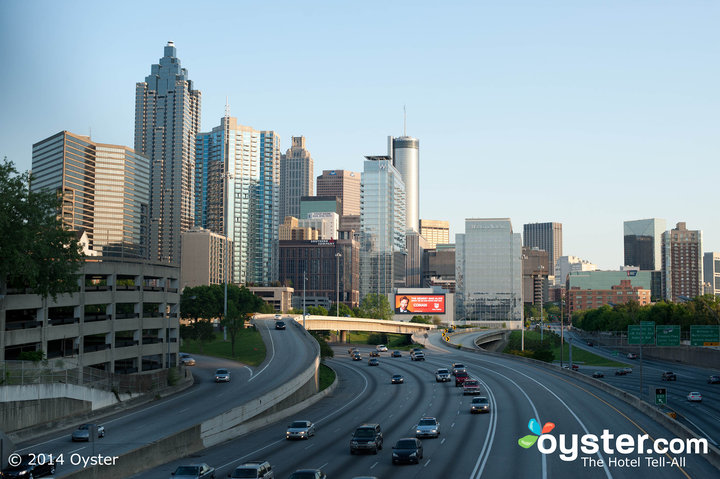 The South is quickly becoming a juggernaut of its own within the film industry, and Atlanta may be the king of the crop. With powerhouses CNN, TNT, and TBS — among many others — calling the city home, and a 30 percent tax break for filmmakers, it's no wonder the Peachtree State is garnering so much attention. AMC's The Walking Dead has turned the city, and nearby Senoia, into an actual Night of the Living Dead, with hundreds of extras bedecked in zombie gore. Tyler Perry has his own studio space here, and is beginning filming on his new TV pilot If Loving You is Wrong this summer. Wilmington, North Carolina and Savannah, Georgia are two other industry mainstays in the South that actors and film buffs alike should make a point to visit.
Stay: Mandarin Oriental, Atlanta
This elegant, 127-room luxury hotel is located in a quiet area in Buckhead, but close to restaurants, shops and great nightlife, and a couple of blocks from the subway. The spacious, high-tech rooms are the main draw here, but there's also a wonderful spa (a destination for locals), a great indoor lap pool, a bright fitness center, a casual but stylish restaurant, and a lounge overlooking the beautiful gardens. The brand is a perennial favorite among celebs, so be sure to keep your eyes peeled during your visit.
Of Canada's two largest cities — a duo known collectively as Hollywood North — Toronto has the largest impact on the film industry. (There'll be more on its other half — Vancouver — in a bit. As for Montreal, if you're not at least fifty percent French, you're pretty much not filming there.) It is one of the best North American cities to get started in the biz: A talented local community of actors and crew members have been stealing Hollywood's fire for decades, and they do it at a fraction of the cost to boot. There is about a 50-50 divide between Canadian and American films and television shows being filmed in town at the city's over one million-square-feet of studio space. HGTV films many of its home decorating and design shows in and around Toronto, as does Food Network Canada. Degrassi, Rookie Blue, and Suits are just three of the many television shows currently filming in the city.
Stay: The Hazelton Hotel
This intimate, 77-room boutique offers top-notch luxury: sleek, sophisticated room decor; and luxe dark granite bathrooms with soaking tubs, heated floors, and mirror LCD TVs. The great location (blocks from Bloor Street), hip vibe, and private theater are just some of the reasons why the hotel has hosted VIP screenings during the Toronto Film Festival.
The Windy City is actually home to the largest studio — Cinnespace — in the United States outside of Los Angeles. As a result, Chicago has seen countless productions filmed here, including Divergent, The Dark Night, Transformers 3, and Man of Steel. And with the studio poised to construct a massive Hollywood-style backlot (the first of its kind outside of LA), the list is likely to keep on growing. But long before Cinnespace even existed, classic films like Ferris Bueller's Day Off, Sixteen Candles, The Fugitive, and Home Alone put Chicago on the film industry map. Television series also do well here, with Shameless and Chicago Fire being just two of the many productions that are currently stopping downtown traffic.
Stay: The James Chicago
The James is one of Chicago's top luxury hotels, and is located in River North, a block from the Magnificent Mile. The public spaces are modern and sometimes quirky, while the 297 rooms are crisp and clean. They're minimally decorated without being stark, and some have clever design to maximize space, as well as big flat-screen TVs, impressively stocked minibars, and comfortable beds. In addition to a well-equipped fitness room, the James also has two art galleries along with interesting artworks and sculptures throughout the lobby.
NOLA and nearby cities of Shreveport and Baton Rouge are seeing some serious film business come their way. Garnering the nickname "Hollywood South," Louisiana produces an amazing array of films and television shows every year. In part, this is because of the state's impressive tax breaks (sensing a trend, are you?), but NOLA and its counterparts also have amazing architecture, natural beauty, and undeniable charm that rival other cities. And despite its utter uniqueness, there's also a malleability to the city: Film crews transformed Shreveport into Portland last year while filming Mr. Brooks. This month, filming wrapped on American Ultra, with Kristen Stewart and Jesse Eisenberg; Fox's new Fantastic Four with Michael B. Jordan continued filming; and Jurassic World, the fourth installment in the mega Jurassic Park series, kicked off with Bryce Dallas Howard, Chris Pratt, and Jake Johnson. TV shows in the area include the CW's teen supernatural drama The Originals and CBS's latest spinoff NCIS: New Orleans.
Stay: International House Hotel
Trendsetters and celebs stay at the International House Hotel for its quietly sexy vibe, attentive staff, and posh rooms designed by a top L.A. designer. At night, the hotel's Loa Bar (just off the rose-scented lobby) serves fancy libations by candlelight. The rates here are surprisingly fair, and the Central Business District location is within walking distance of the French Quarter.
The other half of Hollywood North takes itself pretty seriously — and for good reason. Many US feature films seek out locations in and around Vancouver for its accessibility and surrounding natural beauty. It is also home to one of the largest studio spaces outside of Los Angeles and, because it shares a time zone with LA, many filmmakers choose to take advantage of its lower costs. Juno, X-Men: The Last Stand, and the Twilight series have all been shot here; but, there are also a large number of TV shows currently in production in BC. The CW's Arrow and Supernatural are both currently filming there, and ABC's hit show Once Upon a Time is as well.
Stay: Loden Hotel
This 77-room luxury boutique has a modern, stylish feel, with a glam lobby (think: velvet couches, dark wood ceilings, and a stunning black-and-white granite fireplace surround) and a popular French bistro. The large, sleek rooms may be the highlight, with subtle earth tones, floor-to-ceiling windows, and decadent marble bathrooms, but the Downtown Vancouver location is convenient as well. It's a popular choice among celebs looking for a quiet stay in Vancouver.
Check out Oyster's page on Google+
To learn more about Kristina Fazzalaro, visit her on Google+
RELATED LINKS:
All products are independently selected by our writers and editors. If you buy something through our links, Oyster may earn an affiliate commission.