Part of the boutique Affinia chain, Fifty NYC is an upscale property located in Manhattan's Midtown East. The hotel draws business professionals and families looking for apartment-style rooms near tourist sites like Rockefeller Center, Times Square, and Central Park. Though rooms have always been spacious by New York standards (325 to 650 square feet), they recently got a huge makeover thanks to a $19 million renovation that spanned the whole property. Take a look at the amazing transformation and let us know if you would want to stay at this boutique hotel now that it's got a fresh, new look.
Before: One-Bedroom Suite
The One-Bedroom Suite had a comfortable bed and sleek, if boring, furniture. But the green, leaf motif carpeting and shiny green bedskirt were a bit dated — we also don't know how this combo was dreamt up in the first place. Many of the rooms formerly had old tube-style TVs, but this suite was outfitted with a large flat-screen even before.
After: One-Bedroom Suite
Ahh, that's better. Now the guest rooms have contemporary furnishings, striped detailing, and a neutral palette. Comfy beds have tufted headboards under bright, modern canvases that add some color. Check out our panorama of the bedroom for a 360-degree view!
Before: Living Room
The living rooms had colorful, mismatched furniture and marble dining tables. Large work desks and flat-screen TVs were nice, but with so many colors and patterns, it was a bit busy in the living spaces.
After: Living Room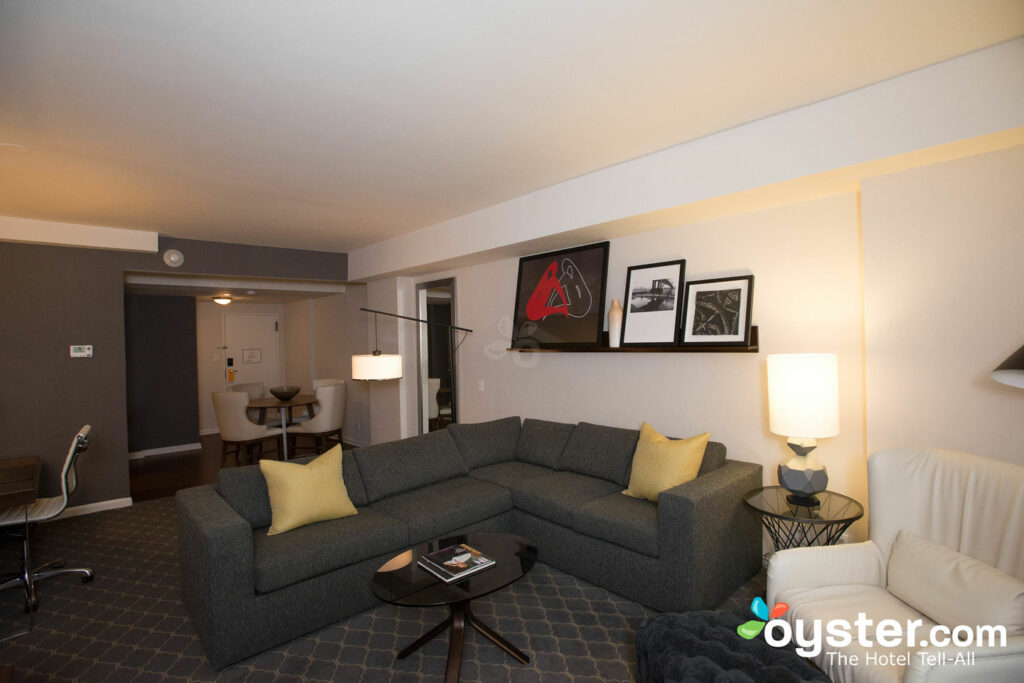 Now the living rooms are chic and modern, with gray tweed sofas, cool geometric lamps, and ivory leather accent chairs with tufted ottomans. All of the rooms feature work by New York artists, such as a mix of black and white sketches of city landmarks and more colorful abstract pieces.
Before: Bathroom
Bathrooms had large vanity areas by the sink, luxury toiletries, and walk-in glass showers or bathtub/shower combos. Overall, though, they looked extremely generic and definitely not upscale.
After: Bathroom
Bathrooms now have stone vanities with two drawers of storage below, glass shelving, and graffiti-inspired poetry wallpaper. The small bottles of toiletries were replaced with a trio of tall, wall-mounted bottles with Comfort Zone brand shampoo, conditioner, and body wash. This replacement is one change we're not sure we're that into.
Before: Lobby
The lobby was small and uninspiring, with red alligator skin flanking a bench, the front desk, and elevator interiors.
After: Lobby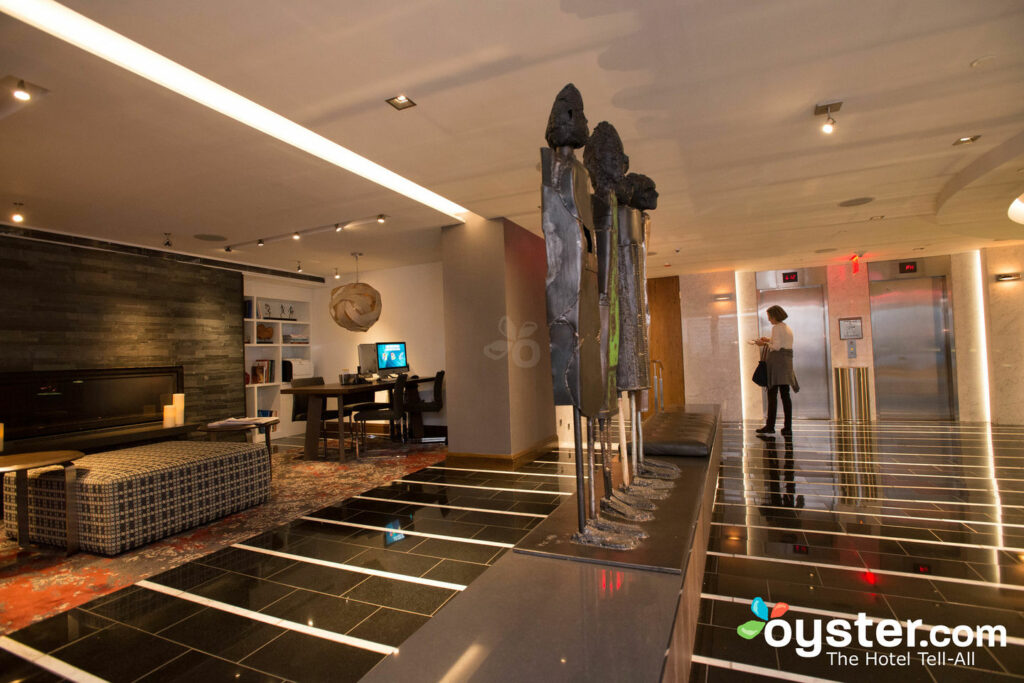 Now the lobby is more open, modern, and stylish. Showcasing the hotel's collection of curated contemporary art, "Four of a Kind." A series of stoic figures crafted from recycled metal by a duo of Harlem-based artists, it acts as a dividing wall between guests checking in and a lounge area with a fireplace, as well as a business center with two Apple computers. Additionally, a whimsical glass mobile, made of tiny blue men figurines, dangles above the lobby's spiral black and white staircase.
Before: Club Room
The club room was cozy and stylish, featuring red couches, free tea and coffee, two flat-screen TVs, colorful works of art, and a New York-themed library.
After: Club Room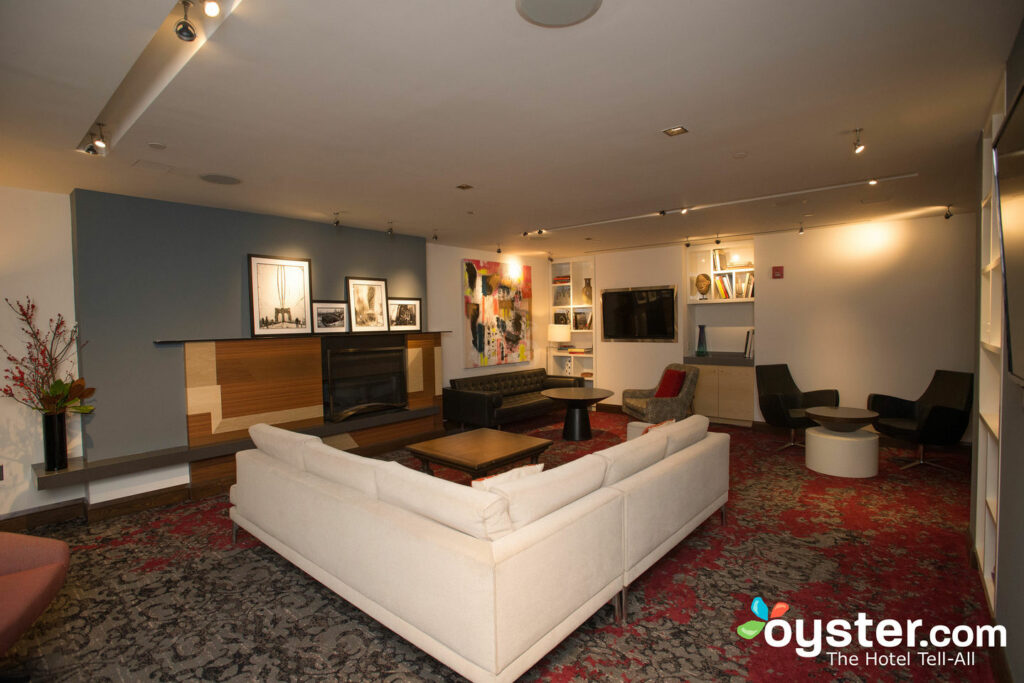 The Club Room got a streamlined, masculine upgrade with dark wood floors, tan leather couches, and an interesting wooden light fixture. The adjoining room is more colorful, outfitted with an L-shaped ivory sofa fronting a gas-lit fireplace, vibrant abstract artwork, and shelves stocked with art books and interesting collectibles. There's a daily wine hour hosted here and though the hotel lacks a restaurant, a continental breakfast is available for a fee.
All products are independently selected by our writers and editors. If you buy something through our links, Oyster may earn an affiliate commission.