Paris may no longer hold the title for the city with the most Michelin-starred restaurants (it's currently third to Kyoto, with 135, and Tokyo, with a whopping 304), but it's where the first étoile was awarded, back in 1926. Since then, the symbol has become the honor that can make a chef's career -- or if lost, can break it in an instant. Many of Paris's most luxurious hotels -- from grand dames in the elegant 8th Arrondissement to small, Left Bank boutique properties -- are home to restaurants that have received the coveted nod. Here are our top picks for where to have a divine meal paired with posh accommodations.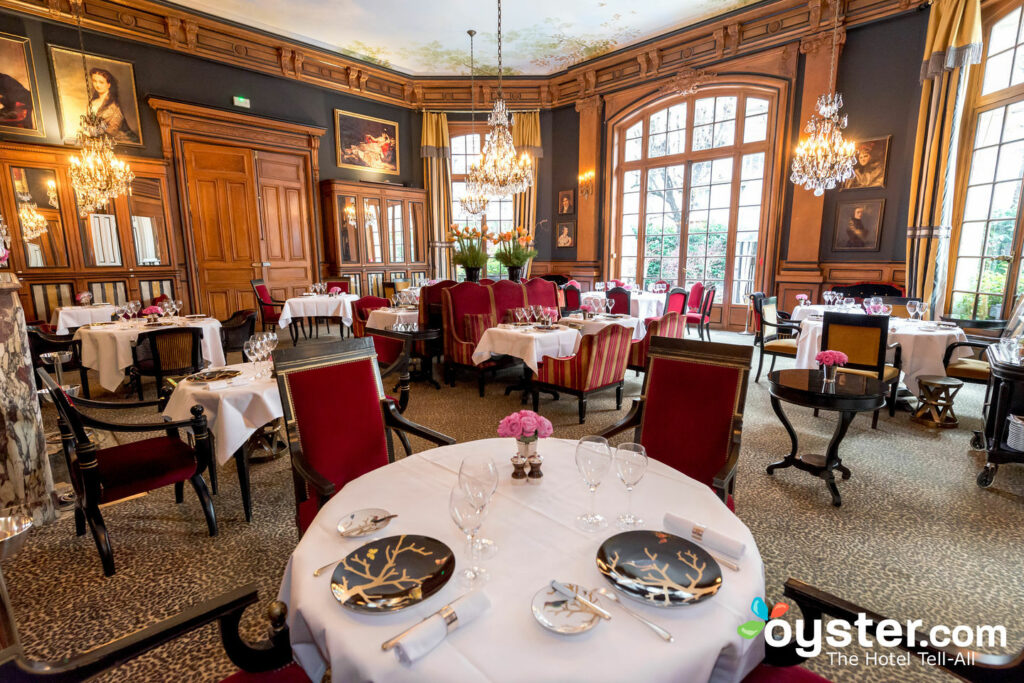 Tucked inside a grand chateau in the well-heeled 16th Arrondissement is Le Restaurant, which has one Michelin star. Executive chef Jean-Luc Rocha turns out straightforward, contemporary cuisine, highlighting fresh ingredients sourced from regions throughout France. His menu focuses on meat and fish, with starters like warm foie gras in a sesame and poppy crust, and vegetable couscous with oysters and marinated prawns. Mains such as fillet of beef with oregano gnocchi, and seared lobster with risotto-style vegetables are also featured. You'll want to save room for dessert here — there's chocolate mousse with crisp pecans, cocoa sauce, and milk ice cream. The dining room's chic, leopard-print carpet paired with period furniture and walls hung with formal portraits is equally decadent.
This elegant hotel is home to La Scene, with one Michelin star and executive chef Stéphanie Le Quellec at the helm. With influences from southern France, her cuisine is imaginative but unpretentious, and she favors short, straightforward menus. Starters like frog legs or country tomatoes with candied ginger and lime are followed by mains like browned sweetbreads with braised lettuce, or blue lobster candied in salted butter. Two- and three-course prix fixe lunch is available, and there are six- and nine-course tasting menus. Decor takes a sleeker turn than the hotel's Art Deco-influenced style, with a striking Carrara marble bar, dark wood walls, and mod white leather chairs.
Le Meurice Alain Ducasse reopened in 2016 after its redesign by Philippe Starck, who added modern elements like white leather chairs to the restaurant's opulent, 17th-century decor. The two-Michelin-starred restaurant also got a new chef — Jocelyn Herland — who left Alain Ducasse at The Dorchester to head up the kitchen at Le Meurice. He created a new menu, and turns out starters such as warm guinea fowl with duck foie gras and cabbage pie, and crab with zucchini and gold caviar. Mains are pricey at 100 euros and up, and include choices like sea bass with artichokes and rocket salad, and lamb with spiced bulgar. A three-course prix fixe menu is also available.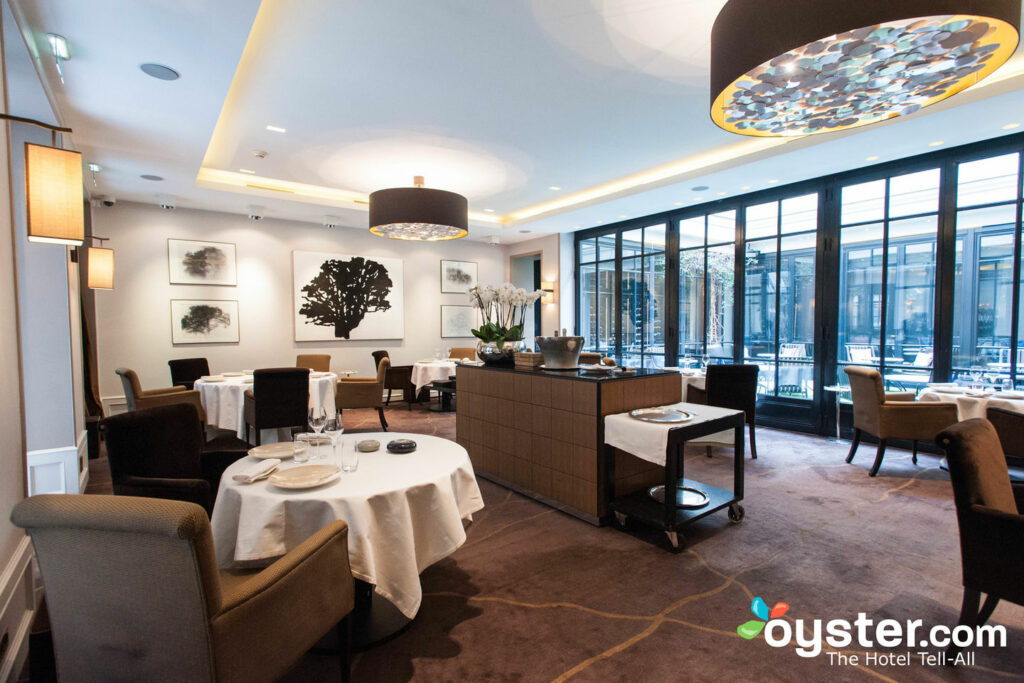 Burgundy Hotel's one-Michelin-star restaurant, Le Baudelaire, features trendy plates based on classic French cuisine. They're created by the young and rising chef Guillaume Goupil. The well-rounded menu includes starters such as yellowfin tuna with ginger and cream of avocado, and Brittany sea crab with cucumbers and gin jelly. His refined dinner mains run the gamut, from Scottish salmon with French peas in a sweet onion cream sauce to roasted Iberian pork chop with celeriac carbonara and black truffle. There's also a six-course tasting menu. The prix fixe lunch menu has simpler dishes, such as roasted cuttlefish with vegetable ravioli, and veal hanger steak.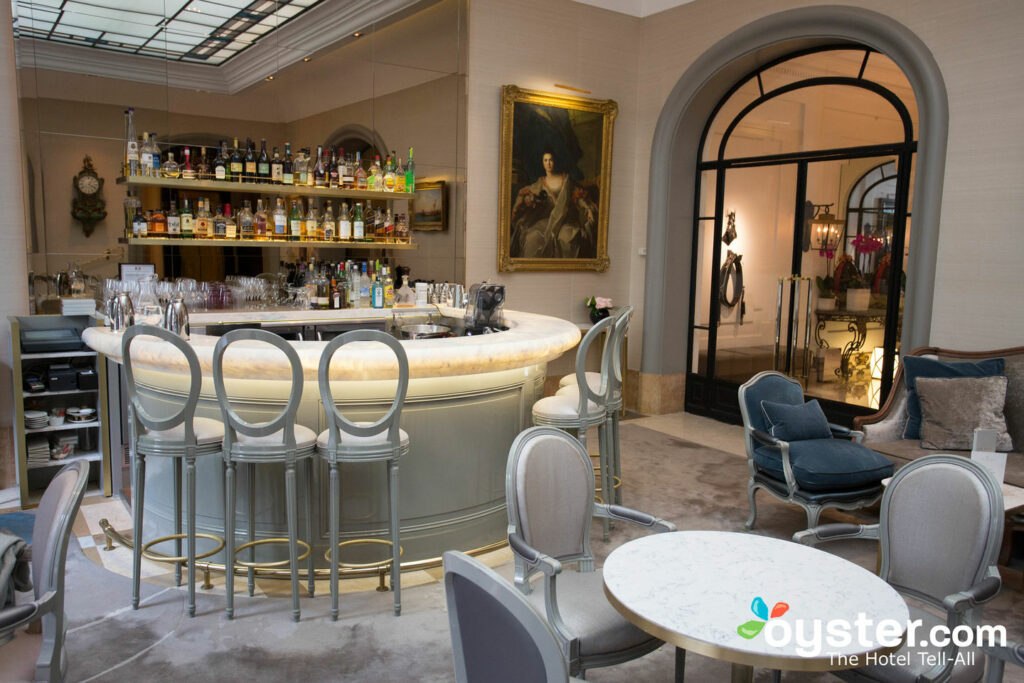 La Table du Lancaster, housed in a luxurious boutique hotel, has one Michelin star, thanks to its creative, seasonally driven cuisine from Julien Roucheteau. Menus are unfussy, with lunch choices such as mackerel with razor clams and spinach, and rib steak with tomato and bearnaise sauce. For dinner, expect tuna confit with sweet pepper and corn, and roasted veal chop. The dining room's decor is refined, with gray chairs and tablecloths, mustard-yellow velvet banquettes, and ecru walls. There's even a pretty outdoor patio.
With three Michelin stars, this restaurant in Hotel Plaza Athenee is also from star chef Alain Ducasse. Its over-the-top interiors were done by the renowned architect and design duo Sanjit Manku and Patrick Jouin. While meat makes an appearance on seasonal menus, Ducasse's focus is on vegetables, fish, and grains. Choose from starters like blue lobster with zucchini and black currants, or hemp seeds and purple eggplant. Dinner entrees include Atlantic sea bass with wild fennel and squid ink, and turbot with nectarine and carrots. For lunch, a prix fixe menu that includes wine is on offer.
This chic and cozy boutique hotel in St. Germain has some serious historical pedigree — Oscar Wilde lived here during the 19th century, and it was a private residence for Queen Margot. It's also where chef Julien Montbabut was awarded his Michelin star in 2013 for his creative cuisine at Le Restaurant. The restaurant's romantic atmosphere and lavish decor set the tone for equally rich food. A prix fixe lunch menu offers mains like John Dory stuffed with lemon, fennel, and potatoes, and roast duck with beetroot, fig, and port wine jus. Dinner is a la carte, and there's a five- and seven-course prix fixe option offered. Starters include razor clams in pink garlic broth, and mains feature goat with preserved lemon jus and zucchini.
You'll Also Like:
All products are independently selected by our writers and editors. If you buy something through our links, Oyster may earn an affiliate commission.