Bob Marley music might be Jamaica's most famous export, but that doesn't mean the legend's iconic reggae hits are the only local beats jamming out of stereos across the island and around the world. During the last decade or so, Jamaica's music scene -- both in the Rastafarian-led reggae and Dancehall genres -- has grown steadily. Overseas, we've seen the likes of various reggae-influenced artists (such as progressive reggae rockers Slightly Stoopid, pop-reggae singer Sean Kingston, and even the Hebrew-Reggae hybrid sounds of Matisyahu) climb the Billboard charts, but most people still only associate "real" reggae with the Marley moniker. And, although Dancehall has been around since the 1970s, it only really broke off Jamaica's shores and into the United States in the '90s, before completely catching fire in the early part of the millennium thanks to that good girl gone bad, Rihanna.
While we were all singing about a "Beautiful Girl" and an "Umbrella" (ella ella ella) stateside, a slew of talent was developing and taking off in Jamaica, creating a revived music scene with great philosophies, beats, hooks, and even some notorious characters. Here's a quick look at some of the emerging artists coming off the island today and into the ears, hearts, clubs and stereos abroad. But it's still worth a visit to their hometown to get a peek of them in the spot where they were inspired!
Vybz Kartel
Considered the modern leader of Jamaica's newly notorious dancehall music scene, Vybz Kartel (born Adidja Azim Palmer), started crafting songs back in 1993. Today, the 38-year-old's lyrics are considered some of the best in the genre — ever. Growing up outside of Kingston (an area once plagued by crime) makes being heard no easy feat, but the musician has managed to not only start his own record label, but also work with superstars like Jay-Z, Eminem, and Pharrell — just to name a few – -and write a book, The Voice Of The Jamaican Ghetto: Incarcerated but not Silenced. Unfortunately, as the title eludes, Vybz Kartel has had troubles with the law and is currently serving decades-long sentences for a double-murder — a subject adoring fans in his hometown refuse to comment on.
Here's a track called "Go Go Wine" from his 'Kingston Story' album.
Popcaan
Portmore's Popcaan is a strong player in the current Dancehall scene (and the label mate and direct protege of Vybz Kartel). This artist's passion and drive for music showed up at a young age when he began training himself vocally while in grade school. As a teenage DJ, he approached the notorious and well-respected Vybz Kartel at a show; Vybz Kartel promptly took him under his wing, showing him the ropes and introducing him to the scene — both on and off the island. Since then, Popcaan, who has become a superstar in the genre with his smooth and relaxed sound, has signed to Mixtape Records and made a name for himself touring the world and even playing with such notables as Snoop Lion.
Here's his song "Hold On" from his debut album 'Where We Come From'.
Alkaline
It can be a fight to stick out in this world, especially in an exploding music genre. How far would you go to differentiate yourself from the rest of Dancehall's emerging artists? Well, dedicated — or just plain dangerous, Kingston's Dancehall artist Alkaline tattooed his eyes black. Whether it's from this bold move or his often crude, lightning-fast lyrics over light head-bobbing beats, Alkaline has risen to the top of Jamaica's Dancehall music scene and is frequently compared to Vybz Kartel. But he doesn't want to stop there. This controversial artist wants to take his music to a higher level — and we have no doubt he's willing to go above and beyond to make that happen.
Here's his track "Weh We A Guh Do Raw" on Notnice Records.
Chronixx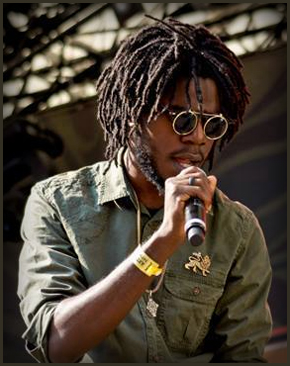 As the son of Chronicle, a legendary Dancehall artist, Chronixx is more associated with Jamaica's current Reggae Revival movement than the other artists on our list. From the hills high above Kingston (dubbed Reggae Mountain, where the luxe Strawberry Hill can be found), Chronixx hopes to spread positive messages to humanity through his music, and play a part in humanity's move toward a better future. (That's a nice change from the above, right?) And it looks like his music and message have been well received, especially in America, as this 21-year-old Rasta has played on The Tonight Show and even managed to entice music legend Mick Jagger to come experience Chronixx's 2014 Central Park gig.
Here's him performing "Here Comes Trouble" on 'The Tonight Show' last year.
Protoje
Protoje is widely considered the leader of the hilltop's Reggae Revival movement. His belief that there is a new wave of young Jamaicans full of inspiration and positive messages led him to build an impressive studio and performance space at the top of Reggae Mountain to capture and share music whenever the mood strikes. The fact that he has talent and a love for music pumping through him is not surprising, since Protoje's mother and father are both known Jamaican musicians. In 2009, he released his first single, "Arguments" and hasn't stopped since. Even though his latest album release has been deferred until sometime this year, at the end of 2014, he was included on the BBC Radio 1Xtra's 'Hot for 2015' list!
Here's "Stylin'", a track off the upcoming album 'Ancient Future'.
Jesse Royal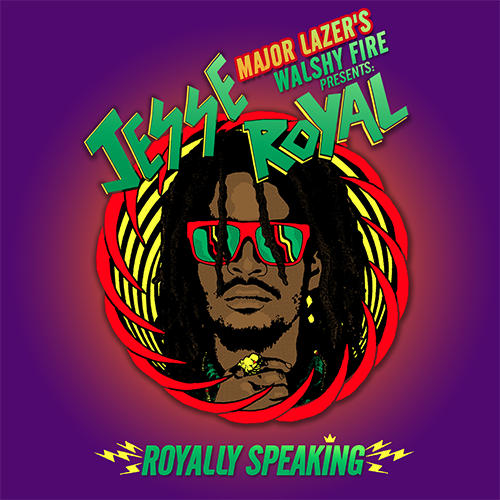 To most, Jesse Royal is classified as a member of the Reggae Revival, although the artist himself doesn't claim to be anything other than a musician. Growing up in Kingston, Jesse Royal became great friends with Ziggy Marley's son. Over the years, the pair explored their love of music through writing, composing, and creating their own songs. He may only be 25-years-old, but this Jamaican musician has a seriously brave and mature philosophy that he not only applies to his music, but to life: Don't be afraid of new ideas; be afraid of old ones because these are the ones that set you up for suffering. As of late, Royal has been working with Major Lazer's Walshy Fire, thereby creating all kinds of buzz.
Here's the track "Baby Let Me Be" from the 'Royally Speaking' Major Lazer mixtape.
All products are independently selected by our writers and editors. If you buy something through our links, Oyster may earn an affiliate commission.