This post originally appeared on Yahoo! Travel.
Covered in sandy beaches, surrounded by the Aegean's blue crystalline waters, and featuring traditional smooth white architecture against dark volcanic rock, the Cyclades are some of the most famous islands in world. With outstanding beauty and sweeping sea views from almost every angle, it's not surprising that this gorgeous collection of Greek Isles has goddess origins. According to Greek mythology, a small set of sea nymphs infuriated Poseidon, God of the Sea, and thus promptly found themselves turned into tiny islands. While legends of Greek deities may have come and gone and changed over time, these islands remain -- and as dazzling as ever. Lucky for us mere mortals, some of the hotels found here are just as stunning as the Cyclades themselves. Be them "God's-eye-view" boutiques cut into volcanic cliffs, ultra-luxe properties nestled along the turquoise waters of the Aegean, or traditional caves boasting breathtaking architecture, these are some of the Cyclades' most stunning hotels.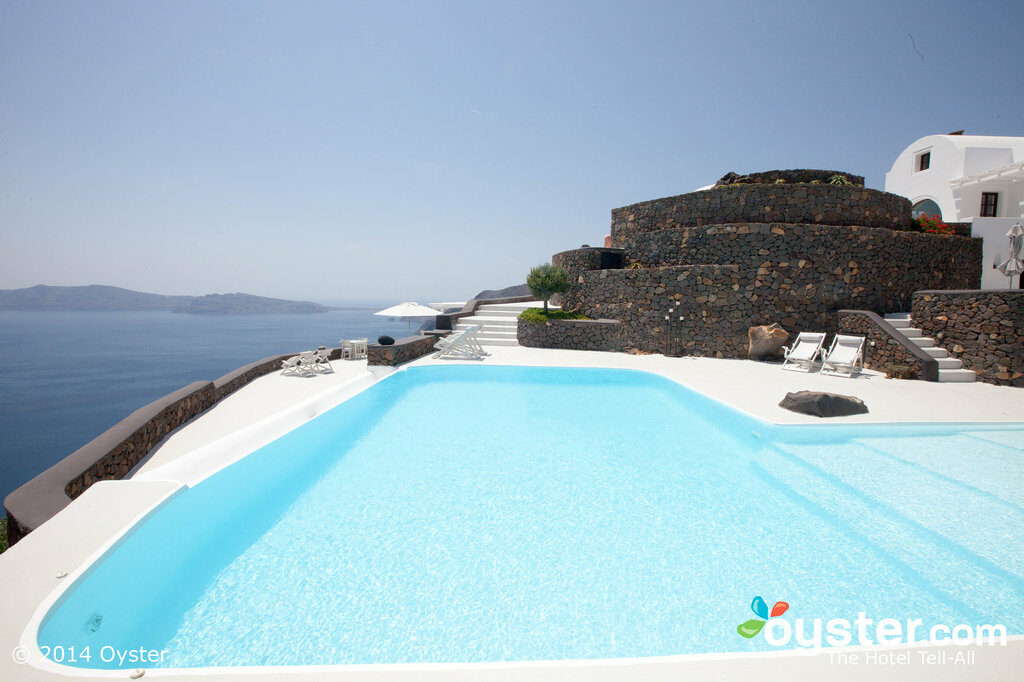 This small hotel on the island of Santorini is comprised of seven luxury villas featuring fireplaces, private verandas, and high-end decor details. Elevated atop the less crowded northern curve of the area's caldera, Aenaon Villas is set up for upscale couples searching for a private retreat (there are no children under 12 permitted — instead, there's room service and personal butlers). Aesthetically pleasing, the hotel presents tall stone walls curving around a traditional blanched-white facade with cutout windows and archways. Dark earth tones, reminiscent of mud or clay, are painted in window and door frames and accent the stone walls.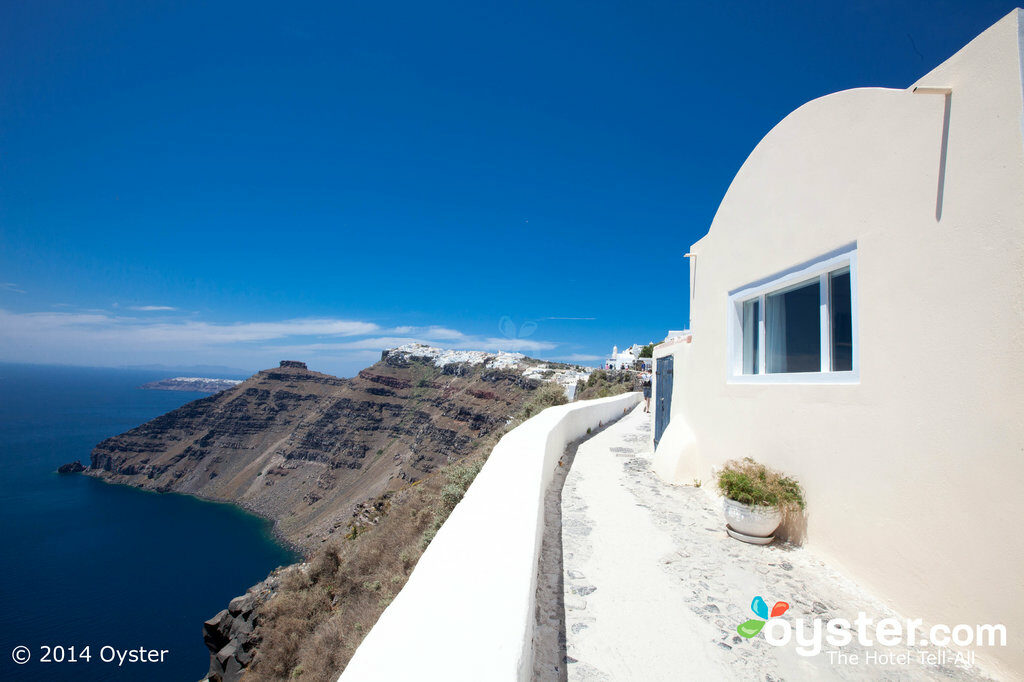 Staying in Santorini is largely about the sea views, and Anteliz Suites has one of the finest you'll find — a particularly spectacular and expansive panorama of the Aegean Sea. The hotel's pretty too (it's a reconstructed and renovated 19th century villa), and parts of it are set into the hillside on which the property is perched. The pool is a good size for this type of property, and rooms are modern and feature hand-crafted furnishings. And just to keep it classic, some have a cave-style layout that has the room partially imbedded into the hillside.
For those looking to escape the bustle created by Santorini locales and tourists, the 27-room Astra Suites' quiet cliff-side location is a well-regarded option. The hotel has remarkable views with rocky caldera cliffs at its sides, the Aegean Sea below, and bright blue skies above. Rooms have large personal terraces and fluffy bedding while outdoor spaces are sleek and modern. The mix of traditional architecture and colorful contemporary decor gives the property an elegant and relaxing vibe. However, considering the high number of stairs, Astra's not ideal for those with mobility issues.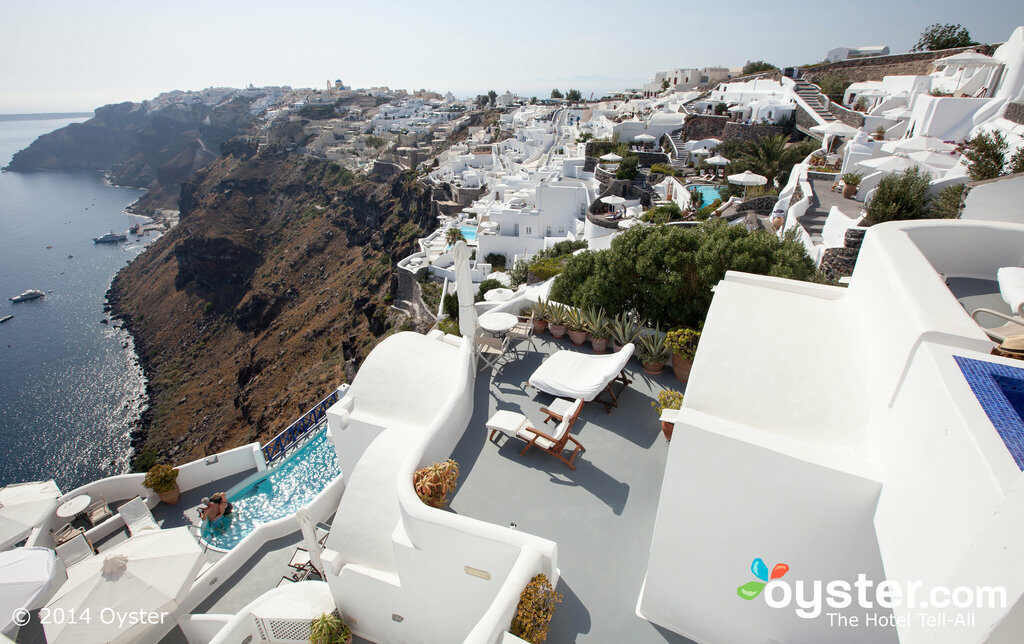 There's little to not like at this quintessential, yet modern and upscale, Santorini complex. The location of Ikies Traditional Houses is close to ideal as it's perched on a tranquil cliff top with easily some the best views on the island — and there are plenty of vantage points to enjoy them from. Rooms are spacious and very nicely finished, though some private terraces can feel a little public. Like most properties on the island, the pool is small — but perfectly formed.
The 23-room Petit Palace Suites Hotel really delivers when it comes to views — there are stunning sea and caldera vistas from immaculately finished, traditionally styled terraces. There's no getting away from the incredible outlook: the swimming pool, restaurant, and lounge bar are all overlooking the Aegean. Five tiers of terracing are built into the cliff-face, providing ample vantage points for the breathtaking Aegean vistas — and, uncommon for the area, the hotel has an elevator to help navigate all five floors. Rooms, too, feature private sea-view terraces, some with their own pools or hot tubs. Some suites are a little simple in the decor department for an upscale property, but in-room amenities are ample.
Located in the village of Imerovigli — an area known for spectacular sunsets — and built along a caldera rim, the upscale Santorini Princess has loads of outdoor seating for soaking up the scene. The hotel's 22 spotless apartment-style suites are spacious and comfortable, and most afford superb views from private terraces. With an outdoor pool, bar, lounge, and cafe, as well as an on-site restaurant and spa, the hotel makes it so guests may never need leave the property's isolated location. However, multiple stairs and no elevators are a problem for those with mobility issues, and guests seeking a popping nightlife may be disappointed. But those seeking a quiet and relaxing escape need not look any further than from their private terrace.
Mykonos Grand Hotel & Resort is a design-forward luxury property with many of the same features (chic outdoor swimming pool, beach facilities, spa, and restaurants) as its competitors in this price range. The suites have private swimming pools, two bedrooms, and telescopes for star gazing. Other guest rooms have minimal decor and outdoor balconies, though these are less than private. The small beach here is lovely, with loungers reserved for hotel guests only, but it's a bit pebbly. This is the perfect place for those who want to feel like a rock star on holiday. The grand suite looks like something straight out of a music video: Think private infinity swimming pool overlooking the Aegean, outdoor barbecue and shower white Dionysos marble floors, and an indoor hot tub.
Luckily the presence of many hotel neighbors doesn't seem to disturb the relaxing vibe at Anastasis Apartments. The 11 large, apartment-style units have individualized contemporary decor and offer private balconies and kitchenettes. A welcome plus for many travelers: Anastasis Apartments is free of Santorini's typical (and tiring) cliff steps. The outdoor spaces are more lush with gardens and beautiful volcanic stone. The grounds are meticulously planned and maintained with succulents, palms, and potted plants popping up from red-pebbled plots. There's also a large wooden terrace with a white veranda and cushion-less sitting area overlooking the sea.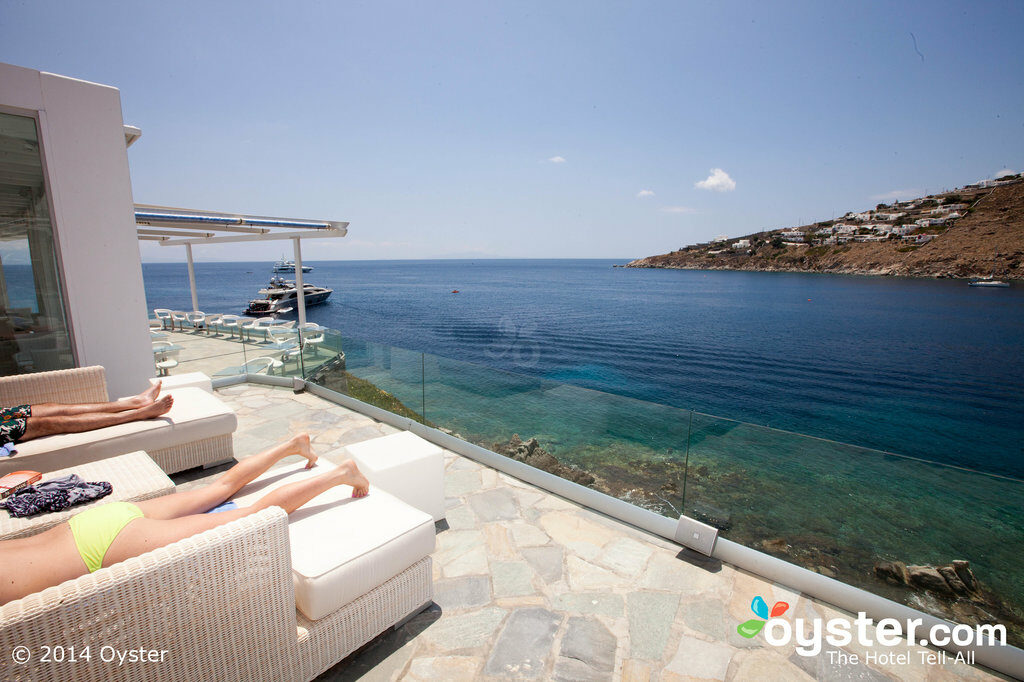 Petasos Beach Hotel & Spa is a luxury property built in the traditional Cycladic architecture style that prevails on Mykonos. It has many of the same features as its competitors (large spa, swimming pool, beach access, restaurants, and fitness center). Unlike competitors, however, the hotel doesn't own any of the beach facilities, so expect to pay extra for a chair and umbrella on the sand. Still, those looking for more activity may prefer this location — the nearby beaches are among the island's most popular, and there are a number of restaurants and shops nearby (most competing properties tend to be more secluded). Be aware that the views shown on the hotel's website are mainly from private suites, and might not be available from many rooms. Mykonos Town is about two miles from the hotel, and a bus stops directly outside of the front doors.
Myconian Villa Collection is a luxury property on a quiet strip of Elia Beach (it can get crowded, but it's not the party scene found on the sand in Mykonos Town) with modern villas and loads of lavish features. Highlights include an infinity saltwater pool, private beach on the Aegean, and an on-site spa with saltwater therapy treatments. Stays can be updated with luxury yacht rentals or private chefs. There's a free shuttle to town and a breakfast buffet included in the cost of the room. The hotel has many of the same (if not better) features, and nicer digs, than the nearby (and similarly priced) Myconian Imperial Hotel & Thalasso Centre.
Built along the Oia cliffs, the boutique Art Maisons Luxury Santorini Hotels Aspaki & Oia Castle feature whitewashed Cycladic architecture with modern upscale decor and gorgeous sunset views of the caldera, volcano, and Aegean Sea. All hotel features are shared but located on Aspaki grounds, with Oia Castle suites having heavier cave-like architecture and extravagant amenities. With only eight Aspaki suites and 11 Oia Castle suites, the properties feel private and romantic, and are ideal sports for honeymooners not concerned with budget. Everything is designed to impress, from the top-notch espresso machines to en-suite pools and exposed volcanic rock. While there is a spa on-site, guests hoping for a pool or full restaurant may want to consider staying elsewhere.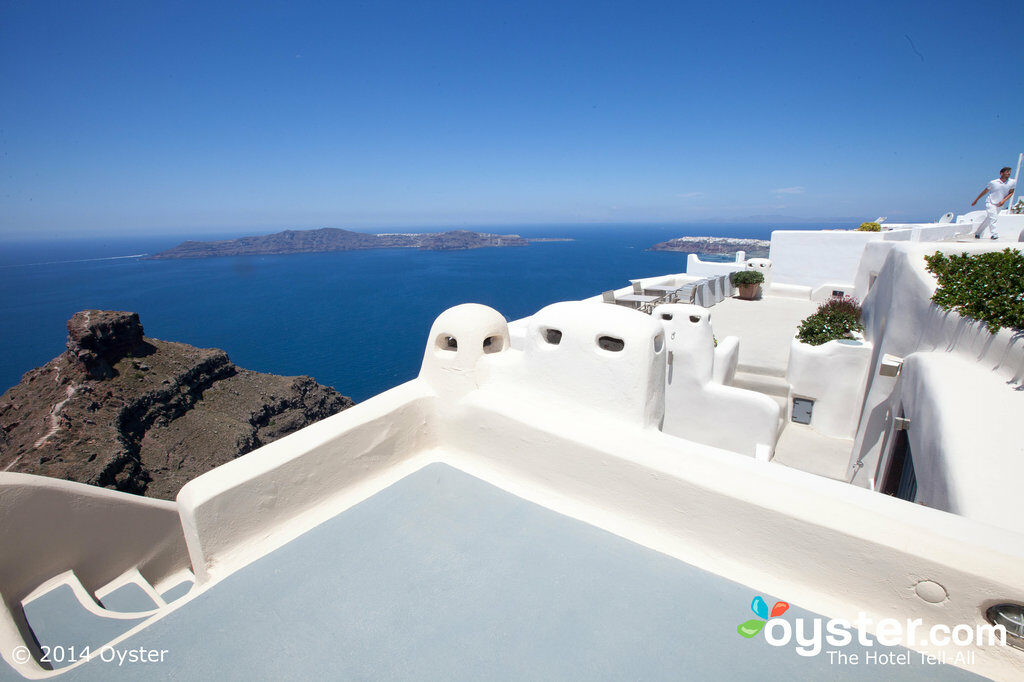 This 10-room boutique property rests cliff-side and mid-caldera, just outside Imerovigli. Because public space is limited to the narrow, windowless lobby and the smallish infinity pool area, the vibe here is private and thus a romantic choice for couples. While the property is within a 15-minute walk of the center of town, there's a hefty amount stairs to deal with in the process. Thus, the stair-free Anastasis Apartments (which also has a spa) may be a better bet for some, although rates are slightly higher. However, those seeking out a private holiday surrounded by beautiful views and a highly traditional aesthetic will find Artemis Villas hard to beat.
MORE FROM YAHOO! TRAVEL:
RELATED LINKS: