Summer is a time for celebration, family bonding, and -- most importantly, in our book -- travel. But when vacation extravaganzas to far-flung islands and ancient cities don't fit into the budget, the answer is not to skip vacation: it's to nearcation! (Yes, we just made a new word. And we think it's kinda awesome.) Avoid the cost of flights, currency exchange, and pricey destinations for some spectacular cities that are just a short drive from major U.S. cities -- we know where you live... So without further adieu, check out five nearcation destinations that won't break the bank, but will be just the amazing vacation break that you need!
Driving Time from New York City: 2 hours, 25 minutes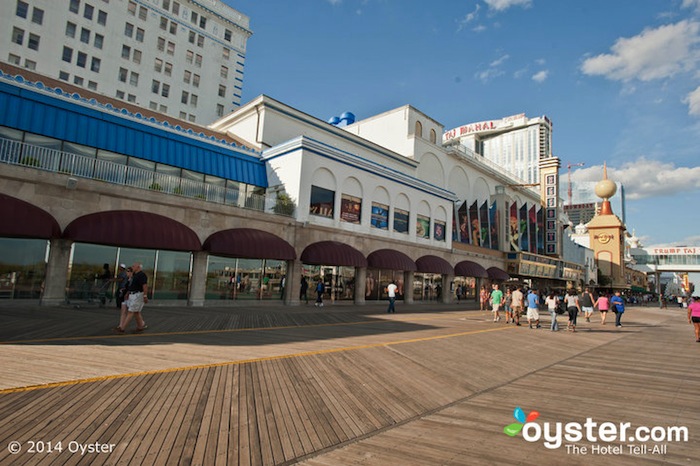 When most people think of Atlantic City, they think gambling, and casinos galore. While that's certainly a major part of the destination, Atlantic City is also an excellent choice for a wallet-friendly summer vacation that doesn't have to include time spent at the tables. In fact, this sparkling seaside city offers one of the East Coast's most impressive lineups of comedy shows, concerts, festivals ,and events, and then piles on plenty of outdoor attractions: sandy beaches, a festive boardwalk (don't miss the saltwater taffy!), New Jersey's tallest lighthouse, an aquarium, ballet, sport fishing, golf, museums, trolley tours, surfing and a lot, lot more. (Bonus: Check out our non-gamer's guide to Atlantic City.)
Where to Stay: It's easy to score a great deal at one of Atlantic City's casino hotels, but our value pick goes to the Resorts Casino Hotel Atlantic City. Decked out in Roaring Twenties-themed decor and just steps from the boardwalk, this hotel in an extremely affordable option.
Driving Time from Sacramento: 1 hour, 56 minutes
Lake Tahoe talks a big game — who hasn't heard of the deepest lake in the U.S.? — but the California gem is a peaceful, mostly un-touristed retreat, especially in summer. This lakeside destination, which gets a whopping 300 days of sunshine a year, is not quite as glamorous as Aspen or Jackson Hole — and that means cheaper prices. Costs drop even lower in the summer off-season, when Lake Tahoe exchanges its skiing and snowboarding for fishing, kayaking, hiking, swimming, and other lake activities that outdoorsy vacationers love.
Where to Stay: With a heated outdoor pool, private sandy beach, and cozy lakefront cabins, the Franciscan Lakeside Lodge is an ideal on-a-budget summer retreat. The woodsy, waterfront setting is an outdoor lover's dream.
Driving Time from Augusta: 2 hours, 50 minutes
There are many somethings charming about Charleston, a historic town on South Carolina's scenic coast. There are the cobblestone streets, horse-drawn carriages, gas-lit streetlamps (seriously), gardens in bloom, and the lightly scented sea breeze — all reasons why today's romances (Dear John, The Notebook, The Last Song) take place here. Keeping with the yesteryear feel, many of Charleston's most popular attractions are historic Civil War sites and colonial-era churches. Of course, there are also modern charms to enjoy: the South Carolina Aquarium, Charleston Harbor, and King Street, a shopper's paradise.
Where to Stay: The Indigo Inn is our value pick in Charleston's historic (and historically pricey) downtown. The inn's charming courtyard, cozy decor, and quaint rooms fit in perfectly with its surroundings, and won't cost an arm and a leg.
Driving Time from San Francisco: 1 hour, 8 minutes
California is not a common choice for budget travel, but here at Oyster, we know value is relative. For West Coast residents with a penchant for wine, Sonoma County is the less-touristy, more budget-friendly, and more laid-back counterpart to ritzy glitzy Napa. Here, rolling fields are dotted with excellent, family-run wineries, including those in Glen Ellen, where many of the wineries produce wine on par with the best of France (mais oui!). Non-drinkers also have a blast in Sonoma County, where golf, hot air balloon rides, hiking and other outdoor activities abound.
Where to Stay: Centrally located near the Sonoma Plaza, Bungalows 313 is a quaint B&B with cozy rooms. The free breakfast (with homemade granola!) is a great start to a day of wine tasting — or hiking.
Driving Time from Detroit: 3 hours, 50 minutes
Middle America may not have it easy to our East and West coast nearcation choices, but it's the perfect distance to Toronto. Canada's cultural hub is super hip and super green, but it's not at all pretentious. The city is diverse and entertainment options are rife, so it's an excellent getaway for art lovers, foodies, museum buffs, and cultural enthusiasts alike. Adding to its budget-stretching powers, Toronto is one of North America's most walkable cities, and the excellent subway system is also light on the wallet.
Where to Stay: The Hotel Victoria somehow manages to pull off chic on a budget, even in notoriously expensive Toronto. Stylish rooms have hardwood floors and crisp decor, but what really shines is the hotel's location — just a short walk to many of the city's top attractions.
Check out Oyster's page on Google+
To learn more about Erin Raub, visit her on Google+
RELATED LINKS:
All products are independently selected by our writers and editors. If you buy something through our links, Oyster may earn an affiliate commission.