We carefully curated the perfect (and we mean perfect!) hotel for each aspiring Republican president-to-be, because after a slew of messy debates and quotes, we bet each of these men are in need of a serious vacation. (And, you know, since we're a hotel review site, we couldn't help but indulge.) Check out our ideal (and hilarious) pick for each candidate, then tell us: Where would you send the GOP candidates?
The Candidate: Newt Gingrich
The Hotel: Temptation Resort Spa Cancun, Riviera Maya, Mexico
The Deal: This is an adult-only, topless-optional property that caters to 21 and over, uninhibited guests. (Newt, we know you were born in 1943, so we won't need to ID you first.) There is never a dull moment at this all-inclusive resort, which features themed swimming pools and nightly risqué live shows. Gingrich, who has been alluded to in two extra-marital affairs and has had 84 ethics charges filed against him, will find a range of entertainment while vacationing here, including provocative games and contests like sexy Temptation Idol karaoke. While the beach area is small and lackluster compared to other resorts (but who cares with all the sexing that'll be going down?), the shaded sun beds are a nice place to relax and unwind.
The Candidate: Mitt Romney
The Hotel: One & Only Ocean Club, Bahamas
The Deal: The most dapper of the bunch — his hair has been compared to that of Don Draper's — Mitt Romney needs a sexy place for his good-looking self. And with his 2010 and 2011 tax returns released this week, we learned that the former Massachusetts Governor made a whopping $24 million in the past two years — by not working all that much. Plus, the debate over his returns is still hot thanks to holdings stashed in the Cayman Islands, we figured we'd send Romney somewhere he'd feel was familiar — and luxurious, of course. That's why we chose the One and Only Ocean Club: Romney can use the Bahamas as a tax shelter, too, and this resort has all the luxury pampering a multi-millionaire could ever want, including a personal butler to cater to his every whim.
The Candidate: Rick Santorum
The Hotel: Couples Swept Away Negril, Jamaica
The Deal: This former Pennsylvania Senator would only retreat to an island where he'd feel safe in his beachwear — and considering that homosexuality is currently illegal in above-mentioned tropical island country, we couldn't have thought of a better place to send him. Plus, since the resort only allows couples (each person being above the age of 18), we can only assume we'll find "traditional" relationships at the resort that calls one of Negril's best beaches home. Plus, it's nicer than its nearby counterparts, with modern amenities like a flat-screen TV (to monitor his inevitable loss) and iPod dock (to recharge after replaying Marley all day) along with quality grub and a relatively chill vibe, ideal for licking one's wounds.
The Candidate: Ron Paul
The Hotel: Casa Velas Hotel Boutique, Puerto Vallarta, Mexico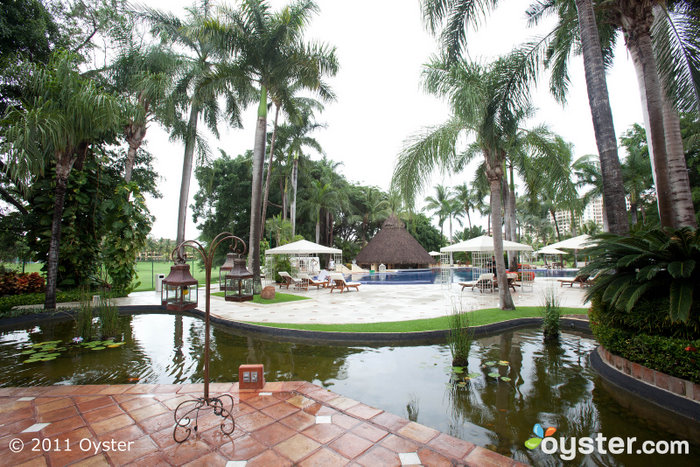 The Deal: So remember how this libertarian-cum-Republican candidate became obsessed with the idea of a superhighway that ran through Mexico, the U.S. and Canada? Well, if you don't, it's cool: Basically, there was an idea to create a 1,200 ft.-wide road within North America. But Ron Paul is convinced the highway is merely a conspiracy theory to resign American sovereignty and become a union with our bordering neighbors. So clearly we had to send Paul to a resort located right through the heart of Mexico, that would obviously have its own exit, considering Puerto Vallarta is one of Mexico's hottest resort towns. Plus, the Casa Velas is a private, boutique property — perfect for hiding out and being a xenophobe. The all-inclusive policy, however, may scare Paul — could it indicate a monetization union, like our egregious European friends?
RELATED LINKS: