It seems like everyone we know is lacing on sneakers and hitting the ground running these days. With marathons picking up speed and popularity across the globe, we're happy to call the host of one of the most popular -- The New York City Marathon -- home. Runners will put their best (and fastest) feet forward this year on November 1st, when just over 26 miles of ups and downs will route them through all five boroughs. Couldn't summon the will power to train over the last six months? No worries; you can still participate by cheering on those who dragged themselves out of bed, trained tirelessly, and maybe even lost a few toenails in the process. We've got a list of the best places to along the NYC Marathon's 2015 route, so you can peep, pep, and cheer on the runners.
This 48-room boutique hotel in the middle of the Brooklyn's Park Slope neighborhood makes up for its slim offering of amenities with delightfully modern rooms, balconies, free breakfasts — and a convenient location right by the Mile 7 marker. Rooms have contemporary decor in shades of white, blue, and brown, modern technology, and Egyptian cotton linens; glass-walled bathrooms are sleek but small, and lack privacy (they're not separated from the rest of the room). The affordable rates may be the biggest draw; rooms at this outer-borough gem are around half the price as similarly stylish options in Manhattan.
With a hopping rooftop bar boasting jaw-dropping views of Manhattan, a wonderful restaurant, and cutting-edge industrial design, the Wythe is a destination unto itself. And lucky for us Marathon junkies, it's located within walking distance of the 11th and 12th mile marks — although you can probably see more (with the added bonus of a cocktail in hand) from the rooftop bar. The Wythe is located near the subway also, as well as dozens of restaurants, bars, and shops in the heart of trendy Williamsburg. Rooms are spacious and have high pine ceilings, reclaimed wood furnishings, and great amenities, including flat-screen TVs; local, hand-made toiletries; free Wi-Fi, and radiant floor heating. But noise can be a problem, and the lobby and the elevators can get crowded with non-guests on weekends.
For a real dose of Brooklyn, it doesn't get more authentic than The Box House Hotel. This former door factory now houses 57 apartment-style rooms designed by local Brooklynite, Kip Jacobs, who happens to be friends with the owners. The spacious rooms/lofts (some sleep six) attract families, couples, and those conducting business (think: film crews). Modern kitchens and free extras include bottled water and coffee, rides within a mile-and-a-half radius, and use of the cool fitness center. This is a hidden gem for those seeking breathing room and easy access to Manhattan. It's also a tempting stay for anyone wanting to watch what happens at the marathon's superstitious mile mark.
The Z is a hip boutique in the up-and-coming neighborhood of Long Island City, Queens. Head up to the rooftop bar and watch from a birds-eye-view as marathoners start their run from Queens to Manhattan via the Queensboro Bridge. The Z's stylish rooms have dark grey accent walls with funky murals and tons of fun details. The attractive, industrial-chic lounge is the meeting point for guests day and night, and offers a solid drinks and tapas menu well into the evening. The hotel's location (a short walk from seven subway lines and one stop on the E train from Midtown); outstanding freebies (Wi-Fi, hourly shuttle to and from Manhattan, loaner bikes, and phone calls); and reasonable rates (way cheaper than Manhattan hotels) make it a great value. It's a chic option for those who don't mind staying in a quieter part of the city.
Want to be one of the first people to peep the sweaty runners as they make it into Manhattan? The Bentley Hotel is located just off the Queenboro Bridge, and with its trendy rooftop bar, you can sit back in style and witness runners pass Mile 16. As one might expect at a boutique hotel, there's chic decor and swank Lather toiletries at the Bentley. On November 2nd, it's prime real estate so prices may rise, but typically the 197-room Bentley Hotel offers great rates — because it's a long walk from subways, museums, and Central Park.
The Courtyard by Marriott brand has let go of the red and green decor from days past, and renovations in 2013 and 2014 brought the look at this Upper East Side location up to brand standards. The 226-room property is just off 1st Avenue, a few blocks before the Mile 18 marker. Prices are fair for the renovated rooms — ask for one with a south-facing view — and features include laundry facilities, an indoor pool, a fitness center, and sauna/steam rooms. Just know that it's far from most tourist sights, and a 10-minute walk to the 6 train — even if it is convenient to watch the run.
The owner — and namesake — of this two-room property comes from France and caters largely to her compatriots. Michelle resides in the basement apartment while her guests have the first floor to themselves. The two rooms are comfortable and bright, overlooking either a quiet brownstone-lined block of Harlem or Chez Michelle's private backyard garden. Best part is, it's the coziest place you'll find between Miles 21 and 22. Only the front room — named after John Lennon — has a private bathroom. The other (named for James Dean) has access to a bathroom in the hallway. There are no other amenities on-site, but the overall homey vibe, solid rates, and one-block proximity to the marathon action on 5th Avenue make this an attractive B&B option in New York City.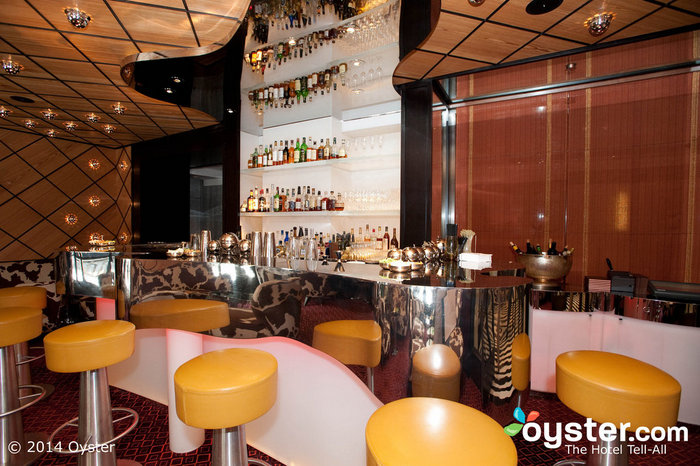 The Mark, an historic hotel built in 1927, re-opened in 2009 as one of the best contemporary luxury hotels in New York. The hotel's stunning interiors by France's premier designer are colorful and bold rather than gilded and stuffy, and there's a restaurant and bar from one of New York's most famous chefs. Comfortable, high-tech rooms and personalized service make it a great option for anyone who can afford it. Bonus: it's just one block from Central Park where you can sit under fall foliage as you watch the runners move toward the homestretch at Mile 25.
The Sherry-Netherland is one of New York's grand dames. With only 100 individually decorated rooms, white-gloved elevator operators, and a marble, vaulted lobby with crystal chandeliers, this boutique is exclusive, elegant, and historic. It's the perfect place to lay your head, or grab a pedicure while hardcore marathon runners are losing toenails and entering their final mile. Rooms have classic decor and modern technology, including iPod docks, flat-screen TVs, and free Wi-Fi. There's not much in the way of hotel features, but the small fitness center is well-equipped, and the adjacent restaurant is known for its wonderful Venetian fare. The Sherry's location — on the southeastern corner of Central Park (just a skip away from the final mile countdown)– makes it a great base to explore the city's major attractions and cheer on runners during the last leg of the race.
This large, luxurious Art Deco icon, located on the southern edge of Central Park, evokes the opulence of bygone times. A 2007 resdesign put modern technological amenities in the rooms, and the Essex House is moving comfortably into the future. The classic New York luxury of the Essex House reminds guests of a more glamorous time, when men wore hats and women wore gloves. It also just so happens to be within walking, running, or jogging distance to the start of Mile 26. Its recognizable sign, rising high above Central Park, is sure to a beacon to tired, sweaty, runners — letting them know they have almost gone the distance.
The Upper West Side's Trump Hotel And Tower is an ostentatiously luxurious hotel with a supremely well-trained staff, and huge, elegant rooms designed by Ivanka Trump herself. The location (overlooking Central Park at Columbus Circle) can't be beat. The hotel also has two highly regarded restaurants, a great spa, and an in-house pool. With only a few blocks separating you and the finish line, you'll be so close you can almost high-five the jello-legged marathoners as they finish off the race.
For the price, you'll be hard-pressed to find this level of on-site amenities at any other New York hotel. The Empire's rooftop bar and pool, both with excellent views of the Upper West Side (and potentially the finish line only a few blocks north if you crane your neck just right), make this 422-room hotel one of the city's best values, despite the small rooms.
RELATED LINKS:
All products are independently selected by our writers and editors. If you buy something through our links, Oyster may earn an affiliate commission.