Getting There and Around
It takes time to get to paradise. Even West Coast residents must invest about six hours of travel time (double that, East Coast folks). If you're off to Maui, you may have a second (or third, depending on where you're coming from) leg of the journey.
Oahu: Most flights to Hawaii arrive in Oahu, and once there, public transportation is readily available. Waikiki is about a 10-minute taxi ride from Honolulu International Airport, so you can go from your airline seat to a beach towel in no time. Plus, the well-run bus system means you can forgo a rental car, if you wish.
Maui: Thanks to recently added routes, you can now fly nonstop to Maui from as far east as Chicago. However, there are still many cities without nonstop flights, so most travelers will have to add approximately 90 minutes (and roughly $200) to an already long and costly trip. Once you arrive, you'll want to rent a car. Maui's roads are well marked and easy to navigate, with the exception of the famous Hana Highway, which packs 600 turns into 37 miles. If you're staying in the tourist area of Lahaina, most attractions and restaurants are a short drive away. Unlike Oahu, however, most resorts are at least 30 minutes away from Maui's Kahului Airport.
Activities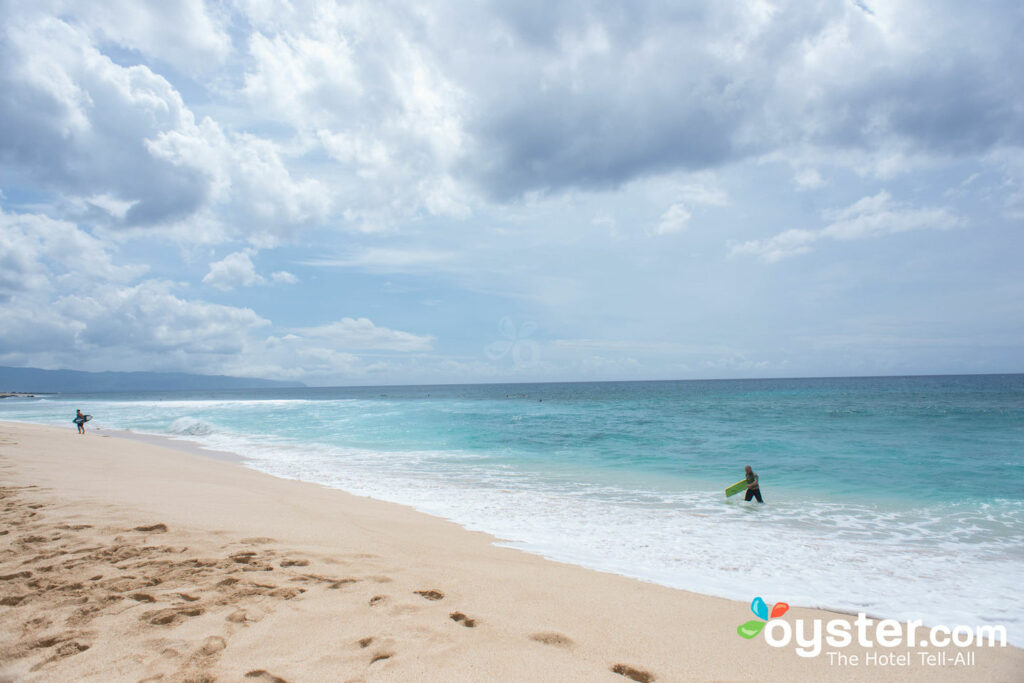 Oahu offers a few singular historical and cultural draws, while outdoor adventure can be found on both islands, whether you prefer fishing, snorkeling, hiking, surfing, sea kayaking, golfing, windsurfing, biking, or boating. The difference lies in the quantity and quality of experiences on each island.
Oahu: Surfing is king here. Waikiki Beach is ideal for beginners, and in the winter, the Banzai Pipeline and Waimea Bay on Oahu's North Shore offer some of the best surfing in the world. (Waves can top 40 feet.) Whether or not you plan to hang ten, the mellow, historic surf town of Haleiwa on the North Shore can be a refreshing day trip, if you're staying in Waikiki. Good snorkeling can also be found on Oahu — most notably in the Waikiki Marine Life Conservation District at the Diamond Head end of Waikiki Beach. However, during the summer months, the surf is higher on this side of the island, which reduces visibility. Hanauma Bay, a short bus ride from Waikiki, is another popular snorkeling spot.
The Polynesian Cultural Center is by far Oahu's — and quite possibly Hawaii's — most fascinating educational experience. One can easily spend an entire day learning about the different cultures on six Polynesian islands, including Hawaii, Fiji, and Tahiti. Stroll through the 42-acre complex of recreated villages and enjoy activities and demonstrations showcasing crafts, dances, and other traditions. Canoe tours, tram rides, an indoor theater experience, a nighttime show, and a luau, as well as the Polynesian Football Hall of Fame, are all part of the fun.
Many visitors may also want to see the USS Arizona Memorial at Pearl Harbor. Aside from the memorial and accompanying boat ride, guests at the Pearl Harbor Visitor Center can take in two museums, an outdoor audio tour, and a film. Admission is free, but reservations are a good idea, especially in the summer and during Christmas and spring breaks. (The National Park Service imposes a per-day limit on visitors.)
Oahu is also a shopper's paradise, with luxury boutiques and small stores selling locally made goods. The International Market Place in Waikiki recently added seven stores, including 3.1 Phillip Lim, Billabong, and Vince. Visitors can also browse Japanese groceries, cosmetics, and other wares at Hawaii's first Mitsuwa Marketplace.
Maui: If snorkeling is your priority, then head to Maui. Clear waters surround most of the island, offering plenty of stellar snorkeling opportunities. Some world-famous snorkeling and diving sites include Molokini Crater, Cathedrals of Lanai, Po'olenalena Beach, and Makena Landing. Plus, sea turtles are commonly part of the underwater show here.
Golf is big on Maui, too. The island is home to the Kapalua Plantation Course, where the Sentry Tournament of Champions, which opens the PGA Tour season, is held each year. Fans can also find top-notch courses at the Wailea Golf Club and The Westin Kaanapali Ocean Resort Villas. The Frank Lloyd Wright-esque clubhouse at The King Kamehameha Golf Club is a hallowed ground for serious golfers. Haleakalā, a dormant volcano taking up about 40 percent of the island, offers beautiful, desert-like views via the Sliding Sands Trail. It's easily accessible by a road that takes you up to the top. (Several tour companies also offer a bike-down option.) It's the place to watch the sun rise, while sunsets and stargazing usually draw fewer people
The , a narrow, twisting highway, is often heralded as one of the most magical — and hair-raising — drives in the world. The route passes black and red sand beaches, jungles, a bamboo forest, waterfalls, and a grove of rainbow eucalyptus trees, which look like they've had a run-in with graffiti artists.
Nightlife
If partying is what you're after, then there's really no contest — Oahu is the way to go. Just keep in mind that the action starts winding down earlier than it does in mainland tourist meccas.
Oahu: A variety of after-dark entertainment is available in Honolulu, including elegant wine bars, lively karaoke joints, nightclubs, rooftop lounges, and open-air bars with live music. Even better, it's easy to go from one to the other with your squad by either walking or hopping in a taxi.
Maui: What makes Maui such a popular island — hiking, biking, water sports, and getting up at 3 a.m. to catch the sunrise over Haleakalā — doesn't lead to a late-night burst of energy. So there are few places to dance the night away here. Lahaina, the island's most hopping town, has a few good bets, including The Dirty Monkey. Show venues are easier to find, and several are excellent by any standard. These include Ulalena, perhaps best described as a Hawaiian Cirque du Soleil; Warren and Annabelle's, an illusion/comedy cocktail show; the Maui Arts & Cultural Center, Maui's answer to Carnegie Hall; and the Napili Kai Beach Resort's indoor amphitheater, home of the Masters of Hawaiian Slack Key Guitar.
Beaches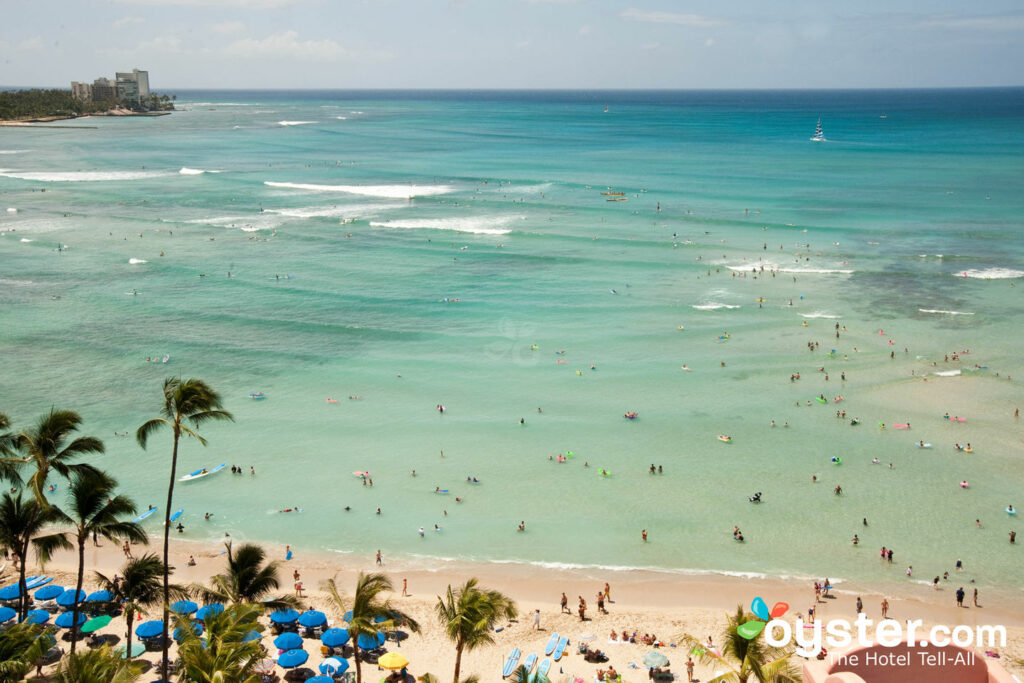 For many, some beach time is mandatory on a Hawaiian vacation. Luckily, both Maui and Oahu offer lots of beautiful sandy stretches. Even better, all beaches in Hawaii are public, with a few limited exceptions. However, keep in mind that while the beaches may resemble those in the Caribbean, the water here is noticeably cooler.
Oahu: Waikiki Beach steals the spotlight. It provides amazing views of Diamond Head and is a great spot to learn how to surf or canoe, due to the small but lingering wave breaks. The beaches on the North Shore, such as Sunset Beach, are also popular with surfers. But there are others spots along the island's 112 miles of coastline that are worthy of a visit. Kawela Bay, on the island's northeastern tip, is largely protected from rough surf, making it a great place for families with young kids to snorkel and swim. Waimanalo Beach, a four-mile stretch near Makapuu Lighthouse on the east coast, is another spot with gentle waves. You'll find plenty of parking here, and picnicking is allowed.
Maui: Maui has a bounty of spectacular — albeit sometimes narrow — golden beaches, plus black and red sand options. Among them is Makena Beach (also known as Big Beach) from which you can see the Molokini crater. The surf here also tends to be gentle enough for timid swimmers. Wailea Beach is home to some of Maui's poshest resorts, including the Four Seasons Resort Maui at Wailea, the Andaz Maui at Wailea, and the Grand Wailea – A Waldorf Astoria Resort. Accordingly, A-listers, like John Stamos, Adam Sandler, and Jessica Alba, have been spotted here. Kapalua Bay Beach, near the Montage Kapalua Bay and The Ritz-Carlton Kapalua, is a popular spot for boarding and kayaking, as well as swimming and snorkeling among parrot fish and turtles.
Wildlife Viewing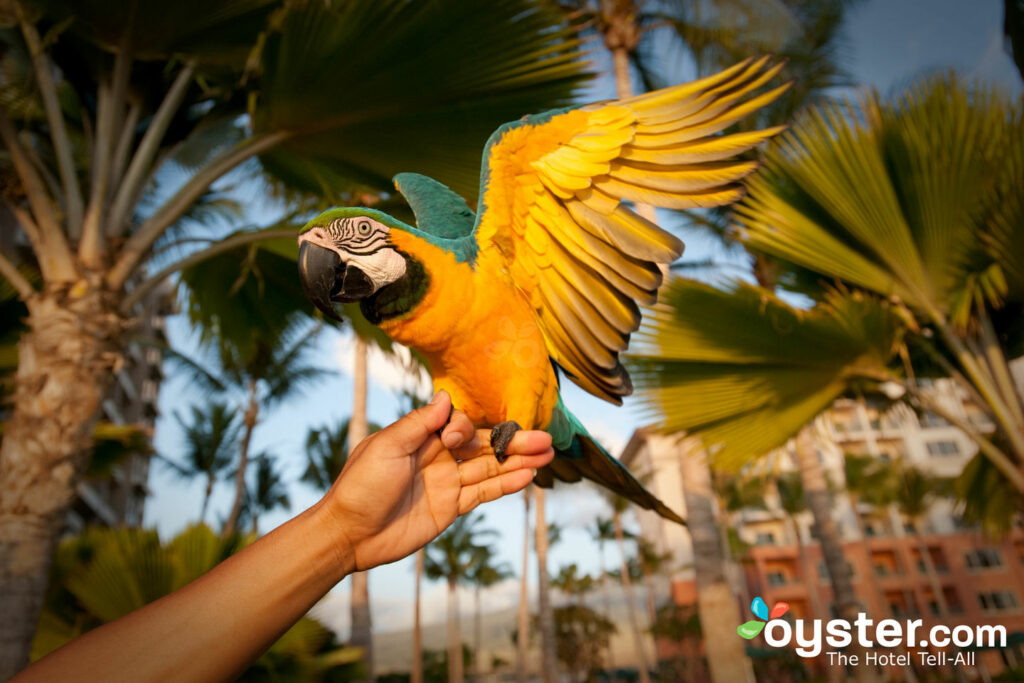 Both islands provide plenty of opportunities to see critters, whether in their natural habitats, zoos, or animal parks.
Oahu: Honolulu has the largest zoo in Hawaii, housing 300 animal species, as well as the respectable Waikiki Aquarium (check out the giant clams) within walking distance of the beach. And at Sea Life Park Hawaii, visitors can swim with dolphins, sea lions, and manta rays, or interact with creatures in a touch pool.
Maui: Humpback whales, migrating down from Alaska, put on quite a show here during the winter months. The sheltered waters around Maui are a haven for humpbacks, so much so that in some places you can see them breaching without leaving your hotel room. Whale-watching season in Maui occurs from mid-December to mid-May; boat tours leave daily from Lahaina.
While Maui has no zoo, it does have the Pacific Primate Sanctuary, which is home to abandoned and injured spider monkeys, marmosets, tamarins, and capuchin monkeys. Tourists are welcome to visit and volunteer.
There's also the Maui Ocean Center, an aquarium showcasing local undersea species such as moray eels, octopi, seahorses, sea turtles, stingrays, and hammerhead sharks.
Overall Vibe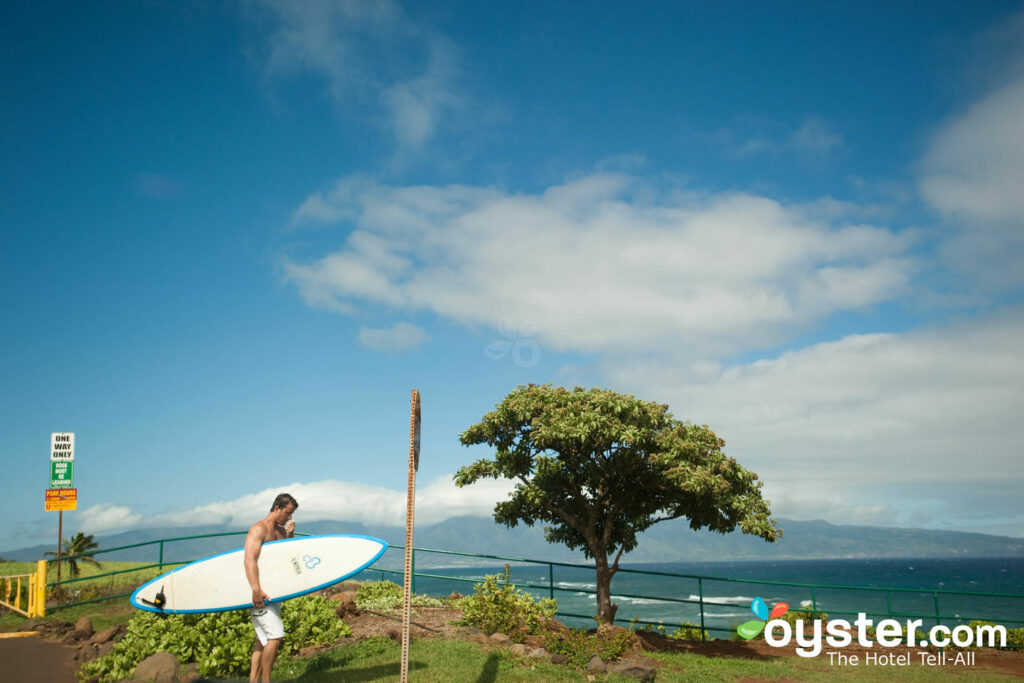 First impressions of Oahu and Maui are decidedly different. Oahu is more cosmopolitan and crowded, while Maui has a slower rhythm, despite being a tourist hot spot.
Oahu: Honolulu, once a sleepy state capital, has grown into a veritable metropolis, complete with a high-rise skyline. Waikiki, its tourism center, is a bustling sub-city in its own right, and remains an obvious choice for those who want a Hawaiian vacation — sun, sand, luaus, surfing, hula, mai tais — without sacrificing the creature comforts of home. Another upside to the hustle and bustle: more properties (and eateries) at a wider range of price points. Plus, once you get away from Honolulu, there are plenty of quieter, unspoiled areas to soak up. Some Oahu highlights include Pearl Harbor, Diamond Head, the Dole Plantation, and the Iolani Palace.
Maui: If you want an outdoorsy adventure without being too far removed from civilization, Maui offers the best of both worlds. It has an alluring mix of upscale resorts, stellar golf courses, stunning jungle and volcano hikes, and scenic roadways. If you're honeymooning, you'll have plenty of company, for better or worse, as Maui is newlywed central. You can find lots of nighttime fun here, as well as high-end shops like Tiffany & Co. and Louis Vuitton. You'll also find mid-range chain restaurants, such as Bubba Gump Shrimp Co. and Ruth's Chris Steak House. Though Maui is generally pricier than Oahu, many devotees agree with the island's slogan: "Maui No Ka Oi," or "Maui is the best."
Our Favorite Hotels
This self-contained upscale resort on a peninsular outcropping of Oahu's north shore focuses on relaxation and outdoor activities. Families — and couples in particular — come here for the golf course, horseback riding, surfing, and other outdoor activities; nightlife is limited to the property's bars and restaurants.
Maui: Sheraton Maui Resort & Spa
Situated right on the popular Kaanaapli beach with views of the landmark Black Rock, the location of the Sheraton Maui can't be beat. And this upscale mega-resort fully takes advantage of its prime real estate, offering ocean views from a majority of its rooms. Spanning 23 acres, the expansive resort features a full array of features, including a lovely spa, modern fitness room, five restaurants, and a large lagoon pool and lazy river.
We love this simple cover up from 9Seed. The short, flowy design is ideal to beat the Hawaiian heat, while at the same time stays stylish enough to wear for a casual dinner.
You'll Also Like:
All products are independently selected by our writers and editors. If you buy something through our links, Oyster may earn an affiliate commission.