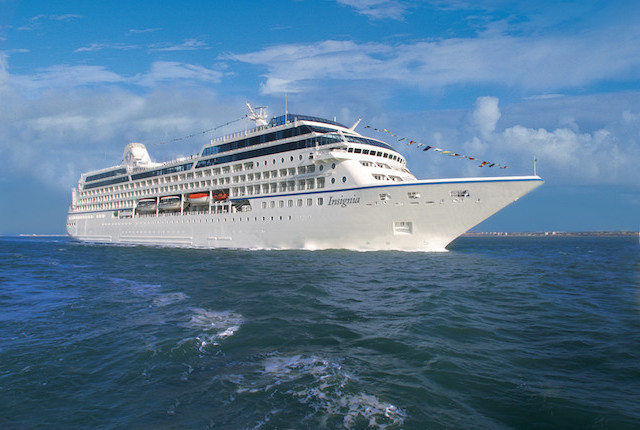 French novelist Jules Verne might have been ambitious by proposing a journey around the world in 80 days, but we're taking our time and giving ourselves six months to circumnavigate the globe. Or rather, Oceania Cruises is giving folks the opportunity to do so. The company recently announced a 180-day world cruise that will depart from three destinations in 2019—New York on January 11, Miami on January 14, and Los Angeles on January 30—giving you plenty of time to gain your sea legs.
The 684-passenger "Insignia" will navigate more than 45,000 miles across two oceans and 16 seas while visiting 90 destinations in 36 countries (say that five times fast!). During the global odyssey, passengers will makes their way to the beautiful islands of Hawaii and the South Pacific before heading down under for adventures across New Zealand and Australia. Next stops: Asia, the Holy Land, and tried-and-true favorites throughout the Mediterranean; then it's off to New England, Canada, and Bermuda. Along the route, travelers will also visit dozens of UNESCO World Heritage sites.
The epic expedition also features 14 overnight stays in ports including Bali, Hong Kong, Yangon, and Luxor. Exclusive shoreside events continue to help you cross more off your bucket list than most do in a lifetime. In Tokyo, guests can enjoy an authentic tea ceremony and kabuki and ninja performances at the historic Meguro Gajoen hotel. And in Bordeaux, passengers will have the chance to sample vintage wines and fill up on a three-course dinner of farm-to-table Bordelais delicacies at an 18th-century family-owned estate.
On board, there are four gourmet restaurants serving cooked-to-order continental specialties. Plus, experts will deliver lectures on history, art, and music. The majority of the 342 staterooms and suites even have their own private teak veranda, the perfect perch from which to soak up the panoramic views. Oh, and no matter which of the three cities you set sail from, Oceania's trip of a lifetime also includes a range of top-notch amenities, including free first-class roundtrip airfare.
Now, if you could only convince your boss to give you 180 PTO days.
Reservations open on March 1, 2017.
You'll Also Like:
All products are independently selected by our writers and editors. If you buy something through our links, Oyster may earn an affiliate commission.