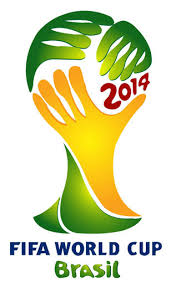 One country. 12 stadiums. 32 teams. 64 games. The FIFA World Cup — the world's most popular sporting event, which draws over three billion viewers — kicks off (who doesn't love a sporting pun?) June 12 in Brazil. And though soccer is the very life-blood of South America, this year's tournament marks the first time since 1978 that the games will be held in a South American country. Now, American fans may have a dismal reputation among the world's soccer fanatics (except for our friends in the Pacific Northwest — we see you, Seattle), but that just means that now is the perfect time for redemption, especially considering that this year's World Cup is bound to be a particularly electrifying tournament. Here, Oyster lets you in on some trade secrets for watching, cheering, and attending the games. Pack up your jersey — but, please, leave your vuvuzellas at home — and get ready for a month of offsides, red cards, penalty kicks, and goals. "Ole ola!"
Where is the World Cup, and how do I get there?
Kicking off in Sao Paulo June 12 and concluding in Rio de Janeiro on July 13, this year's FIFA World Cup is taking place across the entire breadth of Brazil. Americans visiting for the games had to acquire visas before traveling — as well as get clearance from their doctors.
Brazil has had a rough road to the games, with many protesting the use of public funds to complete preparations for the Cup. Despite this, the country's seven new stadiums and multiple fan-zones have been completed… just in time. Five pre-existing stadiums will also be in use. The number of stadiums reflects the number of states in Brazil, a decision made by the host country (with FIFA's grumbling permission) in order to represent the entire nation.
However, this means that teams (and fans) will have a good deal of long-distance traveling to do in-between matches. The shortest — and sometimes, surprisingly, the cheapest — way to get around is by plane. Local carriers Avianca Brasil and Azul are each offering relatively cost-effective ways to get around, as are a variety of other Brazilian airlines. The TAM Brazil Airpass is a good idea for fans planning on attending multiple games across the country, as a one-time purchase provides coupons for nine domestic flights.
Buses are a cheaper option, but with over one million miles of road, be sure to do extensive research before hopping aboard. You don't want to intend to go to Brasilia and end up in Fortaleza instead. Cars are another option, but depending on how long you're going to be in town — and how far you'll be driving — the cost can rise sharply. Traveling by train is not recommended.
Where do I stay?
There have been 198 new hotel openings across Brazil in preparation of the World Cup — a fact which makes Oyster extremely excited — we can't wait to send in our hotel investigators! But prices are (understandably) steep across the board and most rooms have already been booked. Many travelers have begun to investigate other interesting accomodations. Brazil's love motels (which do charge by the hour) are getting a surprising amount of attention from out-of-towners, as are camp sites, house swaps, and rentals.
As hotel experts, we have our personal favorites in Sao Paulo and Rio de Janiero. Relais & Chateaux Santa Teresa is a historic mansion turned luxurious boutique hotel located on a former coffee plantation in Santa Teresa, twenty minutes from Rio's beaches. On the other hand, the Porto Bay Rio is located across the street from the infamous Copacabana Beach and features sleek decor.
Porto Bay Rio Internacional Hotel
In Sao Paulo, we love the 220-room Tivoli Sao Paulo Mofarrej, a luxurious downtown option with butler service and an upscale spa. In comparison, the 60-room Hotel Fasano in the upscale Jardins neighborhood has a chic indoor pool, funky retro decor, and a bar with live music.
Hotel Fasano
Who's going to win?
The great thing about the World Cup is that anything can happen. Of course, there are the favorites: Germany is a juggernaut, hungry for a win after losing in the finals in their own backyard in 2006 and then again in the semis 2010. But there are concerns over whether they can perform south of the equator. In fact, all European teams should be worried: Not one has been victorious in South America. Brazil is, obviously, not just hungry for a win but starving. If they lose to neighboring nation Argentina — lead by the incomparable Lionel Messi — things may get very ugly, very quickly. Belgium is the underdog to root for, but us Americans should safely cheer on Captain Clint Dempsey — without holding onto too many expectations from the ol' Red, White, and Blue.
Check out Oyster's page on Google+
To learn more about Kristina Fazzalaro, visit her on Google+
RELATED LINKS:
All products are independently selected by our writers and editors. If you buy something through our links, Oyster may earn an affiliate commission.