Hotel bars are often a convenient spot for a nightcap or a quick after-work drink (anything to take the edge off!) while on a business trip -- but not all have the right vibe and noise level to help free your mind of all the stress after a long day of work. Whether you have been working all day in your office, or running from meeting to meeting while on the road, these great hotel bars are a safe bet for some after-work fun.
The Red Owl Tavern is a hip spot located off the lobby at Hotel Monaco. It offers a fantastic wine list (put together by Kimpton Hotels master sommelier Emily Wines), and hand-crafted cocktails. With huge windows overlooking Independence Hall and the Liberty Bell, a couple of cool industrial-inspired details, and house-cured charcuterie board specials, the bar attracts a varied crowd of professionals.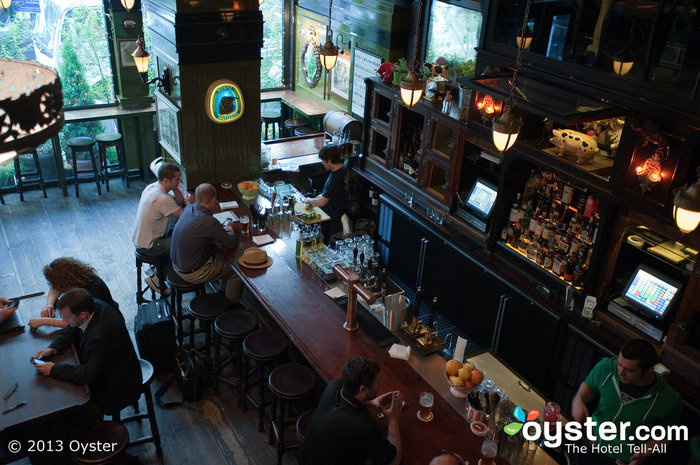 April Bloomfield and Ken Friedman, co-owners of New York restaurant The Spotted Pig, teamed up for Ace's Breslin Bar, a hopping, casual spot that's popular among young professionals. It can get crowded, so better get there early; if that last presentation is holding you back and the Breslin is already packed by the time you arrive, the hotel's lobby is also a wonderful place for a drink, and offers food from the Breslin as well.
The W's stylish lounge turns into a happening bar by night. The cool, modern space has sleek booths, oversize suede chairs, metal curtains, and trickling water panels. But this being Boston, there's also a crackling fire that the young, attractive crowd gathers around to sip their pineapple martinis — at least when it's chilly outside.
Quill's soft lighting, cushioned banquet, piano, and Jeffersonian details — parquet flooring inspired by the design in Monticello's main salon; 18th century maps of wine regions in France, Germany, and Italy visited by Jefferson — combine to create a comfortable spot for sophisticated drinks. Signature cocktails, such as the Purple Haze (strawberry-and-mango-infused vodka, raspberries, creme de violette, pomegranate juice), make it a top pick among locals for unwinding after work.
Come for a drink, stay for the view. The Mark Hopkins' famous bar is, as the name suggests, on the top floor of the hotel. That places it 19 stories up, in a landmark building that sits at the apex of Nob Hill, one of the highest points in San Francisco. All that elevation adds up to one of the best views in a city renowned for its views — so that's sayin' something.
Cameo is heavy on the tuxedo couches, whimsical accents, and the color green — all a product of "it"-designer Kelly Wearstler. On busy nights, the action spills out onto the pool deck, where gas heaters keep the ocean breeze from cooling down the party.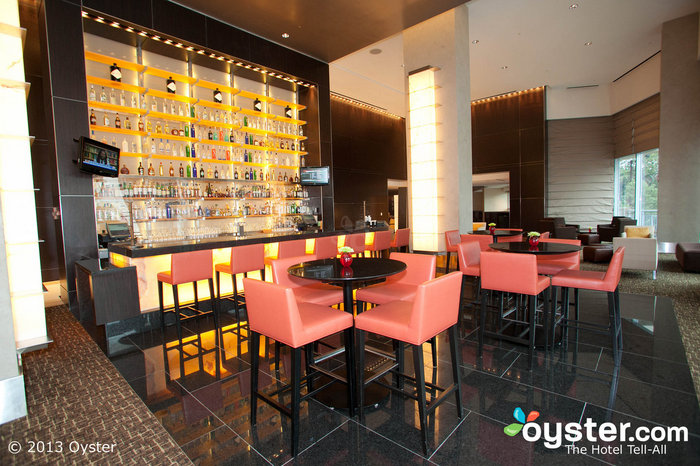 Bar Eleven is known among locals for its great cocktails and expansive wine list. The space is sleek and attractive, with a few tables and couches, and a lit bar with stools. For those who don't like to drink on an empty stomach, the bar also serves contemporary Southern cuisine.
The Driskill Bar features a sophisticated saloon-like atmosphere, with wood-paneling and tin ceilings. The vibe here is pretty low-key — a nice departure from the rowdy bars in the area around the hotel — so it's perfect for those who want to relax rather than party. The bar also serves light fare.
The Vertigo Sky Lounge is a chic indoor/outdoor bar open year-round atop the Dana Hotel and Spa. It offers a great cocktail menu, DJ sessions, striking city views, and the city's only outdoor ice bar (open during the winter). It is popular with young locals and can get loud after dinner — but that's just why people come.
The Charlie Palmer is largely know for its wonderful food, but it is also a great spot for a drink after work. The bar's wine list is one of the best in town — featuring everything from a Cabernet Sauvignon from Pepper Bridge, to a Malbec from the Mendoza region in Argentina — and has won several awards.
The Cruise Room is not only Denver's oldest bar (it opened the day after Prohibition was repealed) but also one of the prime spots in town for a casual drink. The Art Deco room has been designed to resemble one of the lounges on Queen Mary, and offers a jukebox and a great selection of cocktails.
Other hotels might have the coolest nightlife in Miami, but the Conrad Hotel has our favorite bar for after-work drinks. The Bar at Level 25 boasts sweeping views, creative cocktails, outdoor spaces, and a short — but solid — food menu. Don't miss the Spiced Pear Daiquiri!
RELATED LINKS: