It's May, which means that Lake George is busy bursting to life after a long winter nap (i.e., off season). For decades, the mountain resort town in Upstate New York has been a massively popular summertime destination -- especially for families. Lake George's star attraction is its namesake freshwater lake, which bristles with boaters, swimmers, parasailers, and water-sports lovers this time of year. And those who want to explore beyond the waters and shores of Lake George are in luck. Lake George is part of Adirondack State Park, the largest state park in the continental U.S., and home to more 3,000 lakes and 2,000 miles of hiking trails. So get ready to fuel up the station wagon, stock up on sunscreen and s'mores supplies, and dive into wholesome Americana at its best.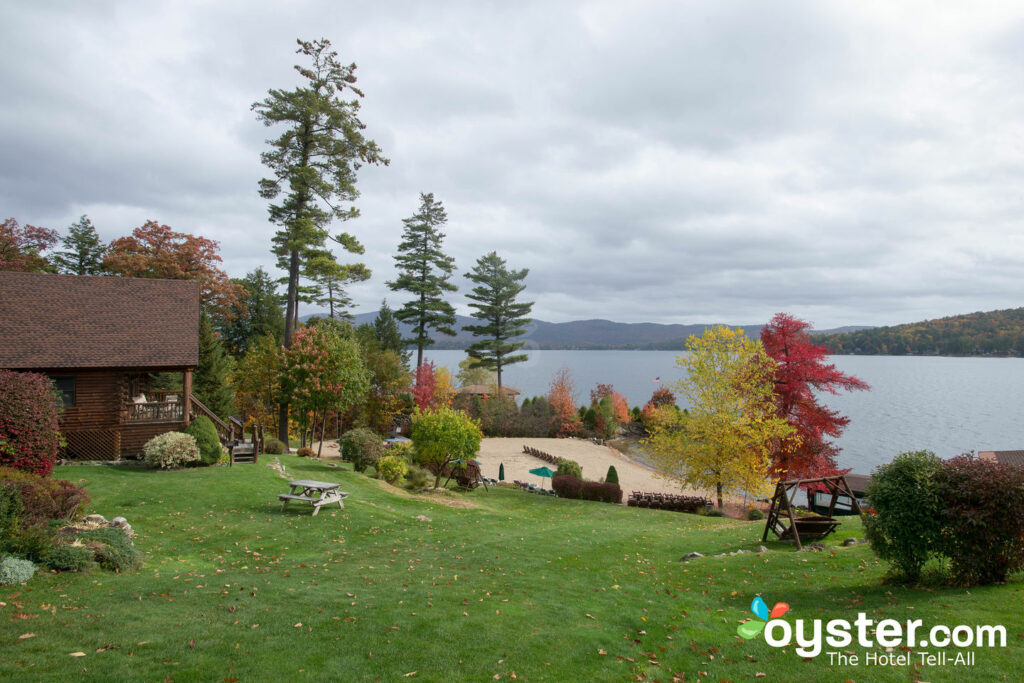 Accommodation options in Lake George are mostly motels and chain names, but this hilly, 11-acre lakefront lodge is one of the more luxurious (and expensive) places in the area. The hotel has a private beach, an indoor/outdoor pool, and 54 two-bedroom units, each one kitted out with lots of wood and plaid, as well as full kitchens, covered porches, jetted tubs, charcoal barbecues, and laundry facilities. Cresthaven is a home-run for families in the summer, when activities like s'more bonfires on the beach, tie-dyeing, and karaoke are on the docket. Come autumn, it is mostly romantic couples at the hotel, who come to enjoy the foliage and peace and quiet — especially mid-week. Cresthaven's Boathouse restaurant was built in 1876 as part of the estate of Alfred Ochs, the former publisher of The New York Times. (He once hosted FDR here!)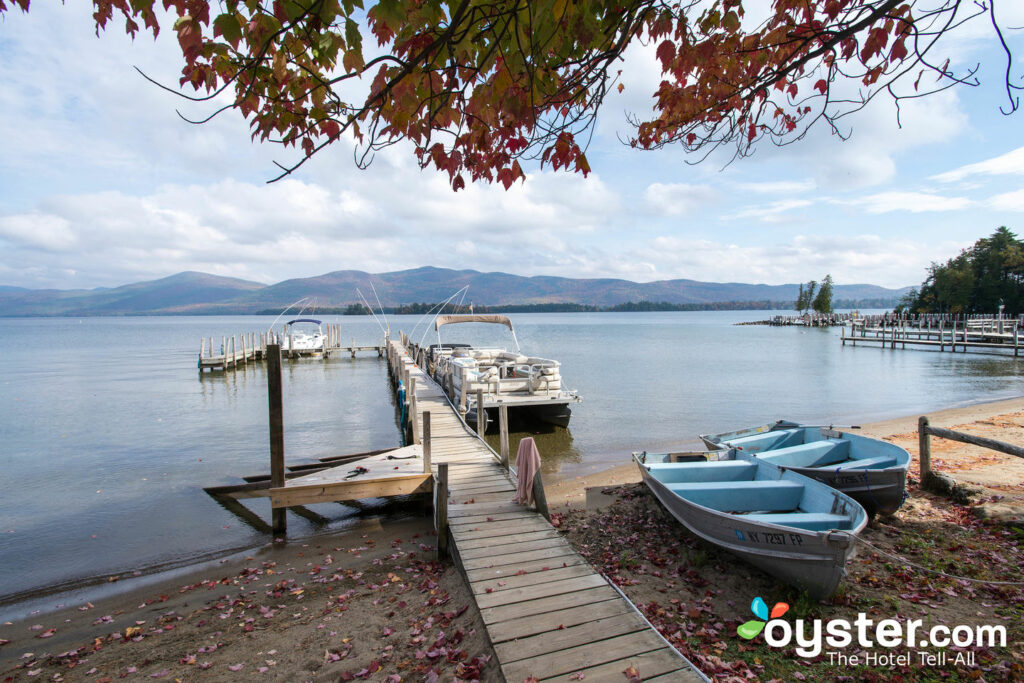 Not much has changed at this charmingly rustic family-run property since it opened in 1984 — and that's just how the guests who have been coming here for decades like it. Newcomers will find the seasonal lakefront property to be pretty basic; the word "resort" definitely should not be taken too seriously. The property offers just 24 units, from basic motel rooms to a three-bedroom house with a big kitchen and outdoor deck. The private beach has a fun family vibe, with kayaks, rowboats, and Adirondack chairs. Meanwhile, boaters and fisherman may be cruising in and out of their slips during the day. Nightly bonfires spark up after dark — guests are free to bring s'mores makings and enjoy the wood fire until midnight. Though parents certainly have their share of fun, there is not much of a party scene to worry about, making this property well-suited to families with kids of all ages.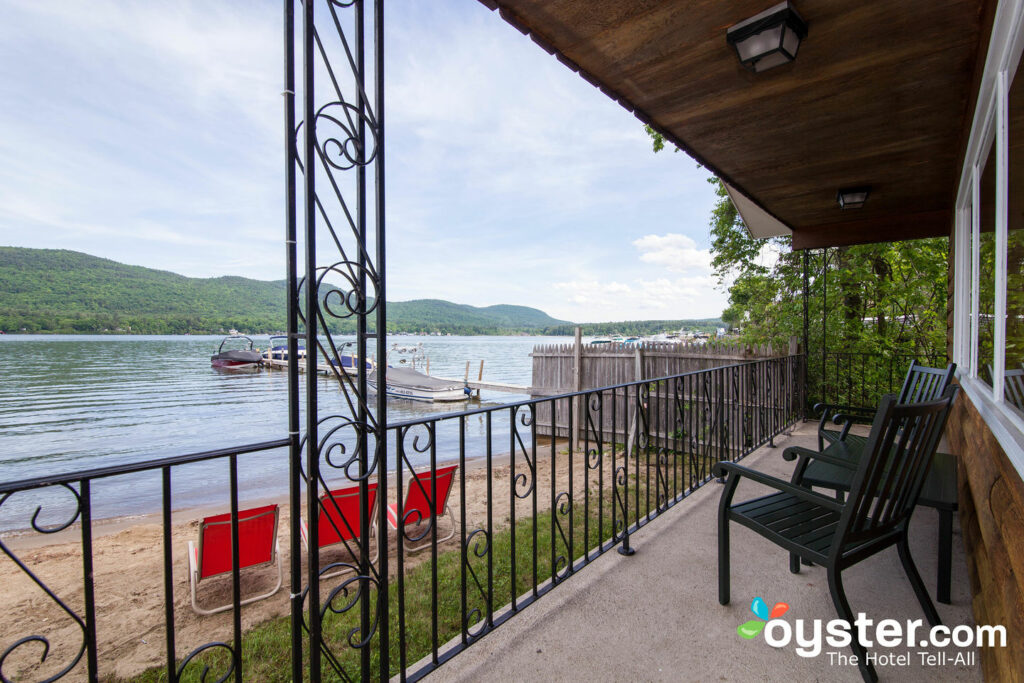 It's easy to sum up the appeal of Scotty's Lakeside Resort: It's conveniently located, well-equipped, and peaceful. The seasonal lodge is located right off Route 9, just north of Lake George's main business district, so guests are just a short walk to the village for excursions and groceries. A 350-foot-long stretch of beach is lined with sun loungers, and has playground equipment, a volleyball pit, and a heated outdoor pool. There is a fishing dock for those who brought their own poles, and water rentals, like canoes, kayaks, rowboats, paddle boats, and hydro bikes, are available for a reasonable fee. For food, there is a snack bar that serves breakfast, lunch, and ice cream, plus a barbecue area for those who want to grill themselves. Not all of the 110 rooms and suites have a view of the lake, but every unit has air-conditioning, a flat-screen TV, microwave, mini-fridge, and free Wi-Fi. All rooms have either a balcony or a porch with a couple of chairs to sit on.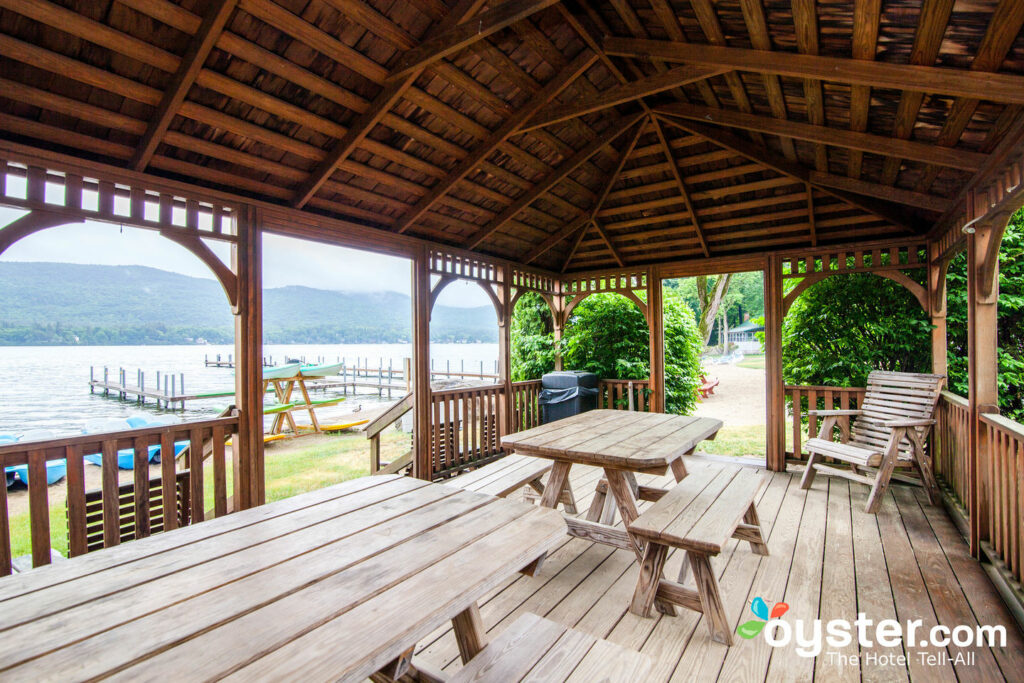 Like our first three picks, Marine Village Resort delivers a classic backdrop for an easygoing family summer vacation. Accessible from the main road, the property sits on a long, narrow stretch of land that rolls right down to the banks of the lake. Like Scotty's, Marine Village is within easy walking distance of the the many shops, restaurants, and ice cream parlors of the village's main strip. On site, the motel provides plenty of spots for taking in the beautiful scenery of the lake, such as the small beach and swimming area (kayak and raft rentals available for a small fee), several piers, and a pool. Rooms are basic motel-room affairs, but all have air-conditioning, mini-fridges, coffeemakers, microwaves, flat-screen TVs, and outdoor space with wicker tables and chairs.
You'll Also Like:
All products are independently selected by our writers and editors. If you buy something through our links, Oyster may earn an affiliate commission.