[embed]https://instagram.com/p/6sRed7gRl8/[/embed]
While Netflix and Popcorn Time are certainly legitimate (and popular!) ways to escape the madness -- or monotony -- of real life, we've still got love for the analog route of escapism through reading. One of our favorite things to spy while we are on vacation (besides the gorgeous scenery and a "happy hour" sign) are the books people choose to bring with them to compliment their holiday. Whether its to help pass time on a long flight, entertain us while we work on our tan lines or wait for the bus, or just wind down the perfect day, here are our favorite books to bring on holiday*.
*We chose these books for their ability to inspire us to travel and live life to the fullest, give us insight into a different culture, serve us a slice of history, or get our hearts thumping. And some are just darn good reads.
Our Favorite At-Sea Read: Life of Pi, by Yann Martel
This beloved tale by Yann Martel follows the life of a young Tamil boy nicknamed "Pi" who, after an unfortunate shipwreck, finds himself stranded — for 277 days — on a small lifeboat with a Bengalese tiger named Richard Parker. Since much of the book covers the time Pi and Richard Parker are forced to spend together at sea, we love bringing this read when we hit the open waters. Sure, we don't have to ration out our food or worry about going blind from dehydration — or the constant threat of being eaten by a tiger, but being able to stare out into the surrounding sea while reading Life of Pi somehow makes us feel one step closer to the action on that small lifeboat.
Our Favorite Read to Bring to Hollywood: The Disaster Artist, by Greg Sestro and Tom Bissell
There's no shortage of novels written about or taking place in the star-studded land of Los Angeles, but few are likely to be as funny, unbelievable, or appealing as the train wreck of a story surrounding the making of the cult classic film, The Room. If you lived in L.A. anytime in the early 2000s, you would have seen the odd and ever-present "Coming Soon" billboard for The Room hanging high above La Brea Avenue. Told through the unique perspective of one of the film's lead actors, The Disaster Artist takes place in both L.A. and San Francisco and is a fantastic trip into the mind, motivation, and unlikely success (and several failures) that went into making what many consider to be the worst film ever made. It's a truly bizarre Hollywood success story that is best appreciated amongst the streets, diners, and landmarks mentioned throughout the book.
Related Link: The Best Party Hotels in L.A.
Our Favorite American Road Trip Read: On the Road, by Jack Kerouac
Largely based on Kerouac's own road-tripping adventures across America in the 1940s, On the Road is a fantastic, free-spirited companion for anyone hitting the pavement, with or without friends. Sure, times have changed since the book was written, but that's half the fun; living out a then-and-now road trip — it's like two adventures in one! It's a particularly great read for those who are looking for a glimpse into the gonzo shenanigans of the early Beat generation, and your quintessential dose of sex, drugs, and rock 'n' roll — well, in this case, it's heavier on the jazz.
Our Favorite Read to Bring on Your Disney Vacation: Devil in the White City, by Erik Larson
We all know that family trips to Disney — or almost any theme park for that matter — can be heavy on the cutesy, kids-y stuff. In fact, days of "It's a Small World" doing round robins in your head might just be enough to make anyone go crazy. After a day out with cheery rides, sweet treats, cranky kids, and overly peppy tunes, nothing beats curling up into bed with a thriller to level out the playing field — or more particularly, a real-life thriller that takes place during the Chicago World's Fair. Devil in the White City is the true (and historically accurate) story not only of the hype, excitement, and magic of building the world's most glamorous venue, but also the deranged tale of a serial killer who capitalizes on the fair to procure victims.
Our Favorite Read to Bring to the Big Apple: Just Kids, by Patti Smith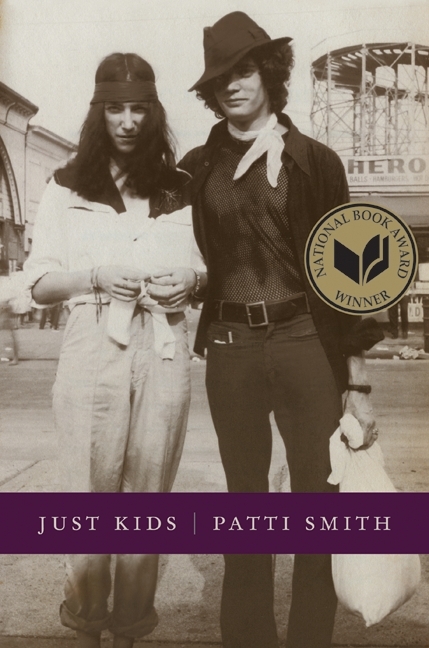 Like Los Angeles, New York City serves as the backdrop against which tons of books are written…but we particularly loved reading Patti Smith's Just Kids. It not only gives you insight into a now-famous artistic world with players like Smith herself, playwright Sam Shepard, photographer Robert Mapplethorpe, rocker Janis Joplin, and the iconic Andy Warhol (to name a few), but it also gives a rare vivid glimpse into bohemian life in the Big Apple during the '60s. It's a groovy way to learn a little history about the city from the inside out. Since NYC is such a walkable city, we recommend visiting the spots Smith mentions in the book.
The Most Literary Hotels in New York City >>
Our Favorite Beach Read: Lucky Alan: And Other Stories, by Jonathan Lethem
Admittedly, almost anything will pass for us as a beach read, which we use simply as a way to occupy our time while we relax in the warm breeze as the ocean waves rhythmically roll in and out. Because of the lackadaisical nature of our surroundings, we find its nice to break up our beach time with a collection of short stories (that way, we don't get so engrossed we forget to reapply sunscreen or flip). Within the multi-genre spanning Lucky Alan: And Other Stories, there is something for everyone, including absurd and silly tales, Salinger-esque narratives, heartbreaking stories (at least they are short!), and general Lethem-odd musings.
Our Favorite Nature Escape Read: Walden, by Henry David Thoreau
So, this might be a cliche choice, but we stand by it. We've read Walden at home, in the city, and out in the great outdoors — and we've gotta say, being able to look out at nature, surrounded by sunlight and leaves and chirping birds, with crisp air against our faces and in our lungs, helps us to make a lot more sense of Walden. It's so much easier to put Thoreau's wonderings and suggestions for a simple life in nature into perspective when you are, uh, out in nature. So make sure to pack this classic into your rucksack on your next hiking adventure, ski trip, or quiet wood-lined bed and breakfast getaway. Some packets of hot cocoa couldn't hurt either.
You Might Also Like: The Country's Top Hiking Trails
Our Favorite Book to Bring on an African Safari: The Last Rhinos: My Battle to Save One of the World's Greatest Creatures, by Lawrence Anthony
This is the true adventure story of Lawrence Anthony's journey into the Congo to save the world's few remaining northern white rhinos. Referred to as "the Indiana Jones of conservation," a fearless and determined Anthony heads directly into the Congo, into the heart of the army-controlled jungle habitat of the critically endangered animals in order to ask the rebels to help him protect this special subspecies of rhino. It's a great read for those who are on safari, and perhaps lucky enough to spot one of these magnificent animals. Unfortunately, even with the help of conservationists like Anthony, rhino populations are quickly dwindling and many believe we will witness an overall extinction of the species in our lifetime if poaching doesn't stop abruptly.
Our Favorite Long-Distance Train Ride Read: Murder on the Orient Express, by Agatha Christie
Again, we don't want to get too meta, but what's a better way to pass time on a long train journey than to read a murder mystery that's set on a train? (Unless that's just too close for comfort.) Not only are you fully entertained by famed crime writer Agatha Christie, but all those highly suggestive readers out there may just find that Murder on the Orient Express sparks little bit of suspicion of your fellow passengers. Imagination knows no bounds, so even long after you've solved the mystery in the book, you can spend time between stops creating your own mystery onboard.
Take a look at the 5 most scenic Amtrak routes >>
All products are independently selected by our writers and editors. If you buy something through our links, Oyster may earn an affiliate commission.