We love when we get a chance to hop across the pond and explore Europe. And one of the best parts of a European vacation is that even a quick jaunt can include visits to multiple countries. Traveling from the westernmost capital (Lisbon) to the easternmost (Moscow) takes just over five hours -- which is less than the time it takes to fly from New York to Los Angeles -- and many trips take only around an hour. Plus, you don't need a visa for every country on your itinerary. So now that the Games are winding down (Go U.S.A.!), take a break from good ole' London and top off your European getaway with visits to nearby countries. We compiled a list of our top picks for overnight trips, all less than a two-hour flight from London. Start packing!
Overnight Trip #1: Dublin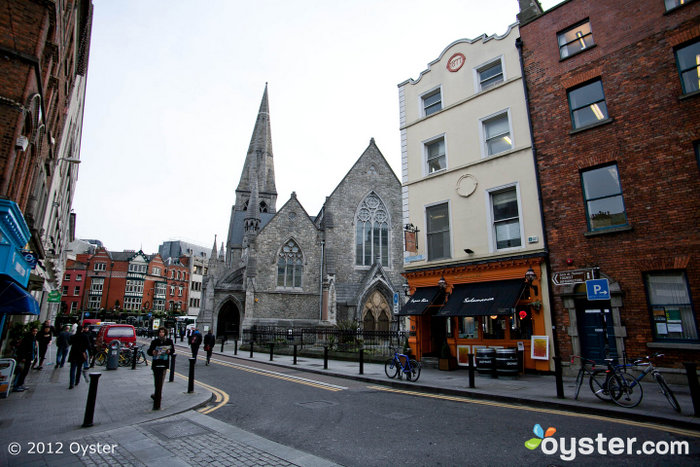 Ireland's capital is a vibrant city with a small-town vibe. The relaxed atmosphere encourages lazy days throwing back pints in a pub, but tourists are certainly never at a want for things to do: Dublin boasts a hopping nightlife – especially in the Temple Bar area – as well as gorgeous architecture, beautiful gardens (don't miss St. Stephen's Green), wonderful museums, a surprisingly gourmet dining scene, and an easily walkable city center.
Tip: The pay-as-you-go bicycle system in the city center is a great way to explore Dublin, and is often a more reliable means of transportation than the public tram system. Just make sure you get a map before heading out for the day, as one-way streets can be tricky.
STAY AT: The Morgan
The Morgan is a boutique hotel located in Temple Bar, the "cultural quarter" and nightlife center in Dublin. The all-white rooms have comfortable beds and crisp linens, and are complete with modern bathrooms, flat-screen TVs, minibars, and electric kettles. While there is no gym or spa, and in-room Wi-Fi comes at an additional fee, the hotel is home to a popular neighborhood bar serving a small tapas menu and cocktails.
Overnight Trip #2: Amsterdam
A city steeped in history, the capital of The Netherlands is home to beautiful historic buildings, tranquil parks, world-class museums, and a system of canals that rivals the one in Venice. You could spend a week here and still find things to do, but Amsterdam is perfect for a quick getaway, too. The Museum Quarter and the Vondelpark offer endless culture activities, but if you want to take it easy, stroll along the canals and around the Old Center for a real taste of Amsterdam.
Tip: De Pijp is the hippest neighborhood in the city, with sidewalk cafes, farmers markets, and quaint streets lined with shops. It's the place to go for a chill night out.
STAY AT: Conscious Hotel Museum Square
The eco-themed Conscious Hotel Museum Square is a quirky, modern establishment within walking distance of the Van Gogh Museum and several local tram stations. The rooms are quite large for Amsterdam, and floor-to-ceiling windows allow in lots of natural light for a bright and open feel. Rooms are simple and clean, with soft beds, basic, white bathrooms, and flat-screen TVs. There's also a bright and modern breakfast buffet, which offers a daily organic continental breakfast.
Overnight Trip #3: Paris
Flight Time: 1 hour and 15 minutes
Paris is known for being the destination for a romantic getaway, but it's also the art and fashion capital of the world, boasting world-class museums, historic monuments, astounding examples of architecture, and wonderful high-end shopping. If your time in the City of Light is limited, don't miss the Louvre Museum, the Eiffel Tower, the Arc de Triomphe, and Notre Dame Cathedral (we promise you can squeeze it all in!). The Luxembourg Gardens, Montmartre, and the Musee d'Orsay are also must-sees. We gotta say, the more time in Paris, the better!
Tip: Don't forget that you don't need to take a flight to get to Paris from London. The Eurostar, a high-speed train built under the Channel in the mid-1990's, connects both capital cities in just over two hours.
STAY AT: Hidden Hotel
The Hidden Hotel — as its name suggests — is tucked away on a quaint side street within walking distance to L'Arc de Triomphe and the Charles de Gualle metro station. The intimate hotel has only 23 rooms, and incorporates handmade craftsmanship and natural materials that give it a contemporary and Zen-like vibe. Room types come in different levels (some include balconies and terraces) and though they're small in size, they are effortlessly chic. Beds — dressed in organic cottons, of course — are canopy style, and bathrooms have an open design with granite finishes and rainfall showerheads. Though breakfast has a fee, it is a healthy spread with plenty of local ingredients. In the evenings, the cozy bar is a great spot for pre-dinner drinks and appetizers, and during the day a barista serves up delicious cappuccino (and other coffee treats) in the chic setting.
Overnight Trip #4: Venice
Flight Time: 1 hour and 55 minutes
Venice's rich history, fabulous museums, striking churches, and delicious food attracts millions of visitors every year, but it's the city's intricate (and beautiful) canal system that really draws tourists to the "city of love." Lined with beautifully-restored, centuries-old buildings, domed basilicas, and lovely shaded squares, these stunning waterways comprise a large part of the city's landscape, and make for a romantic and unique way of seeing the sights. Thanks to Venice's small size, and the fact that most attractions are on or around Piazza San Marco, this is the perfect destination for a short trip.
Tip: If you want to get a feel of the real Venice, hop on a gondola and let il gondoliere row you away from the crowds of the Grand Canal. There are hundreds of gorgeous waterways running through less-visited neighborhoods, where you can get in on the local rhythm of the city.
STAY AT: Hotel Bucintoro
The 20-room Hotel Bucintoro is a unique property in Venice, with elegant decor inspired by ancient sailboats. It's located on the eastern side of the docks, removed from the crowds but within walking distance of major attractions such as Piazza San Marco. Most rooms are small, but all feature gorgeous views of the lagoon and the city (you can even see the Campanile), as well as classy decor with wood panels and a subtle maritime theme, flat-screen TVs, minibars, and marble bathrooms. There's not much in the way of amenities — just a business center, a bar, and a cozy breakfast room — and rates can be steep. But the quiet locale, the beautiful rooms, and the views make it a wonderful pick.
Overnight Trip #5: Barcelona
Barcelona is Spain's most fashionable and modern city. Tourists pour in from every corner of the world to experience the town's vibrant nightlife, excellent cuisine, beautiful Gothic and one-of-a-kind Modernist architecture, and cutting-edge design scene. This — and the great Mediterranean climate — means you'll probably find crowds wherever you go, but it'll be worth it for sights like the bizarre Sagrada Familia cathedral, world-class MACBA museum, hopping Barri Gotic neighborhood, and unusual Parc Guell.
Tip: Few people think of Barcelona as a beach destination, but there's a great –though crowded – beach within walking distance of many of the attractions. The waterfront is lined with numerous dining options, as well as a couple of nightlife hotspots.
STAY AT: Ohla Hotel
The stylish and luxurious Ohla hotel is centrally located in the Gothic Quarter of Barcelona. This boutique option offers 74 modern rooms with high-tech amenities and free Wi-Fi. The chic rooftop pool and lounge offers incredible city views along with a space to sunbathe. Dining options include Sauc Restaurant (which has a Michelin star), an inviting tapas bar, and a separate cocktail bar. This is the place for an upscale romantic getaway, and an eco-friendly one at that: Ohla Hotel contains solar panels, LEDs, and natural toiletries.
RELATED LINKS: