Los Angeles may be sunny and star-studded year-round, but summer is the prime time to grab a seat and some grub outdoors in La La Land. Al fresco restaurants around L.A. serve up delicious bites alongside ideal locations for spotting celebs -- whether they are dining at the restaurant, or just walking by on the way to designer shops and exclusive clubs. So even though we'd hate to have you snag our reservation, we're giving you the down-low on the best hotel restaurants for dining al fresco. Bon appetit!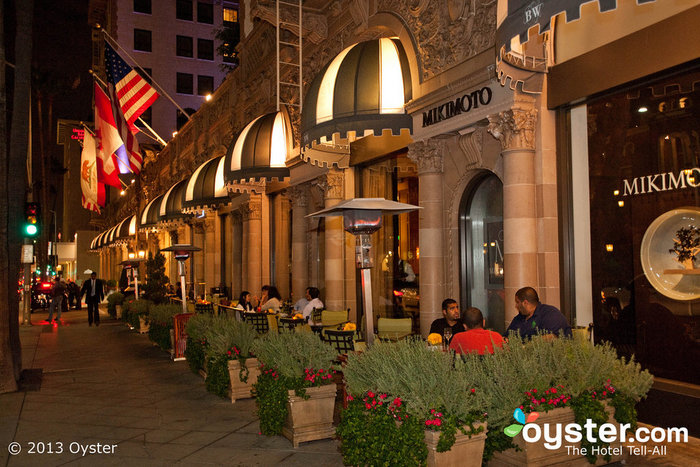 Talk about a spot to see and be seen! Located along Wilshire Boulevard, the aptly-named Blvd restaurant is book-ended by luxury boutiques frequented by stars — who also pass by on their way to Rodeo Drive. Over a third of the seating is outdoors, so diners can enjoy breakfast, lunch, and dinner outdoors. The restaurant boasts an extensive wine list, but the dessert menu is perhaps more decadent, with options such as a candy cart, a "chocolate experience," and even birthday cake.
This ain't your grandma's backyard. The Backyard at the W is instead a pretty poolside lounge and restaurant with comfy patio furniture and a beautiful crowd. Serving brunch, lunch, and dinner, this spot stays happening all day long with an uber-popular happy hour. Bikini-clad diners can have their food delivered at the pool, and the restaurant even has a menu for your furry friends which includes "mutt"za balls.
Asia de Cuba may have been a bit more of a scene when it first opened, but it still draws in a lively crew, especially when its nice out. Typical of a Philippe Starck-designed space, it features an Alice-in-Wonderland look with oversized furniture and potted plants. Serving breakfast and dinner (and brunch on Sundays), Asia de Cuba boasts a menu focused on interesting fusions, such as the braised oxtail with kimchee steamed dumplings and the gambas gigante mai tai.
The Beverly Hills Hotel is a Los Angeles icon, as is the famed Polo Lounge, frequented by celebs such as Emma Watson, Reese Witherspoon, Demi Moore, and Mark Wahlberg just to name a few. Open from seven in the morning till 1:30 a.m, this is the place to see and be seen — and have a delicious (and expensive) meal. Entrees include a kobe burger (for a whopping $38), wild salmon with French lentils and roasted squash, and of course plenty of salads and small bites for the model types. The restaurant also serves afternoon tea and a jazz brunch on Sundays.
With locations all over the states and helmed by celebrity chef Scott Conant, Scarpetta is an upscale Italian restaurant. The patio area sits adjacent to the hotel's beautiful gardens and plates are just as beautiful (and delicious); many opt for the four-course prix fixe menu ($45) with options such as creamy polenta, mushroom agnolotti, and red snapper.
You won't find any trace of the stuffy Beverly Hills vibe here. Named after the inventor of the mai tai, this laid-back (yet upscale) chain is a popular spot at the Beverly Hilton. Dishes keep with the restaurant's Polynesian tiki bar theme — Kahlua pork spring rolls, seared ahi tuna sliders, and beef cho-cho are favorites. During happy hour, diners can get small plates — such as edamame, coco prawns, and crab rangoon — for half price.
Another celebrity hot spot, the outdoor restaurant at the Sunset Marquis is simply called The Restaurant. It serves classic meals for breakfast, lunch, and dinner, and also offers a popular Sunday brunch with different features each week. It's also an intimate choice for holding an event, and The Restaurant's website boasts that it is "eminently equipped to help you celebrate your most recent industry award, marriage, or divorce" — only in L.A.
On a quiet back patio, Whist at the Viceroy is a nice spot for enjoying some downtime for breakfast, lunch, or dinner. The decor, designed by Kelly Wearstler, focuses on a sleek combination of whites, grays, and blacks, accented by lush foilage. Diners seeking even more privacy can opt for a table in a cabana, complete with mirrors and chandeliers. The lunch menu includes tasty soup and sandwich combos, as well as — true to L.A. style — organic cold-pressed juices. Craving a mixture of kale, cucumber, lemon, ginger, and celery, anyone?
RELATED LINKS: