Is all the talk of summer and beaches...bumming you out? Does the entire concept of humidity make you want to cry? If you see one more Instagram photo of "hot-dog legs" are you going to lose it? Good news! You're not crazy or a heartless, sun-hating scrooge -- and you're not alone. The dogs days of summer are truly upon us, and sometimes it's all too easy to dream of snowbanks and icicles (which will be a nightmare once we're in the thick of winter -- but then, of course, we'll dream of sizzling sidewalks and sun galore). So if you're already missing winter, here's where you can travel right now where it's 50 degrees or cooler. And, of course, we've found the coziest hotels nearby where you can properly embrace sweater weather by curling up in front of a fireplace that will chase the (all-too-welcome) chill away.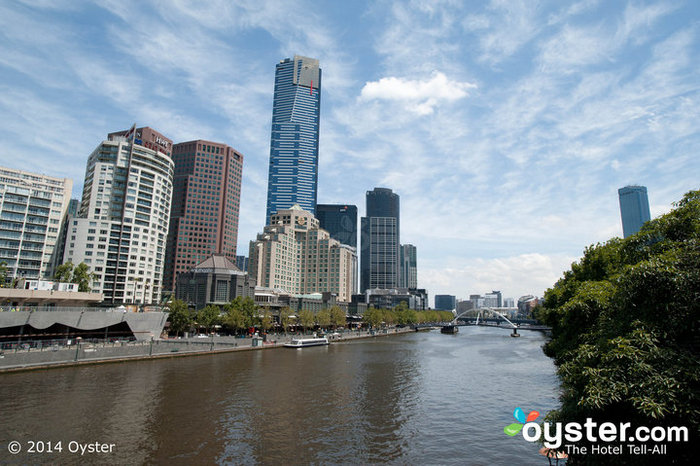 The Southern Hemisphere is where winter's at, and one of our favorite destinations down under is none other than Melbourne, Australia. Known as Australia's culture capital, this city situated on Port Phillip Bay is packed with Victorian buildings, museums, galleries, large parks, and gardens. The tree-lined streets and green spaces create a clean, eco-friendly vibe, which is probably part of the reason Melbourne has consistently been dubbed as one of the world's most livable cities. During the winter months, locals enjoy ice skating, curling, and banishing the chill at the nearby Peninsula Hot Springs.
Stay: Hotel Lindrum
This modern boutique is located just a short walk from sights such as Federation Square and Melbourne Park. It lacks a fitness center and spa, but the features it does have are done well: The restaurant serves a nice breakfast buffet, and the cozy bar features a fireplace and a billiards table. Rooms feature sleek lines, dark wood accents, high-style light fixtures, and contemporary artwork, which combine to create a chic vibe.
The capital of Argentina, Buenos Aires is home to many Argentine traditions and trademarks: The streets are lined by parrillas, or steakhouses, that serve up Argentina's famous beef; luxury boutiques sell leather clothing and accessories by high-end designers; the nightlife is dominated by the tango; and Evita's "Don't Cry for Me Argentina" balcony overlooks the central square, Plaza de Mayo.
Stay: CasaSur Art Hotel
On an attractive, tree-lined street in the La Recoleta neighborhood, the CasaSur Art Hotel is a luxe boutique property with 36 rooms. Decor is sleek with modern furniture and dark hardwood floors. The highlights of CasaSur include an upscale spa — complete with a whirlpool — and an on-site restaurant serving food inspired by India and the Mediterranean.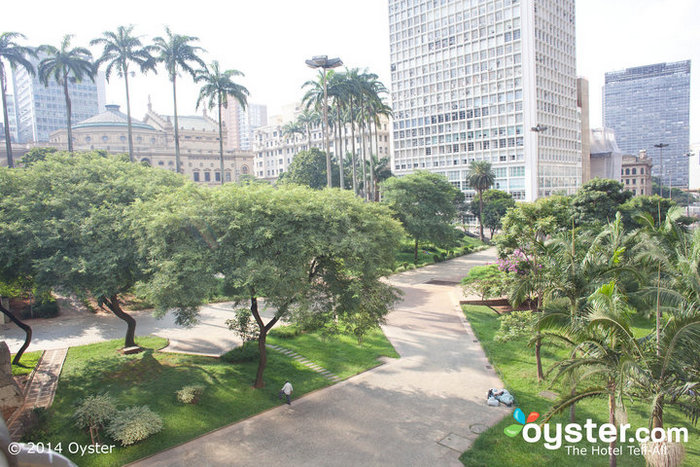 There are cities, then there are large cities, and then there are really large cities. With a population around 18 million, Sao Paulo is certainly the latter: Not only is it the largest megalopolis in South America, it's also the third largest city in the world. Luckily, sheer size alone is not what defines Sao Paulo. Its cosmopolitan residents pride themselves on living a stylish, urbane lifestyle. The restaurants here are world-class, the art and music scene top-notch, the nightlife unstoppable, and the shopping second to none. You could say Sao Paulo is the New York City to Rio de Janeiro's Los Angeles.
Stay: Hotel Unique
This trendy pick features a rooftop bar, restaurant, and pool — all with gorgeous views of Sao Paulo's equivalent to Central Park and the city's impressive skyline. The all-white rooms have a bit of a South Beach vibe and feature sexy open bathrooms with separate showers and soaking tubs. While this boat-shaped hotel is not located in the most central neighborhood, it is near attractions such as the Modern Art Museum, Ibirapuera Park, and numerous restaurants.
Few visitors prioritize Northern Ireland on their first visit to the beautiful country, opting instead to explore the dramatic scenery of County Kerry or stop by major tourist attractions such as Blarney Castle near Cork. But Northern Ireland is unjustly overlooked: It offers many of the same draws that make the Republic of Ireland so popular. Dramatic coastal scenery? Check. Cozy, traditional Irish charm? Check. Impressive museums, cultural attractions, and cuisine? Check, check, and check. Derry, in particular, is blossoming in recent years, with a growing arts scene drawing visitors from around the world. Plus: The farther north you go, the cooler the temperatures.
Stay: City Hotel Derry
The City Hotel Derry is a contemporary, upscale hotel with a prime location on the River Foyle just up the street from the Peace Bridge. It's got all the features you'd expect from a four-pearl hotel — a fitness center, restaurant, bar, even an indoor pool. It's a solid pick for both business and leisure travelers, and the central location is hard to top.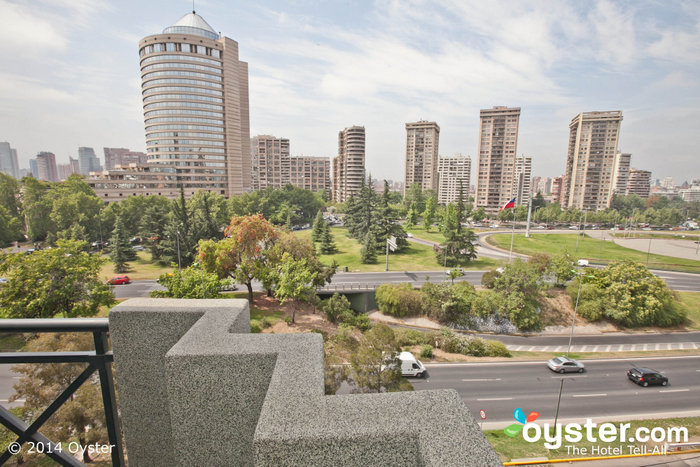 Santiago, with seven million people, is a fast-growing city located in the central valley of Chile between the state's (beautifully) imposing mountains and picturesque coastline. Visitors would be remiss not to take a jaunt to the country's premier vineyards that date back to the 16th century, located only 40 minutes from the city center.
Stay: Hotel Kennedy
Hotel Kennedy's mirrored glass high-rise exterior resembles a corporate office, and appeals to a business crowd. The stark look continues in the lobby, with floor-to-ceiling gray marble and brass fixtures. Dining and drinking on the property is a highlight (the terrace next the rooftop pool is a nice spot), and there are solid happy hour specials.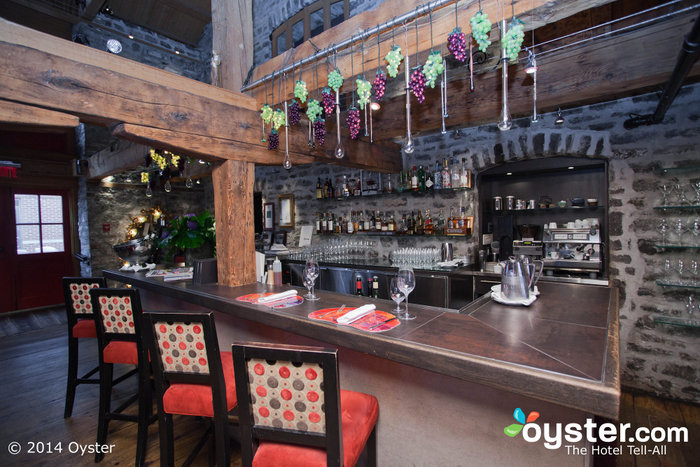 Quebec City is a historic, walled metropolis with the charm, history, and architecture of a European capital, all set at the top of Cape Diamond. The views out over the cliff are beautiful, as are the city's buildings and cathedrals. Quebec City also has a healthy nightlife scene that truly comes to life during the summer months. Thankfully, moderate daily temperatures drop down come nightfall, giving a little extra bite to the night that will keep the party going. The European feel and sensibility of the city also mean that shopping is a worthy endeavor, especially in the boutiques of the Old City.
Stay: Auberge Saint-Antoine
Housed in a historic building facing the St. Lawrence River in the Old City, this boutique hotel features sophisticated, spacious rooms with upscale touches like Nespresso machines, evening turndown service, and luxurious bathrooms. The restaurant, Panache, serves seasonal, local cuisine in a former maritime warehouse (think: thick wood beams, stone walls), and the more casual Bar Artefact serves cocktails and gourmet fare in a bright, contemporary lounge. Amenities include a modern, 24-hour fitness center, a screening room, spa treatment rooms, and a free business center. Plus, the hotel is situated on an archaeological site, and historical artifacts are displayed throughout the property.
A cozy yet extremely popular mountainside town, Breckenridge's blend of log cabins, 19th-century gold mining history, and modern-day snowboarding culture makes it stand out among the rest of the Rocky Mountain ski resorts. Outdoor sports, such as fishing in the summer, are this town's focus, but the area actually offers some decent historical attractions. The town is extremely walkable, and comes with lots of shopping, fine restaurants, and luxurious lodging options. And cooler temperatures that hover around the 50s even in the summer means good news for travelers looking to beat the heat.
Stay: Mountain Thunder Lodge
These mid-range condo and town home rentals come with a solid array of on-site features: two fitness centers, a big outdoor pool, and three whirlpools — not to mention use of additional off-site amenities including a media center, billiards room, and a two-lane bowling alley. Added perks include a heated underground garage and a free shuttle to town. The homey units, despite being individually owned, have a consistent quality of decor, and all come with fireplaces.
Maui doesn't experience winter in the traditional sense, but it does have one feature that all of these other cold weather destinations do not: a hot, festering volcano ATOP which temperatures can drop down well below 40 degrees Fahrenheit. The National Park Service even warns visitors to dress for "freezing temperatures" if they choose to experience the park at night or in the wee hours of the morning — a ritual many people opt for in order to witness the incredible night sky panorama. After gazing upon the Milky Way in all its glory, staying to witness the sunrise is a truly remarkable experience. The lava may be flowing beneath you, and the sun may be boiling above, but atop Haleakala you'll be nice and cool as you take in all of nature's most beautiful assets.
Stay: Travaasa Hana, Maui
The Travaasa Hana, overlooking Hana Bay, delivers rustic luxury in the middle of Maui's lush, secluded east coast. Incredible service, a top spa, excellent food, a long list of things to do, and only 70 rooms on acres of uncrowded property make it a wonderful pick. The hotel isn't a beach resort in the tradition of most Maui hotels: It overlooks the ocean but its nearest swimmable beach is about 10 minutes by car, and guests are likely to spend as much time driving and hiking to the natural landmarks along the coast as going to the beach. But this makes for a peaceful, romantic stay.
RELATED LINKS:
All products are independently selected by our writers and editors. If you buy something through our links, Oyster may earn an affiliate commission.