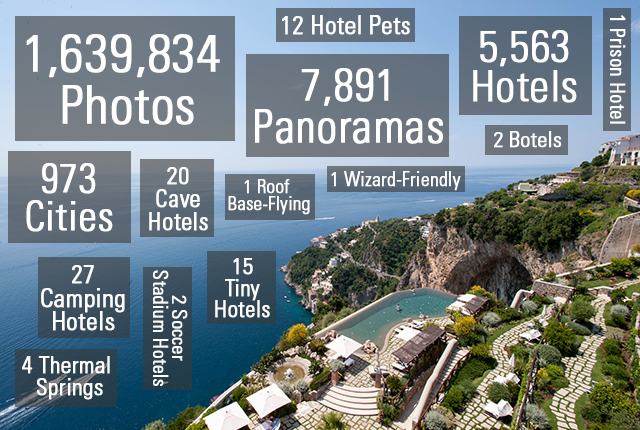 One of our New Year's resolutions is that we're going to TRY not to brag. But it's not 2015 yet! So we're going to use this precious, coming-to-an-end 2014 time to show off a bit because, to be honest (and we're all about honesty), we've done some pretty awesome stuff this year. From snapping over one million photos, to visiting a wizard-friendly hotel, from traveling to nearly 1,000 new cities, to soaking in the thermal springs at a handful of properties, here's Oyster by the Numbers for 2014.
Photos We Took This Year: 1,639,834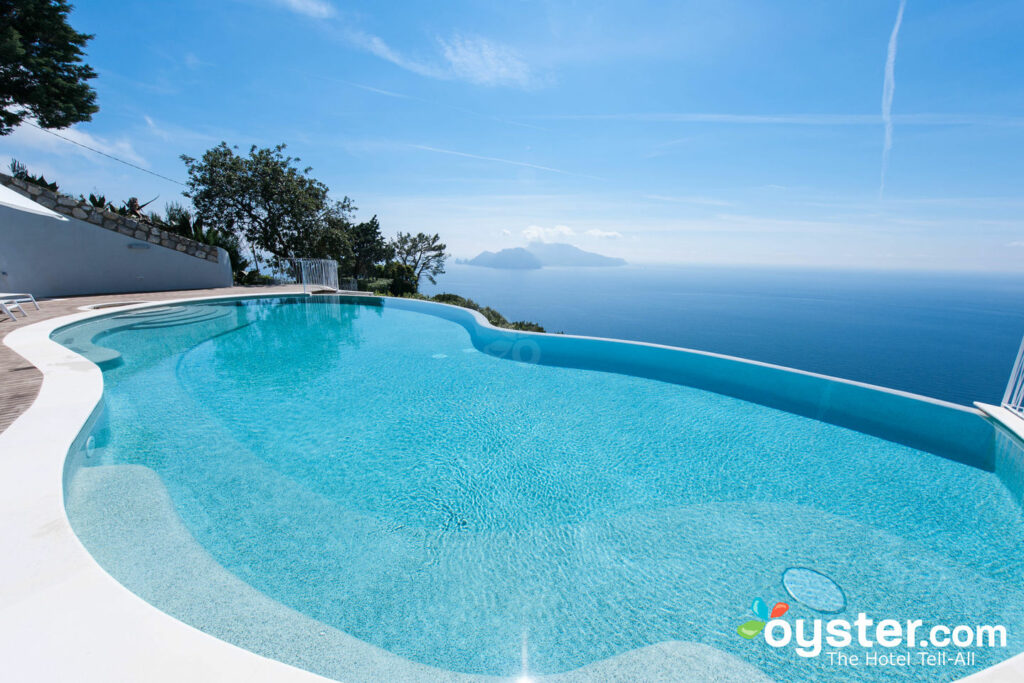 That's A LOT of photos! Our awesome team of experts are highly trained in hotel investigating and photography, and we sent them around the world to take tons of photos of hotel properties so that when you arrive at a resort, there are no surprises: What you've seen on Oyster is what you get.
New Cities We Visited This Year: 973
We's already covered thousands of destinations on Oyster.com but this year, we traveled to 973 NEW cities in destinations all over the world. So whether you want to go to Bath or the Cayman Islands, the Amalfi Coast or Cape Town, we've now got you covered.
Wizard-Friendly Hotels We Visited This Year: 1
Perhaps another one of the many hotels we visited this year welcomes wizards, but nowhere else makes it more clear than the Georgian House in London. It features several Wizard Chamber rooms, each decked out with Hogwarts-approved amenities and decor such as "cauldrons" by the fireplaces, owl figurines, and "potions" in the bathrooms.
Get an inside look at these wizard-friendly digs >>
Cave Hotels We Visited This Year: 20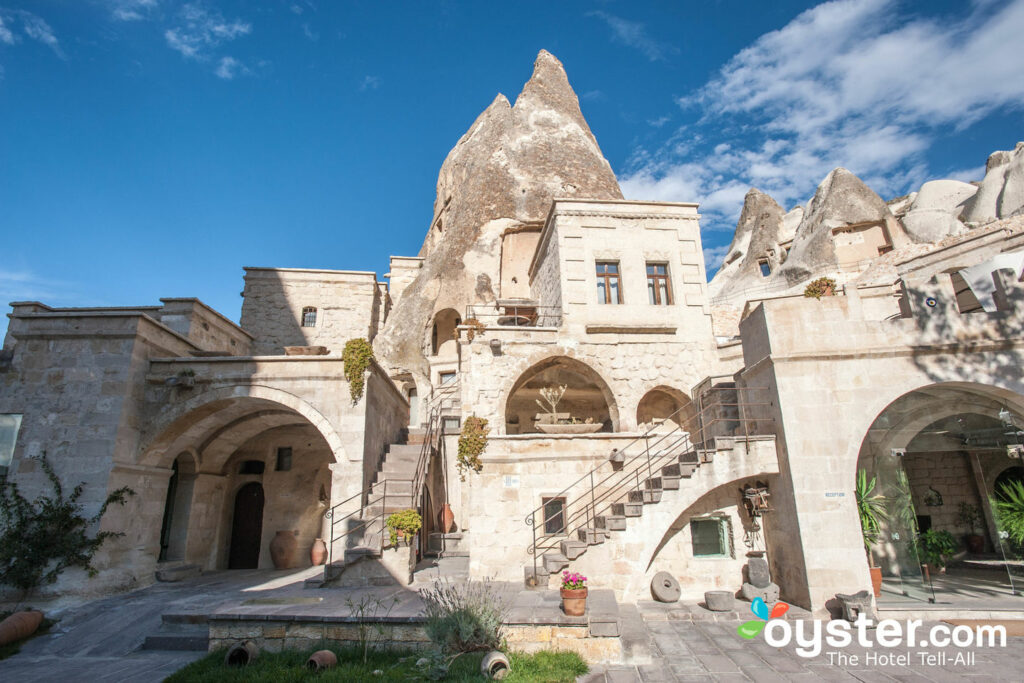 This year we took our first trip to Cappadocia, a Turkish hillside region where almost all the architecture is built into ancient caves. Famous for these "fairy chimneys," the area is a designated national park and both the scenery and the hotel properties here are stunning. We visited 20 amazing cave hotels in Cappadocia, and they simply add to our already vast collection of cave properties, like The Caves in Jamaica and Bermuda's Grotto Bay Beach Resort.
Hotels With Roof Base-Flying We Visited This Year: 1
The rooftop terrace at the Park Inn by Radisson Berlin Alexanderplatz is home to the city's base flying activity. In this extreme version of bungee jumping, a winch rappel system holds participants 37 stories off the ground before plunging them in a "controlled" fall to the plaza below. So the number of times we simultaneously turned green with sweating palms and racing hearts was also probably one.
Hotels We Visited This Year: 5,563
How have we seen such crazy, awesome hotels throughout our 2014 travels? Well, it's because we visited A LOT of hotels. 5,563 to be exact.
Hotels We Visited With Natural Thermal Springs This Year: 4
Many Italians and Europeans flock to the little town of Saturnia for its natural thermal waters, so we had to see what all the fuss was about. We checked out four beautiful hotels in the countryside there where natural thermal baths come standard. (But, with calming waters, soothing temperatures, and beautiful surroundings, they're anything but.) From Agriturismo Le Cascatelle to Hotel Saturno Fonte Pura, we thoroughly enjoyed our steamy soaks.
TINY Hotels We Visited This Year: 15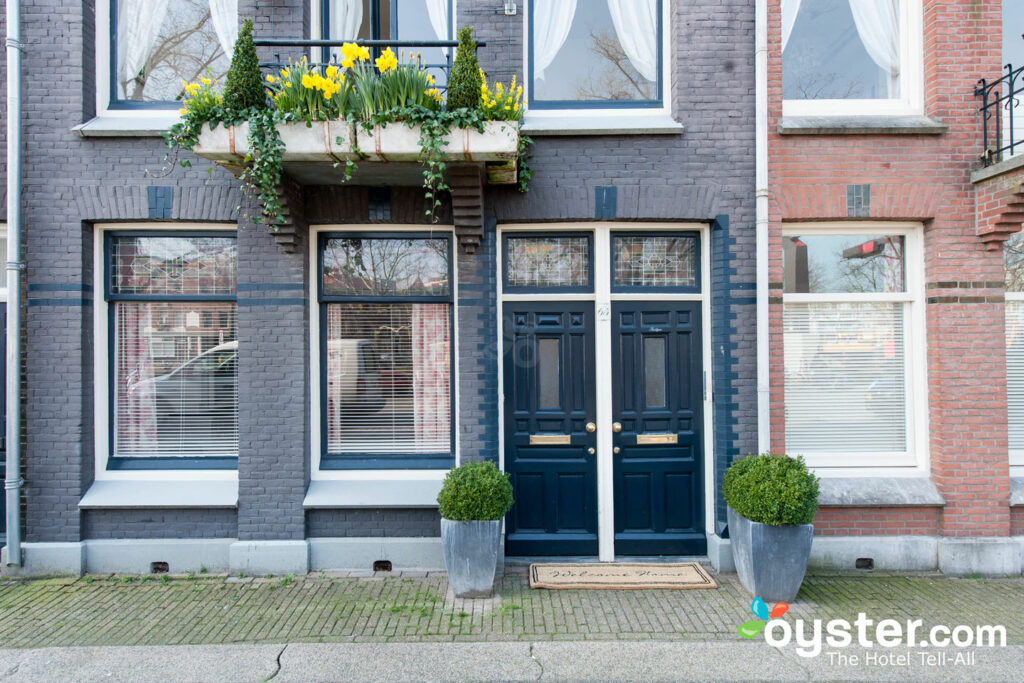 We devoted some time in 2014 to getting to the bottom of the whole "is bigger really better?" argument. And we can now conclude that it really depends on the circumstances. But we did have some fun during our research, which was spent visiting some truly itsy bitsy hotels — boutique properties tucked away in historic townhomes or on the top floors of unassuming edifices — each with just four rooms or fewer. We went to 15 of these spots this year, and some of our favorites were Bed and Breakfast Amsterdam, Chez Michelle, and Atlantis House (not to be confused with the massive Atlantis Resort).
Botels We Visited This Year: 2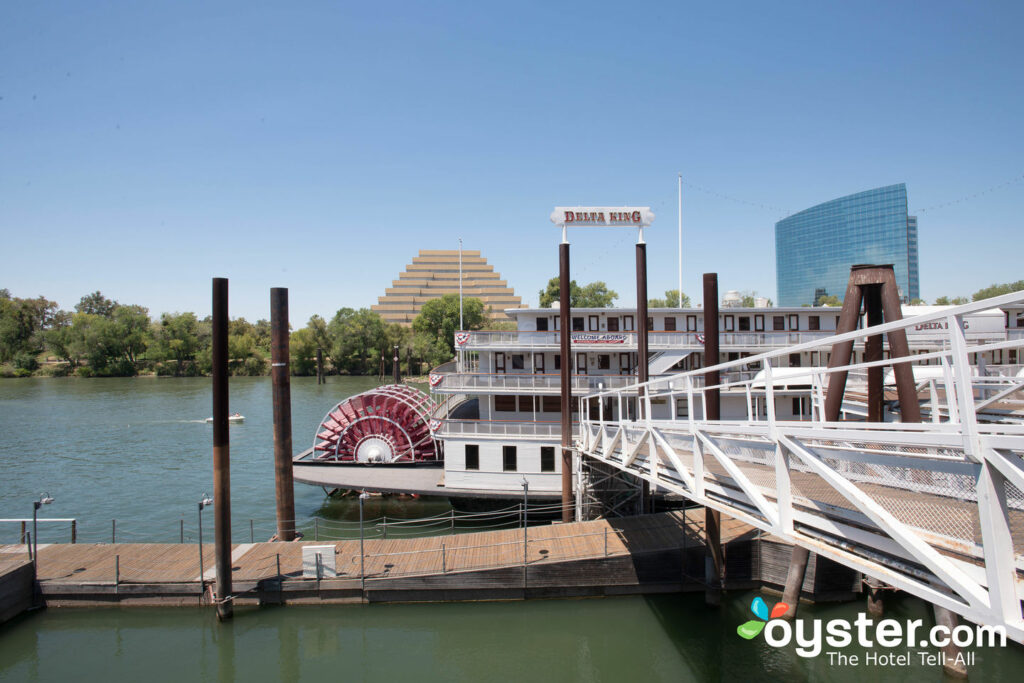 Visiting a botel was on our 2014 bucket list, so we traveled to not one, but two! We made a trip to Amsterdam's 175-room Amstel Botel, a former river cruiser converted to a floating hotel. Then we made our way to Delta King. Moored on the Sacramento River, this old river boat turned hotel features a giant, red, rotating paddlewheel and provides excellent access to a number of historic sights, including the Railroad Museum and the Crocker Art Museum.
Hotels INSIDE Soccer Stadiums We Visited This Year: 1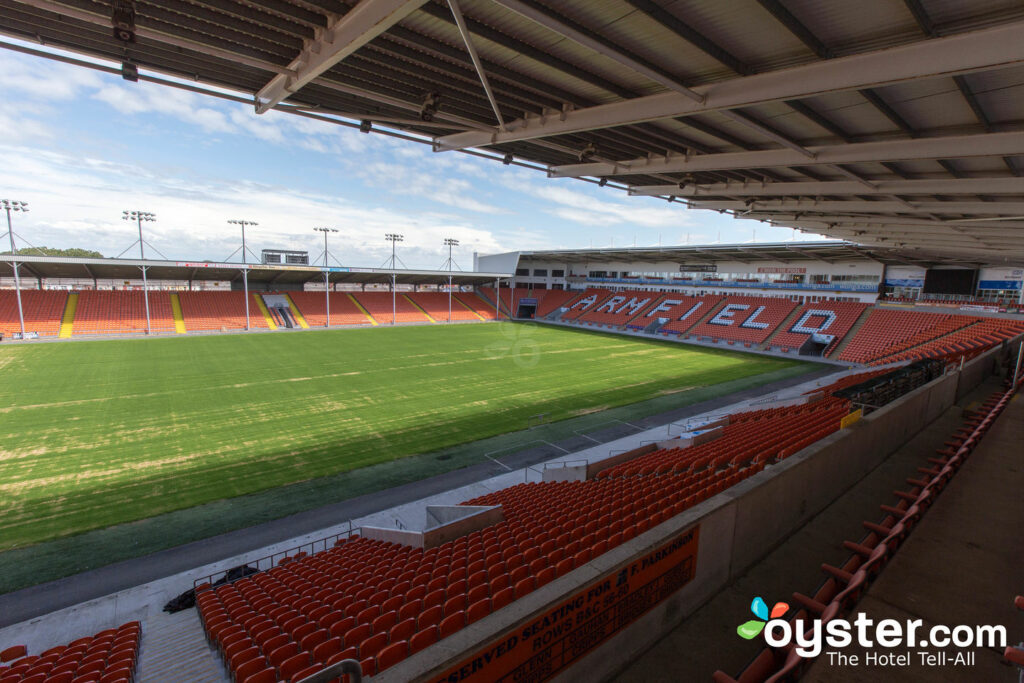 Talk about super fans! This year, we made a trip to the Blackpool FC Hotel and Conference Centre, a 70-room, soccer-themed hotel that's part of the Blackpool Footballs Club's Bloomfield Road stadium. This is certainly its main selling point, offering views over the pitch from its bar and restaurant, and many of the rooms and meeting rooms as well.
Get an inside look at the stadium >>
Panoramas We Shot This Year: 7,891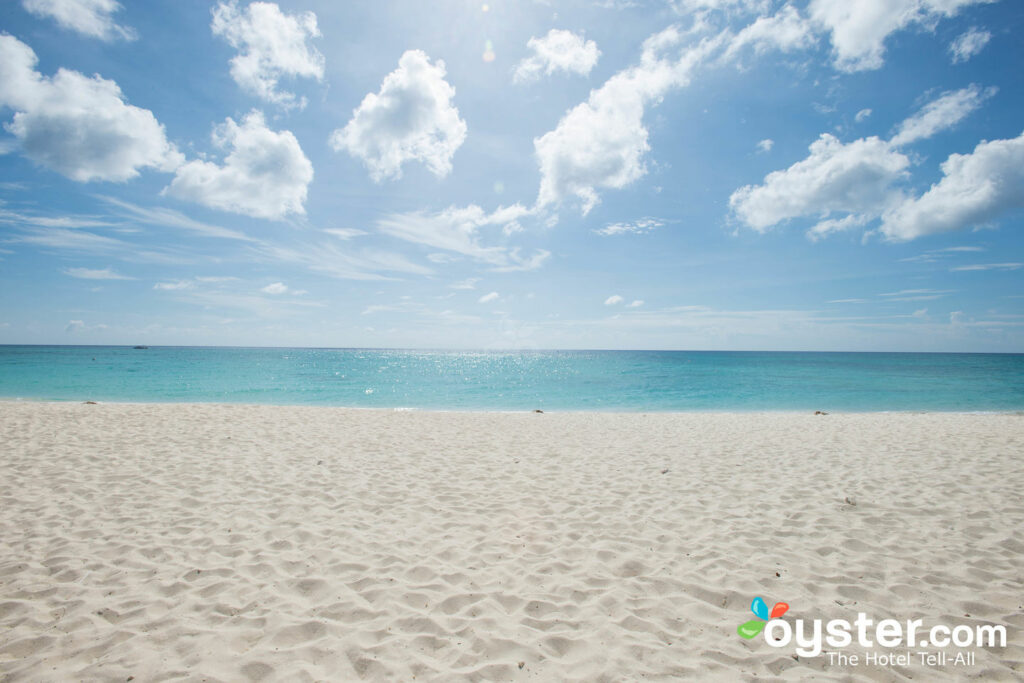 We here at Oyster are all about getting into every nook and cranny of every property we visit, all so you can really get a feel for what they're each like. And we think few things can do that better than taking tons of photos and panoramas. In 2014, we've added thousands upon thousands of 360-degree panoramas of hotels and resorts around the world. It's certainly hard to pick just one, but we REALLY love this pano of Seven Mile Beach at the Caribbean Club in Grand Cayman.
Camping Hotels We Visited This Year: 27
Some hotels are more than hotels — they're experiences. And sometimes that means they don't really have a hotel vibe. Take the 27 camping hotels we visited this year, for example. Let's start with El Capitan Canyon, just north of Santa Barbara, where many of the accommodations are in canvas tents, and guests gather around the outdoor fire pits every night, but there's still a hint of indulgence — especially at the property's spa. Meanwhile, many of the camping hotels in Europe, such as Camping Fabulous and Camping del Garda, have more of a budget-resort-meets-summer-camp feel, with simple bungalows, outdoor pools, and playgrounds.
Resident Hotel Pets We Met This Year: 12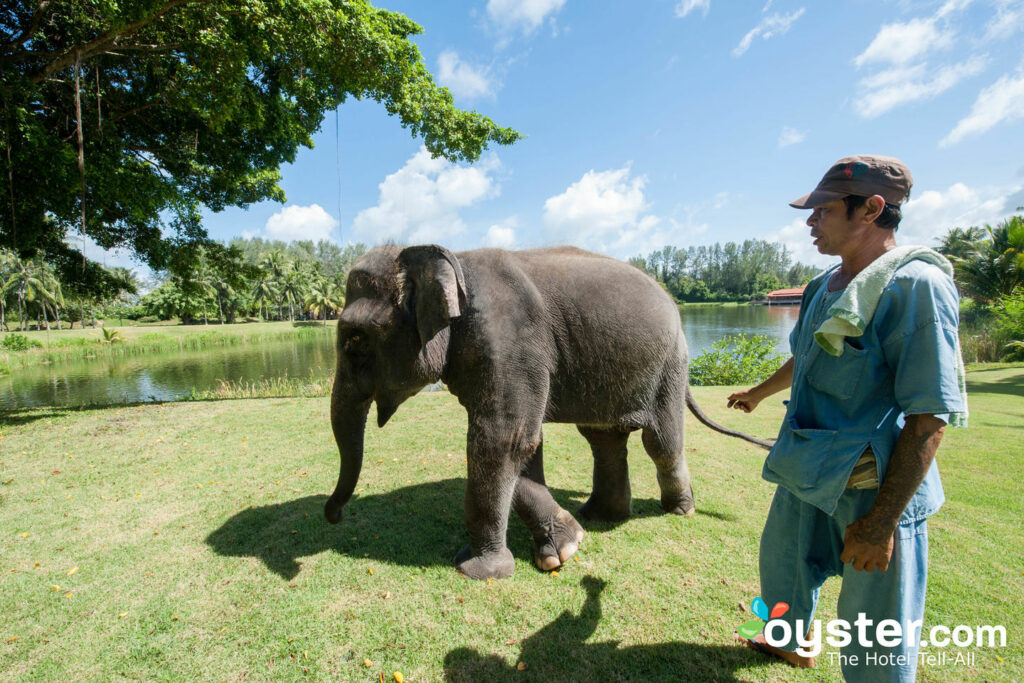 We love hotels where we can bring our furry friends — and we love hotels that have their own furry friends even more! In 2014, we met a dozen super-cute hotel pets, from an adorably lazy pup at Hotel del Oso to Lucky, a precious baby elephant who calls Banyan Tree Phuket home. And we've got to give a shoutout to Charlie Chaplin at Chelsea Pines Inn, who has some awesome markings — and a fitting name to match! These sweet creatures join the many other resident hotel pets we've loved meeting over the years.
Prison Hotels We Visited This Year: 1
We got locked up this year! But since it was in a luxurious Oxfordshire hotel that only used to be a Victorian prison, we really didn't mind. And if we're being totally honest, this wasn't the first time we found ourselves behind bars. We've also done some time in Boston's Liberty Hotel, which operated as the Charles Street Jail for nearly 150 years, in the past.
Get an inside look at the dungeons >>
All products are independently selected by our writers and editors. If you buy something through our links, Oyster may earn an affiliate commission.