Oyster Decodes Hotel Points Programs is a new series where we break down hotel rewards programs and give you the inside scoop on how they can save you money.
Hotel point programs are not always easy to decipher, and sometimes even we (travel experts, after all) feel we need a guide to understand how they work. But it's worth the effort it takes to decode: All are free to join, and more often than not, end up saving travelers a significant amount of cash. This week, we're biting the bullet and starting with cracking the Marriott rewards program, which is one of the most difficult to navigate as guests can redeem their points at over 3,600 locations worldwide across 12 distinctive brands.
Marriott properties are divided into eight categories -- depending on the hotel brand, location and type -- and five tiers. Members can earn up to 10 points for every dollar spent at Marriott hotels, as well as at Marriott's partner airlines and rental car companies, which include Hertz, Delta, and Virgin Atlantic. They can then redeem the points earned on hotels, airlines and other services. While advantages of joining the program are numerous, the system is not always straightforward, so we've selected some of our favorite hotels in each category and tier where, for a certain number of points (starting at 70,000), you can enjoy a one night stay in a standard room. Start redeeming those points!
Tier 5: 70,000 points
The Ritz-Carlton, Hong Kong - Hong Kong, China
Only a few hotels in Hong Kong deliver the Ritz-Carlton's level of luxury. Large rooms feature decadent touches, such as plush beds with 400- to 600-thread count linens, iPods and iPod docks, Nespresso coffeemakers, and high-end toiletries. The hotel is set on floors 102 to 118 of Hong Kong's tallest building, and while acrophobes may not appreciate being this far from the ground, the height does make for breathtaking views — that is, when the sky is clear. Highlights include a stylish indoor pool, sleek gym, and top-notch spa. The Ritz-Carlton is connected to a great shopping mall and corporate offices, and also offers easy access to the airport train and the MTR. However, its location in an up-and-coming business area west of Tsim Sha Tsui is a bit out of the way for leisure travelers.
Tier 4: 60,000 points
The Ritz-Carlton New York Battery Park – New York, NY
The name says it all. "Ritz" tells you that the hotel — like its siblings — features gorgeous rooms, top-notch service, and a premier gym and spa. "Battery Park" tells you you're in for a lower-key New York experience, with Lower Manhattan's quiet nights, cobblestone streets, and — best of all — rates often lower than those of other 5-star hotels.
Tier 3: 50,000 points
The Ritz-Carlton Laguna Niguel – Orange County, CA
This 396-room luxury hotel sits atop a 150-foot bluff that's up against a beach, which means breathtaking views from the hotel and grounds, plus a place to surf and boogie board below. With two large pools, a wine bar, and the elegant Raya restaurant, this Ritz has all of the amenities of a big, upscale resort, but with a quiet, relaxing setting.
Tier 2: 40,000 points
The Ritz-Carlton, Berlin – Berlin, Germany
The 303-room Ritz-Carlton, located near Postdamer Platz, is one of the most luxurious hotels in Berlin. The rooms are gorgeous in a classically elegant way, featuring mahogany furniture, rich curtains, plush bedding, and massive marble bathrooms with separate soaking tubs and showers. Modern amenities include touch-screen controls and large flat-screen TVs. Wi-Fi is available, but it comes with a pesky additional fee. The hotel has plenty of amenities, including a large spa, indoor pool, sauna, and fitness center. There are also several dining and drinking options on-site, along with 24-hour room service.
Tier 1: 30,000 points
The Ritz-Carlton, Buckhead – Atlanta, GA
The outstanding service and glamorous design at the Ritz-Carlton Buckhead fall in line with customer's expectations of this luxury brand. The 517 rooms are mostly luxurious, with bright bay windows, iPod docks, plush linens, and warm colors, but feel slightly dated, with popcorn ceilings and run-of-the-mill wood furniture. Bathrooms have marble vanities and, in most, rainforest showerheads, but no separate soaking tubs and no name-brand toiletries. Property highlights include a big indoor pool, a high-end cafe, an ornate lobby, and a regal dining room. In Buckhead, it's bested only by the Mandarin Oriental and the St. Regis.
Category 8: 40,000 points
Boscolo Palace Roma – Rome, Italy
The sleek Boscolo Palace is located on the fashionable Via Veneto, across the street from the U.S. Embassy. This 87-room, Marriott Autograph Collection property completed a renovation in 2010, which added modern touches to a period building. Hallways have a stylish pink and gray motif that continues inside the rooms with the striped wallpaper and interesting designer furnishings. Amenities include crisp linens, flat-screen TVs, minibars, and spacious bathrooms with big walk-in showers. This design-focused hotel offers nice perks such as period travertine balconies off some rooms, and a cozy lounge off the lobby with a big flat-screen TV. Beyond the beautiful rooms, there is a spa on-site, as well as the upscale ABC Restaurant and Lounge.
Category 7: 35,000 points
Singapore Marriott Hotel – Singapore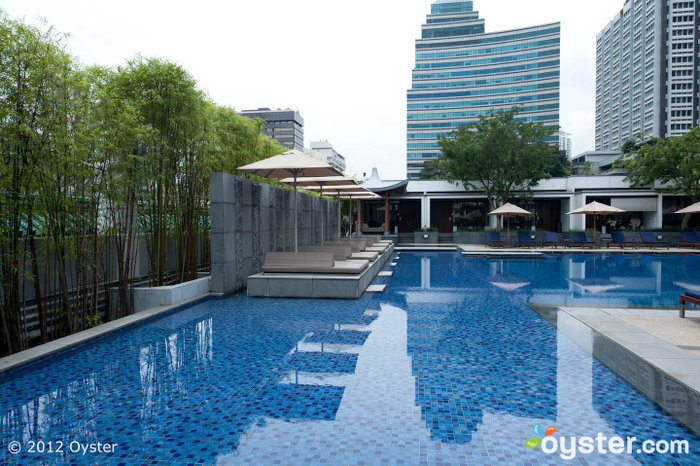 This 393-room Marriott is an upscale business hotel with top-notch amenities: A fitness center, a spa, five dining options, and a gorgeous pool. The location on Orchard Road, an iconic street lined by shops, is another upside. Rooms are modern and high-design: Dark wood accents and shades of blue, grey, and gold in the carpeting and furniture give them a sophisticated look. Tech features include flat-screen TVs inset in the walls, as well as iPod docks, but there's a fee for Wi-Fi. This hotel is a solid, luxurious option for travelers of all types — families, couples, business travelers — but the inland location means there are no water views.
Category 6: 30,000 points
JW Marriott Guanacaste Resort & Spa – Guanacaste, Costa Rica
The JW Marriott is one of the top luxury properties in Guanacaste, with beautiful, hacienda-style architecture (think: lots of wood and stone, romantic white hammocks, wrought iron light fixtures and indigenous art). The stunning free-form pool is the largest in Central America, and the tranquil spa is world-class. The only main downside is the extremely rough, hour-long drive from Liberia Airport.
Category 5: 25,000 points
CasaMagna Marriott Puerto Vallarta resort & Spa – Puerto Vallarta, Mexico
Much like the other sprawling resorts that line the beach in the swanky Marina Vallarta golf community, the CasaMagna Marriott features top-notch restaurants, pools, and meeting rooms, as well as lovely guest rooms and suites equipped with modern amenities and contemporary furnishings. Housed in two towers, this upscale hotel is memorable primarily for its sumptuous Ohtli Spa and adjacent fitness center with indoor lap pool. Somewhat removed from Puerto Vallarta's nightlife scene, it is a great spot for travelers who want to unwind away from the hustle and bustle of downtown.
Category 4: 20,000 points
Renaissance Dallas Hotel – Dallas, TX
A popular choice for business travelers, the sophisticated 544-room Renaissance Dallas features fresh, contemporary decor throughout, and a popular modern restaurant that serves a farm-to-table menu. Families may enjoy the large rooms and the rooftop pool (though it's shallow and the lounge chairs are sparse), and the hotel's location on the freeway grants guests easy driving access to Dallas attractions.
Category 3: 15,000 points
Courtyard Tucson Williams Centre – Tucson, AZ
The mid-range, business-friendly Courtyard Tucson Williams Centre features updated guest rooms and common spaces with a modern look, including a large, comfortable lobby with business center, restaurant, and boarding pass print center. Nice perks include free Wi-Fi and self-parking, but the restaurant is pricey.
Category 2: 10,000 points
Courtyard by Marriott Green Valley – Henderson, NV
Located in the suburban city of Henderson, about a 20-minute drive (or a free hotel shuttle) from the sights and attractions on the Strip, this quiet Courtyard by Marriott is a clean, comfortable hotel with a nice pool and free Wi-Fi. While it's not the ideal location for those who want to party and play in Las Vegas, it's a solid pick for those looking for a budget-friendly hotel in a tranquil locale.
Category 1: 10,000 points
Fairfield Inn Los Cabos – Los Cabos, Mexico
This mid-range hotel is located on a busy avenue in the heart of downtown Cabo San Lucas. It offers colorful rooms with large flat-screen TVs, mini-fridges stocked with free bottled water, and free Wi-Fi. Hotel highlights include a small pool, a gym, and great freebies, such as free American-style breakfast and free parking. Plus, guests get access to the Casa Dorada Los Cabos Resort & Spa's beach club (for an additional fee).
RELATED LINKS:
All products are independently selected by our writers and editors. If you buy something through our links, Oyster may earn an affiliate commission.